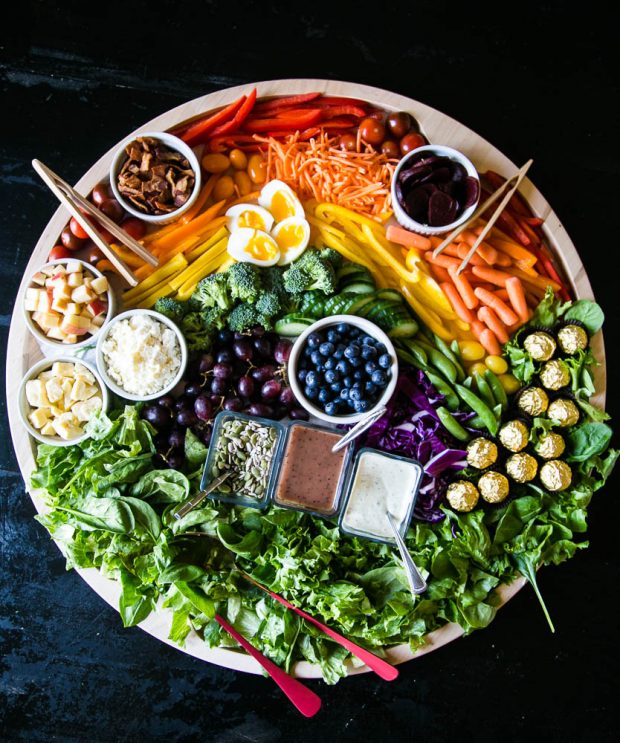 After making a Valentine's Day Breakfast Board, I couldn't resist doing a fun board for St. Patrick's Day!
Salad might not be the most exciting meal for a kid. (Or a grown up, if we're being honest.)
But working a salad into a giant rainbow with golden nuggets at the end? It'll definitely score some points.
(And you don't have to dye anything green, which is an added bonus for everyone.)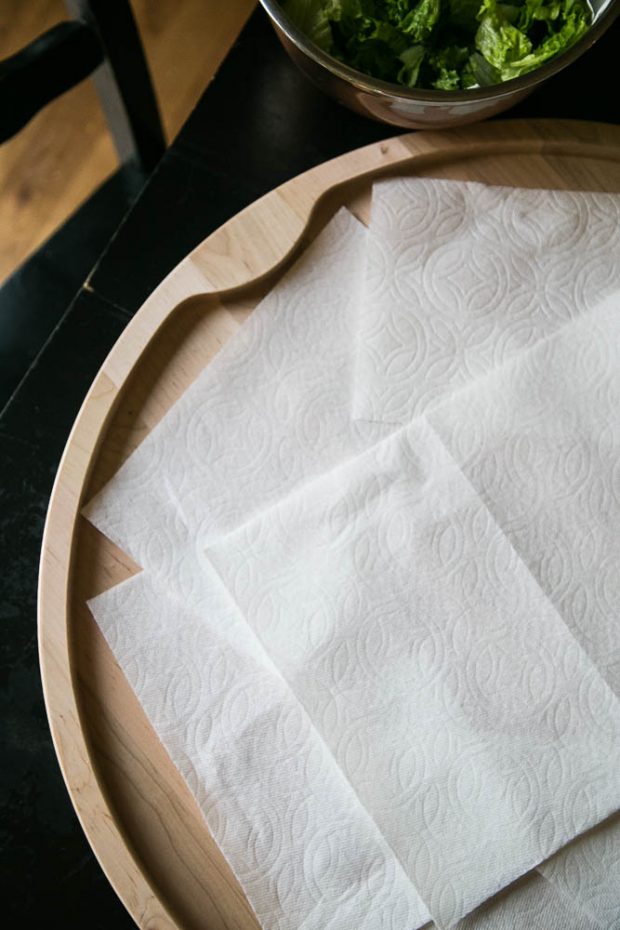 In case you're wondering, my board is the Big Board from Reluctant Entertainer! It's the 26″ round maple board, and it holds a LOT of food. It's super fun to fill up for parties!
First, I want to share some tips on making a salad board…
Tips for Making a Rainbow Salad Board
Line your surface with paper towels, parchment, or a thin kitchen towel or cloth napkin.
I do this even if my board is sealed and food safe, just for protection. Fresh fruit & vegetables (especially when cut) release a lot of moisture, and you don't want to ruin your nice charcuterie board.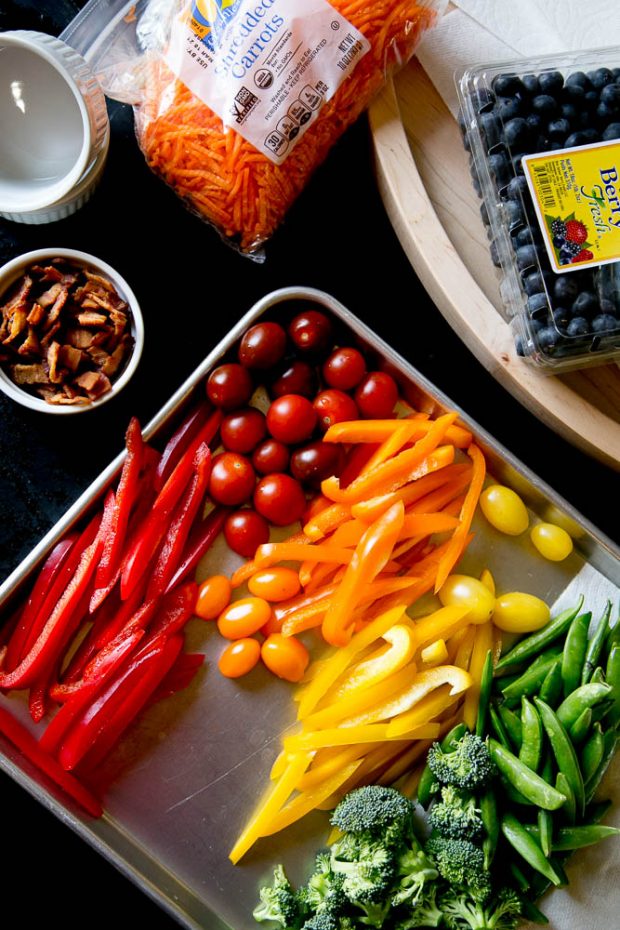 If you're doing a rainbow board, use a sheet pan to plan out your colors as you're prepping vegetables and fruit.
You'll get a good idea of how much of each color you actually have, and you won't have to rearrange things on your board quite as much.
If you have picky kids, remember that some fruits and vegetables come in lots of colors and you can prep them in different ways.
Your kid only eats carrots? No problem. Use both shredded carrots and baby carrots. You can also use rainbow carrots (orange, yellow, white, & purple).
Even if they're super picky, sometimes they'll eat a familiar food in a different color because it might seem safer than an unfamiliar food.
Our kids inhale bell peppers — luckily those come in lots of colors, too. So do cherry & grape tomatoes.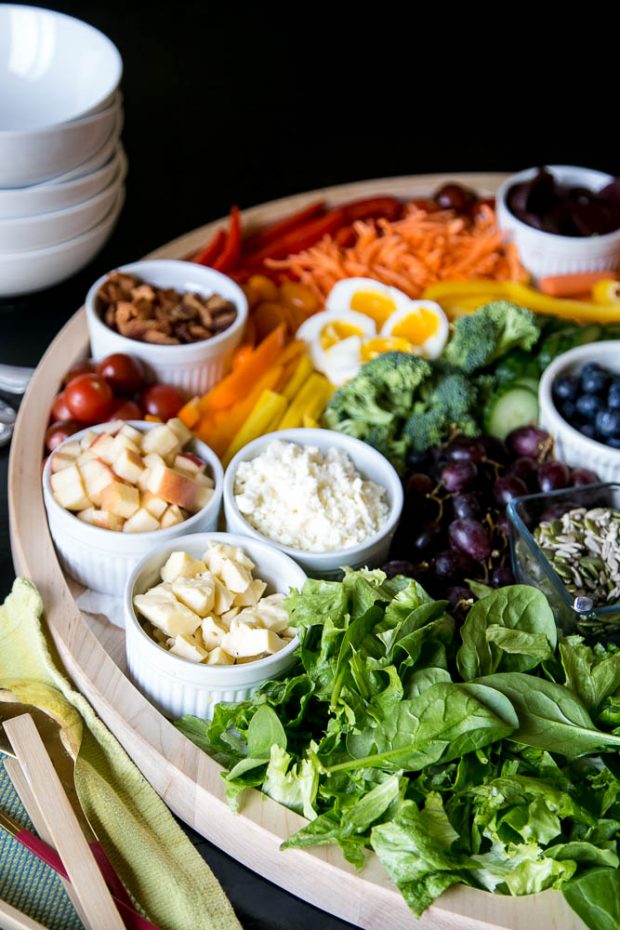 Have a few "fun" toppings for vegetable-loathing eaters.
I used two kinds of cheese and diced apples for the "clouds" in my rainbow. I also added a dish full of cooked bacon.
I find that my kids are more likely to venture out and try new things if it's mixed up with things that they like. I mean, who doesn't like cheese, bacon, & apples?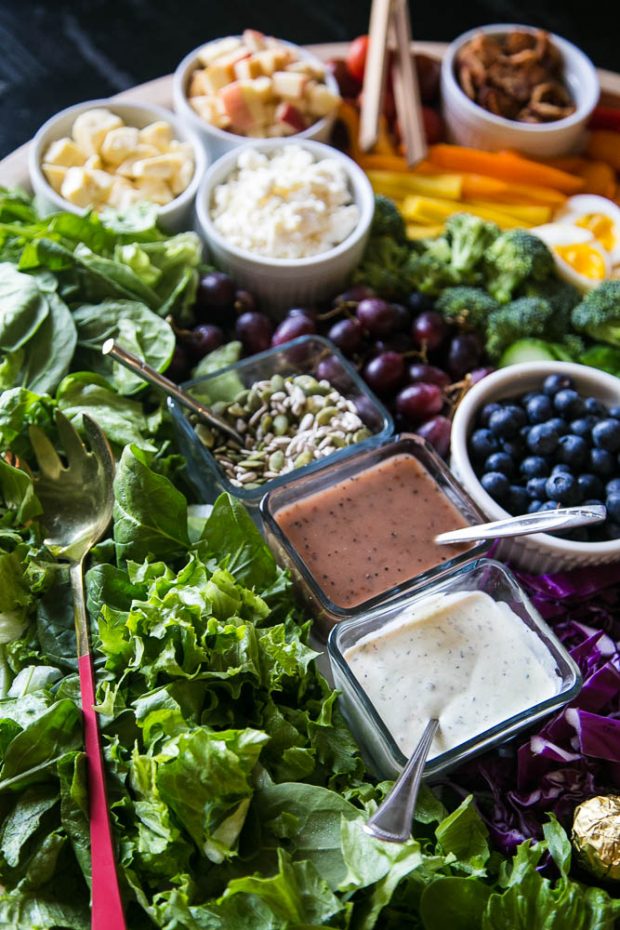 Put items in container that are very small, hard to pile, or things that you may not want touching other things — like blueberries, seeds, cheeses, and pungent items like olives, pickles, onions. And salad dressing — but that goes without saying.
My family is pretty split when it comes to salad dressing. Not all of them like ranch or vinaigrettes. So I keep both on hand.
I also added a container of sunflower seeds and pumpkin seeds. Other kind of crunchy things would go well here — like tortilla strips & croutons.
By the way, I've got a great Dry Ranch Dressing Mix recipe if you need one. It's dairy-free and paleo friendly, too!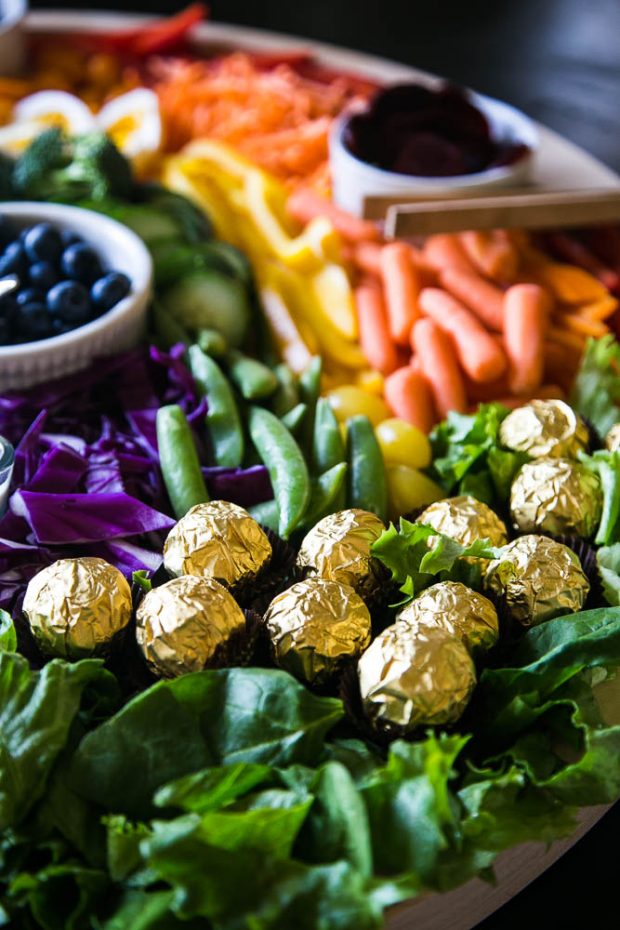 Put some gold at the end of the rainbow!
I tried to find gold coins (you'd think they'd be more plentiful this time of year…) but I got some Fererro Rocher balls instead. I love how they look like golden nuggets.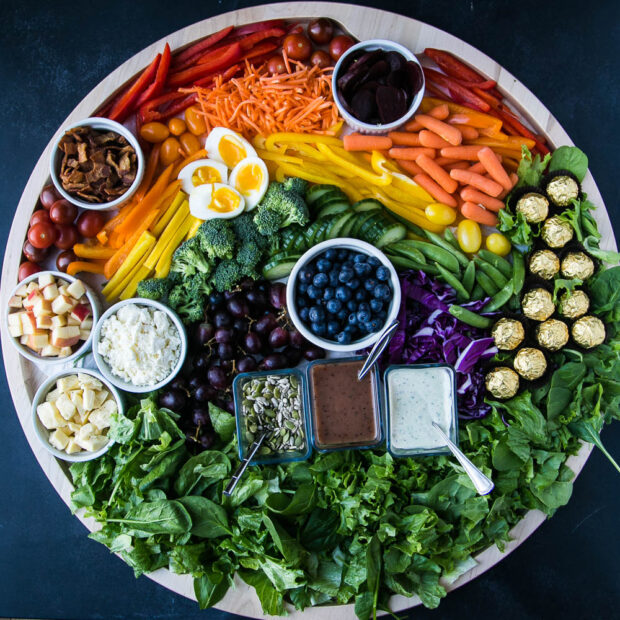 Whether your salad board is big or small, having vegetables arranged in a rainbow makes a killer presentation.
I got my 26″ wide salad board here, if you're wondering. It's made by House of Hyacinth paired with Sandy from Reluctant Entertainer. I love it so much, but it does require a LOT of food to fill it.
Needless to say, we had a salad bar "box" (the board doesn't fit in a fridge haha) for a few days that I loved making salads from!
I just wandered my produce section for rainbow inspiration, but here's a list you can screenshot as a guide! This list is by no means exhaustive, but it should give you some good inspiration.
Rainbow Salad Board Topping List
RED: Bell peppers, tomatoes, apples, salami, bacon, radishes, berries
ORANGE: Carrots, bell peppers, tomatoes, roasted sweet potatoes or squash, oranges
YELLOW: Bell peppers, carrots, tomatoes, hard cooked eggs, cheese, pineapple chunks, roasted corn, apples
GREEN: Cucumbers, bell peppers, broccoli, snap peas, sprouts, pickles, olives, avocados, apples, grapes, zucchini, fresh herbs, cabbage
BLUE/PURPLE: Carrots, blueberries, cabbage, red onions, roasted beets, olives
WHITE: Cauliflower florets, cheese, jicama, daikon radish, mushrooms, tuna, shredded chicken, chickpeas
---