Putting together a sweet & festive Valentine's Breakfast Board is super easy and fun to do for your family!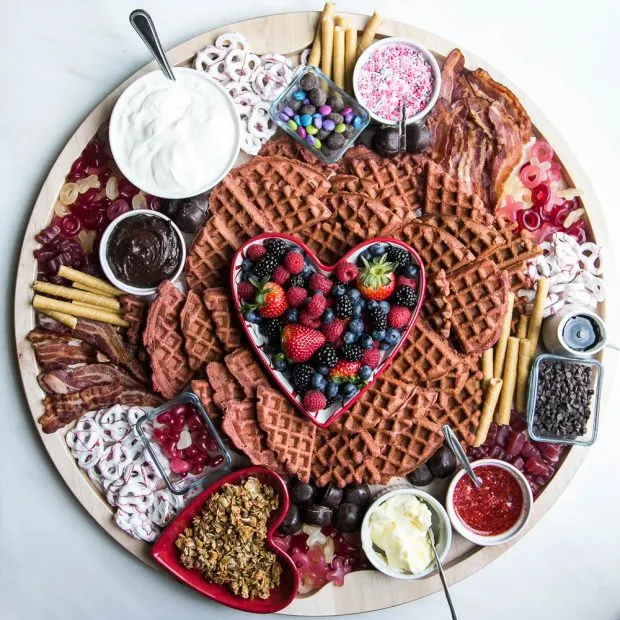 Do you do something fun for your kids for Valentine's Day?
We do a surprise Valentine's breakfast for the kids, and this year I'm doing a Valentine's Breakfast Board with pink waffles! Eek!
The best part? They don't know when the breakfast will happen. It's not always on Valentine's Day either.
I find that when planning things for your kids, if there's an element of surprise, it elevates whatever effort you have put into it.
So, if you put minimal effort into something and make it a surprise, the effect is greater.
I'm all about minimal effort for maximum output.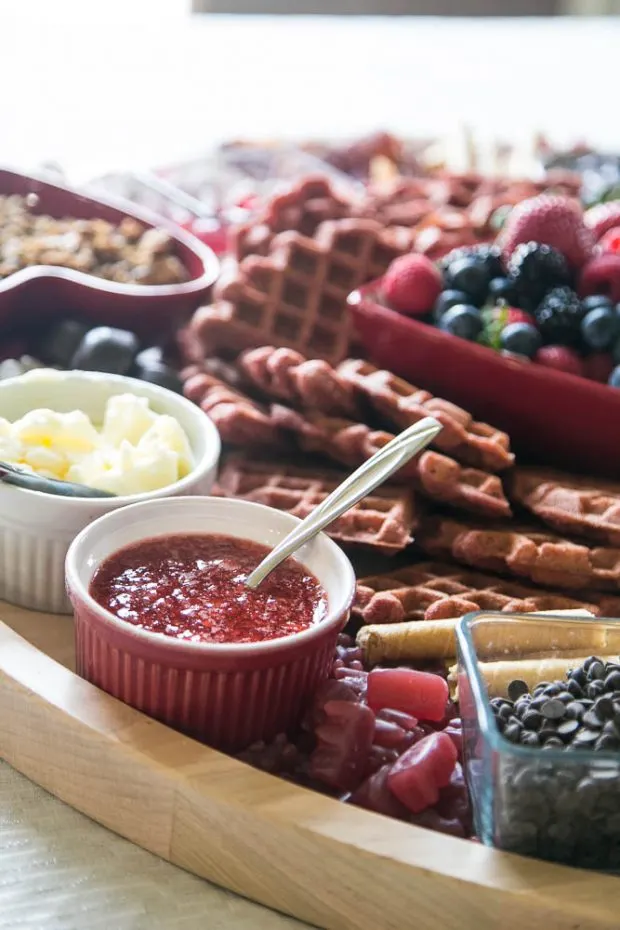 This year I'm making some Gluten-Free Cinnamon Oat Waffles.
I'm still working the kinks out of the recipe so I can post it for you! The kids don't care about my "test runs". They'll eat pretty much any waffle if they can put maple syrup on it.
I added some beet puree to make them pink and festive, too.
For this year's Valentine's Breakfast Board, I put some strawberry "sauce" (aka Strawberry freezer jam that wouldn't gel correctly because I was trying to get stingy with the sugar. Sigh.), maple syrup, Greek yogurt, fresh berries, and granola. Mmm.
I'll put a full list of what's on this board at the end of this post!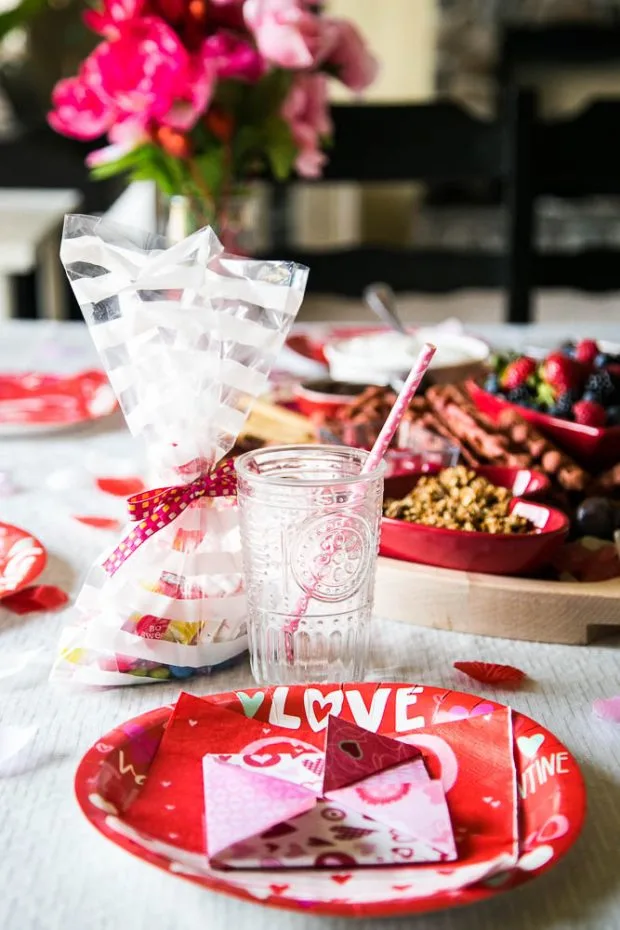 Cheap ways to decorate a table for Valentine's Day
Check the Dollar Store or Bull's Eye Section at Target (the part in the front of the store that sucks me in EVERY TIME.) for some cute, reusable decor. Valentine's themed melamine plates can be reused, too!
Add a simple gift for every person — I just put some sweets and bath bombs in a cello bag. Stuffed animals are sweet, but they're taking over our house, so…. pass.
Cute paper straws make anything more fun to drink.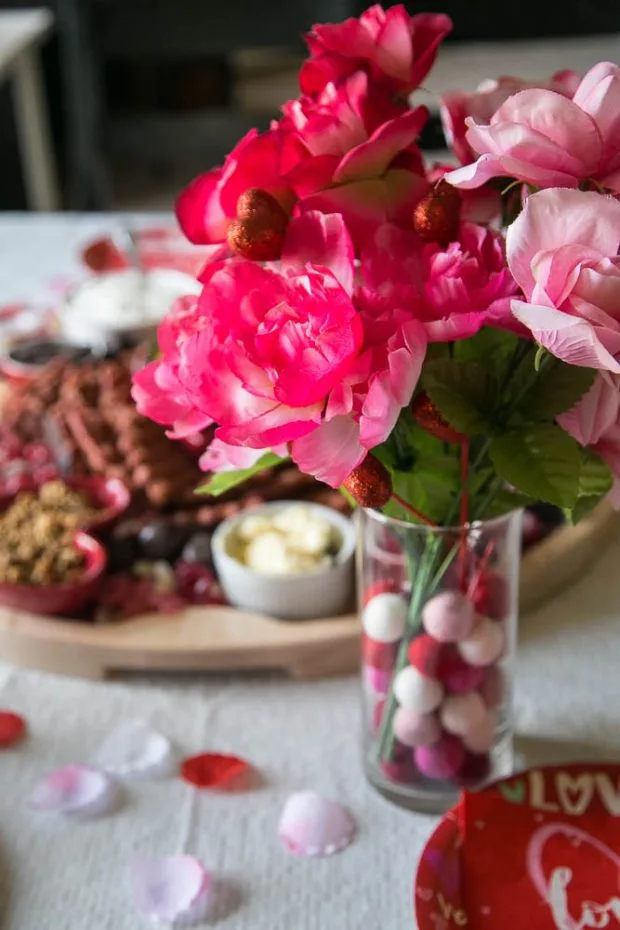 Snag some silk flowers and silk flower petals to scatter around the table. These dollar store ones are on their third year of surprise Valentine's breakfasts.
Use a simple, versatile tablecloth. This one is also the one I use for Christmas — it's white with silver threads.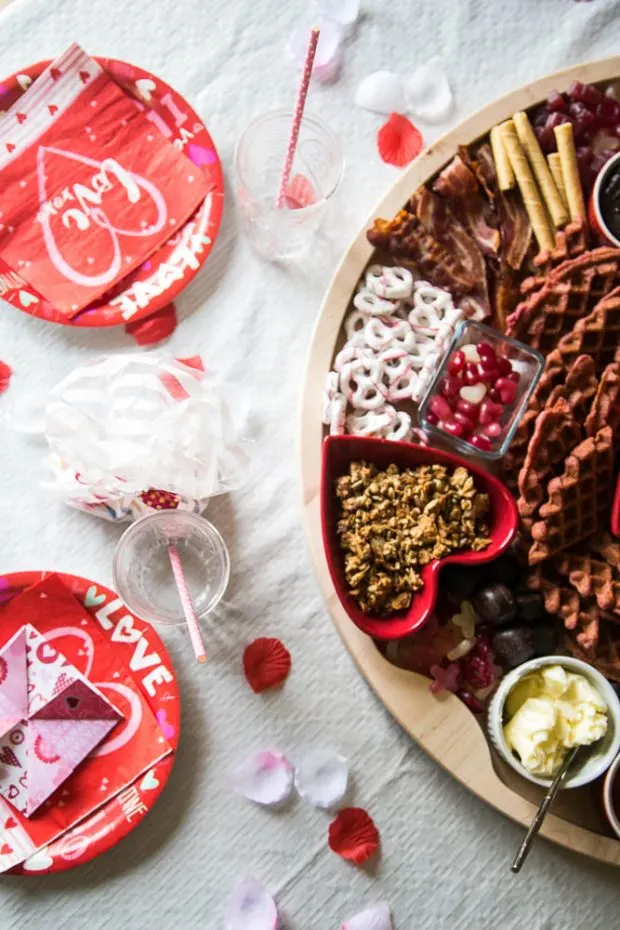 What to put on a Valentine's Breakfast Board
I went with a waffle theme, but you can put whatever breakfast items you like on here!
I added some sweet treats because it's Valentine's Day and grabbed some candy and chocolate from Trader Joe's, Thrive Market, and the grocery store. There are a lot of options out there if you're looking for gluten-free, dairy-free, and additive-free treats.
Pancakes or waffles are easy and arrange well.
Bacon (because is it even breakfast without bacon?)
Yogurt & granola
Toppings — this is where you can go nuts and make your board fun and colorful! I added lots of fresh berries, chocolate hummus, strawberry sauce, maple syrup, mini chocolate chips, and sprinkles.
Sweets — Valentine's themed gummies & chocolate, chocolate covered pretzels, wafer sticks, chocolate covered marshmallows.
Other breakfast ideas:
CREPES. Mmm.
Chia pudding parfaits
Bagels & toppings
Mini quiches
Breakfast sandwiches
Omelet bar (This one would be better for a small group. Put the fillings/toppings on the board and make the omelets to order.)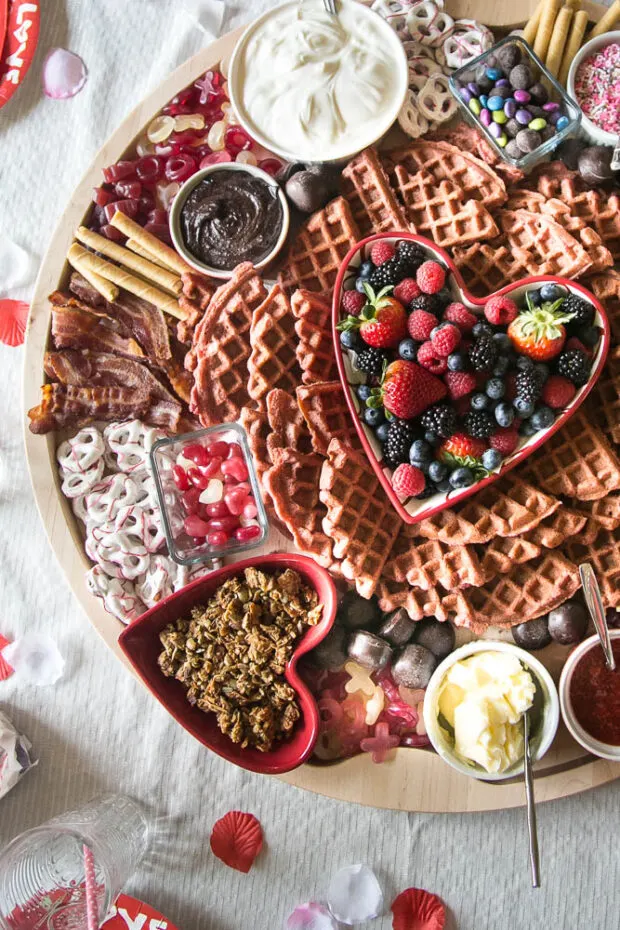 Tips for Arranging a Charcuterie Board
This Valentine's Breakfast Board isn't technically a charcuterie board ("charcuterie" is a French term referring to cured meats and is traditionally known as a meat and cheese tray) but these tips can help you arrange whatever kind of meal board you're setting up!
Decide what the main focus is and add that to the board first. For my board, I wanted the bowl of berries and the waffles to be the main feature so I put them in the middle. Then fill in the rest with sections or piles of the rest of the items.
Use smaller bowls or containers for dips and foods that don't stack or pile well (like sprinkles and small things like mini chocolate chips). Ramekins are great for this because they aren't very wide.
Mix up colors and textures. I like to split the items into 2-4 piles scattered around the board.
Make sure the bottom of the board is covered with either food or a container. Charcuterie boards look best when they're full!
If your board or tray isn't food-safe, add a layer of parchment paper to the bottom. Some trays and boards you find at stores are purely decorative. Check the label to see if it's food safe before putting food directly on the board.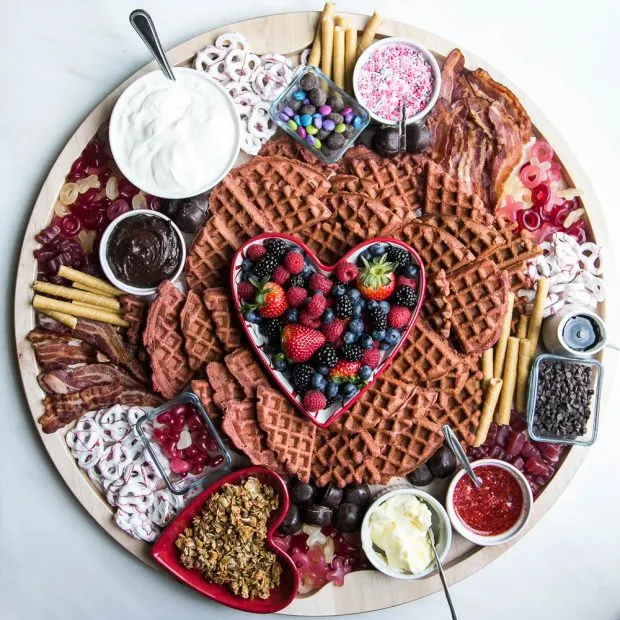 Where can you find a charcuterie board?
If you've got a wooden cutting board or a big platter, you've got something already!
If you're wanting something bigger you can find great prices on serving boards and trays at outlet stores like TJ Maxx, Home Goods, and Ross. They also have fun little bowls and containers to use for toppings!
In case you're wondering, my board is the Big Board from Reluctant Entertainer! It's the 26″ round maple board, and it holds a LOT of food. It's super fun to fill up for parties!
I wouldn't recommend getting one this big unless you're a crazy food blogger or you plan on feeding 8-12 people.
More Pancake & Waffle Recipes
Crepes are a fun option for a breakfast board, too! My Gluten-Free Crepes recipe is SO GOOD. And no one even knows they're gluten-free. Oh, and make my Easy Berry Sauce to go with them!
Paleo Chocolate Banana Protein Waffles are a great choice for Valentine's Day and would pair well with a lot of toppings!
---
If you make one of my recipes, be sure to post it on social media and tag me at @perrysplate or #perrysplate so I can send you some love!
This post may contain affiliate links. Any purchases made by using these links won't cost you any extra and helps keep my content free. These links may be Amazon links as I am part of the Amazon Associate Program.