Want deviled eggs without having to scoop out the yolks and pipe them back into the whites? Do it the lazy way! Create a Lazy Deviled Egg Board with all of your favorite toppings to customize your eggs how you like.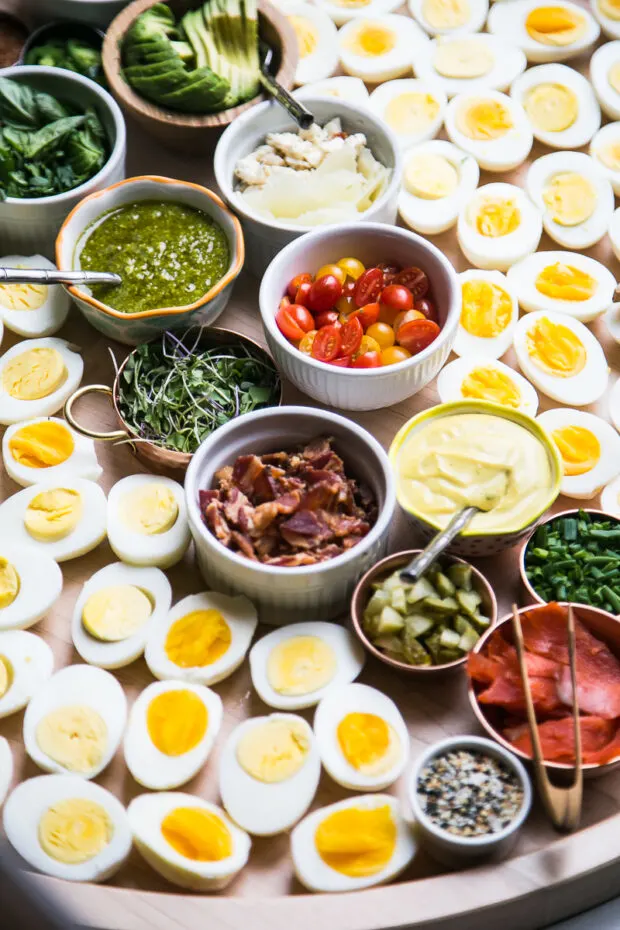 Want to hear my emotional deviled eggs story?
Back when I was pregnant with my first kid, Easter was about 3-4 weeks from my due date and we were hosting Easter dinner with some family in our tiny college apartment.
My grandma was coming. I love my grandma. I love how passionate she is about food. At that time she was also pretty strict about holiday food traditions.
And, according to her, deviled eggs were non-negotiable for Easter.
I decided to make some — for the first time ever. And because I was young and determined, I hadn't yet learned that delegating food assignments should also be non-negotiable.
Anyway…
I prepped the rest of our dinner, and then I started on the eggs.
After my 8-month pregnant, exhausted, and emotional self wrestled with eggs that wouldn't peel and whites that kept breaking, I finally broke down and cried. I felt like a failure because those eggs (and my hormones) had gotten the best of me. And the eggs that "turned out" were mostly mangled looking.
Needless to say, it was a very long time before I attempted to make deviled eggs again.
We actually really love deviled eggs, though. And when I decided they weren't as traumatizing as my first experience, I made them more often.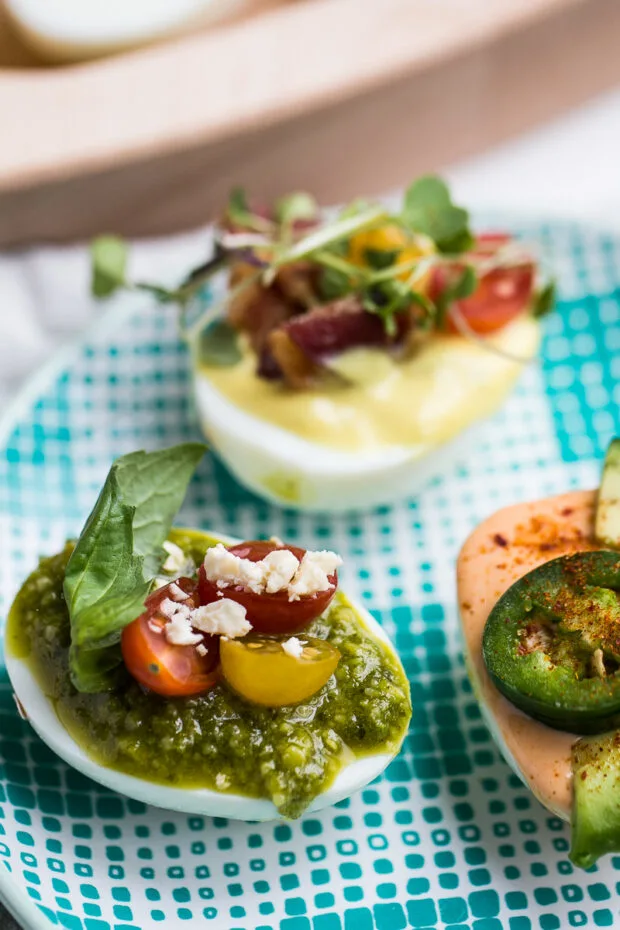 What's a Lazy Deviled Egg?
TLDR: It's a simplified version of a deviled egg without removing the yolks and piping them back into the whites.
When I did my first round of Whole30. If you're familiar with the program, most people end up eating a lot of eggs because they're an easy source of protein.
Every week I'd make a batch of hard-cooked eggs to snack on during the week and smear them with some mayo + mustard or some chile mayo. Kind of like a deviled egg without all of the work.
And the lazy deviled egg was born.
I think this Lazy Deviled Egg Board would be a great option for Easter because:
You're going to have an abundance of hard-boiled eggs sitting around if you have children.
You can pick any toppings you want! You aren't limited to ONE kind of deviled egg.
Having make-your-own snacks and meals like this are easier for guests with allergies.
And because I'm anticipating this question…
What's the best way to hard boil an egg?
Guys, there are so many ways to do this. I'm just going to tell you my two favorite ways:
On the stovetop
Put eggs into a saucepan in one layer. Cover completely with cold water.
Heat to boiling and let it boil for one minute.
Remove the pan from the heat, cover, and let it sit for 10-12 minutes.
Transfer the eggs to an ice water bath to stop them from cooking.
In the Instant Pot/Pressure Cooker
Put the rack and one cup of water into the insert of your pressure cooker. Lay eggs on the rack in a single layer.
Close the lid and cook on manual high pressure for 4 minutes.
For slightly gooey-centered eggs, flip the steam release button right away. For perfectly cooked eggs, wait 2-3 minutes before releasing the steam.
Transfer the eggs to an ice bath to stop the cooking.
Another note on hard-cooked eggs — older eggs are usually easier to peel than fresher ones. And the eggs I make in my Instant Pot also peel easier than when I do them on the stovetop.
Usually. There are always those little rogue exceptions.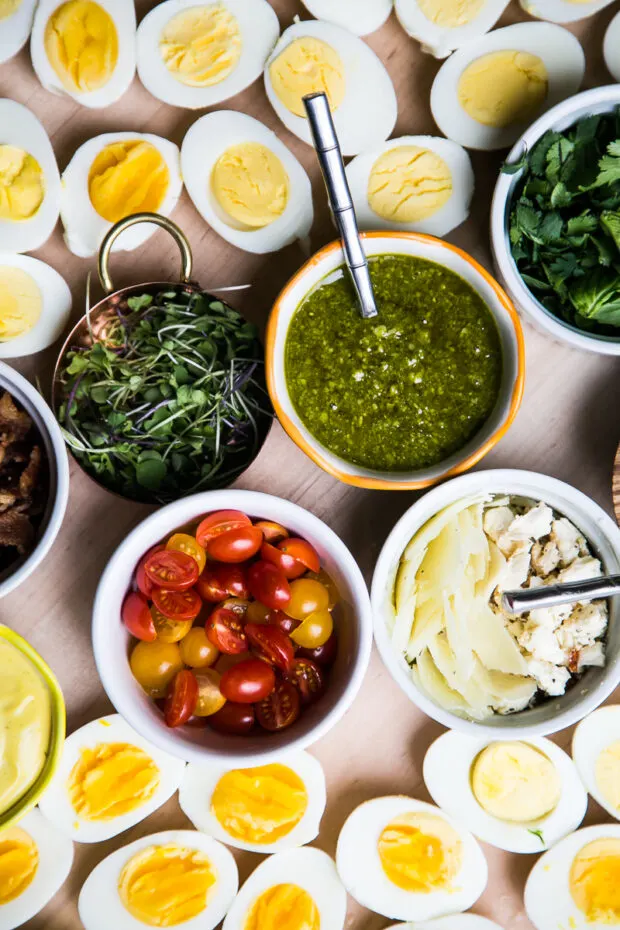 What toppings are good for Lazy Deviled Eggs?
What toppings AREN'T??
I'd recommend using some kind of spread, 1-2 toppings, and then an extra bit of flavor — like a seasoning sprinkle, fresh herbs, or a strong flavored cheese.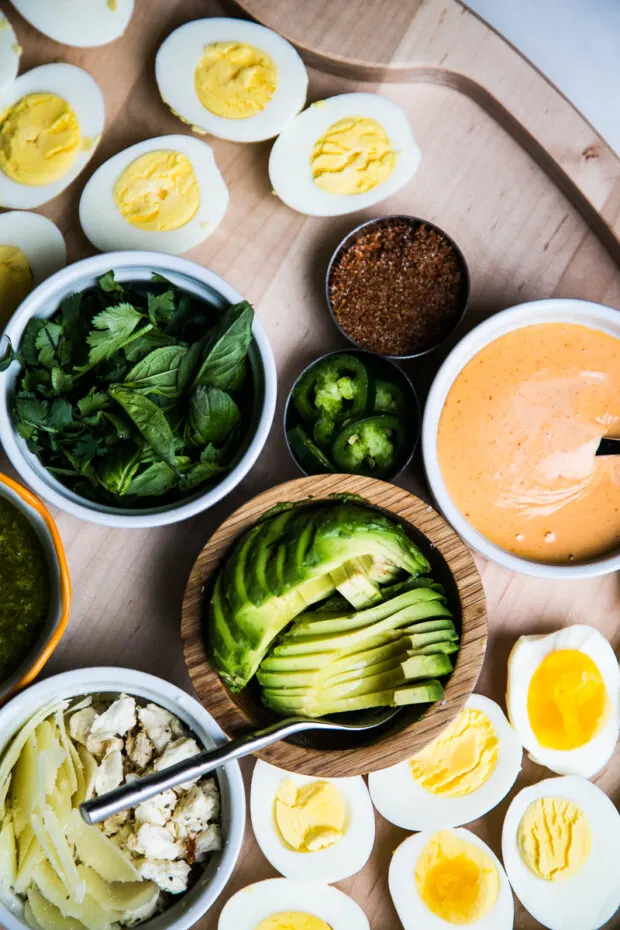 For this particular board I went with three flavor profiles that could mix and mingle a bit with each other.
Mayo + mustard spread, smoked salmon, diced pickles, chives, Everything Bagel Seasoning
Pesto, tomatoes, basil, herbed feta/parm
Chile mayo, avocado, jalapeno, cilantro, chile-lime seasoning
Another variation on this is either type mayo + bacon + tomatoes + micro greens. (Tiny BLT? *swoon*)
There isn't a formal recipe for this post — just cook some eggs, gather some toppings and go nuts!
In case you're wondering, my board is the Big Board from Reluctant Entertainer! It's the 26″ round maple board, and it holds a LOT of food. It's super fun to fill up for parties!
---
If you make one of my recipes, be sure to post it on social media and tag me at @perrysplate or #perrysplate so I can send you some love!