These protein waffles are paleo-friendly and make a large batch! Whip up a bunch and freeze them so your future self (and kids) will thank you!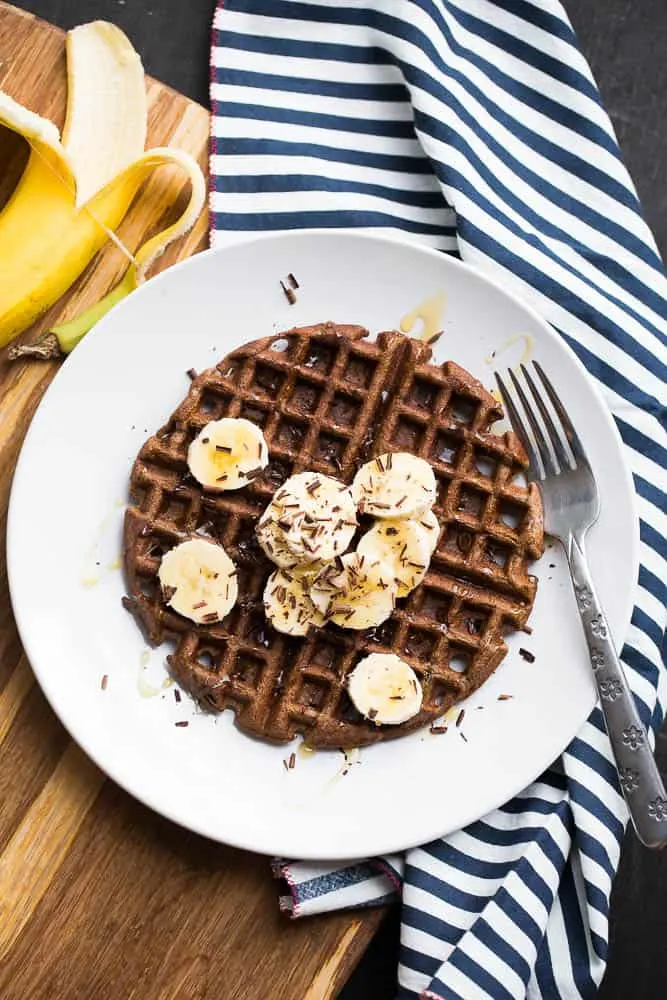 Before I talk about these chocolate protein waffles, can we talk about how weird 2-year-olds are?
This morning I was sitting on the floor after a sweaty workout and here comes #babylukedanes.
(That's what he's known as on Instagram. No, his name isn't Luke Danes. Please watch Gilmore Girls. It'll be one of the best decision of your life.)
He walked up behind me, grabbed me around the neck, and climbed on me, piggy-back style. Then I feel a *lick lick* on my shoulder.
Oh, he did NOT just lick me.
*lick lick lick*
Seriously? I'm covered in sweat. And completely grossed out. I try to pull him off my back, but he's got his squishy little arms locked around my neck, all the while, licking the sweat off my shoulders. And giggling.
He's in a licking phase anyway, so it probably fascinated him that Mom suddenly tasted differently.
And honestly? There are far worse things that have been in his mouth. SOOOO, I let him. #fourthkid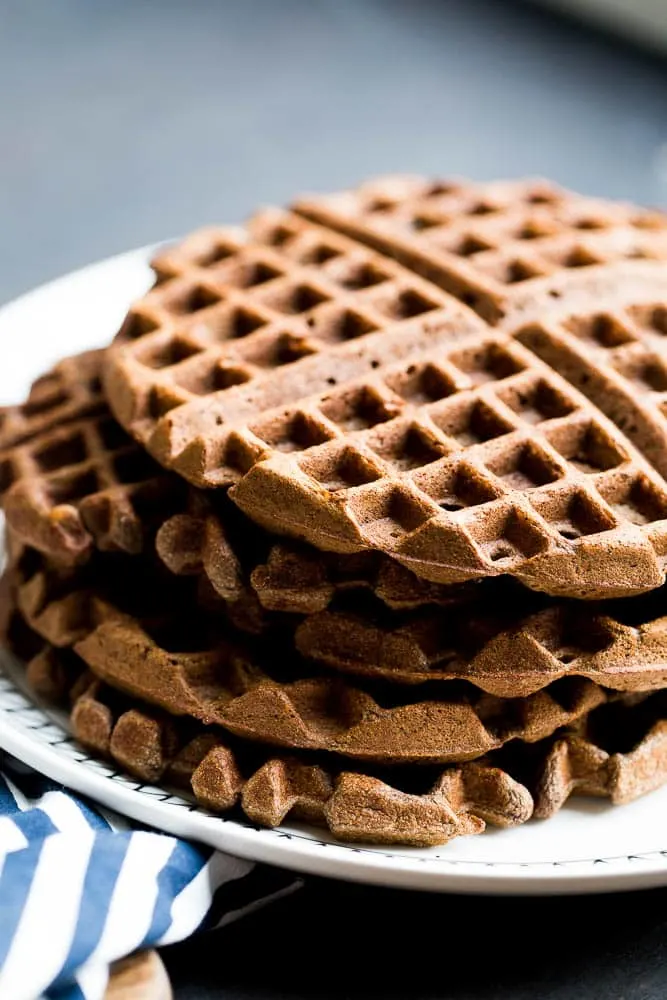 It amazes me the things kids put in their mouths that they claim to love.
My 8-year-old (still!) chews on random stuff — water bottle caps, rubber bands,.. she's a very tactile person. And snuggly. She gives the best hugs.
She'll eat grass, too, but she won't eat eggs, deli meat, breakfast sausage, sweet potato hash, granola, anything with the slightest amount of heat (pepper jack cheese! Ack!) which doesn't leave a lot of options for breakfast that isn't bread-based.
She would eat pancakes or waffles every single morning, though.
My other girls are this fickle, too, but with other parts of their lives. Luckily not everyone's particular preferences surround food or I'd lose my ever-loving mind.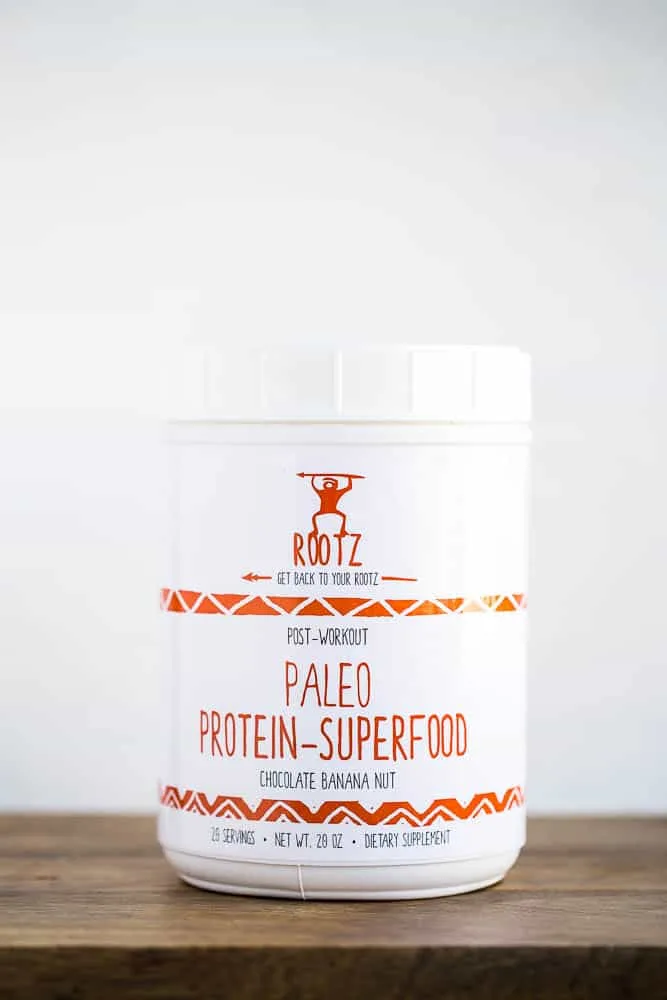 In an attempt to get some protein in my picky breakfast eater, I tossed some Rootz Protein Powder into some chocolate-banana waffles one morning.
By the way, it doesn't taste like bananas and there are no tree nuts in there — just coconut, which is technically a tree nut, but we all just pretend it isn't.
She has an internal radar that senses when I'm trying to feed her something healthy without telling her.
Skeptical at first, she decided chocolate protein waffles weren't bad…after drizzling a bunch of honey on top. (She's also my most enthusiastic sweet-toothed child.)
I think that was a win? The other kids inhaled them.
As far as protein powders go, Rootz is squeaky clean, so I felt good about feeding it to my kids.
It's ALL paleo-friendly, and it's the first protein/superfood powder I've eaten that didn't give me a stomach ache.
I've tried at least a half dozen, too. Cheaper ones, expensive ones, vegan ones, chocolate, vanilla — they all hurt my stomach. Except Rootz.
AND it tastes good. That's a huge plus for me.
Oh, and let's talk about the elephant in the room, shall we?
If you know me even a little bit, you might be shocked that I actually put bananas on those waffles.
I REALLY hate bananas. It was a labor of love to feed them to my babies because my hands would be all banana-y and smell weird. *shudder* (I didn't eat that waffle, btw.)
BUT. I don't mind them baked into things. I love banana bread, banana muffins…. that kind of thing. I put bananas in these waffles which I don't regret. It makes them a little heartier and acts as a natural sweetener.
I put some coconut sugar in these because we were planning to just drizzle a little honey on top.
If you're going to go all out and float them in maple syrup (My fave. Mmm.) then you can hold back on the coconut sugar.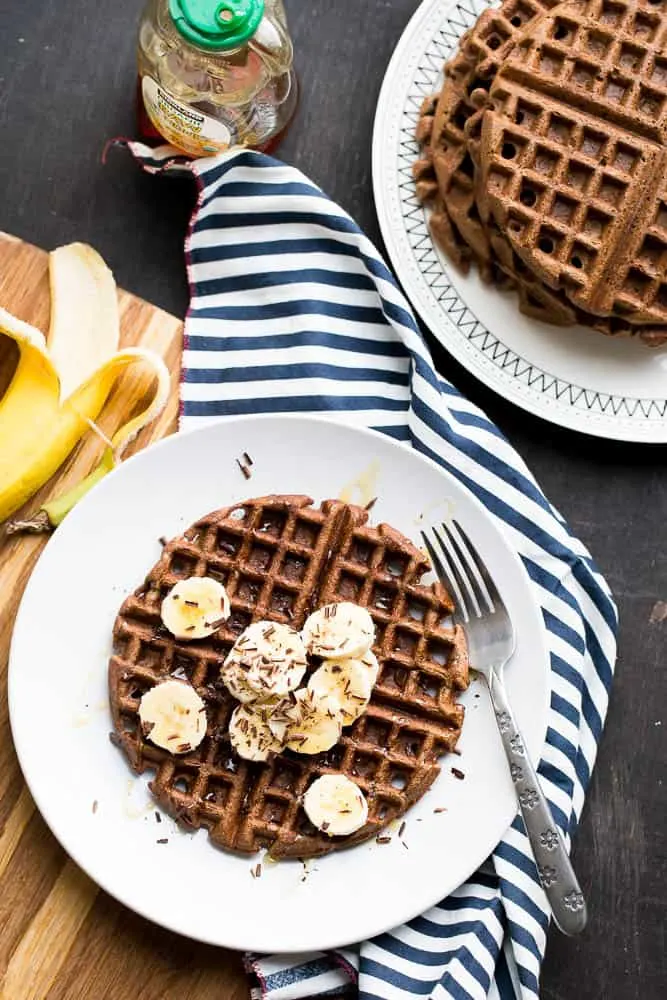 P.S. This also makes a REALLY big batch of waffles — about 20 standard sized waffles. You can half the recipe if you like! Or just make all of them and freeze them for later. If you've got picky breakfast eaters or kids who like to like sweaty shoulders, I bet they'd like these, too.
P.P.S. This recipe calls for cassava flour. I really love cassava flour — it's a grain-free alternative flour, and works really well in non-yeasted recipes like these. You may be able to find it in some health food stores, but I just buy it on Amazon. I really like Anthony's Cassava Flour.
P.P.P.S. You should probably make some Paleo Protein Brownie Bites while you've got your Rootz sitting out. Just sayin'. SaveSaveSaveSaveSaveSaveSaveSave
---
If you make one of my recipes, be sure to post it on social media and tag me at @perrysplate or #perrysplate so I can send you some love!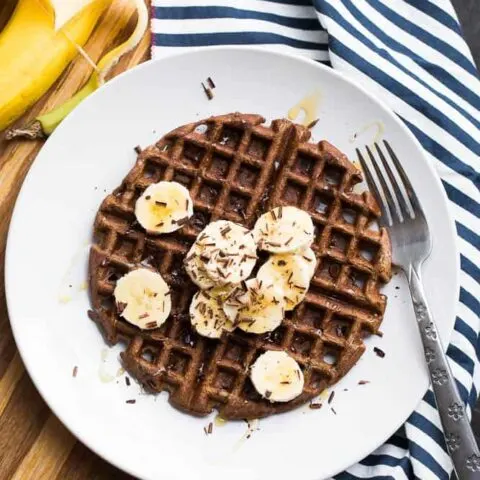 Paleo Chocolate Banana Protein Waffles
Yield:
Makes 20 standard sized round waffles
These protein waffles are paleo-friendly and make a large batch! Whip up a bunch and freeze them so your future self (and kids) will thank you!
Ingredients
2 cups cassava flour
1 cup almond flour
1/2 cup Rootz protein powder (or your favorite chocolate protein powder)
1/2 cup unsweetened cocoa powder
1/2 cup coconut sugar
2 teaspoons baking soda
1 1/4 teaspoons salt
4 large bananas, extra ripe and spotty
6 eggs, separated
3 cups unsweetened almond or coconut milk
2 teaspoons vanilla extract
perfectly ripe bananas, dark chocolate shavings, and honey/maple syrup, for serving
Instructions
In a large mixing bowl, combine the cassava flour, almond flour, protein powder, cocoa powder, coconut sugar, baking soda, and salt.
In a blender or food processor (or another medium sized mixing bowl, if you'd rather), combine the ripe bananas, egg yolks, almond/coconut milk, and vanilla. Blend until smooth.
In a medium sized mixing bowl whip the egg whites until soft peaks form.
Pour the liquid contents from the blender into the dry mixture. Whisk until blended well. Fold the egg whites in gently. The mixture should be pretty fluffy.
Cook the waffles, according to your waffle iron's instructions.
Serve with banana slices, dark chocolate shavings, and a drizzle of honey or maple syrup.
Notes
Nat's Notes:

1. Whipping the egg whites isn't ABSOLUTELY necessary, but I highly recommend it. It makes the batter fluffier and the waffles less dense.
2. You can omit the protein powder if you don't have one you can use. Just replace it with extra almond flour.
3. I used a standard waffle iron -- not a Belgian.
4. You can use tapioca flour in place of cassava flour if you like.
Recommended Products
As an Amazon Associate and member of other affiliate programs, I earn from qualifying purchases.
This post may contain affiliate links. Any purchases made by using these links won't cost you any extra and helps keep my content free. These links may be Amazon links as I am part of the Amazon Associate Program.