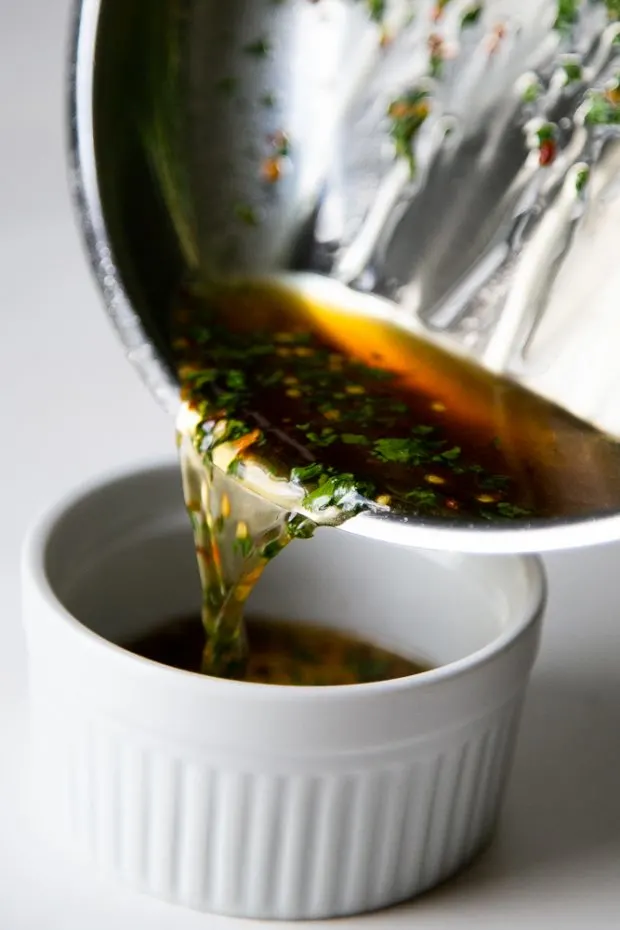 There's a fun restaurant chain out here in the Western US called Cafe Zupa's that serves fresh & tasty soups, salads, and sandwiches.
They have a Chipotle Chicken Salad that I love with a spicy honey cilantro glaze drizzled on top.
Drizzling a honey glaze over a salad seems unnatural. I agree.
In fact, the first couple of times I opted out of the honey drizzle because I was turned off by it.
And then I got the honey cilantro glaze on the side out of curiosity. I'm glad I did. Just a little of that honey glaze gave the salad a whole other dimension as it mingled with the chipotle ranch dressing and grilled chicken.
I had to make some for myself.
After hacking this honey glaze, I'm convinced the restaurant version is mostly corn syrup or some other sweetener.
My version has a stronger honey flavor because it's mostly honey.
Funny how that works.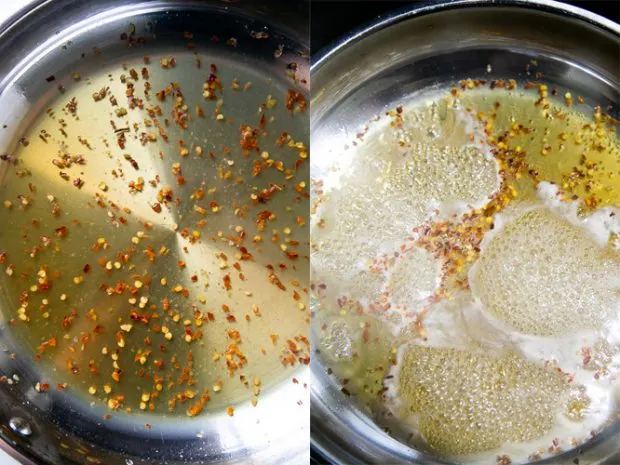 What's in Hot Honey Cilantro Glaze?
It's just a few ingredients (most you probably already have!) and a minute or two in a hot skillet.
Honey
Crushed red pepper flakes
Lime juice
Salt
Fresh cilantro
That's it!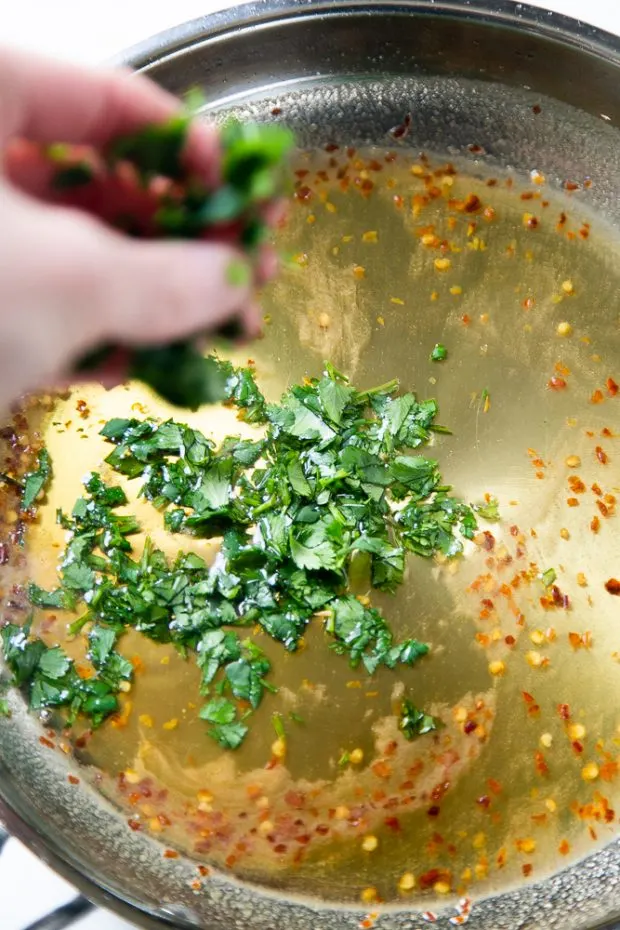 I love the fresh cilantro in this because it gives it boost of freshness to balance out the sweetness.
If you're anti-cilantro, I'm sad for you.
But I understand. And you can also use fresh parsley if you like. Or sliced green onions.
It might seem a little watery, but it'll thicken a little as it cools.
And you'll want it to be on the thin side because if it isn't, it'll thicken up so much in the fridge it'll be impossible to drizzle.
How spicy is it?
I know I'll get this question.
The answer is — depends on how you use it.
It's not as potent and spicy as hot sauce.
But it does have a good kick to it. If you eat it in a cool, crispy salad with a lot of other things going on, it won't be too overwhelming.
If you immerse your popcorn chicken in it, expect to feel that kick.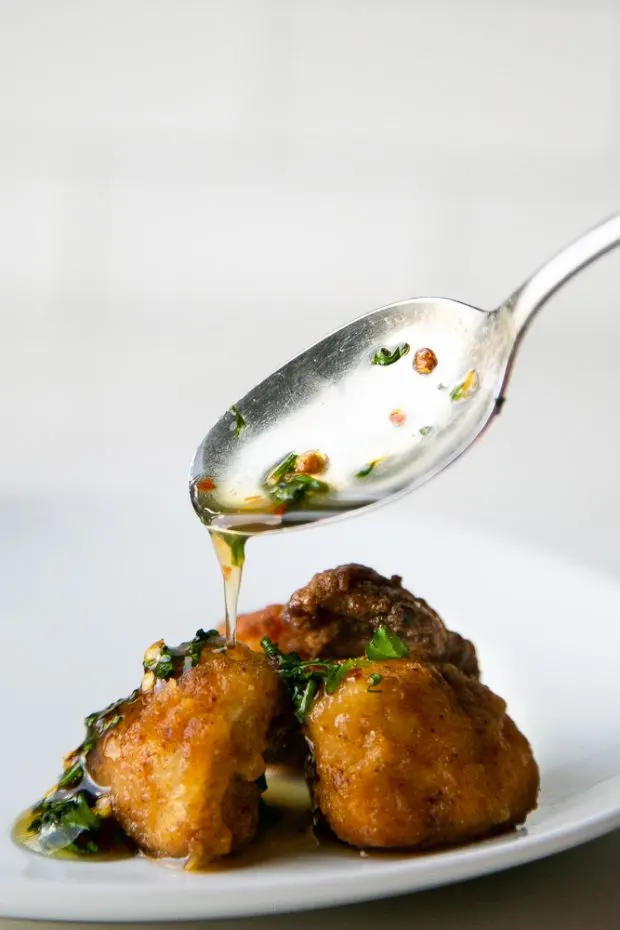 Ways to use Hot Honey Cilantro Glaze
If you're sitting there thinking "what on earth would I use this for?" — I've got your back. Here are some suggestions.
---
If you make one of my recipes, be sure to post it on social media and tag me at @perrysplate or #perrysplate so I can send you some love!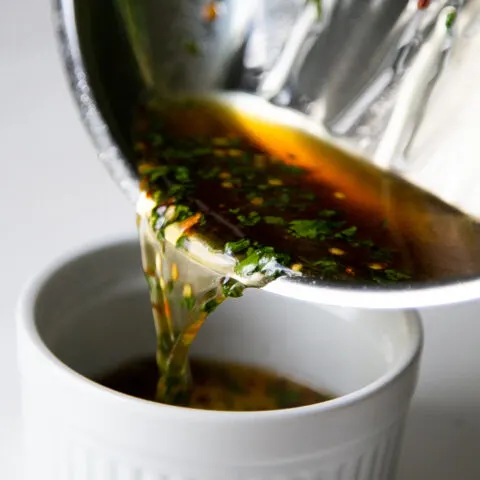 Hot Honey Cilantro Glaze
This sweet & spicy hot honey glaze is more versatile than you think! We love it over grilled fish, popcorn chicken, taco salads, and roasted Brussels sprouts.
Ingredients
1/4 cup honey
1/4 cup water
1/2 teaspoon crushed red pepper flakes
Squeeze of lime juice
Pinch of salt
2 Tablespoons minced fresh cilantro
Instructions
Put the honey, water, crushed red pepper flakes, lime, and salt in a skillet. Bring it to a boil, and let it bubble for about 2 minutes.
Remove from heat and stir in the cilantro.
Let it cool for 20-30 before using.
Store chilled in a lidded container for up to 2 weeks.
Notes
Nat's Note: Drizzle this glaze over grilled meat or fish, salads, breaded/fried chicken, or roasted vegetables. It's especially good with roasted Brussels sprouts.