These Paleo-friendly meal plans are for six dinner recipes and a dessert thrown in for fun! All of these recipes are paleo friendly, seasonal, and most can be easily adapted to be Keto/Low-Carb or Whole30 friendly.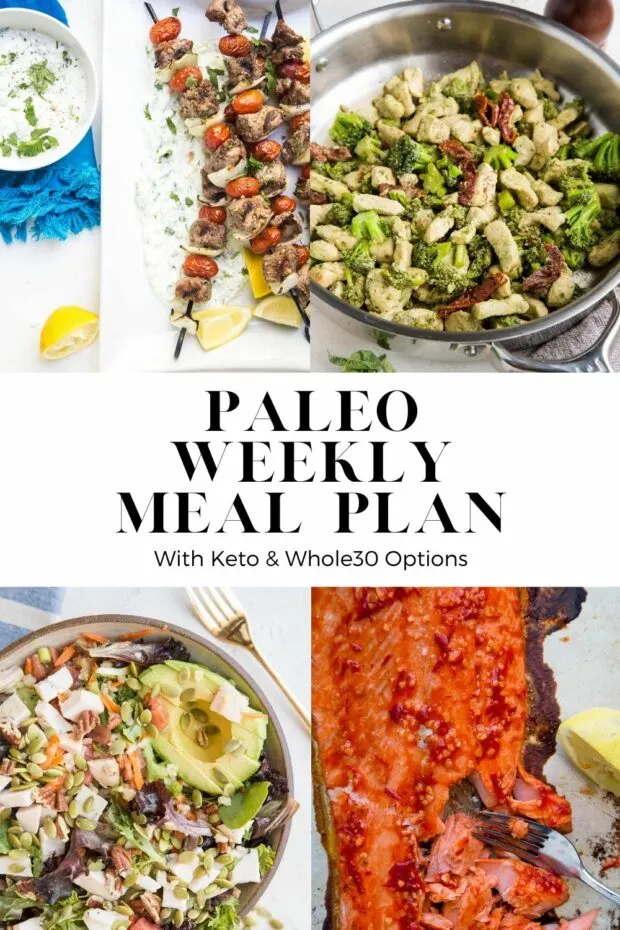 Heeeeeey!
Have you started grilling all the things?
I'm super tempted to throw an entire week of grilled meals at you, but I realize not everyone has a grill. (Seriously…. please just get one.)
So we're taking it slowly with some grilled Greek Steak Kebabs which would be a fabulous choice if you're grilling over Memorial Day weekend.
Julia's Current Favorite Salad looks amazing, and I had to throw in my latest recipe — Paleo Samoa Cookie Bars.
Have a tasty week!
Natalie
---
Sunday
GREEK STEAK KEBABS WITH TZATZIKI — These steak kebabs are beyond fabulous and only need about 30 minutes of marinating! There's also a dairy-free variation for the tzatziki, so check the recipe notes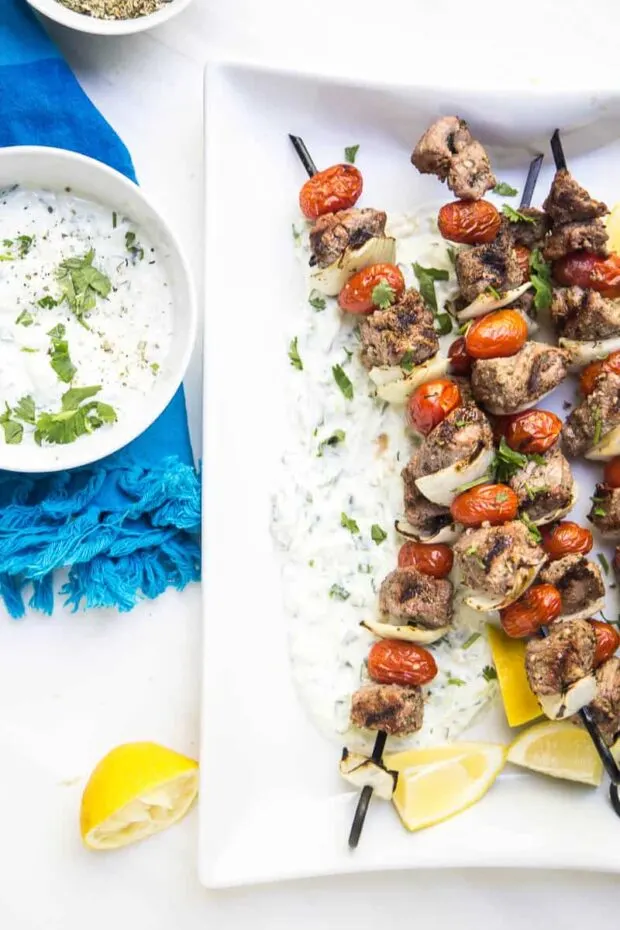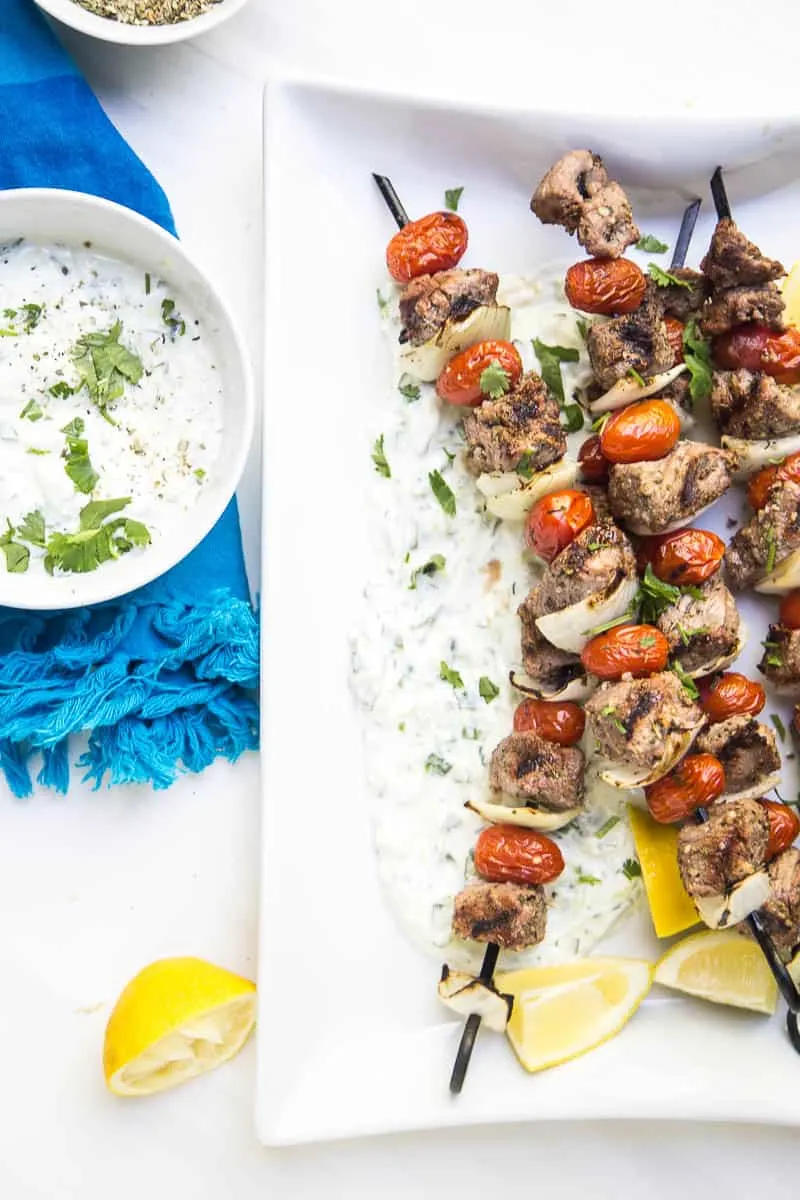 Special Diet Note: Recipe is primal and low carb.
Prep Ahead: Marinate the steak and make the tzatziki the day before to save time.
Substitutions: If you're dairy-free, check the recipe notes for a dairy-free version of tzatziki.
Monday
PESTO CHICKEN & BROCCOLI — The quickest Pesto Chicken and Broccoli recipe made in 5 seconds flat! Okay, maybe not 5 seconds, but this meal comes together lightning quick!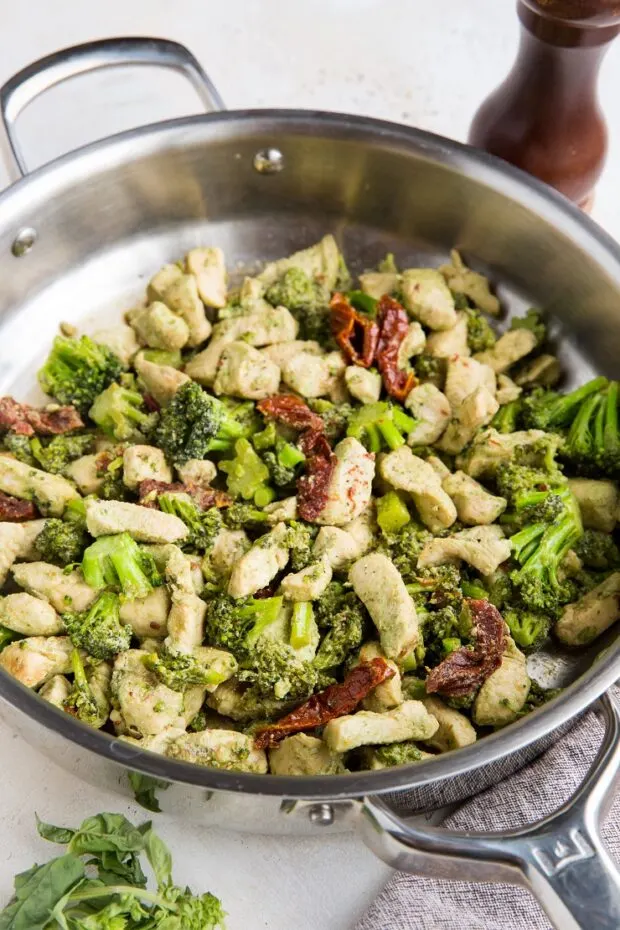 Special Diet Note: Recipe is low-carb/keto. It can be made paleo and whole30 by using dairy-free pesto sauce
Prep Ahead: Chicken and broccoli can be marinated up to 24 hours in advance.
Substitutions: Serve it up with choice of steamed rice, cauliflower rice, and/or zoodles.
Tuesday
SWEET KALE SALAD — This is a from-scratch version of the beloved Taylor Farms Sweet Kale Salad sold at Costco — with a much cleaner dressing! Serve alongside some leftover protein or grill up some pre-cooked sausages.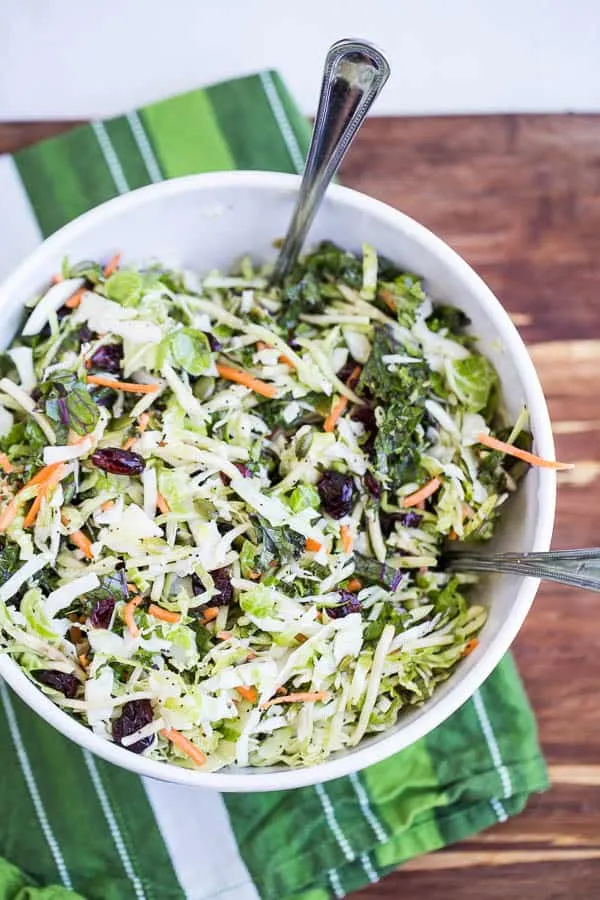 Special Diet Note: Recipe is paleo.
Prep Ahead: This salad can be made 2-3 days in advance. The dressing alone can be made a couple of days ahead, too.
Substitutions: Replace the honey with a low-carb sweetener to make this salad low-carb friendly. You can also serve it with some leftover protein or some pre-cooked sausages cooked on the grill.
Wednesday
THAI ZUCCHINI NOODLES WITH SESAME ALMOND GINGER SAUCE — Thai zucchini noodles with bell pepper, cabbage, carrot, cashews, and a sesame almond ginger sauce.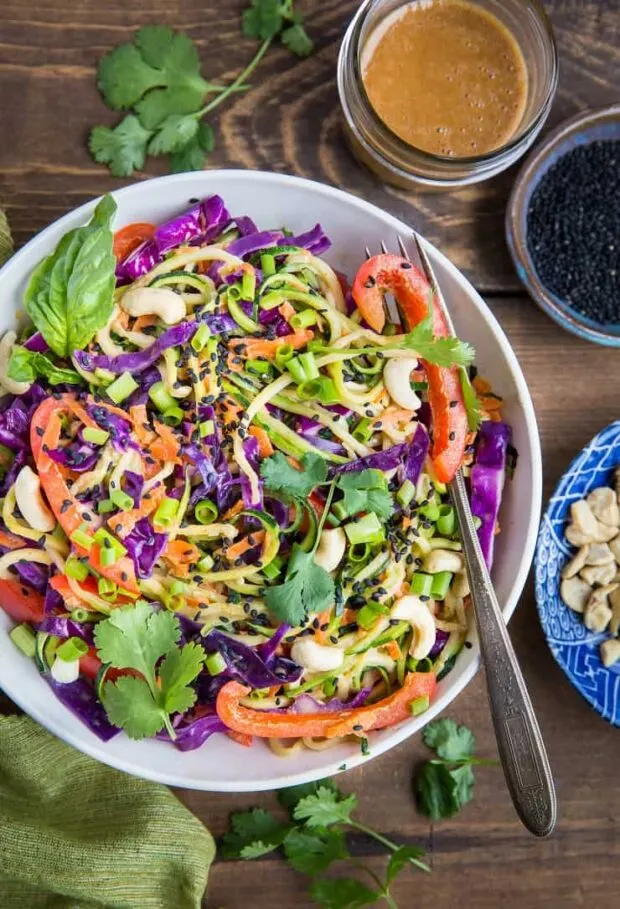 Special Diet Note: Recipe is vegan, paleo, whole30 and low-carb.
Prep Ahead: No advance prep is needed.
Substitutions: Add your favorite animal protein or stick with the plant-based version. You can swap the almond butter for creamy peanut butter if you'd like!
Thursday
5-INGREDIENT HARISSA ROASTED SALMON — This spicy Harissa Roasted Salmon is a summertime favorite! There are only 5 ingredients and you can make it on the grill, too. Perfect for palo, keto, and Whole30 eaters.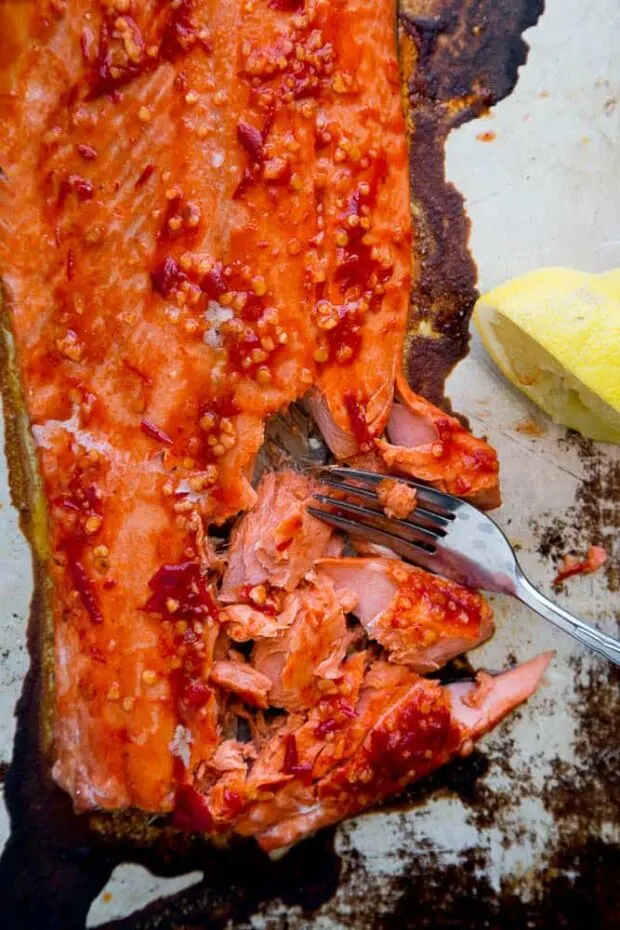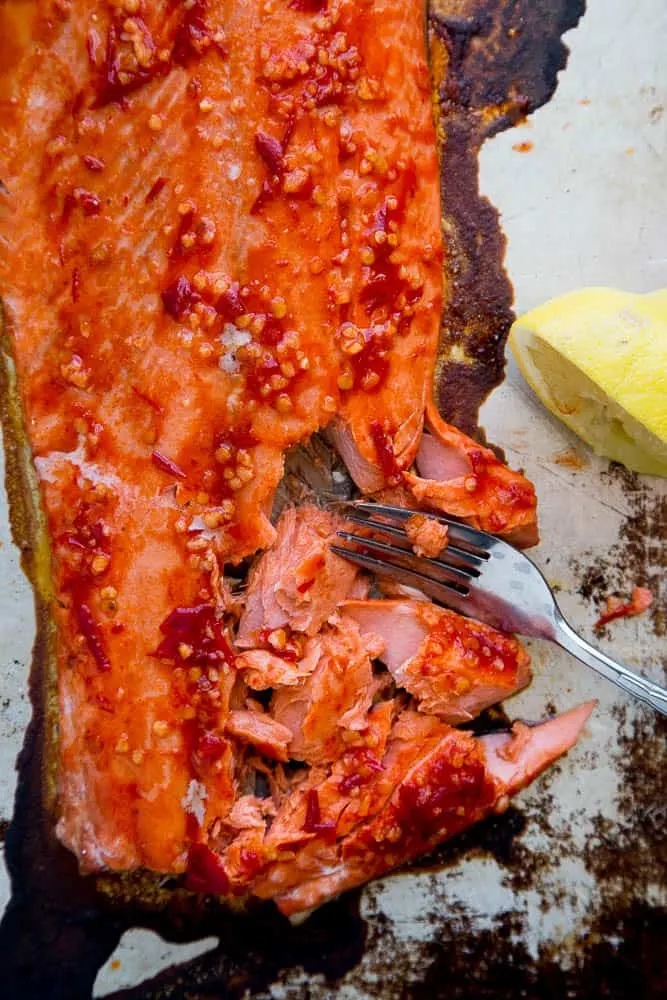 Special Diet Note: Recipe is paleo, Whole30, and keto friendly.
Prep Ahead: No advance prep necessary.
Substitutions: Roast some vegetables on the same pan or another pan or serve the salmon with a green salad.
Friday
JULIA'S CURRENT FAVORITE SALAD — This salad recipe with roasted chicken, spring greens, avocado, pumpkin seeds, pecans, carrot, heirloom tomato, and green onion, all swaddled in Caesar salad dressing. This easy-to-assemble meal is incredibly satiating and loaded with nutrients!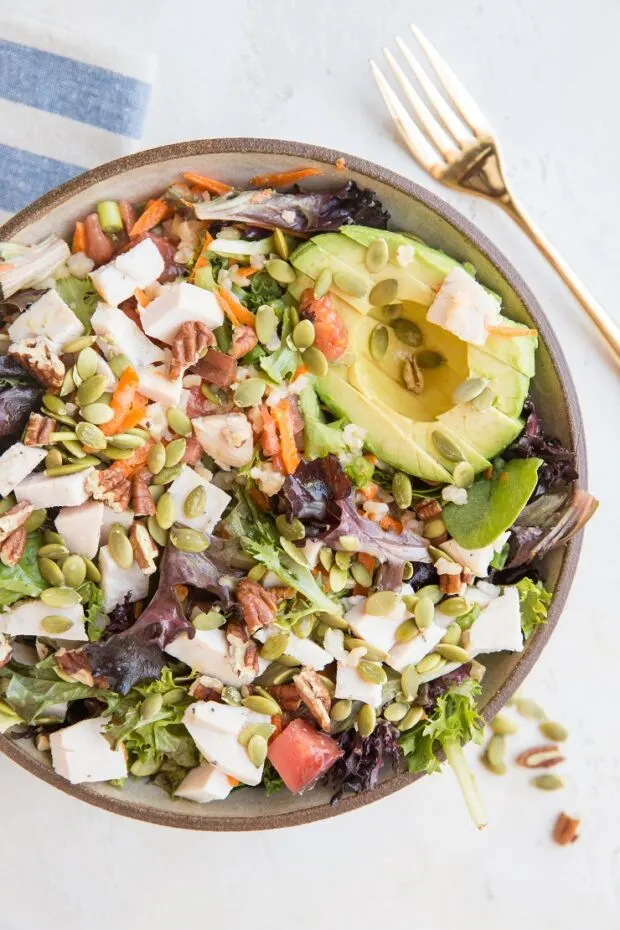 Special Diet Note: Recipe can be made paleo, whole30, and keto by omitting the brown rice (but it's really good, trust me ;))
Prep Ahead: No advance prep is necessary! If you're making your own salad dressing, that can be done up to 5 days in advance.
Substitutions: Add in your favorite veggies, nuts, seeds, dried fruit, feta cheese, etc. Swap out the chicken for your favorite animal protein or leave it out for a plant-based meal.
Dessert
PALEO SAMOA COOKIE BARS — These chewy, caramel-topped cookie bars are a paleo version of the famous Girl Scout Samoa cookies! They're also nut-free.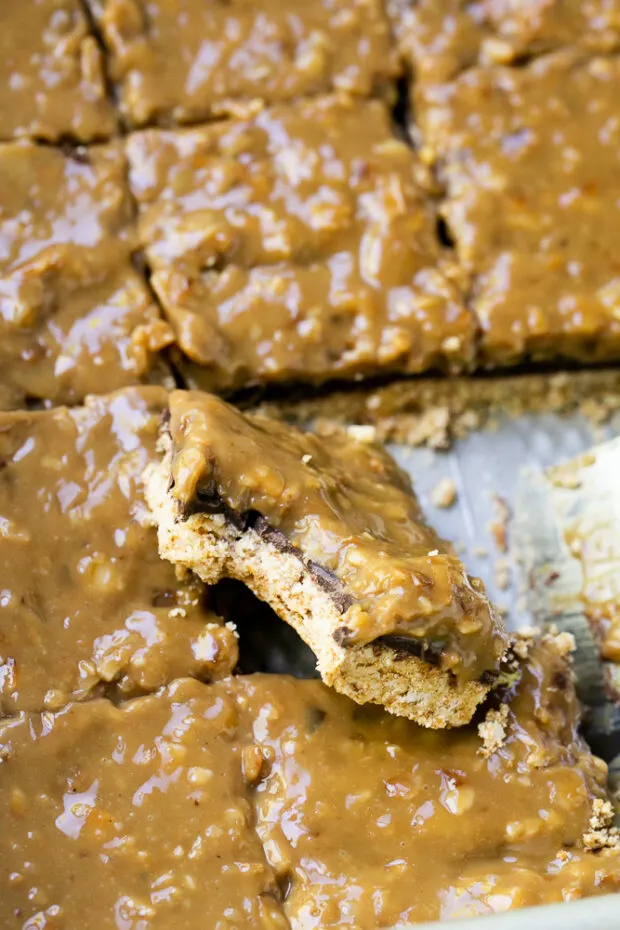 Special Diet Note: Recipe is paleo and nut-free.
Prep Ahead: You can make the caramel sauce and bake the crust ahead of time if needed.
Substitutions: If you're OK with butter, I highly recommend using butter in the crust in place of coconut oil.
Grocery List
Click HERE to download a handy printable grocery list!