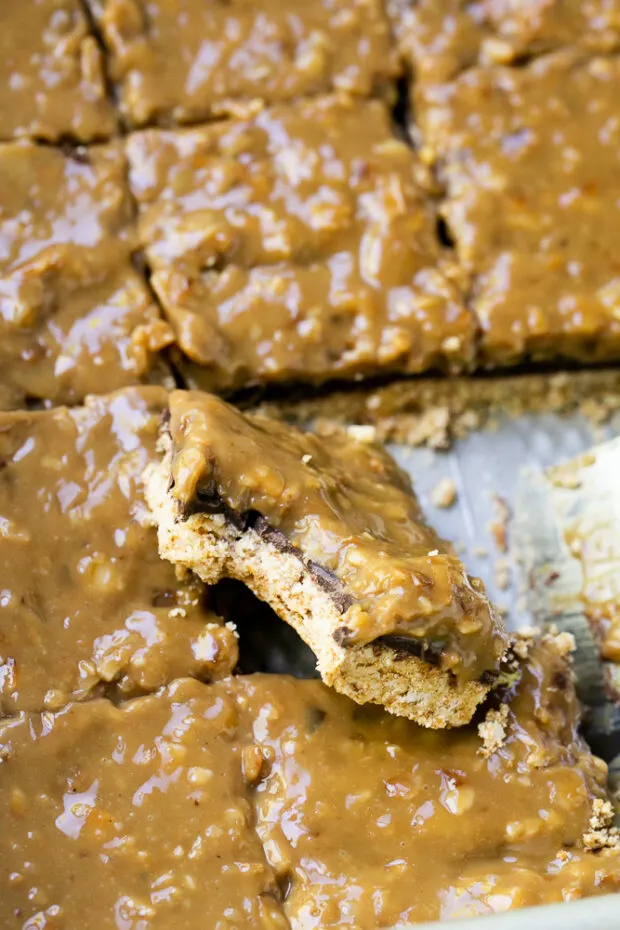 It's rare that I'm eating the very thing that I'm writing about, but here I am, munching on one of these Paleo Samoa Cookie Bars and chatting about them.
Man, they're good.
You've eaten Girl Scout Samoa cookies, yes? (Sometimes called Caramel DeLites.) They're my favorite GS cookie. I love caramel and coconut and their chewy texture. Mmm.
You'll be happy to know these Paleo Samoa Cookie Bars are dairy-free, grain-free, naturally-sweetened, vegan, and also NUT FREE.
Paleo baking tends to be nut-heavy and use a lot of nut flours and nut butters. That is sometimes disappointing for those with nut allergies or those who don't tolerate a lot of nuts well (like me).
I'll talk about my favorite grain-free, nut-free flour below!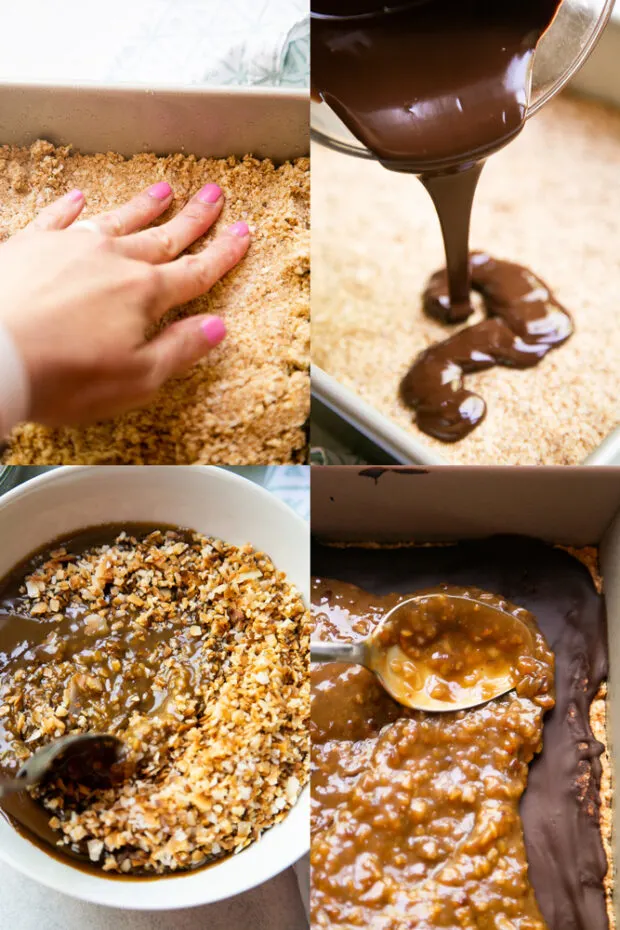 Three Samoa Cookie Layers
The cookie bottom
The bottom layer of these Samoa cookie bars are a chewy coconut-filled shortbread. Like I said earlier, these are nut-free, so no almond flour here.
I used cassava flour which has become my favorite flour for grain-free baking. I get Anthony's brand on Amazon, but you can find some at a natural grocer and some well-stocked traditional grocery stores.
I've made the crust with and without a food processor and it's delicious both ways. Using a food processor makes it easier and quicker and the resulting cookie less crumbly, but you can totally make it without.
The chocolate middle
In the middle of these Samoa bars is a thin layer of chocolate. Finding dairy-free chocolate has gotten so much easier these days. My favorite is Lily's because it's also stevia-sweetened.
The coconut caramel topping
This is my favorite part. This creamy caramel sauce is mixed with a bunch of toasted coconut to give a nice, sweet, chewy texture. Kind of like a candy version of the German chocolate cake frosting.
Let's chat more about this caramel sauce…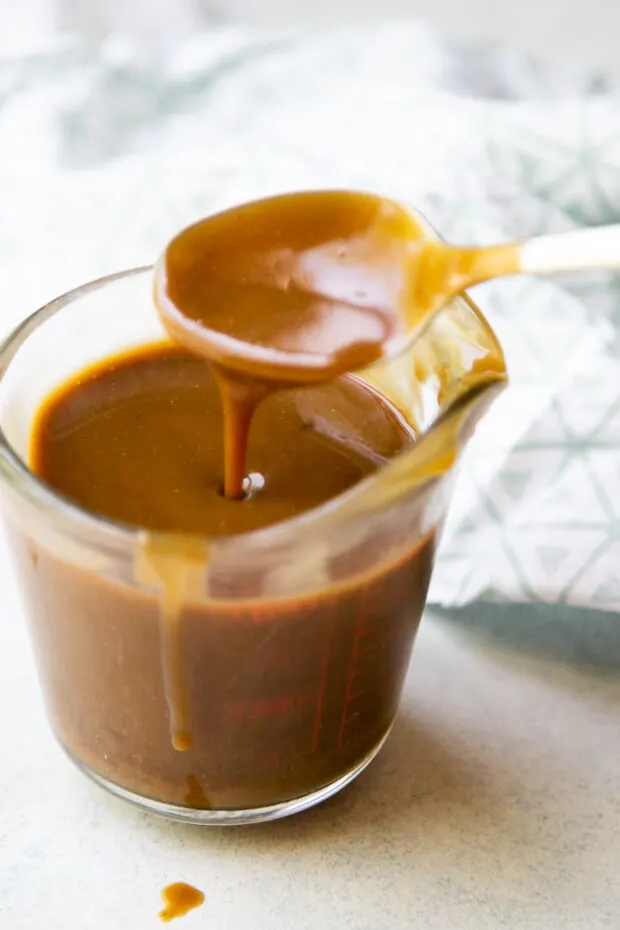 It's ridiculously easy and is a great dairy-free alternative to regular caramel sauce.
Basically you simmer a can of coconut milk with some sweetener down to a cup. It takes some time, but if you start this part at the beginning, it'll be ready by the time you add it to your cookie bars.
I can see a lot of fun uses for this sauce. It may pop up in other recipes later on. :)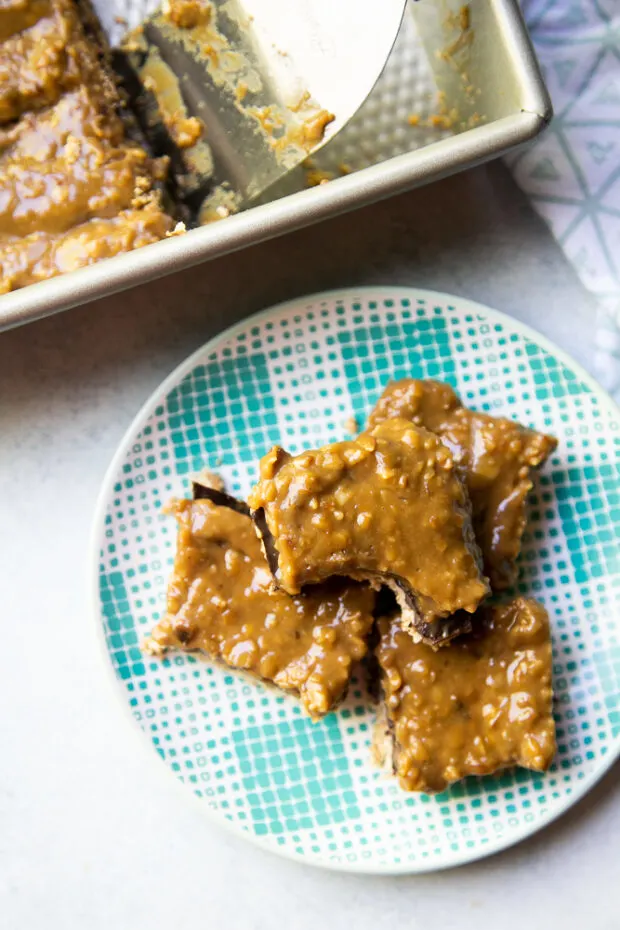 How GOOOOOD do these look?!
Having made (and eaten) several batches of these, I can tell you that they don't last long. Steve loves them, too, as well as the kids who don't mind coconut.
More Paleo Dessert Bars on Perry's Plate
If you're wanting something rich and fudgy, make some Paleo Chocolate Chip Fudge Bars. They remind me of the swirled oatmeal fudge bars I ate as a kid.
Flourless Peanut Butter & Jelly Bars only have 5 ingredients! Use any kind of nut butter you like if peanut butter isn't your thing.
Save some leftover cranberry sauce from Thanksgiving and make some Paleo Cranberry Orange Bars!
If you make one of my recipes, be sure to post it on social media and tag me at @perrysplate or #perrysplate so I can send you some love!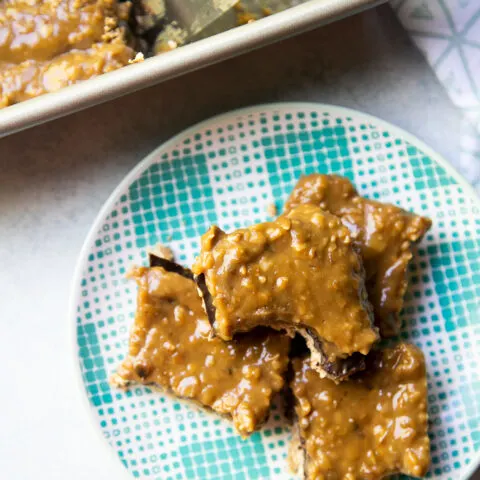 Paleo Samoa Cookie Bars
Additional Time:
30 minutes
Total Time:
1 hour
15 minutes
These chewy, caramel-topped cookie bars are a paleo version of the famous Girl Scout Samoa cookies! They're also nut-free.
Ingredients
1 13oz can of full-fat coconut milk
3/4 cup coconut sugar (divided)
1 1/2 cup unsweetened coconut flakes
3/4 cup cassava flour
1/4 cup + 1 Tablespoon coconut oil, melted
1/4 teaspoon sea salt
1 Tablespoon vanilla extract
1/2 cup dark, dairy-free chocolate chips
Instructions
Add the coconut milk and 1/2 cup coconut sugar to a medium saucepan and bring to a boil. Reduce heat to medium and simmer for 15-20 minutes or until the mixture is reduced to 1 cup. (I pour mine into a glass measuring cup to check.) Set aside to cool.
Meanwhile, preheat your oven broiler to low. Spread the coconut flakes on a baking sheet and broil for 2-3 min on high or 4-5 minutes on low. Watch it carefully because it burns really easily. When you take it out, preheat the oven to 325 degrees F.
In the workbowl of a food processor (or a mixing bowl with an electric mixer) add the cassava flour, 1/4 cup melted coconut oil, 1/4 tsp sea salt, vanilla, 1/4 cup coconut sugar, and half of the coconut flakes you just toasted (about 3/4 cup). Pulse (or mix) until everything is thoroughly combined and the mixture looks a little crumbly, but presses together well.
Prepare an 8-inch baking pan with nonstick spray or parchment. Press the crust into the pan evenly to cover the bottom. Bake for 13-15 minutes or until the edges are slightly golden brown. Set aside to cool for a few minutes.
Put the chocolate chips and 1 Tablespoon coconut oil in a small, microwave-safe bowl and cook in 20 second increments, stirring between each round, until the chocolate is completely melted and smooth.
Spread the chocolate evenly on the baked crust. If your pan is room temperature, put it in the freezer for 10-15 minutes until the chocolate has firmed up.
Add the remaining 3/4 cup toasted coconut to the caramel sauce. Stir in a pinch of salt. Spread this layer over the firm chocolate layer. Return the pan to the fridge or freezer to allow the caramel to cool if it's warm -- about 10-15 minutes.
Cut into squares and serve. I like them best when they've been in the fridge for a couple of hours -- the caramel less gooey and they're easier to remove from the pan.
Store them covered and chilled for about a week.
Notes
Nat's Notes:
I like using Thai Kitchen coconut milk because it's really thick and creamy.
You can use any granulated sweetener for this recipe. I haven't tried liquid sweeteners, so I can't guarantee how it will turn out.
If you're OK with using butter, I highly recommend using it in the crust instead of coconut oil. Both are delicious, but butter is... butter.
Recommended Products
As an Amazon Associate and member of other affiliate programs, I earn from qualifying purchases.