These delicious chocolate peanut butter brownies are FLOURLESS, naturally sweetened, and only have FIVE ingredients. In the whole recipe! They're like a peanut butter cookie and a brownie had a brookie baby.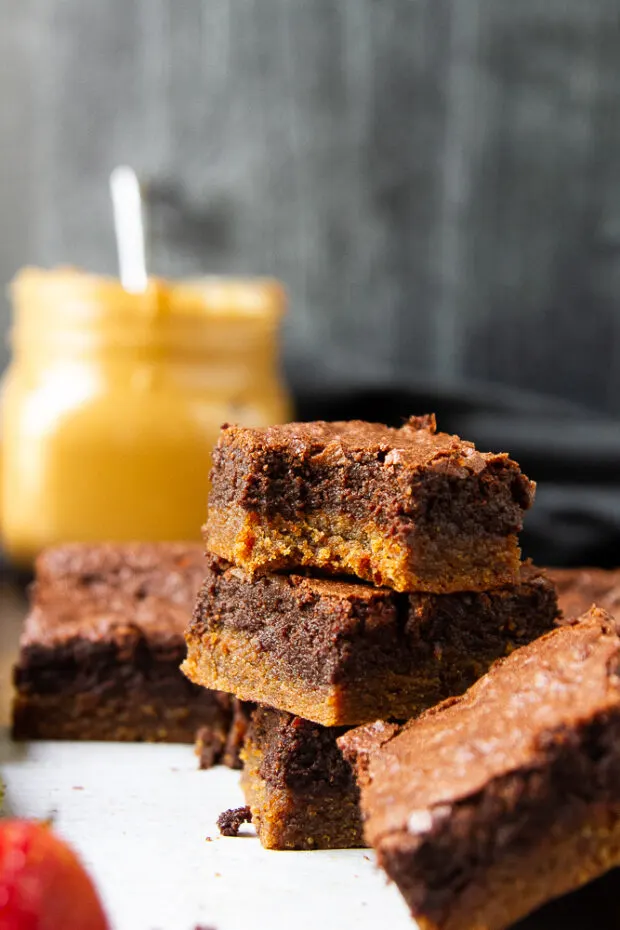 I know it's hard to imagine a layered chocolate peanut butter brownie only having FIVE total ingredients, but it's true. I can't tell you how happy I was to get this recipe nailed down for you.
Peanut butter cups are one of my favorite treats. So are brownies. It was only a matter of time before something like this showed up around here.
Trader Joe's sells some peanut butter brookies (peanut butter cookie + brownie layered bar situation) that I LOVE.
I wanted to make a version that was at least gluten free and naturally sweetened. (What I usually aim for when creating recipes for you.)
In order for these to work without making every bowl in your kitchen dirty, it requires some tricky egg dividing, but I think we'll be OK. More on that later.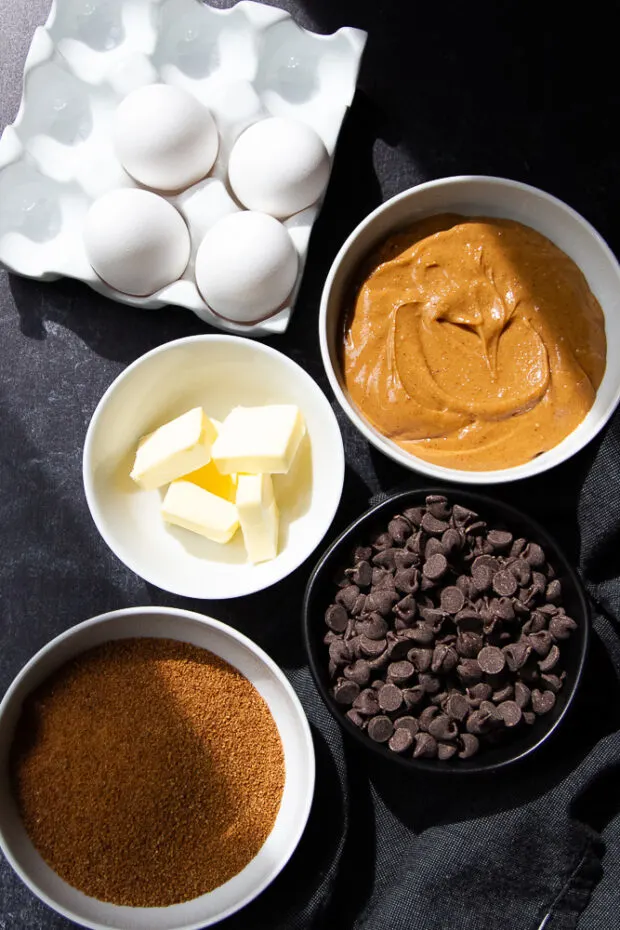 What's in Flourless Chocolate Peanut Butter Brownies
Here are the ingredients you'll need for this chocolate peanut butter brownie recipe:
dark chooclate
eggs
coconut sugar
peanut butter
butter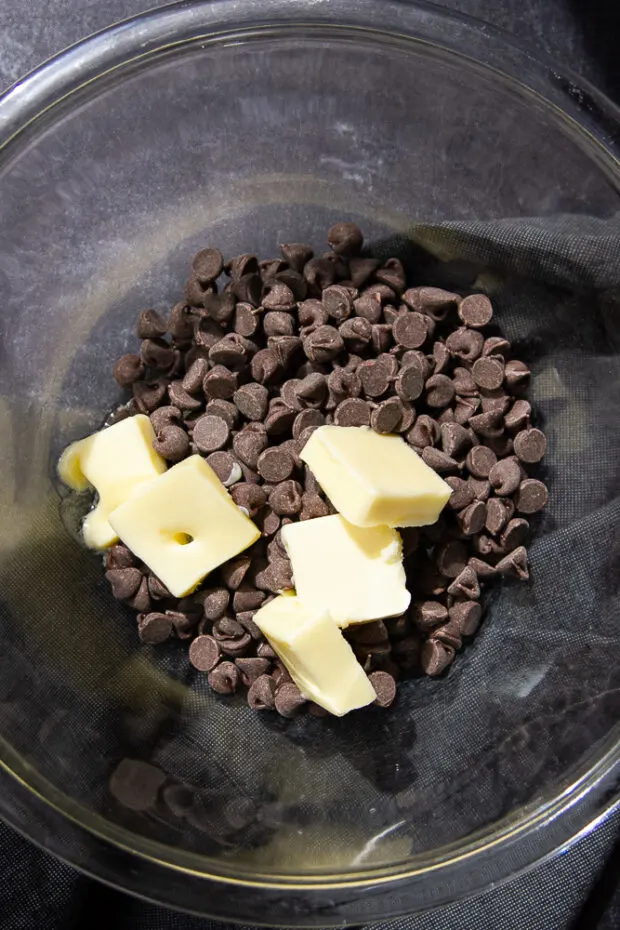 Chocolate Brownie Layer
So, this brownie batter layer is actually a scaled down flourless chocolate cake recipe. If you've never had flourless chocolate cake — it's rich and fudgy and completely.
Another nice thing about flourless chocolate cake is that it's naturally gluten-free and you can control the sugar content based on the chocolate you choose.
First you'll melt the butter and chocolate until it's smooth. While it cools, get your eggs divided up.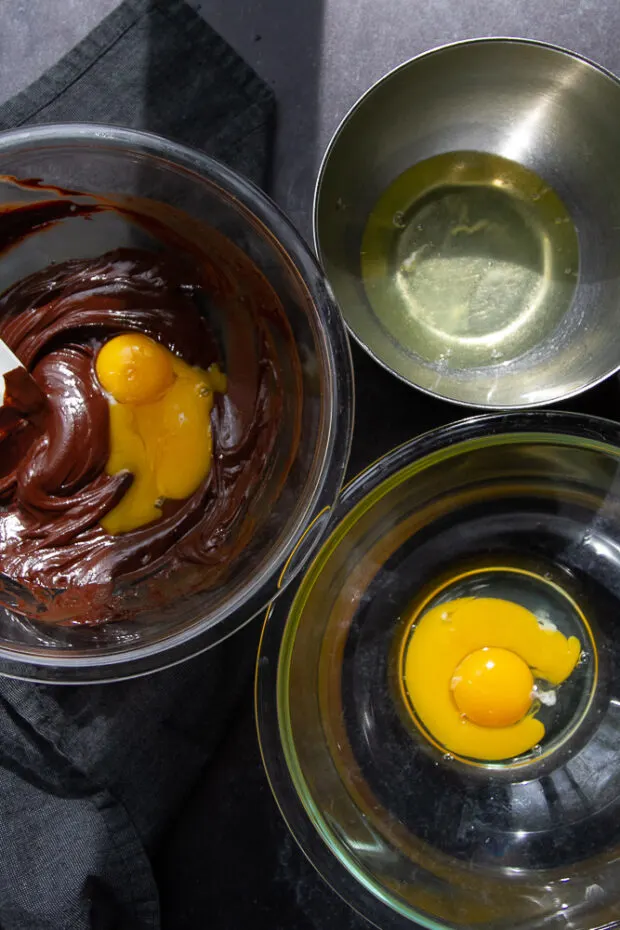 Dividing the eggs
This recipe calls for 5 eggs. Each layer has 2 full egg plus part of another.
For the brownie layer: 2 yolks go with the melted chocolate, 3 whites go in their own bowl
For the peanut butter cookie layer: 2 whole eggs plus 1 yolk go in one bowl.
I know this part seems like complicated and might require a little mental gymnastics, but it's worth it. That extra divided egg is important. I tried the recipe without it and the texture of both layers wasn't nearly as good.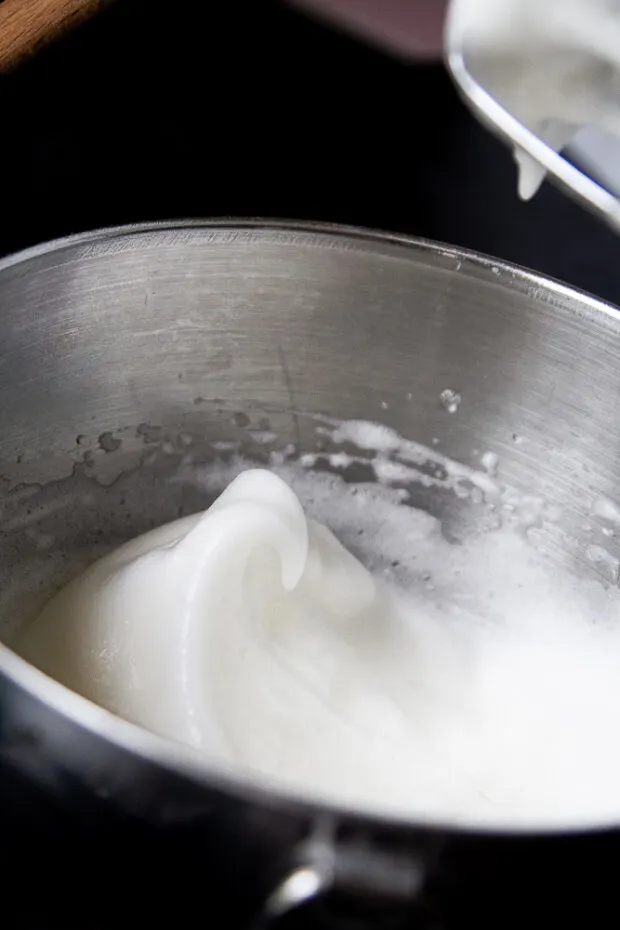 Blend the brownie batter.
After the egg yolks are mixed with the melted chooclate & butter you'll beat the egg whites and fold them in.
You'll want to beat your egg whites to soft peak, meaning… if you lift the beaters, then whites will be stiff, but flop over a little at the tips.
Hard peak means the whites will stand straight up. Taking them just to soft peak gives them a little more flexibilty when you fold them into the melted chocolate. You don't want them overbeaten or the brownie texture will be off.
Set this aside while you work on the peanut butter cookie layer.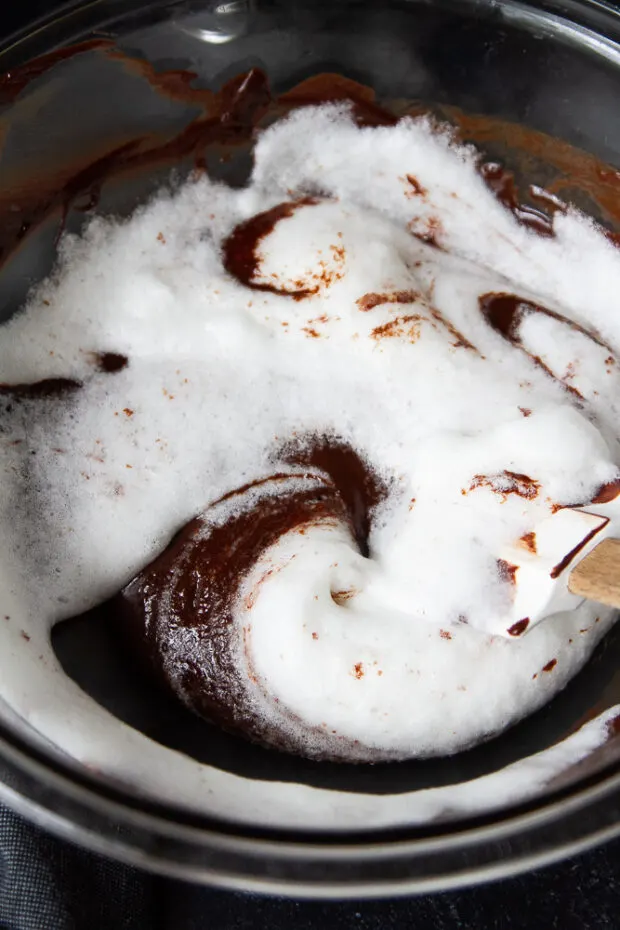 Make the Peanut Butter Cookie Layer
This recipe is based on the ones that are all over the internet using just peanut butter, and egg, and some sugar. I used creamy peanut butter, but you can use chunky or a natural peanut butter if it's well mixed.
Just beat everything together! I'll be really thick.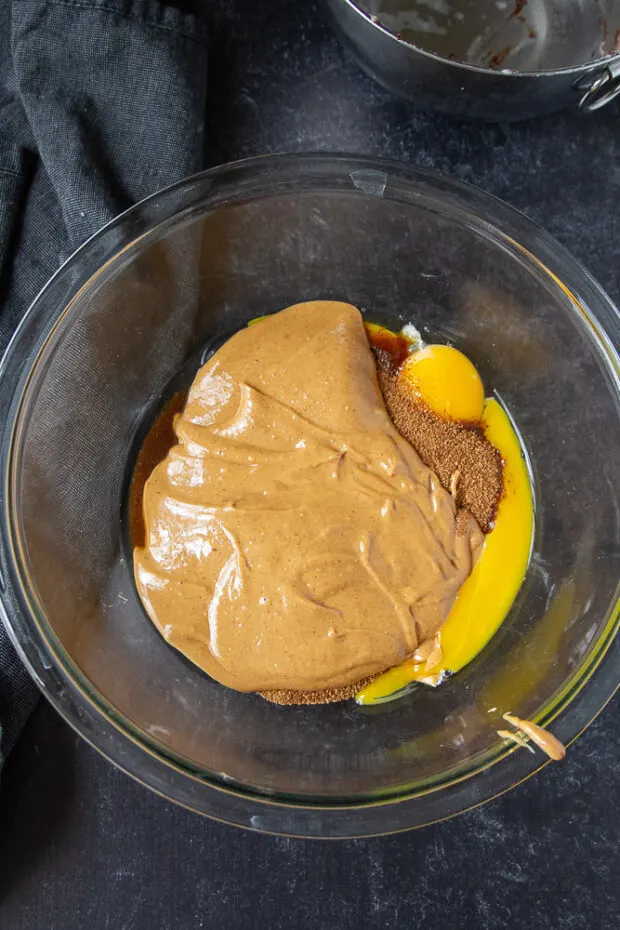 Press it into an 8-in square baking pan lined with parchment or prepped with nonstick spray.
Now pour the brownie batter on top.
Why didn't I have you make the peanut butter layer first?
Then you'd have to wash your beaters before you whip your egg whites. You're welcome!
Can I put a peanut butter swirl on top?
I'd be really careful about doing this. If you disturb that brownie batter too much you'll end up flattening the egg whites and the texture won't be the same.
If you do it, warm the peanut butter a little to soften it so it'll be a tad runny, then drizzle it carefully without needing to manually swirl it later.
Are These Easy Chocolate Peanut Butter Brownies Healthy?
Well, that entirely depends on your definition of healthy and your comfort level with sweeteners.
This recipe is gluten-free, grain-free, naturally sweetened with coconut sugar. And the only dairy is a little butter (depending on the chocolate you use).
It's not low-carb or paleo friendly (because of the peanut butter). But it's a slighly better alternative to a regular brownie that usually contains white sugar and white flour.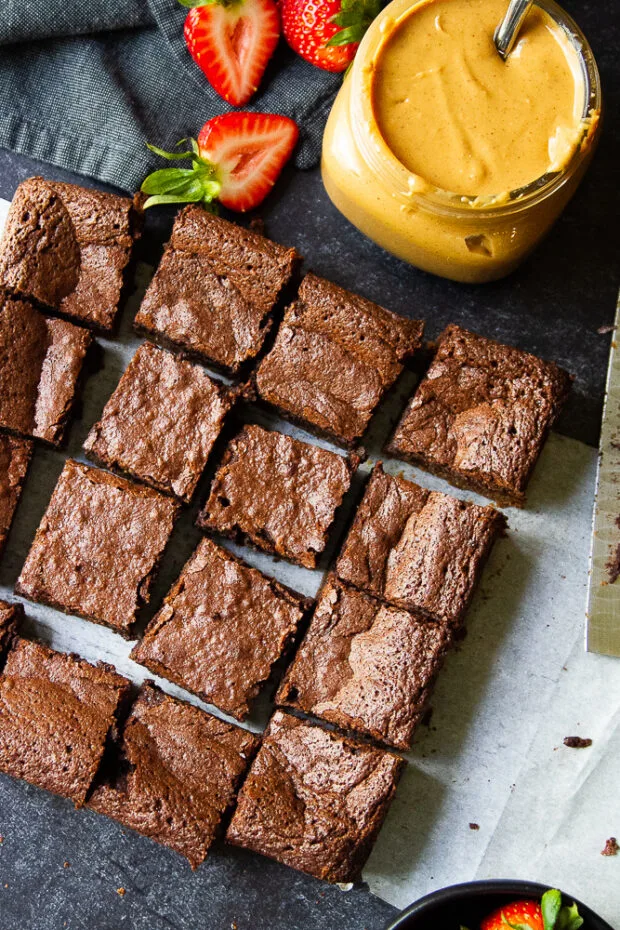 Can I use almond butter in place of peanut butter?
Sure! Just make sure the almond butter is smooth and has the same consistency as smooth or crunchy peanut butter. Some types of almond butter can be really thick.
Can I use something other than coconut sugar?
I'd recommend another granulated sweetener, like brown sugar, maple sugar, or a monkfruit-based sweetener. Don't use a liquid sweetener or it will dramatically alter the texture of this layer.
How to store brownies with peanut butter?
Once they've cooled, store these peanut butter chocolate brownies in an airtight container at room temperature. Eat them within 4-5 days for best flavor and texture.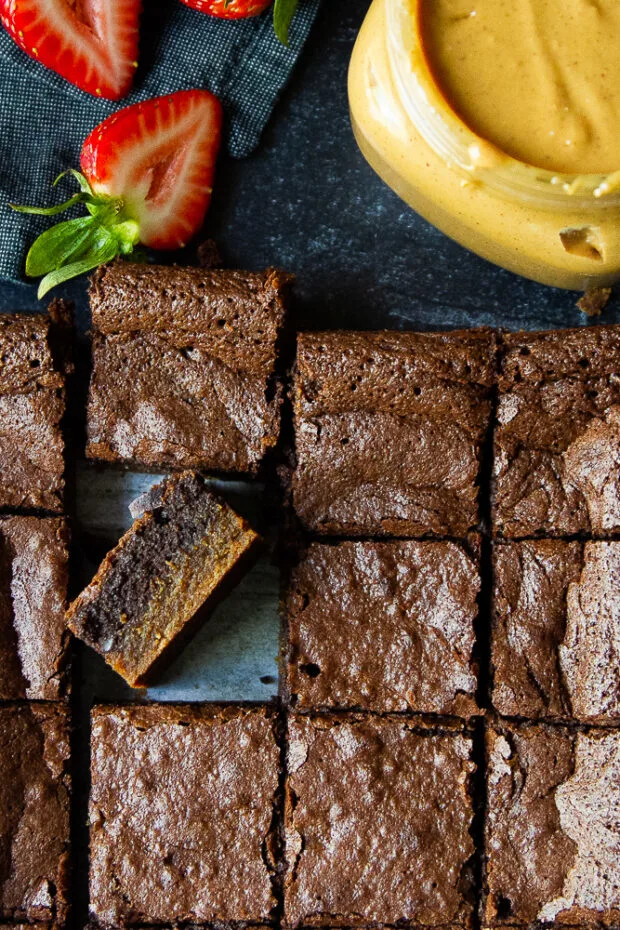 More Easy Dessert Recipe with Peanut Butter on Perry's Plate
If you like these Flourless Chocolate Peanut Butter Brownies, try one of these other peanut butter desserts!
Chewy Gluten Free Peanut Butter Oatmeal Cookies
Flourless Peanut Butter & Jelly Bars
Gooey Peanut Butter Chocolate Lava Cakes
---
If you make one of my recipes, be sure to post it on social media and tag me at @perrysplate or #perrysplate so I can send you some love!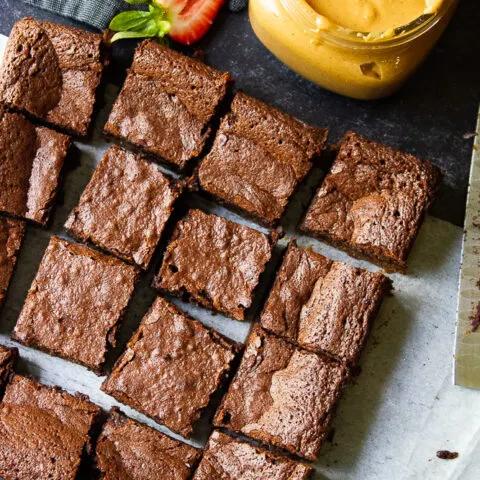 Flourless Chocolate Peanut Butter Brownies
These delicious chocolate peanut butter brownies are FLOURLESS, naturally sweetened, and only have FIVE ingredients. In the whole recipe! They're like a peanut butter cookie and a brownie had a brookie baby.
Ingredients
8 ounces dark chocolate (chips or chopped bulk chocolate)
4 Tablespoons butter or coconut oil
5 eggs
1 cup smooth peanut butter
1 cup coconut sugar
Instructions
Preheat your oven to 350F and prepare an 8-inch square baking pan with either parchment paper or nonstick spray.
Place the chocolate and butter in a medium sized bowl. Microwave in 20-second intervals, stirring after each one, until the chocolate is completely melted and smooth. Let it cool for 10 min.
When the chocolate has cooled sufficiently, prepare to divide up the eggs. You'll need two more bowls around the same size.
Separate two of the eggs, placing the yolks in the bowl with the melted chocolate and the whites in a bowl by themselves.
Separate another egg, placing the yolk in a bowl by itself, and the white in the bowl with the other whites.
Then put the remaining egg in the bowl with the lone egg yolk.
Stir together the melted chocolate and egg yolks. Then use an electric mixer to whip the egg whites. Whip them to soft peak, then carefully fold them into the melted chocolate mixture in 2-3 batches. Set aside.
Add the peanut butter and sugar into the bowl with the egg yolks. Use the electric mixture to beat that mixture well. You'll end up with a thick, crumbly dough.
Press the peanut butter cookie dough evenly into the prepared pan. Pour the reserved chocolate brownie batter over the top evenly.
Bake for 25-30 minutes or until a toothpick inserted into the center comes out clean and the top has that flaky brownie-like texture.
Let them cool for 15-20 minutes before cutting and serving. Serve in an airtight container at room temperature for up to a week.
Notes
You can use almond butter in place of peanut butter if it's smooth and not too thick.
Use any kind of chocolate you like. Chocolate chips work well, but if you'd like to use a bar or some bulk chocolate, chop it well before you melt it with the butter.
Nutrition Information
Yield

16
Serving Size

1 2-inch brownie
Amount Per Serving
Calories

274
Total Fat

18g
Saturated Fat

7g
Trans Fat

0g
Unsaturated Fat

8g
Cholesterol

67mg
Sodium

125mg
Carbohydrates

25g
Fiber

2g
Sugar

20g
Protein

6g
The information shown is an estimate provided by an online nutrition calculator. It should not be considered a substitute for a professional nutritionist's advice.