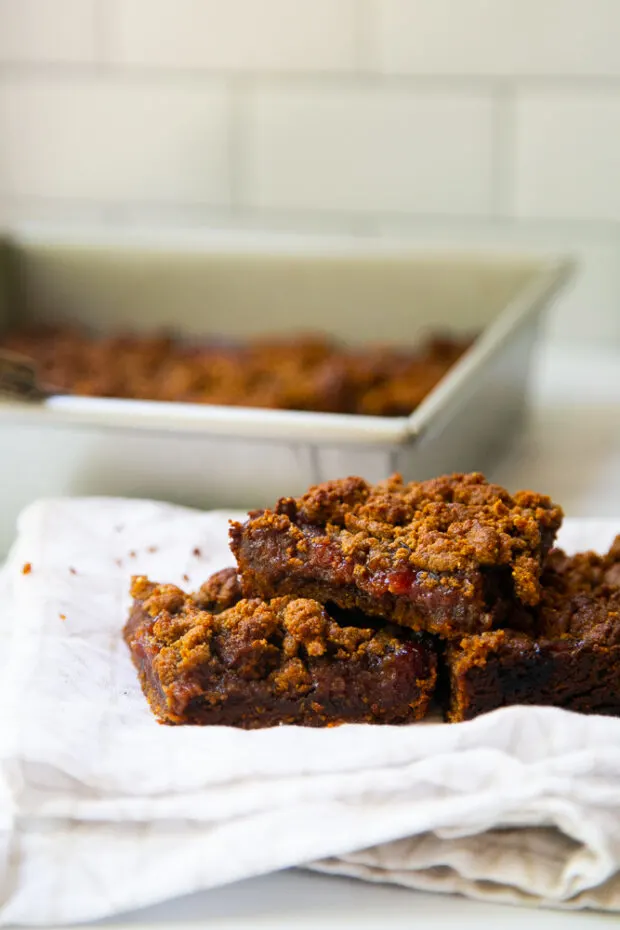 Have you ever had those 3-ingredient peanut butter cookies? They were super popular online a while back.
I used that dough concept and made some Flourless Peanut Butter & Jelly Bars! I mean, you can't go wrong with PB&J.
Did you know I didn't like PB&J until I was an adult? Until about… 5 years ago. Weird, right?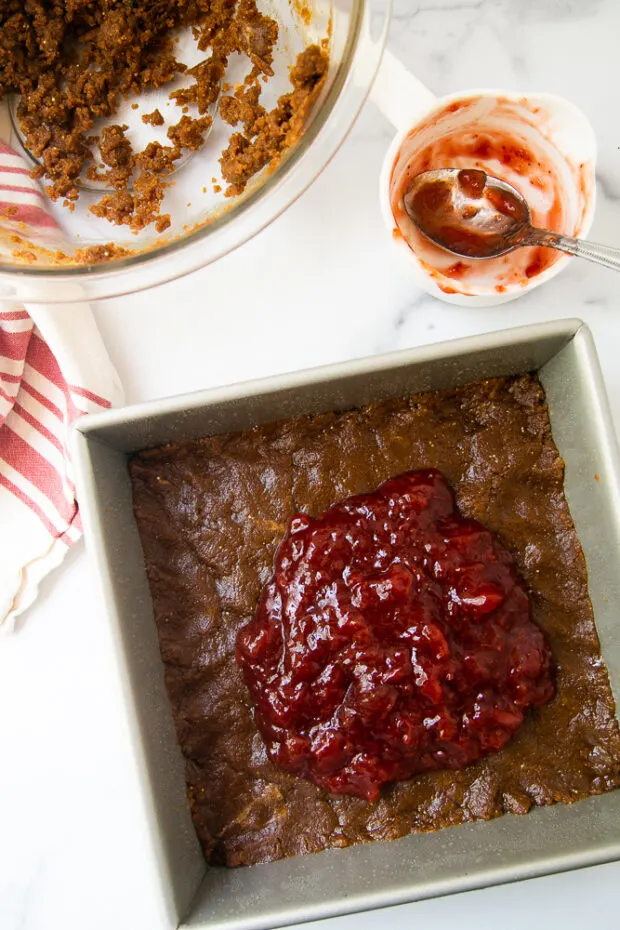 Can you use a different kind of nut butter?
My goal for these was to have a PB&J bar that was flourless, naturally sweetened, and relatively paleo-friendly.
Usually peanuts & peanut butter aren't paleo, so you can swap out the nut butter if you like!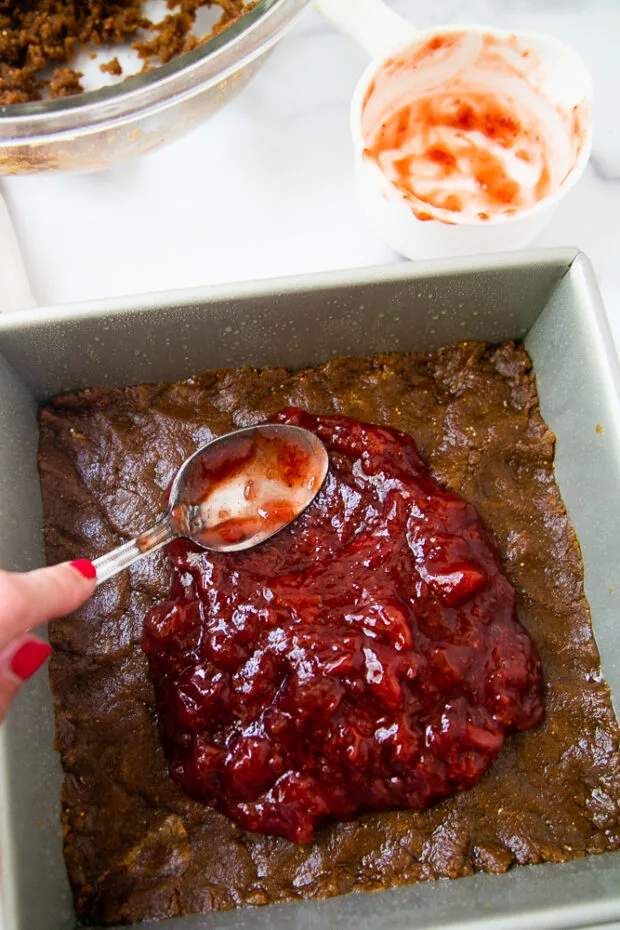 What kind of jelly should I use in these bars?
Let's talk about jelly & jam for a minute. Technically these are peanut butter and jam bars, but that doesn't sound as good as peanut butter and jelly.
If you've ever hunted for naturally-sweetened jam, let me know if you find any because I have never seen any in the wild. (I also haven't hunted that much, but still.)
If you want these to be refined sugar-free, you're going to have to make some jam. That's one of the tricky things about trying to prepare paleo-friendly things — you've got to make some components from scratch.
LUCKILY making jam is super easy and doesn't require boiling canning jars.
I love using Julia's Strawberry Chia Seed Jam. It only takes a few minutes to cook up and just a couple of hours to thicken.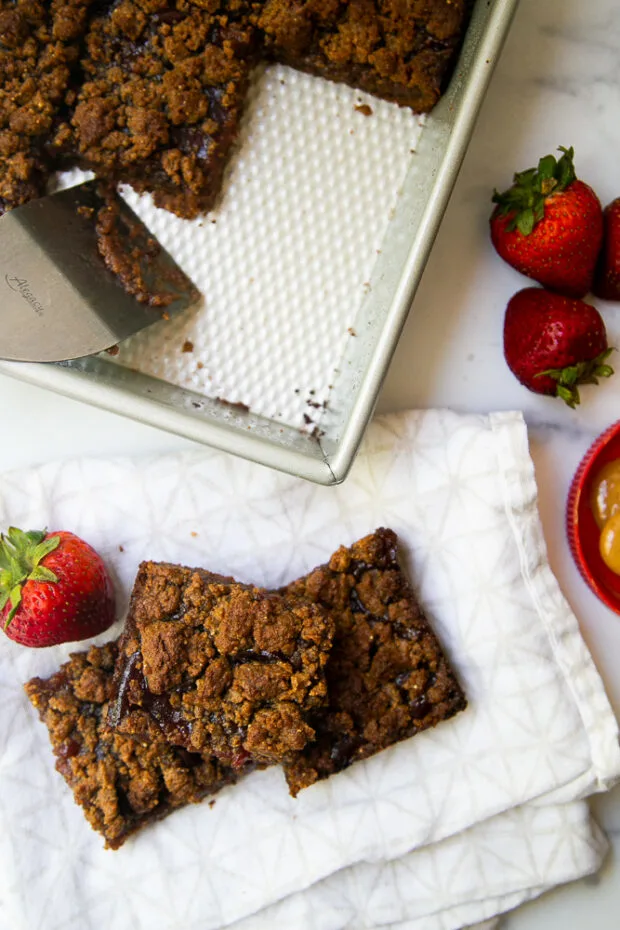 What sweetener should I use in the dough?
I used coconut sugar in the dough which turns these a rich, golden brown, but I love the flavor.
Other suggestions: granulated monkfruit or erythritol, swerve, or maple sugar.
Don't use a liquid sweetener because it would severely affect the consistency of the dough.
Also don't use a concentrated sweetener like stevia. You need the bulk from the granulated sweetener to get the texture of the dough just right.
I hope you love these flourless peanut butter & jelly bars as much as I do!
More Paleo Dessert Bar Recipes on Perry's Plate
Here are a few more grain-free, naturally sweetened dessert bars for you:
These Paleo Samoa Cookie Bars are DELISH and bonus — there are NO nuts in this recipe! These Girls Scout cookie knock offs are such a great grain-free dessert.
Save some leftover cranberry sauce from Thanksgiving and make some Paleo Cranberry Orange Bars!
If you're wanting something rich and fudgy, make some Paleo Chocolate Chip Fudge Bars. They remind me of the swirled oatmeal fudge bars I ate as a kid.
If you make one of my recipes, be sure to post it on social media and tag me at @perrysplate or #perrysplate so I can send you some love!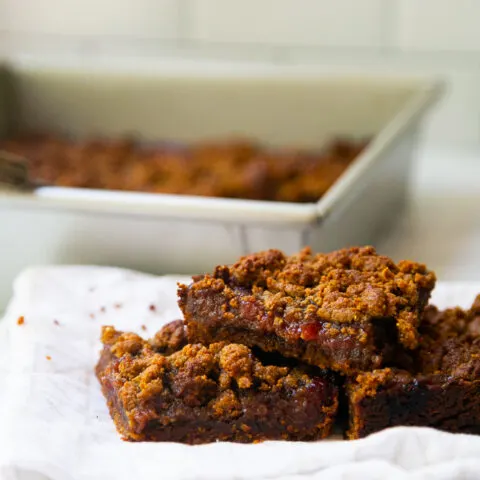 Flourless Peanut Butter & Jelly Bars
These PB&J bars only have FIVE ingredients! I love how the coconut sugar gives them a little caramely flavor. You can use any jam or jelly you like, too. Prep time is quick, so you can have these ready to go in under an hour.
Ingredients
1 cup peanut butter
1 cup coconut sugar
1 egg
1 Tablespoon vanilla extract
Pinch of salt
1 cup strawberry jam or jelly (see note)
Instructions
Preheat your oven to 325 degrees F. Grease a 8-inch square baking dish with non-stick spray.
Add the peanut butter, sugar, egg, vanilla, and salt into a medium mixing bowl. Beat everything together with a hand-held mixer until thick and crumbly and thoroughly combined.
Press 2/3 of the peanut butter dough evenly into the baking dish. Spread the jam over the dough layer and then sprinkle the remaining crumbly dough over the jam
Bake on a center rack in the oven for about 35 minutes or until the edges of the dough are golden brown.
Let the bars cool until you can handle the pan with bare hands before slicing and serving. We like them best after they've been chilled for a few hours.
Notes
Nat's Notes:
This recipe was intended to be naturally sweetened as well as grain-free to make them paleo-friendly. Finding naturally sweetened jam can be nearly impossible. I recommend using The Roasted Root Strawberry Chia Seed Jam in this recipe. (That's what I usually use!) It's only 15 minutes of prep and a few hours of chilling, so it's easily made quickly the night before you make these bars.
If you'd rather use regular brown sugar or another granulated sweetener, feel free to do so.
Disclaimer: This post may contain affiliate links. Purchases made using these links allows my content to remain free and doesn't cost you any extra.