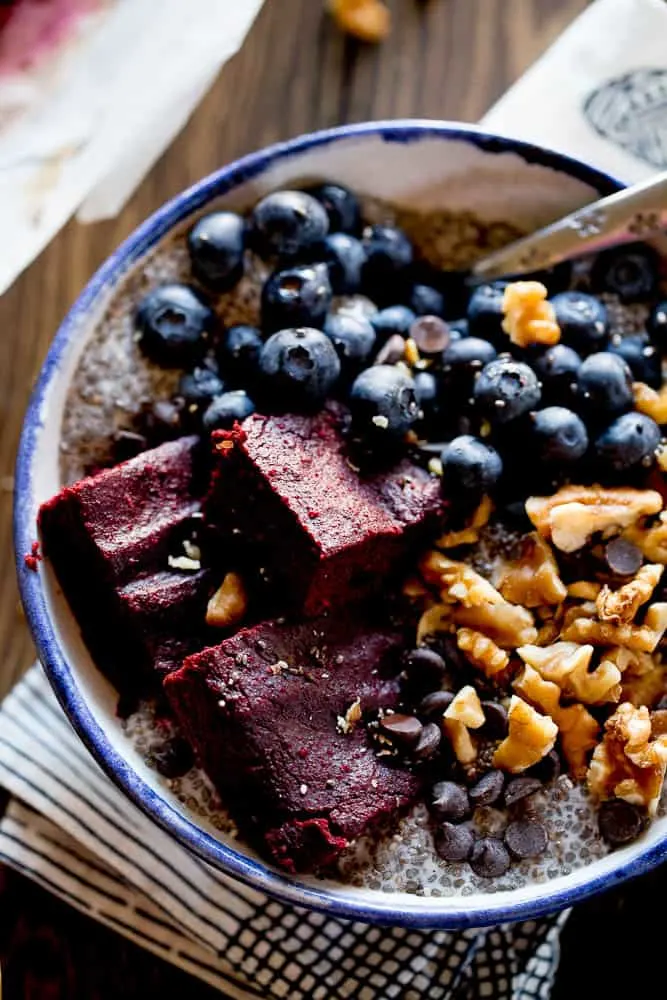 Remember when I asked you guys if you wanted a Valentine's treat or easy dinner ideas and you said "EASY DINNER IDEAS!" and then I posted some gorgeous beet brownie bowls which would have been perfect for Valentine's Day, but I didn't even get the post up until AFTER Valentine's Day?
*facepalm*
Clearly I've been a little distracted lately (Sourdough! Instant Pot yogurt! Surprise Valentine's Breakfast!) and super busy helping Steve figure out our new office (Chiropractic software training! Office furniture! Facebook ads! Branded pens that actually work!)
In my defense, I photographed a REALLY great dinner recipe the same day as these bowls, but for some reason I just wasn't happy with the photos. And I felt like the recipe needed a little tweaking. It's coming soon, though, I promise. And HINT: It's a sheet pan dinner. I love those.
And so do you, I think.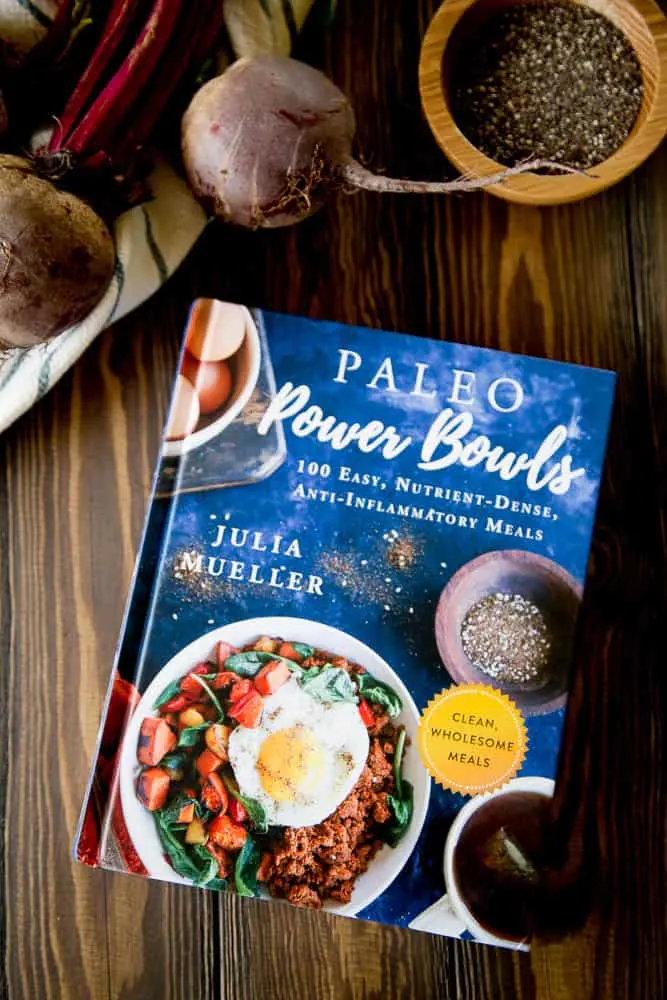 In the meantime, let's talk about these purple brownies and this gorgeous book by Julia Mueller over at The Roasted Root — Paleo Power Bowls. This is Julia's third cookbook, and I think this one might be my favorite. I mean, look at that cover. STUNNING, no? All of the photography in her book is like this. I love it.
Throwing stuff into bowls and calling it a meal is one of my favorite things. I'm SO looking forward to getting some great ideas and recipes from Julia because she's the vegetable whisperer. Truly.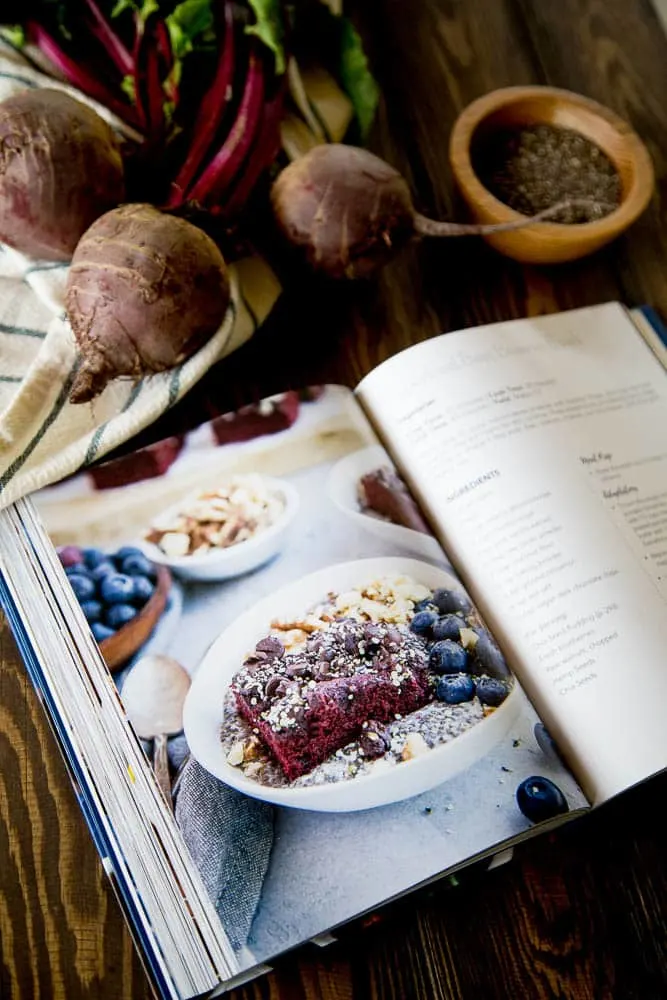 I made a big ol' list as I was flipping through Julia's book — including Beef Massaman Curry, Za'atar Chicken Salad, Fall Harvest Salad with Maple Cinnamon Poppy Seed Cider Vinaigrette (!), and Slow Cooker Chicken, Kale, & Artichoke Soup.
Julia is very fond of beets (Understatement. The girl has a beet tattoo!), so I decided to try out her Superfood Beet Brownie Bowls and share the recipe with you.
I like beets. Sort of. Mostly in Borscht. Sometimes roasted. Sometimes I add a few spoonfuls of beet puree to make pancakes and waffles pink for my girls.
Julia makes me want to eat more beets. Especially in brownie form.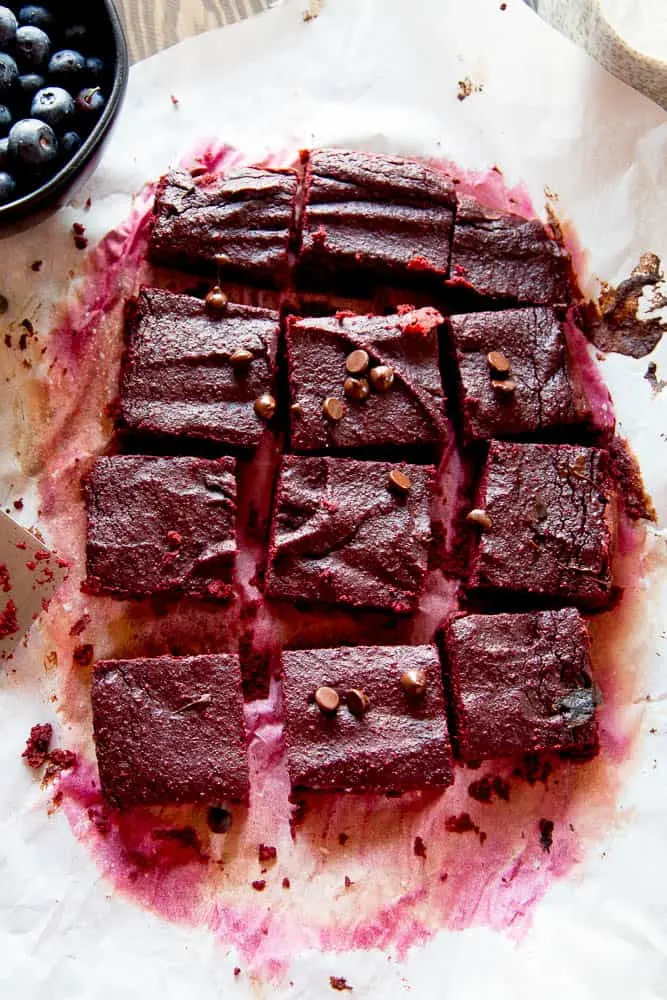 Did I tell you beet is my favorite color? That rich, bold purpley-pink makes my heart flutter. And it amazes me, STILL, that a color like that can be found in nature.
I mean, look at the parchment around these beet brownies. These aren't regular brownies with a couple spoonfuls of beet as a token healthy ingredient. There are a lot of beets in there. The batter is even purple and you whip it up in the blender!
My kids walked in as I was blending it and they thought I was making a smoothie.
The best thing is that they don't even taste like beets. (Face it, beets do taste like dirt sometimes. I know I'm not the only one who thinks this.)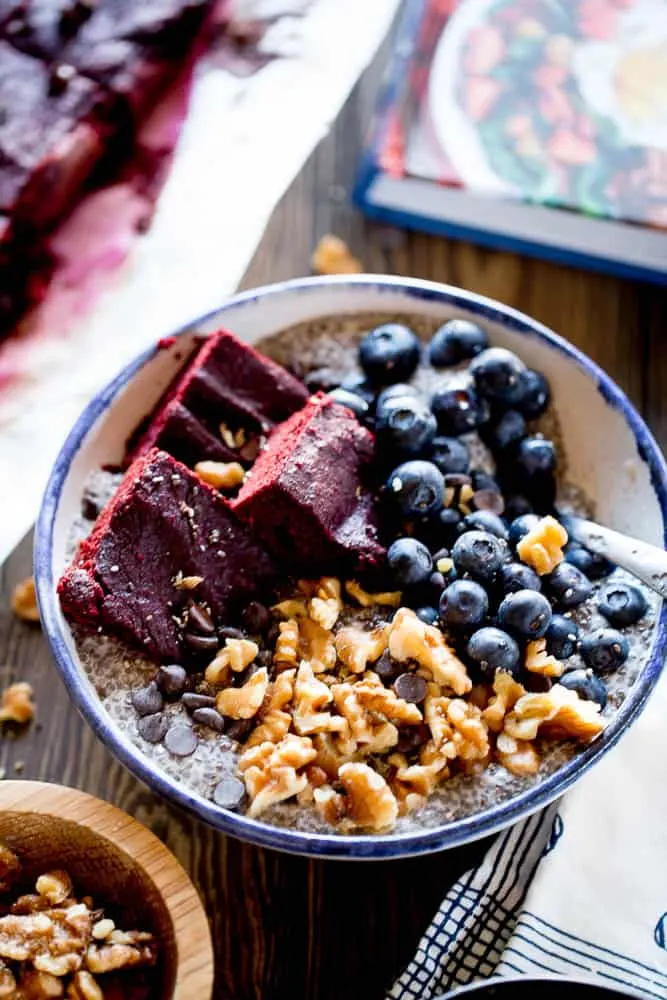 Gorgeous, right? Especially with the chia seed pudding. Have you ever eaten chia pudding? It's super easy to make and most of my kids like it. The texture is sort of interesting and might not be your thing — blending it at the very end makes it smoother, if that helps.
My 3-year-old calls it "cheetah pudding" which I think is the cutest thing ever. I think we'll call it that forever. Along with "Valentime's".
Even though Valentine's Day has passed, these bowls can still be a part of your life. Like on a Tuesday the week after Valentine's Day.
And go grab a copy of Paleo Power Bowls!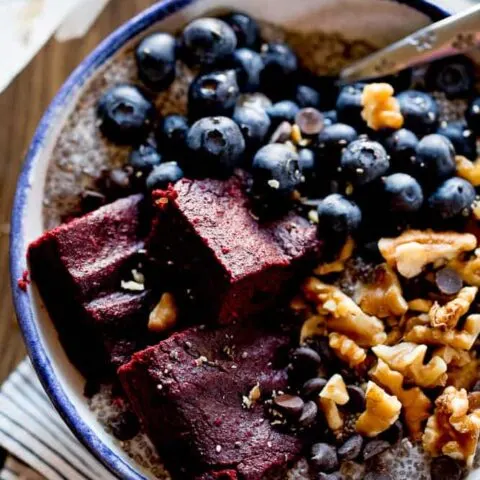 Superfood Beet Brownie Bowls
Yield:
Makes about 6-8 bowls
These bowls are filled with superfoods like chia seed pudding, beet brownies (so good, guys), walnuts, blueberries, and dark chocolate. Make them for a healthier dessert or prep them the night before for a special breakfast.
Ingredients
For the Brownies:
3 small beets, cooked (see note)
2 eggs
1/2 cup creamy almond utter
1/2 cup coconut sugar (see note)
2 teaspoons vanilla extract
5 Tablespoons raw cacao powder (or cocoa powder)
3 Tablespoons coconut flour
1/2 teaspoon baking powder
1/2 teaspoon ground cinnamon
1/4 teaspoon sea salt
2/3 cup vegan dark chocolate chips (or other 70% dark chocolate, chopped)
For serving:
Chia Seed Pudding (see note for recipe)
Fresh blueberries
Raw walnuts, chopped
Hemp seeds & chia seeds (optional)
Instructions
Preheat oven to 350 degrees F, and line an 8"x 8" square baking pan with parchment paper.
Add all ingredients for the brownies except the dark chocolate chips to a blender or food processor. Blend until well-combined. Note: you may need to stop the blender a couple of times to scrape the sides down. The batter will be thick.
Fold the dark chocolate chips into the batter, reserving some for sprinkling on top. Transfer brownie batter to the prepared baking pan and smooth into an even layer. Sprinkle with any remaining dark chocolate chips.
Bake on center rack of the preheated oven for 30-35 minutes, until brownies are firm to the touch. Remove from the oven and allow brownies to cool at least 30 minutes before cutting
Assemble the bowls by adding the desired amount of chia seed pudding, blueberries, and chopped walnuts to small dessert bowls. Stick a beet brownie on top and sprinkle with hemp seeds and chia seeds, if using.
Notes
About the beets: I cooked the beets in my Instant Pot by peeling and quartering them and cooking them on high pressure for 15 minutes (on the wire rack with a cup of water in the pot). I used a quick steam release to get them out, then I chopped them up. You can also chop them into 2-inch pieces and roast them on a foil-lined pan in a 400 degree oven for 45-50 minutes. (Yes, beets take that long.) Either way you should have about 2 cups of loosely packed chopped beets. You could also substitute 1 1/2 cups pumpkin or sweet potato puree and replace the almond butter with 1/3 cup of melted coconut oil.

About the sweetener: I used Lakanto golden monkfruit sweetener to lower the carbs. You could use any granulated sweetener here.

About the Chia Seed Pudding: To make the pudding, pour into a sealable jar (like a quart mason jar): 2 1/2 cups unsweetened almond or coconut milk, 3 Tablespoons maple syrup (or other sweetener), 1/2 teaspoon vanilla extract, pinch of sea salt, and 2/3 cup chia seeds. Seal the jar and shake vigorously until well-combined. Chill overnight or for at least 4 hours. You may have to whisk or shake it again to get rid of the large clumps before serving. Makes about 3 cups of pudding.