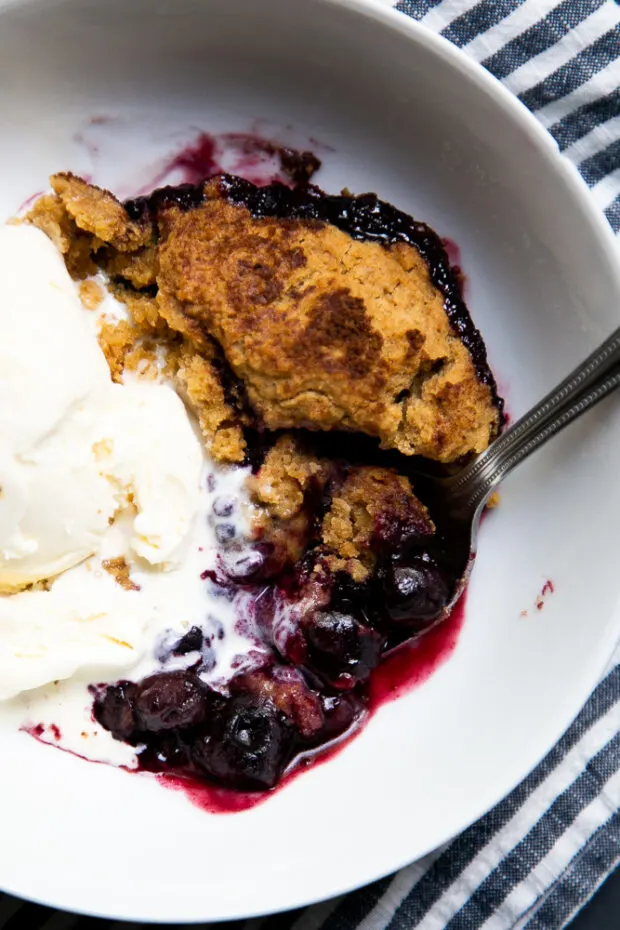 Is it just me or are cobblers kind of ugly? This berry cobbler is no exception.
(Honestly, coconut sugar is partly to blame. It makes the topping darker and sort of dirty looking.)
Luckily some really ugly dishes are actually REALLY tasty. And that's the most important part, right?
Let's chat about how easy this gluten-free berry cobbler is . . .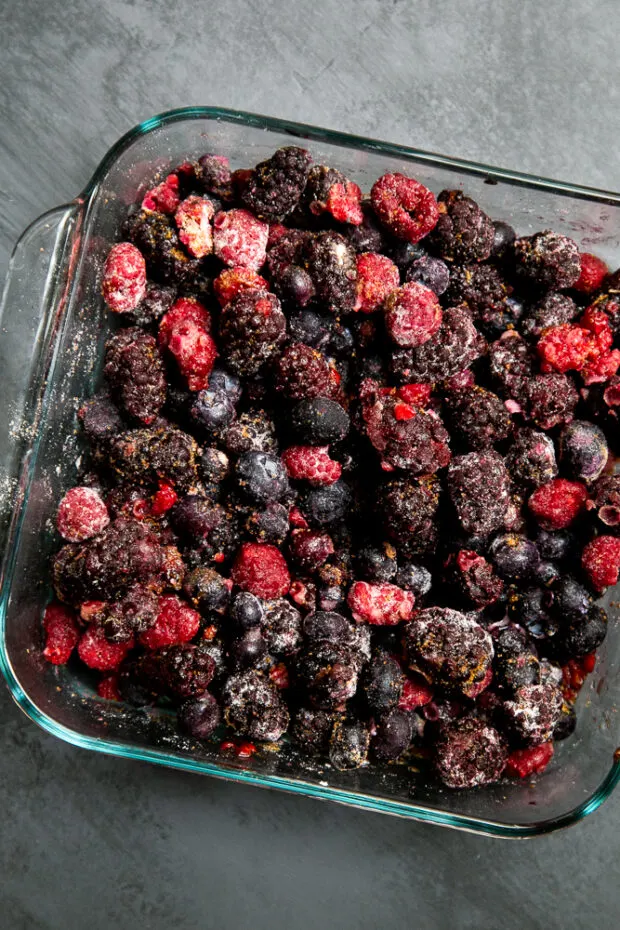 Yep, frozen berries. You're welcome.
Honestly I prefer to use frozen berries. When I find really good fresh berries I like to eat them fresh. Or with whipped cream.
Frozen berries tend to be sweeter than most fresh berries anyway — unless they're in season and are garden-fresh!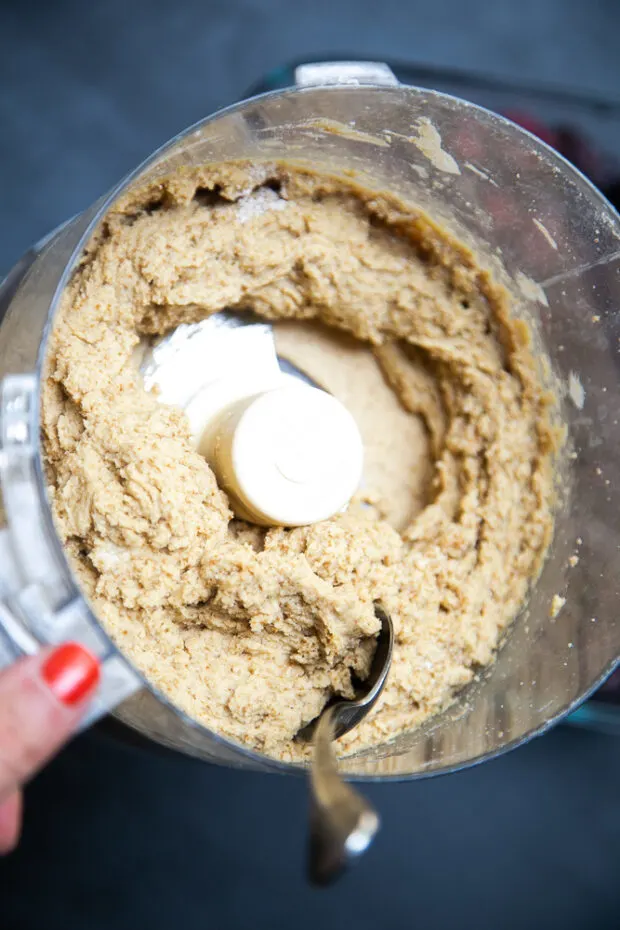 Let's talk about this topping.
I envisioned a drop biscuit-like topping — based on my grandma's biscuit recipe.
I made them slightly sweet and gluten-free, too!
(If you'd like to use regular flour in this, feel free to do so.)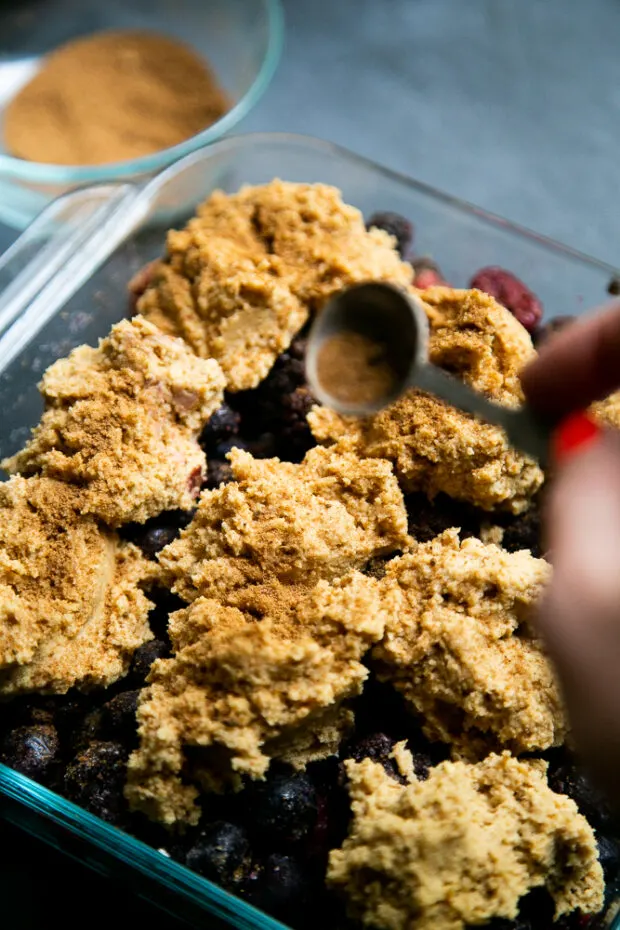 I'm not sure why I thought a dusting of cinnamon-sugar-cloves (like a snickerdoodle!) would be a good idea, but I did it anyway.
No regrets.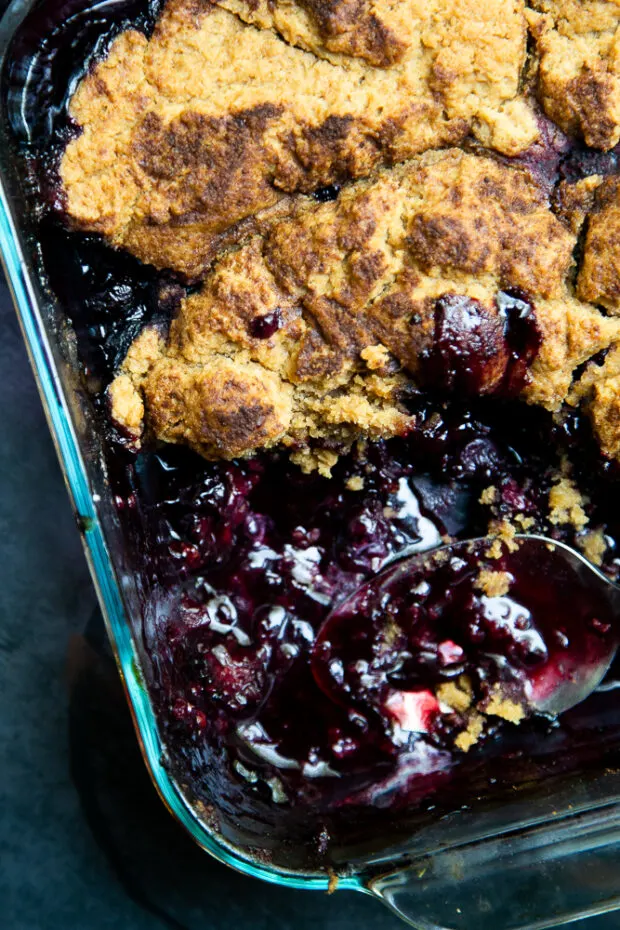 See what I mean by ugly? Just try it anyway because you'll love it.
There's a hefty amount of topping in this berry cobbler. I like a lot of topping in my cobblers, but if you don't, you can add a cup or two more berries to boost the filling amount.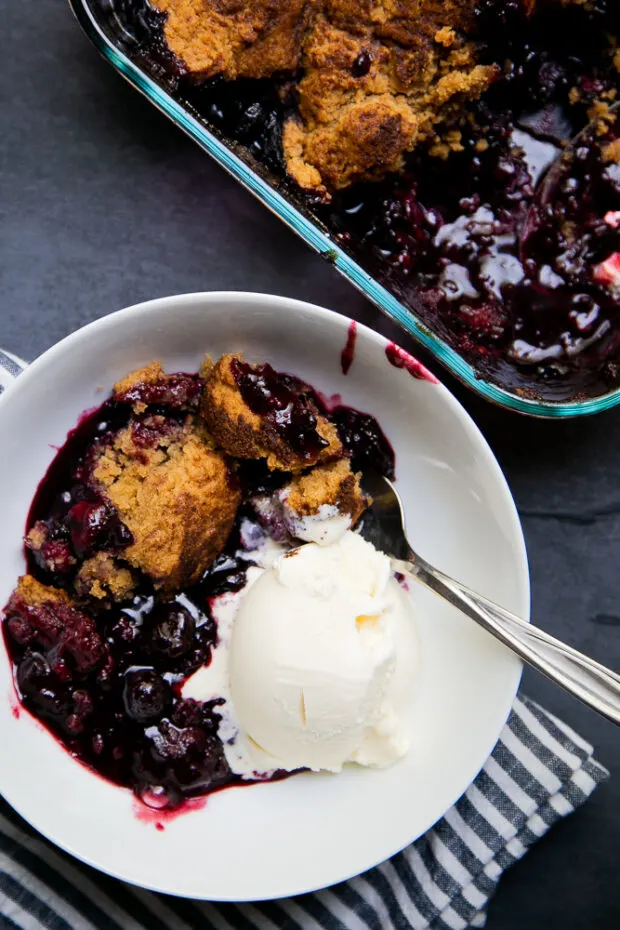 We ate ours with ice cream, but whipped cream would be equally delicious!
Can you use different kinds of fruit in this cobbler?
Yes! This works well with equal amounts of frozen peaches, fresh apples, or a single kind of berry.
Can you make this cobbler dairy-free?
Sure! The only dairy in this cobbler is the butter in the topping. You can substitute palm shortening or a dairy-free butter substitute.
More Desserts with Frozen Mixed Berries
I LOVE berry desserts! I love how versatile a bag of frozen mixed berries is. I've used it in a few other sweets on my site:
Easy Berry Sauce is an easy topping for ice cream sundaes, crepes, pancakes, waffles, or anything that could use a sweet, fruity sauce.
Gluten-Free Berry Hand Pies are a fun alternative to a full-size pie for Thanksgiving! They freeze and reheat well, too.
---
If you make one of my recipes, be sure to post it on social media and tag me at @perrysplate or #perrysplate so I can send you some love!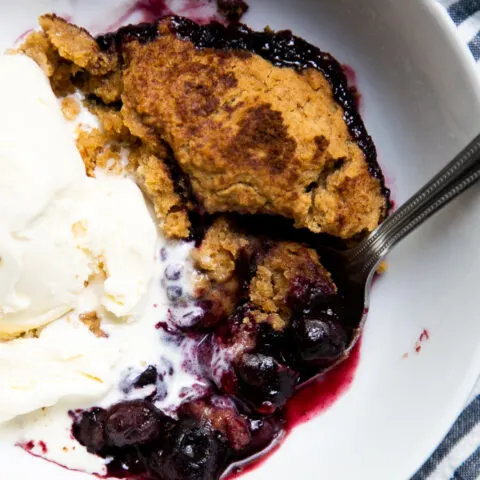 Berry Cobbler with Snickerdoodle Topping (Gluten-Free)
Frozen berries make this berry cobbler SO easy -- year round! The topping is my favorite, though. It's a buttery cross between a biscuit and a cookie with the signature cracked cinnamon-clove topping of a snickerdoodle. The best part? It's gluten-free and naturally sweetened!
Ingredients
For the filling:
1 1/2 pounds or 6 cups frozen berry mix (blueberries, raspberries, blackberries)
1/4 cup coconut sugar or another granulated sweetener
1 Tablespoon gluten-free flour blend (see note)
Juice from 1/2 of a lemon
For the topping:
1 1/2 cups gluten-free flour blend (see note)
1/2 cup + 2 teaspoons coconut sugar or another granulated sweetener
2 teaspoons baking powder
1/2 teaspoon sea salt
8 Tablespoons cold butter
1/2 cup almond or coconut milk
Juice from 1/2 of a lemon
1/2 teaspoon ground cinnamon
1/8 teaspoon ground cloves
Instructions
Preheat your oven to 375 degrees F.
Put the frozen berries in an 8-inch square baking dish. You could also use a 7x11" baking dish if you have it. Sprinkle 1 Tablespoon of flour, 1/4 cup coconut sugar, and lemon juice on top. Push the berries around to distribute the flour and sugar somewhat evenly.
In the workbowl of a food processor pulse together the flour, 1/2 cup coconut sugar, baking powder, and salt. Cut the butter into 1/2 inch chunks and add them to the processor, pulsing a few times after each addition. Continue pulsing the flour mixture and butter together until it resembles a coarse, crumbly mixture and there are no large butter chunks. Don't over process it.
Squeeze the lemon juice into the 1/2 cup of milk, then drizzle the mixture into the processor while continuing to pulse. Pulse until a thick dough forms.
(If you don't have a food processor, use a pastry blender or two knives to combine the flour mixture and butter -- like you would making pie crust or biscuits. Then stir the liquid in by hand.)
Add large spoonfuls of dough on top of the berries. It doesn't need to be spread evenly. Combine the 1 Tablespoon coconut sugar, cinnamon, and cloves and sprinkle it over the dough.
Bake for 45-50 minutes until the berries are very bubbly and the topping is cooked all the way through.
Serve with your choice of ice cream or whipped cream.
Notes
Nat's Notes:
I use an old King Arthur GF flour blend recipe that's no longer online. It does so well in a few things like pie crust, pancakes, and biscuit-type of things like this. The basic recipe is this: 8 cups brown rice flour, 2 cups potato starch, 1 cup tapioca flour.
Gluten-free flour blends vary wildly. If you use a different kind of flour and your dough is too dry or too wet you might need to add a little extra liquid or flour.
If you use fresh berries you can reduce the amount by 1 cup since they tend to take up less space than frozen ones.
Recommended Products
As an Amazon Associate and member of other affiliate programs, I earn from qualifying purchases.