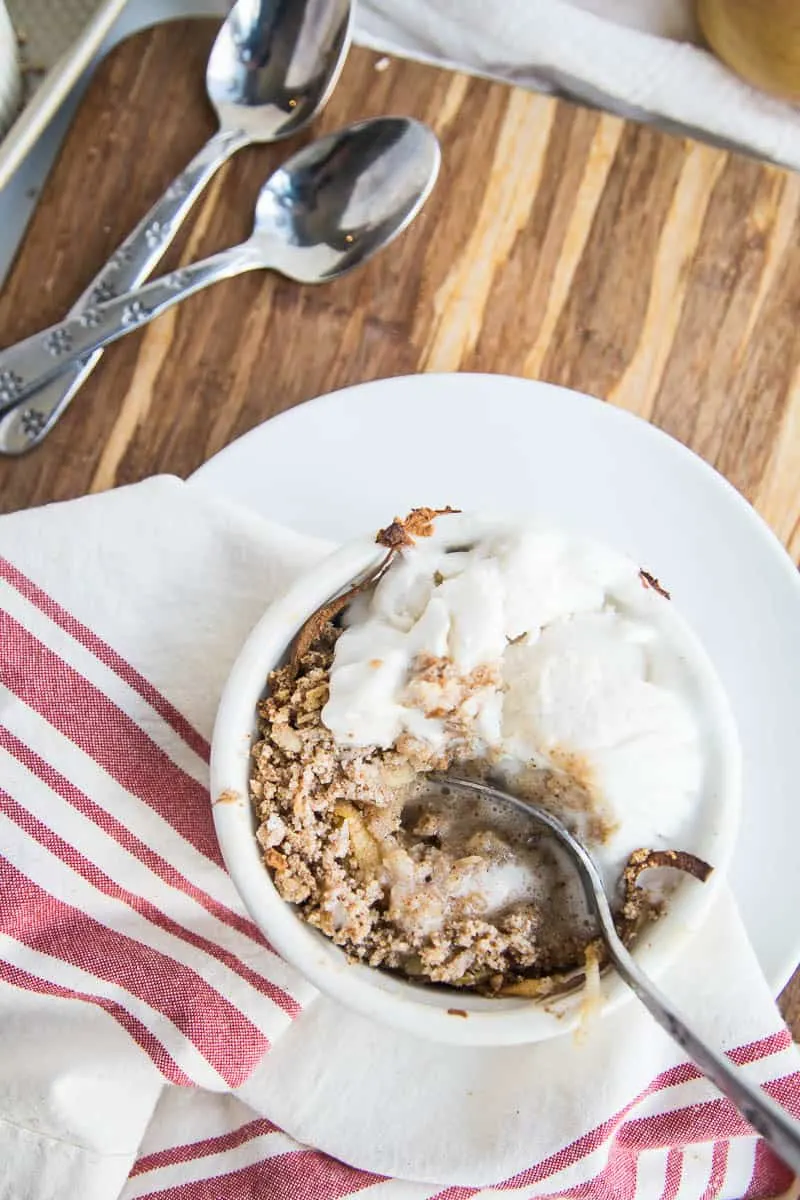 I'm in love with this little paleo apple crumble! If you're in charge of dessert for a gathering where someone is avoiding gluten, grains, or dairy, you might end up being kissed if you bring this.
Wait until you see how I prepped the apples. *Eek*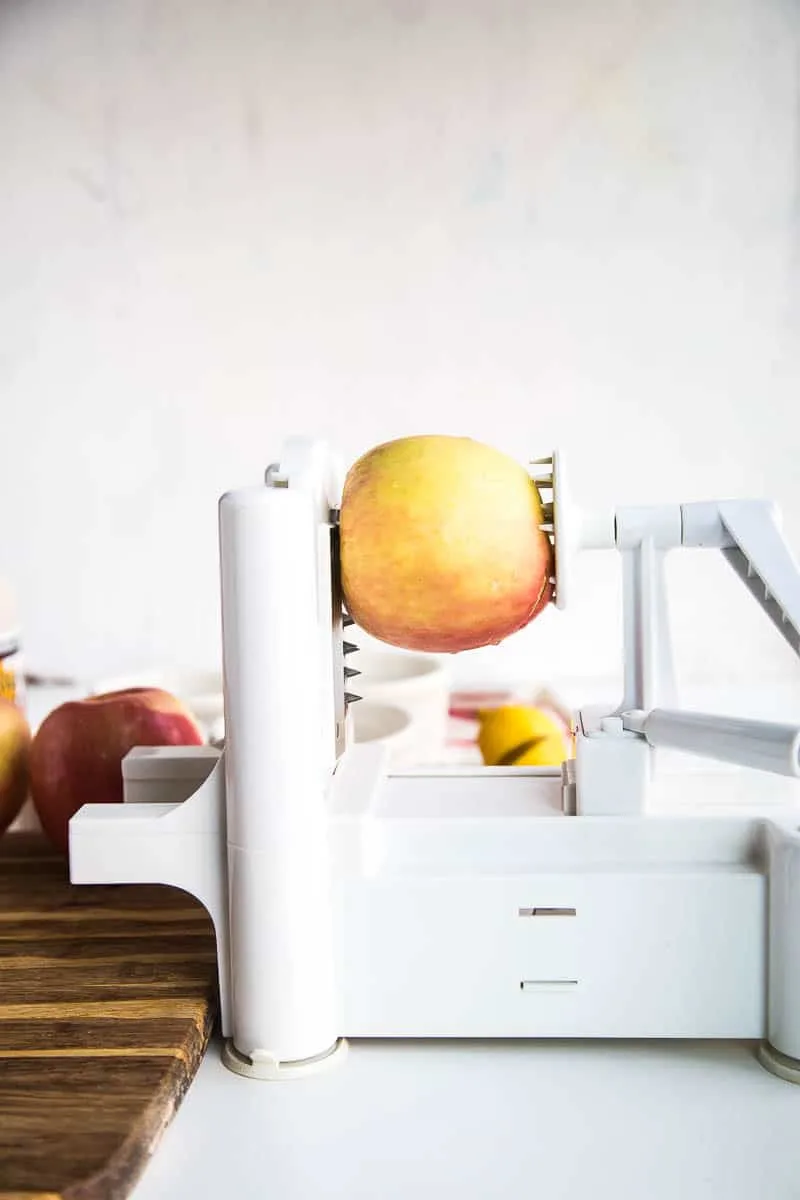 Yep. I went there. Spiralized apples or apple "noodles" are so fun. I'm so happy that I bought this spiralizer. I resisted for a few years because I had a julienne blade for my mandoline, but after a few close calls with those blades, I decided I should probably get a spiralizer for my safety.
I don't have a great track record with sharp/hot objects, unfortunately. Not joking. As I'm typing this, I've got two burns and a cut that are just about healed AND a couple of fresh wounds from yesterday — a "kiss" from my new chef's knife that took 1/3 of a fingernail and a skinned spot on my palm where my microplane grater got me.
I'm still amazed that I've only had stitches once! (Six years ago… I'm on a roll, baby.) I've pretty much given up on my hand model dreams. Between my scars, bony E.T. fingers, and crooked pinkies…. let's just say I've found another calling in life.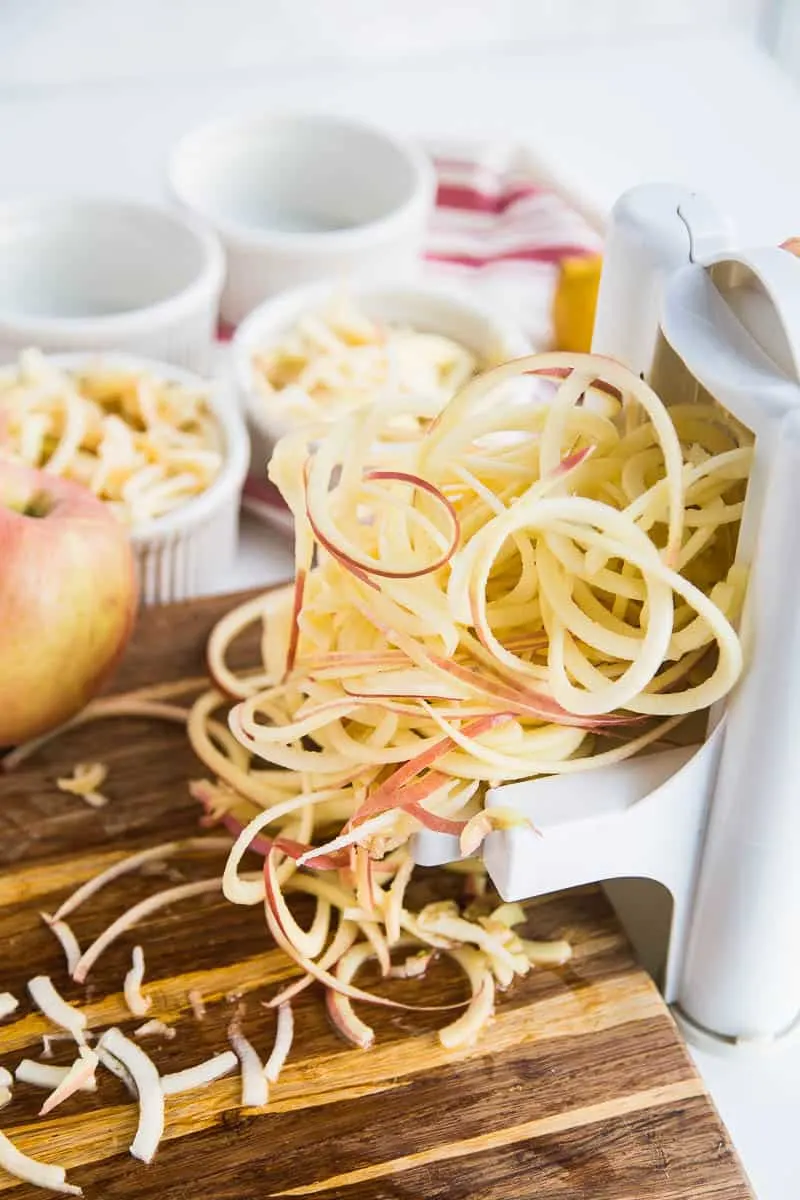 Let's talk about these apple noodles and why they're so fabulous in a crumble.
I got the idea from a shredded apple pie that my mom's good friend would make for Thanksgiving. It was SO, SO, good. I wanted a little more substance from the apples, though, and I didn't want thicker slices like a regular apple pie.
Enter: spiralizer. (I linked to an updated version of the one I have. There are five slicing blades now instead of three!)
My spiralizer has both thin and thick options for noodles, so I tested them both. The thin noodles "clogged" the blades, making it hard to get the entire apple sliced, leaked juices everywhere, and were a little mushy after baking.
I liked the thicker noodles better.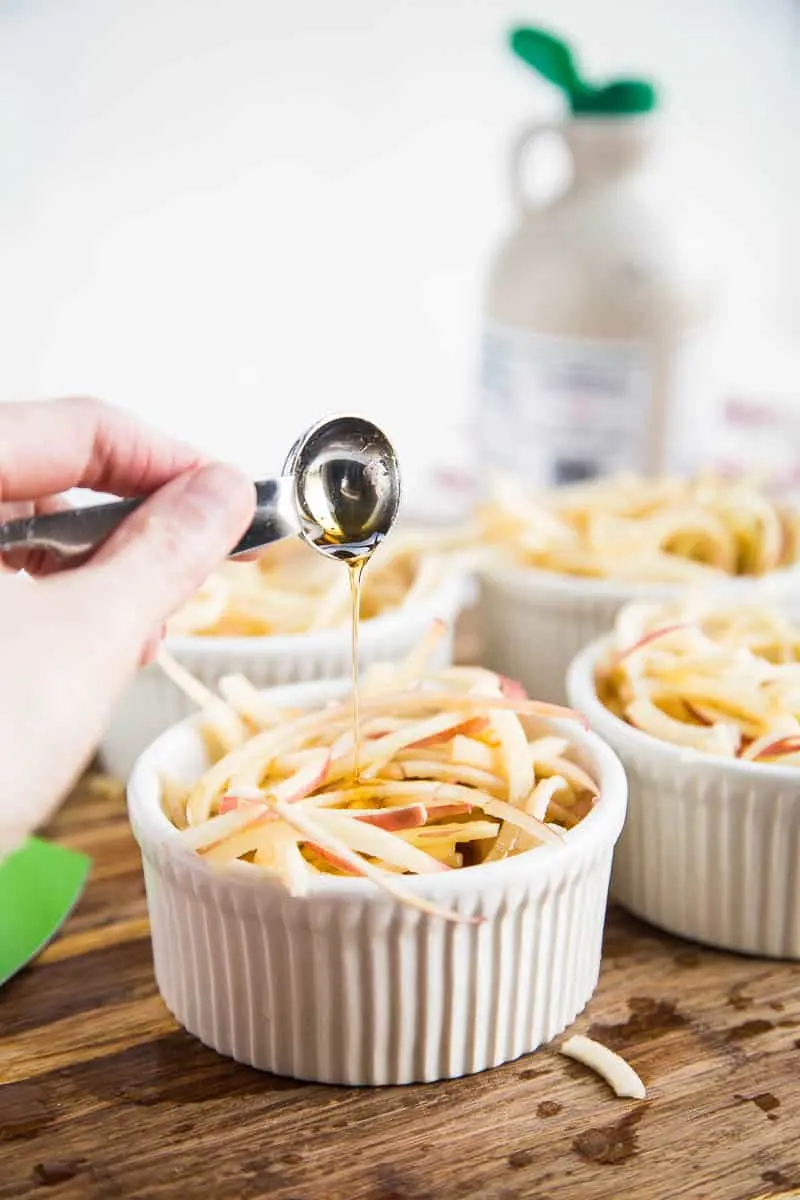 I didn't make these crumbles super sweet, and if you're doing a round of Whole30 and it happens to be Thanksgiving or Christmas, this would be great little dessert for you by leaving out the sweeteners.
This recipe makes 4 4-inch large ramekins, and I used 1 teaspoon of pure maple syrup (you can also use honey!) in each ramekin and about 1 1/2 tablespoons of coconut sugar in each crumble's topping. Not bad, eh?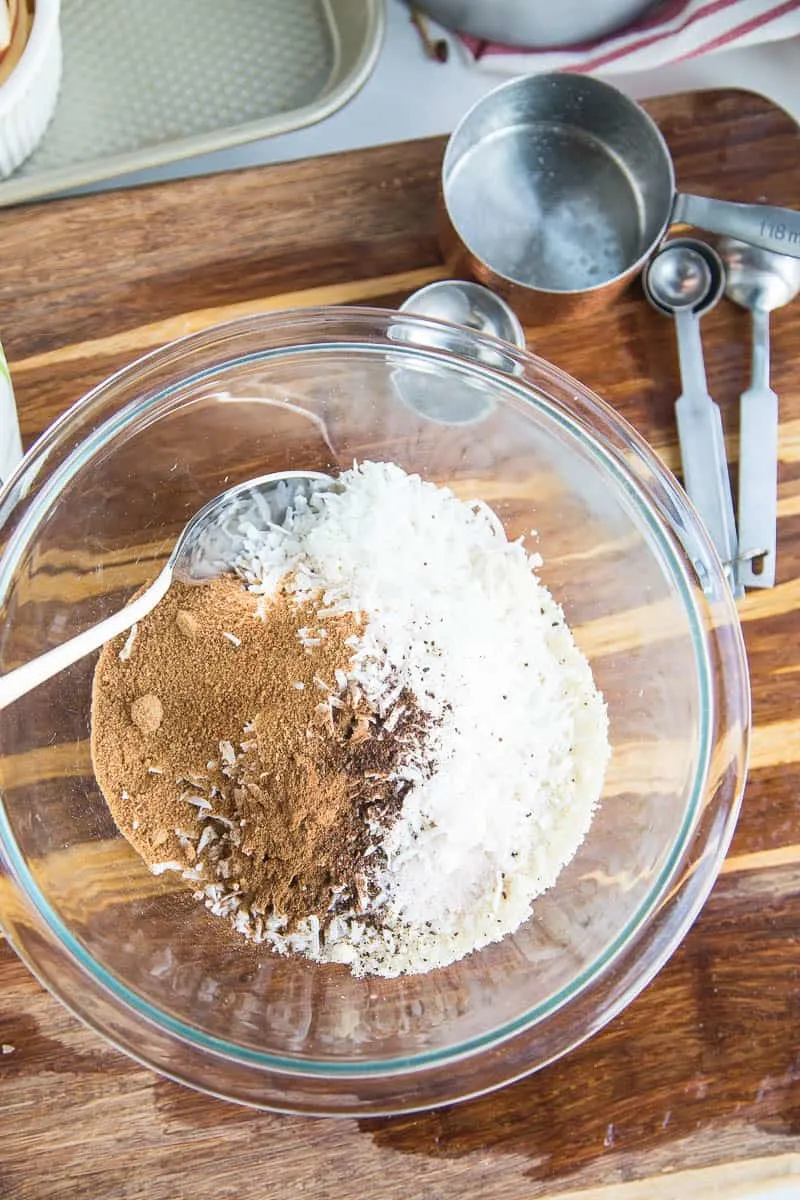 Speaking of the crumbly topping, it's a chewy mixture of shredded coconut, almond flour, and spices. And some coconut oil for richness.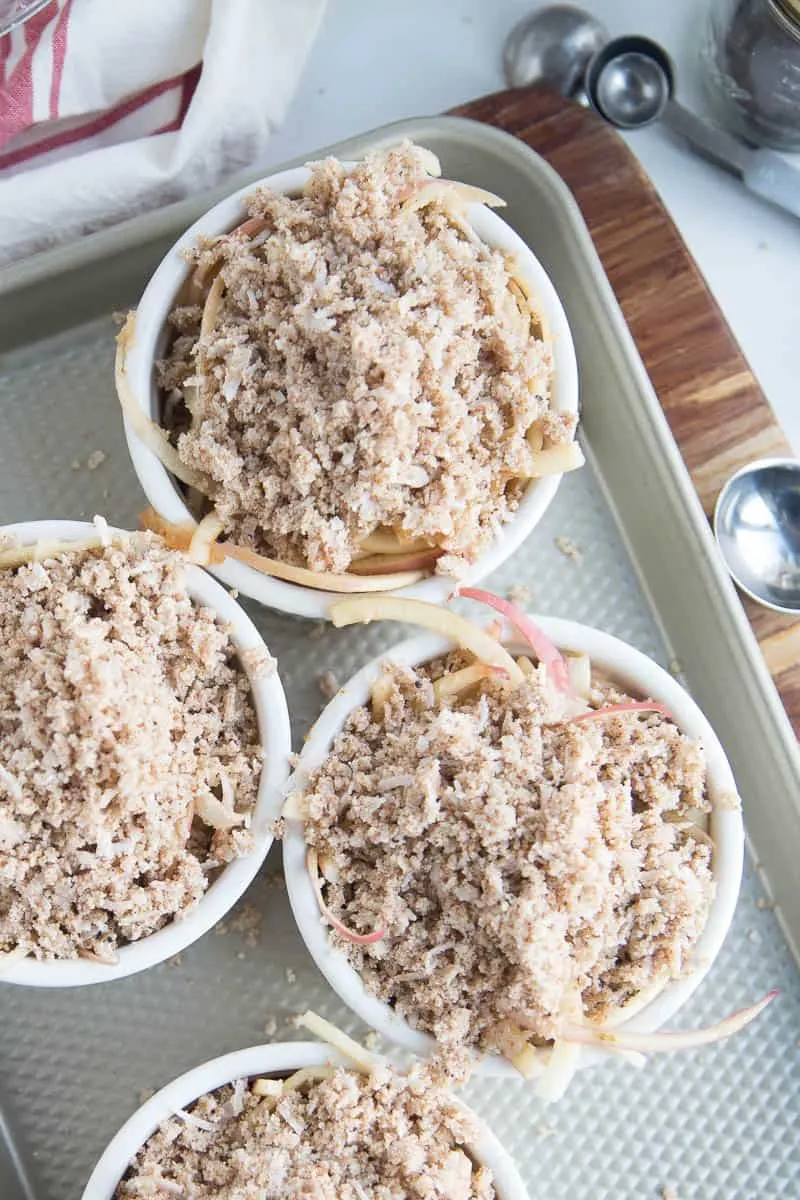 If you don't want to make these into ramekins, you can use an 8×8″ baking dish or double the recipe and make a 9×13″ pan. I like individualized desserts because I tend to take a fork to a larger pan of dessert and pretty soon I've eaten the rest. I have the impulse control of a 2-year-old.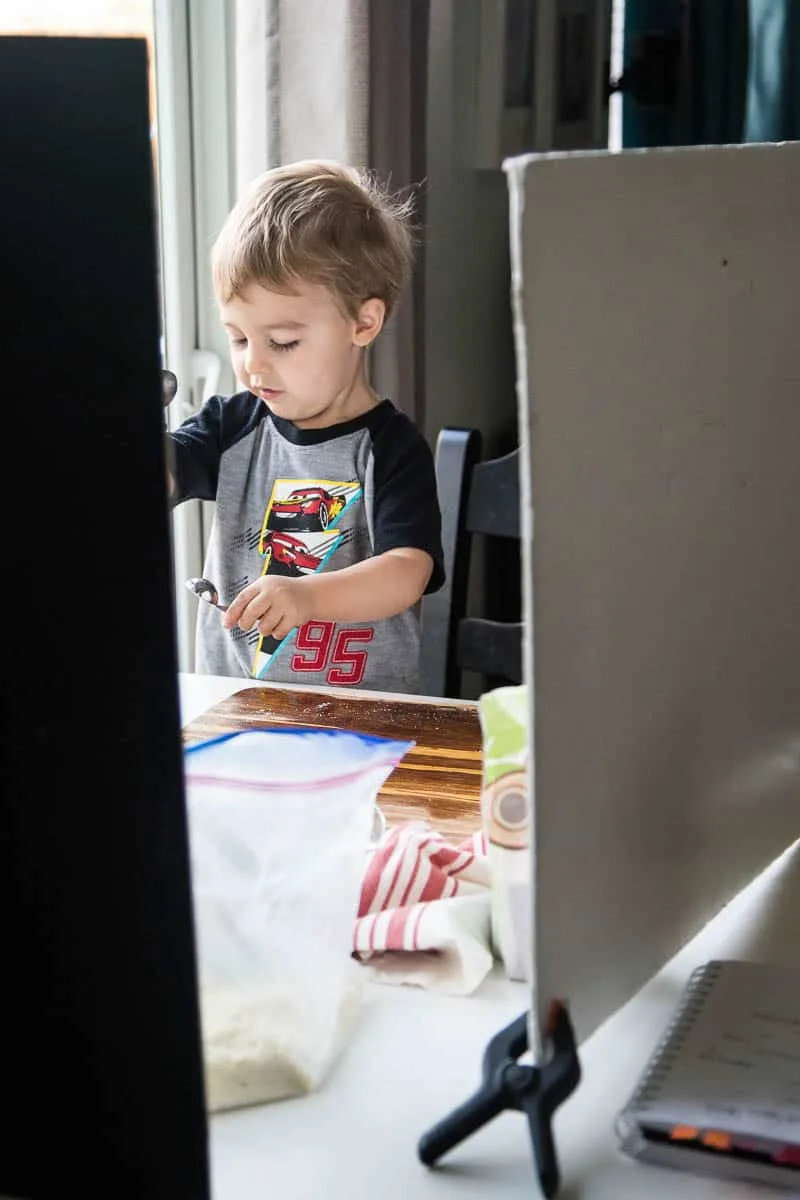 Like this guy. He likes getting all up in my business.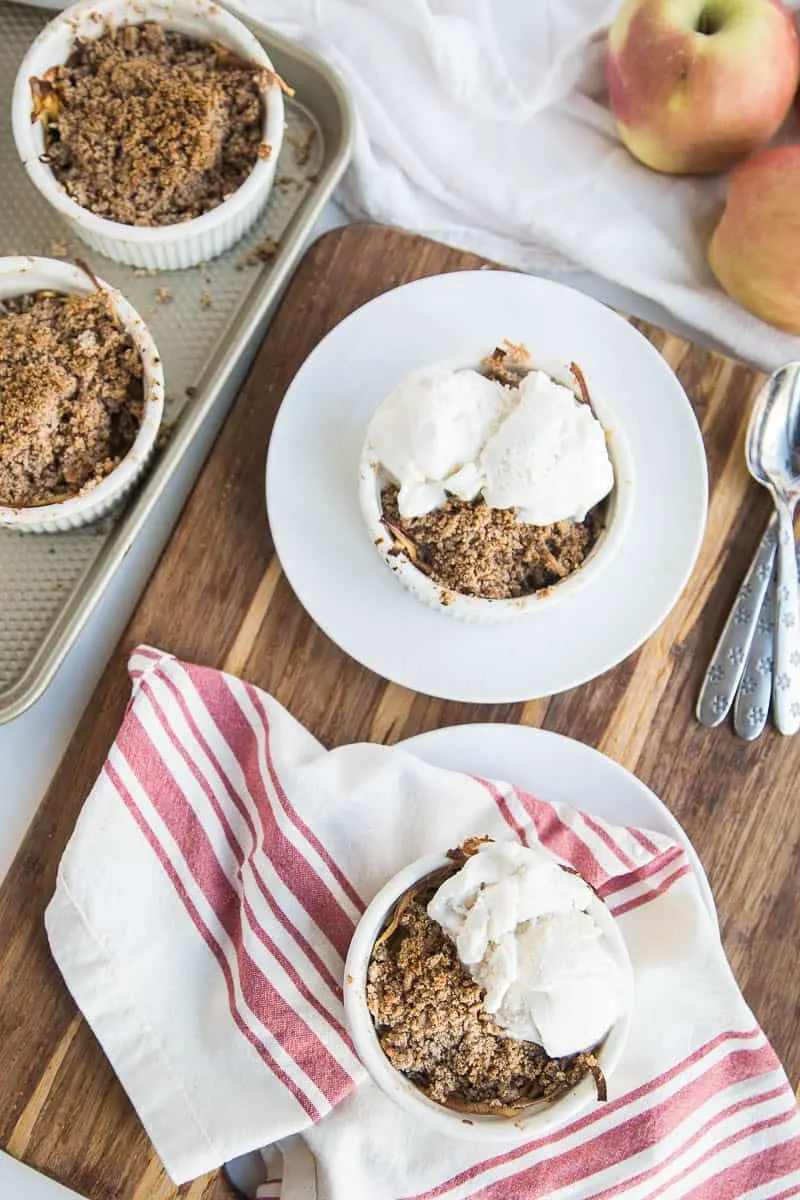 Also…. putting ice cream on these is a good idea.
Have you checked out the other recipes I posted for Thanksgiving Week?
Dry Brine Turkey with Orange-Rosemary Herb Butter
Paleo Roasted Cauliflower Stuffing with Sausage and Walnuts
Instant Pot Cauliflower Puree with Rosemary & Garlic
Chai Maple Roasted Butternut Squash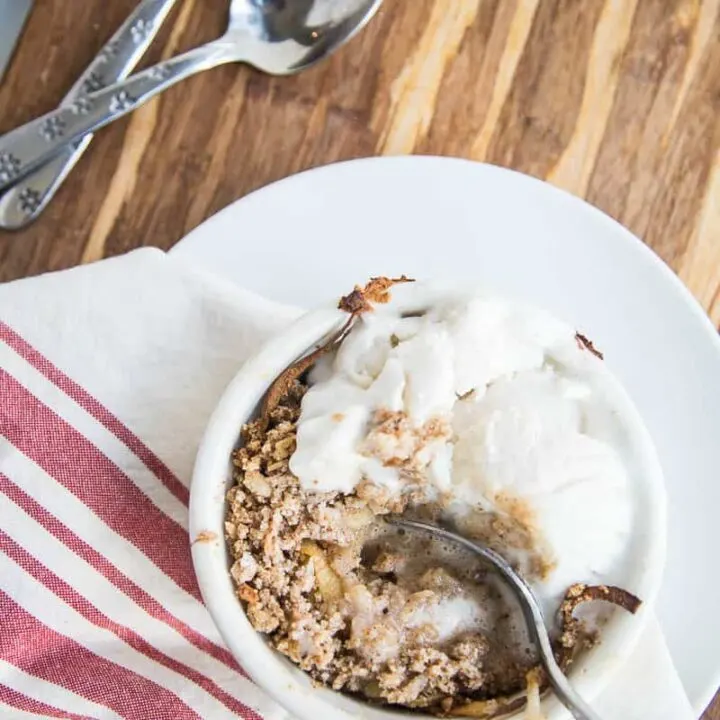 Spiralized Paleo Apple Crumble
Yield:
Serves 4 generously
Spiralized apples are perfect for apple crumble! You can make these individual apple crumbles in ramekins or in one big pan to share.
Ingredients
3 medium or 2 large baking apples
4 teaspoons maple syrup
1 lemon
1 cup blanched almond flour
1/2 cup unsweetened shredded coconut
2 Tablespoons coconut sugar
1 teaspoon cinnamon
1/4 teaspoon ground cloves
1/4 teaspoon sea salt
4 Tablespoons melted coconut oil (or butter)
Instructions
Preheat the oven to 350 degrees.
Spiralize the apples using a spiralizer or slice the apples very thinly after you core them. (No peeling needed for either method.)
Divide the apples among the ramekins. Drizzle a teaspoon of maple syrup and squeeze a little lemon juice over the apples in each ramekin.
In a medium bowl, combine the almond flour, coconut, coconut sugar, cinnamon, cloves, and salt. Add the coconut oil and blend until the mixture is kind of like wet sand. Sprinkle the mixture over the ramekins -- using all of it.
Bake for 30-35 minutes until the apples cook down slightly and the topping is golden brown in spots. If the topping starts to get more brown than you'd like, tent them with a piece of aluminum foil.
Serve. (Preferably with ice cream!)
Notes
Nat's Note: You could also make this in an 8x8" glass baking dish.

SaveSave
SaveSave
SaveSave