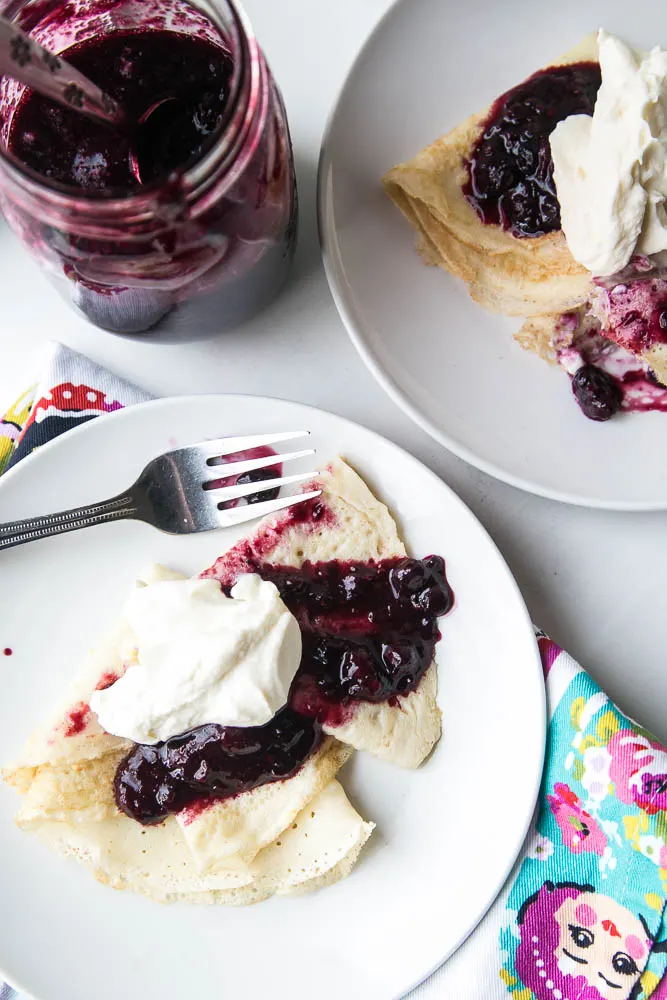 There are a handful of easy things that I make frequently that I don't have written down.
They aren't fancy.
I sort of just throw them together and it gets the job done.
Oddly enough, some of these quasi-recipes end up being our favorites around here — like this berry sauce.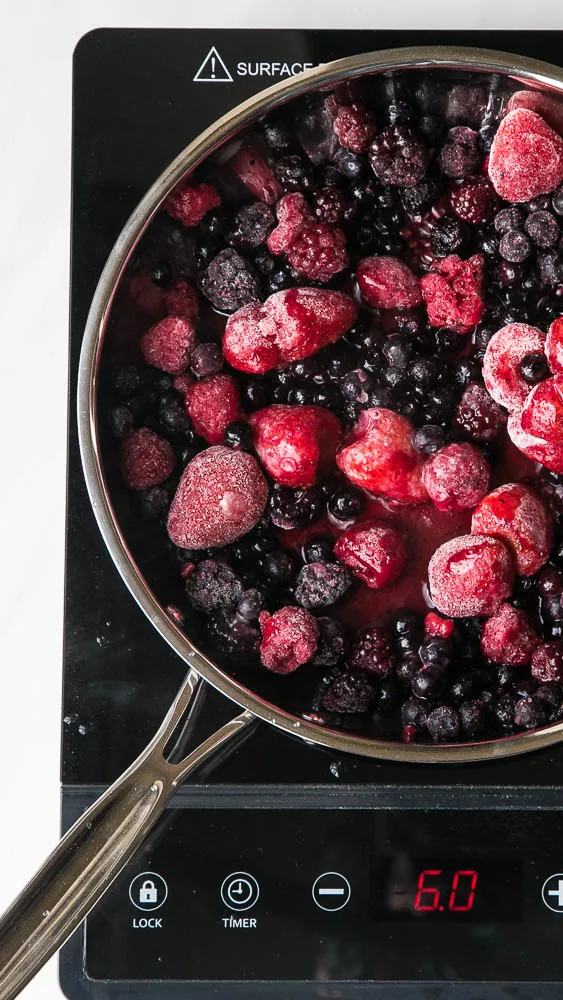 There are TWO really great things about this berry sauce. (Ok, probably more, but I narrowed it down for you.)
This Berry Sauce Uses Frozen Berries!
Berries are my favorite kind of fruit and I really think fresh berries deserve to be eaten in their whole state, don't you think?
And did you know frozen berries are often more sweet and ripe than most fresh berries at the store? (Unless you find them at the peak of the season at a farmers market or something.)
This also means you can have berry sauce ready to go AT ALL TIMES if you keep a bag of frozen berries in the freezer.
(If you're wondering, I'm stalking up on that instead of canned vegetables. Because seriously…)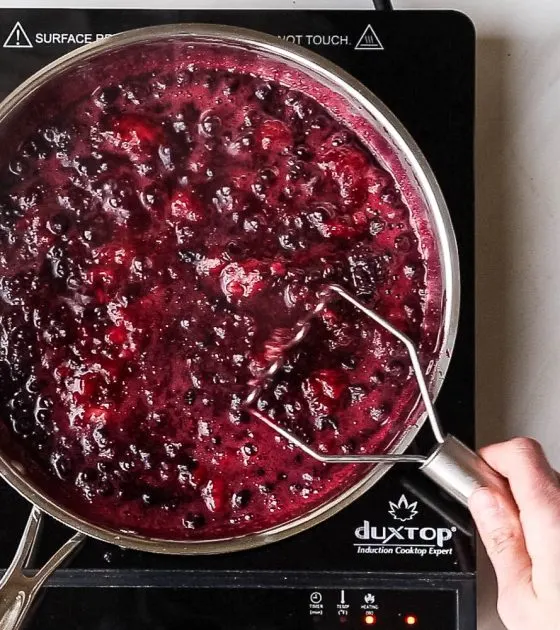 Now for the second greatest thing about this sauce:
This Berry Sauce Doubles as a Pie Filling!
It's actually why I made this in the first place — to make a Thanksgiving pie.
I realized how versatile and yummy the filling could be on its own.
To make pie filling, just triple the recipe (Don't be scared, it cooks down a lot!) and put it into a double crust pie. My Perfect Gluten-Free Pie Crust is perfect for this.
See how easy it is to make, too! And there are only THREE ingredients. (That should have been bold, too, right?)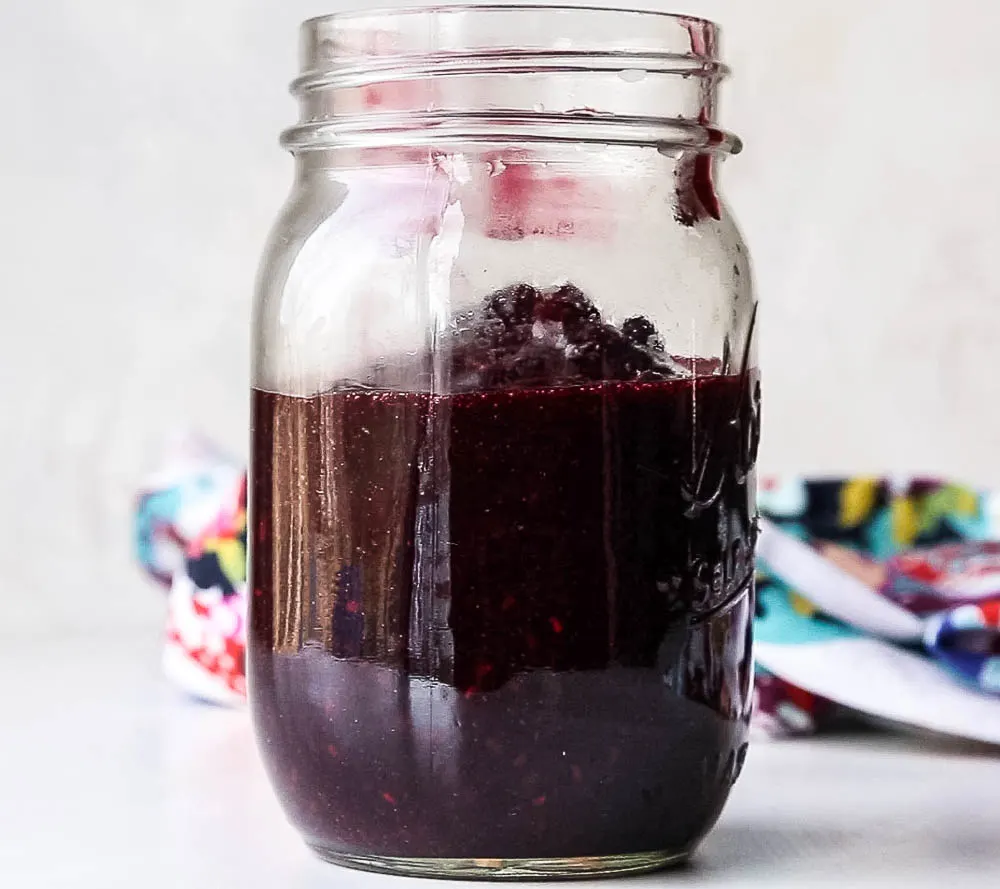 What kind of thickener do you need for the berry sauce?
None, actually.
I've used a little arrowroot or tapioca in the past, but to be honest, it doesn't need it.
Blueberries have a lot of natural pectin, so it takes on the role of a thickener. Plus you can simmer more of the juice out of it if you'd like it more jammy.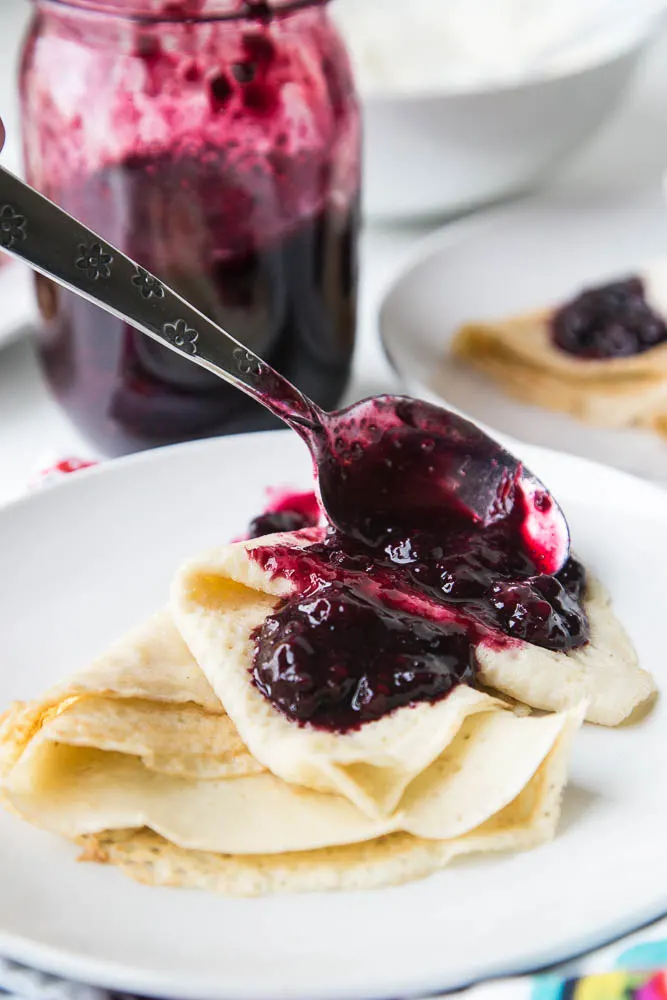 How to Use Berry Sauce
What do you put this on? Oh heavens. So many things…
Crepes
Pancakes
Waffles
Parfaits/trifles
Cheesecake
Ice cream sundaes
Chia pudding
Clearly we loved it on my Gluten-Free Crepes. You can make a batch of crepes in the time it takes for your sauce to simmer. I love it when components are able to cook at the same rate.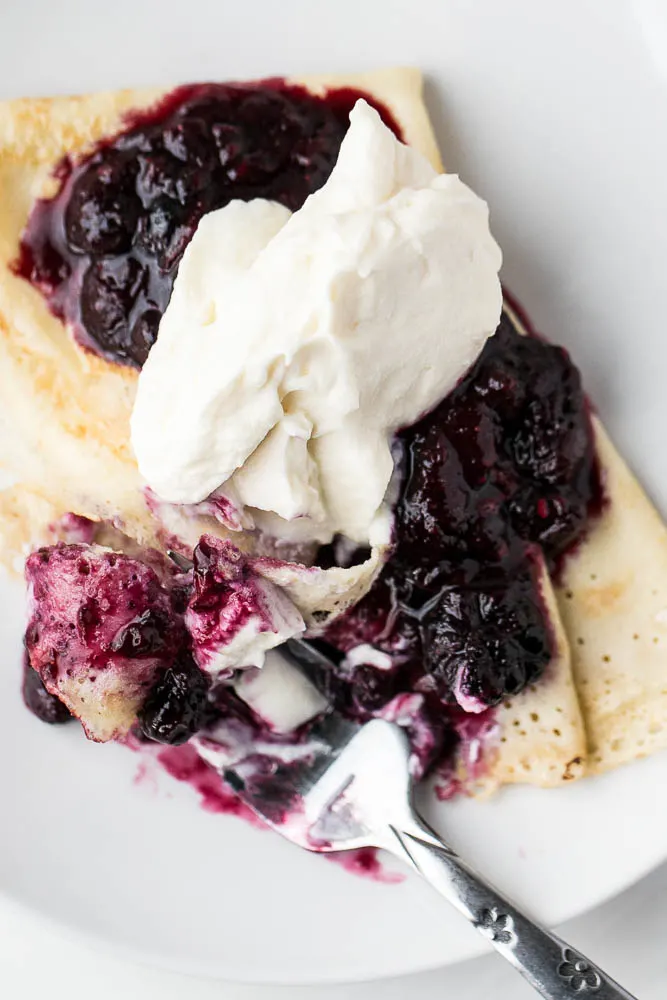 To make this paleo or keto friendly:
For Paleo, use any natural sweetener you prefer — honey or coconut sugar would probably be best.
For keto/low-carb, use a sugar free, erythritol or monkfruit sweetener like Swerve or Lakanto. (I included net carb count in the recipe notes below.)
If you use liquid concentrated Stevia, just use a few drops at a time until you reach desired sweetness.
How long does Berry Sauce last in the fridge?
I wouldn't go longer than 10 days. If it even lasts that long! You can also freeze it for later if, for some crazy reason, you can't eat it all sooner.
I'd love to hear if you try this recipe! You can tag me on social media with #perrysplate or @perrysplate.
Enjoy!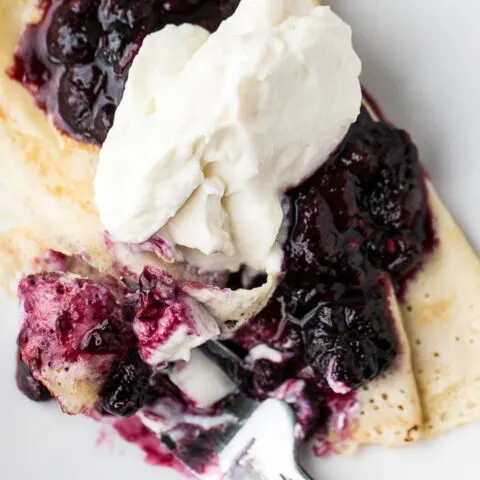 Easy Berry Sauce (Paleo & Keto)
This simple berry sauce is only THREE ingredients and takes just minutes to whip up.
(Plus you can use frozen berries so you don't have to run to the store for fresh ones!)
Ingredients
1 pound bag of frozen mixed berries
Juice from 1/2 a lemon
3-4 Tablespoons preferred granulated or liquid sweetener (see note)
Instructions
Put the frozen berries and lemon juice in a deep skillet or medium sauce pan and cook over medium heat until the berries begin to soften and break down.
Add the sweetener and continue to cook until it's as thick as you prefer.
You may also mash the sauce up or blend it in a blender (or with an immersion blender) if you like.
Serve immediately or pour into a lidded container and store in the fridge for up to 10 days.
NOTE: To use this as a pie filling, triple the recipe and let it simmer longer so it's thicker. Pour into a 9-inch unbaked pie crust and cover with a top crust or crumble topping.
Notes
To make this paleo-friendly, use honey, coconut sugar, or Date Paste as the sweetener.
To make this keto-friendly, use a low-carb sweetener like erythritol, monkfruit. If you use one of those sweeteners, it would be 4g Net Carbs per 2 Tablespoon serving. If you pulled the strawberries out it would go down even more.
If you use liquid stevia, just put in 1/4 tsp and taste to see if you think it needs more.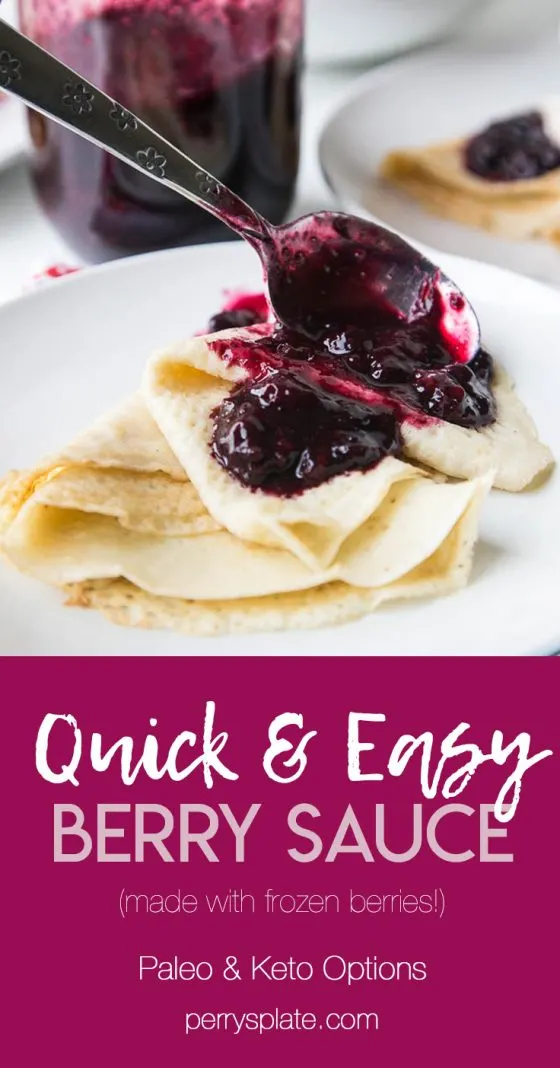 Disclosure: This post may contain Amazon affiliate links. Purchases made by using these links don't cost you any extra and helps to keep my content free.