These Paleo-friendly meal plans are for six dinner recipes and a dessert thrown in for fun! All of these recipes are paleo friendly, seasonal, and most can be easily adapted to be Keto/Low-Carb or Whole30 friendly.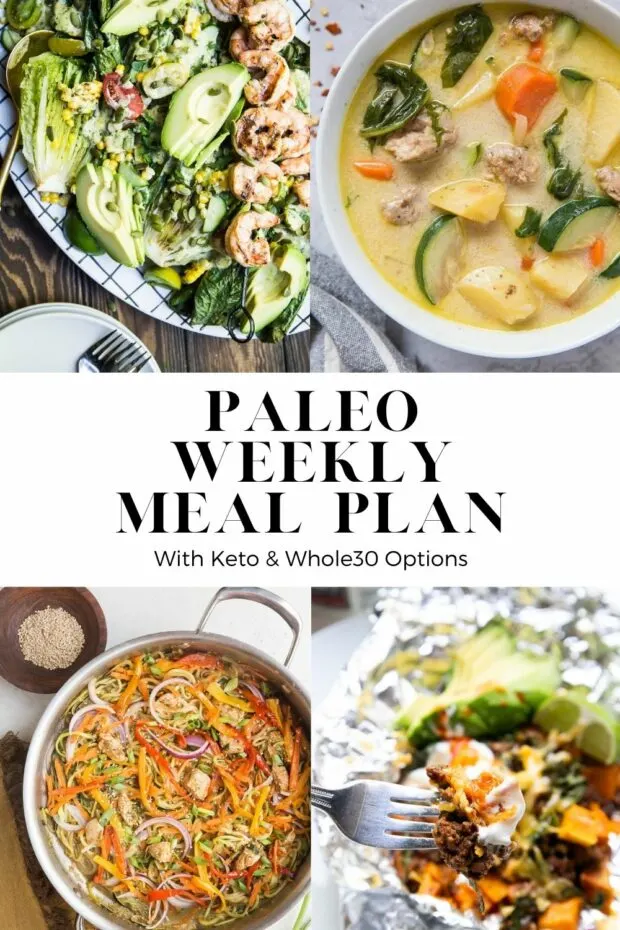 Hey friends!
I'm sitting here in my kitchen with the patio door open, and the cool air is filling the kitchen. September is such a relief for me!
I love September because summer produce is still at its peak, but it's cool enough to pull out a few heartier, cozy meals.
This week's plan incorporates fresh, summer meals with a couple of cozy ones so we can straddle the best of both worlds.
(And don't forget dessert! It's one of my new recipes and I think you'll love it.)
Natalie
---
Sunday
FOIL PACKET SWEET POTATO TACOS — These little bundles can be made with parchment at home, made ahead for a busy weeknight or packed in your cooler for a late summer camping trip! They're super customizable, too.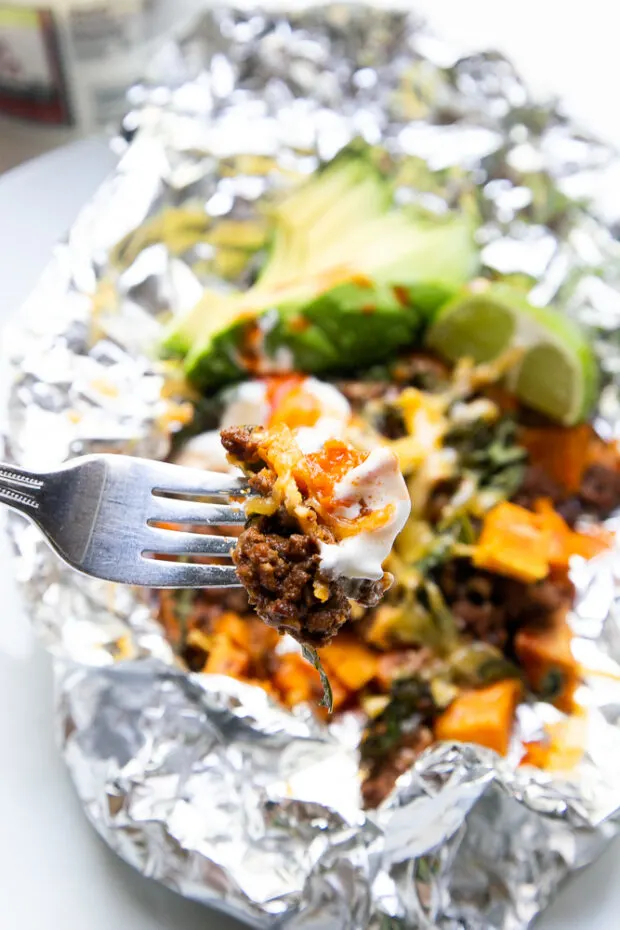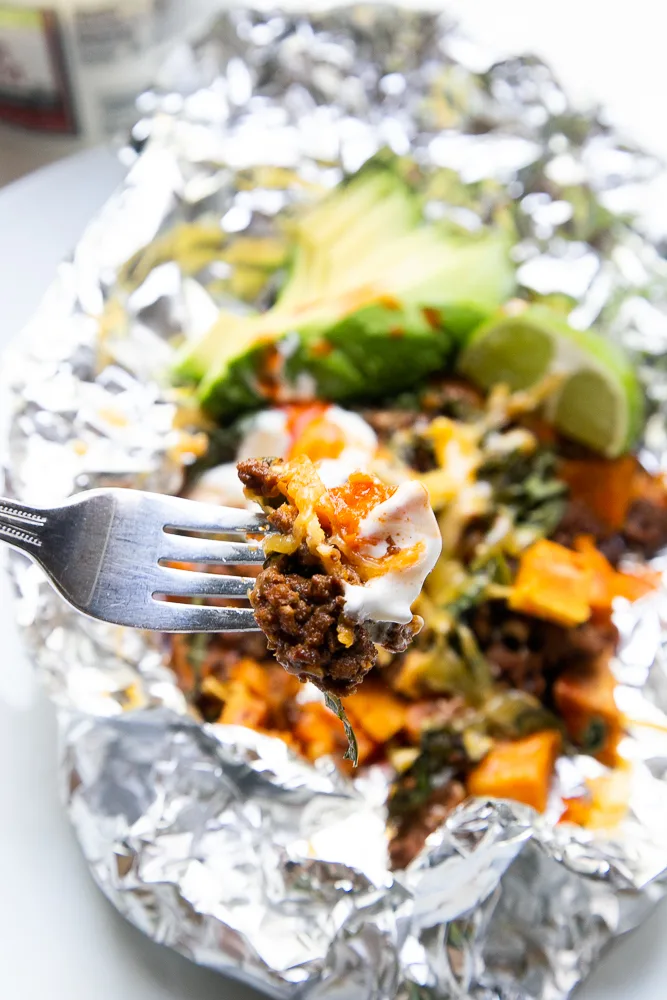 Special Diet Note: Recipe can be as paleo as you like. All toppings are to your liking
Prep Ahead: If you make these a day or two ahead, all you need to do is put them in the oven! They're also great for camping trips.
Substitutions: Use any kind of ground beef for the taco meat. You can also use parchment if you bake them at home if you don't want to use foil. Or you can line the foil with a piece of parchment.
Monday
HEARTY GROUND TURKEY SOUP WITH VEGETABLES — Hearty ground turkey soup with vegetables is a clean and comforting meal perfect for soothing the belly and soul. Make it if you're feeling under the weather, or if you just love a great nourishing soup recipe!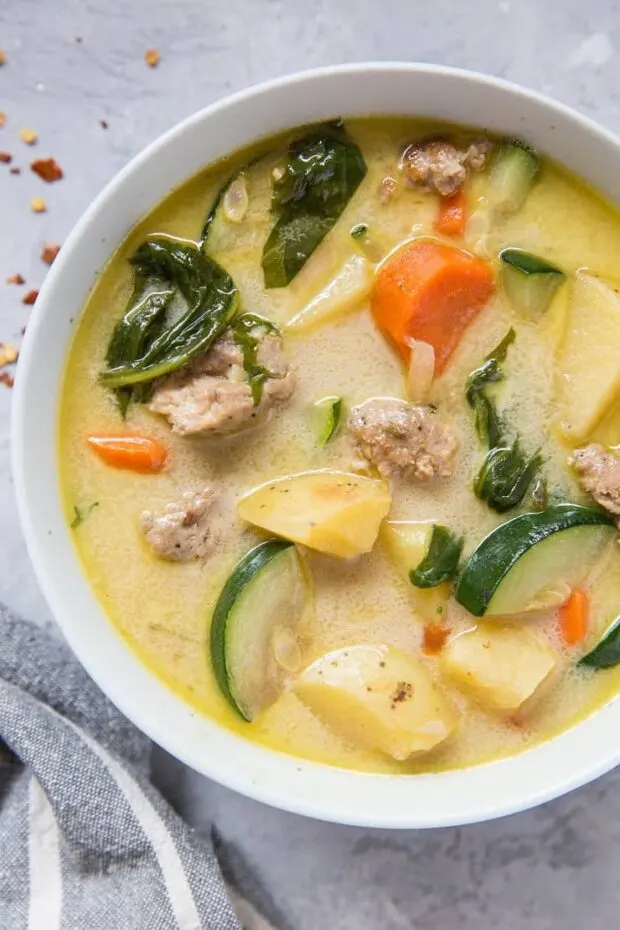 Special Diet Note: Recipe is paleo and whole30.
Prep Ahead: This soup recipe comes together rather quickly and doesn't necessitate any prior preparation. The soup tastes even better the next day (up to 7 days) after making the soup, so feel free to make it in advance.
Substitutions: Replace the ground turkey with ground beef or chicken. Feel free to toss in your favorite vegetables.
Tuesday
SANTA FE GRILLED CAESAR WITH SHRIMP — When Steve and I were in LA earlier this year we ate the most wonderful Caesar salad of our lives at Jimmy's Famous American Tavern. I immediately got to work and recreated it to share with you. The cilantro-lime caesar dressing ALONE is worth making this.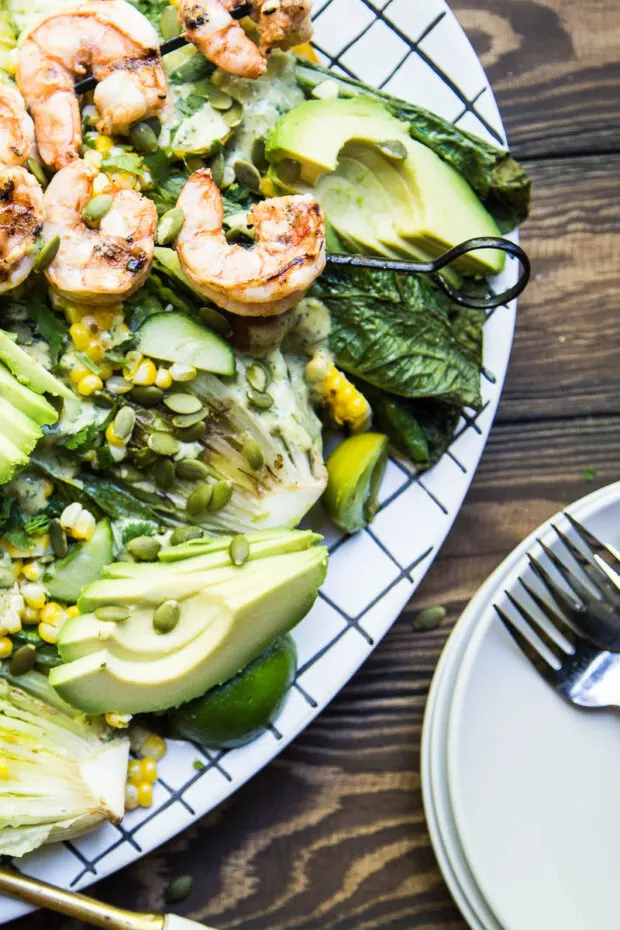 Special Diet Note: Recipe is paleo without the corn and Parmesan.
Prep Ahead: Make the dressing 1-2 days ahead to save time.
Substitutions: Use grilled zucchini slices in place of the corn on the cob if you like.You may omit the Parmesan or substitute it with a tablespoon or two of nutritional yeast.
Wednesday
30-MINUTE MEXICAN CHICKEN AND ZUCCHINI SKILLET — 30-Minute Mexican Chicken and Zucchini Skillet couldn't be any easier to make and results in a nutritious, tasty meal! Simply toss everything in one skillet, cook, and you're in for a lovely lunch or dinner.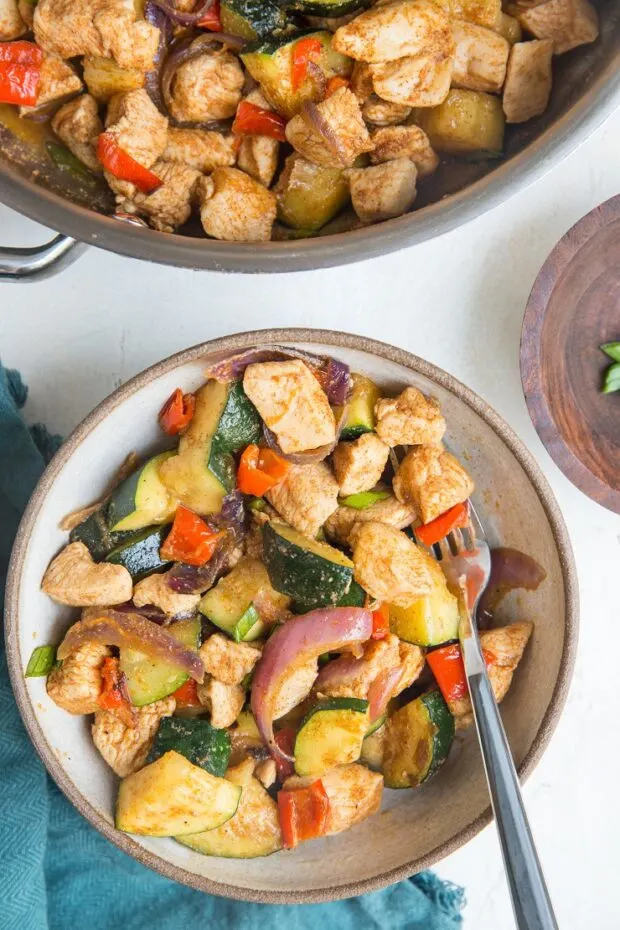 Special Diet Note: Recipe is paleo, whole30, keto, and low-carb!
Prep Ahead: A quick and easy dinner recipe, this skillet comes together in a flash! No advance prep is needed.
Substitutions: You can swap out the pineaToss in your favorite veggies! If you do dairy, serve with shredded cheese on top. Also feel free to serve with guacamole, rice, salsa, etc.
Thursday
GRILLED EGGPLANT STACKS WITH MACADAMIA RICOTTA — Have you ever tried macadamia ricotta "cheese"? It's hearty, dairy-free alternative to ricotta filled with lots of healthy fats. These Grilled Eggplant Stacks remind me of lasagna, but much less fussy.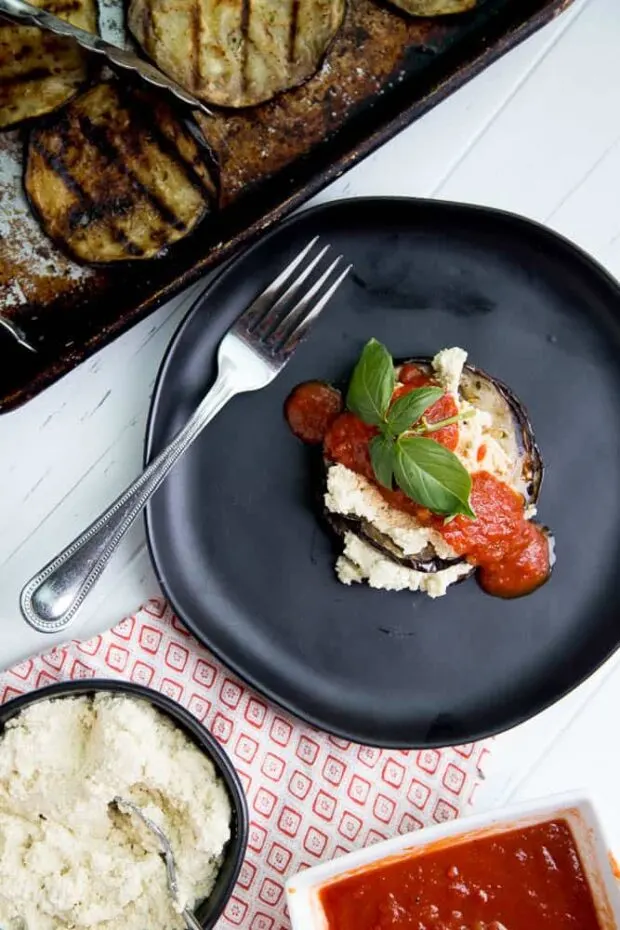 Special Diet Note: Recipe is paleo and meatless.
Prep Ahead: Make the macadamia ricotta 3-4 days in advance to save time.
Substitutions: Substitute other vegetables for the eggplant or grill several kinds. Zucchini, bell peppers, and tomatoes would be delicious here.
Friday
CHICKEN CHOW MEIN NOODLES — Easy Chicken Chow Mein Zoodles with veggies and zucchini noodles is a clean, light and refreshing yet comforting dinner recipe! This simple low-carb meal takes hardly any time to prepare and is a marvelous alternative to ordering takeout.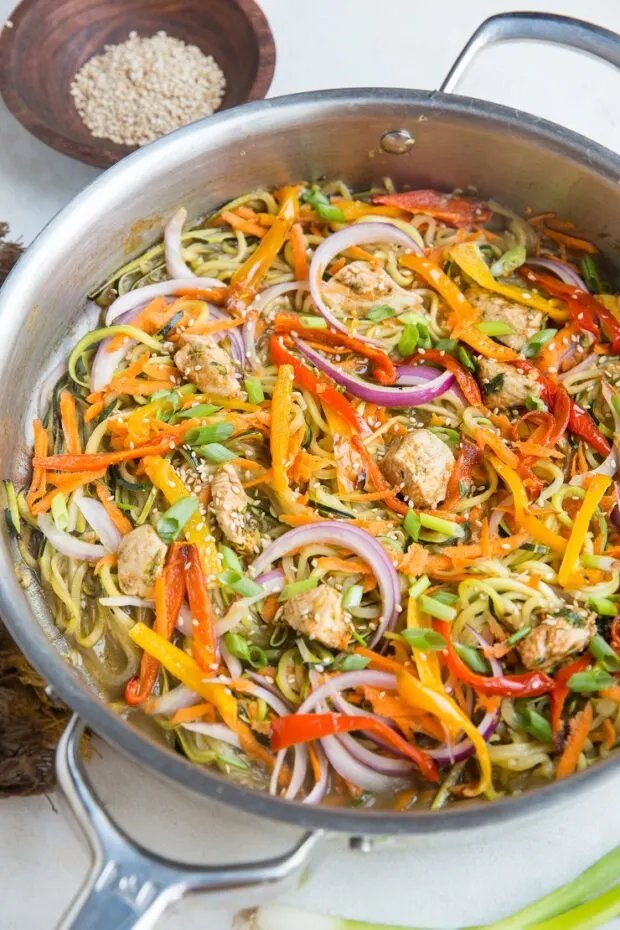 Special Diet Note: Recipe is paleo, whole30, keto, and low-carb!
Prep Ahead: This recipe comes together in 40 minutes or less! No need to prepare anything ahead of time!
Substitutions: Add in your favorite veggies and/or omit the bell pepper if desired. You can replace the chicken with ground beef or turkey if you'd like!
Dessert
FLOURLESS PEANUT BUTTER AND JAM BARS — These PB&J bars only have FIVE ingredients! I love how the coconut sugar gives them a little caramely flavor. You can use any jam or jelly you like, too. Prep time is quick, so you can have these ready to go in under an hour.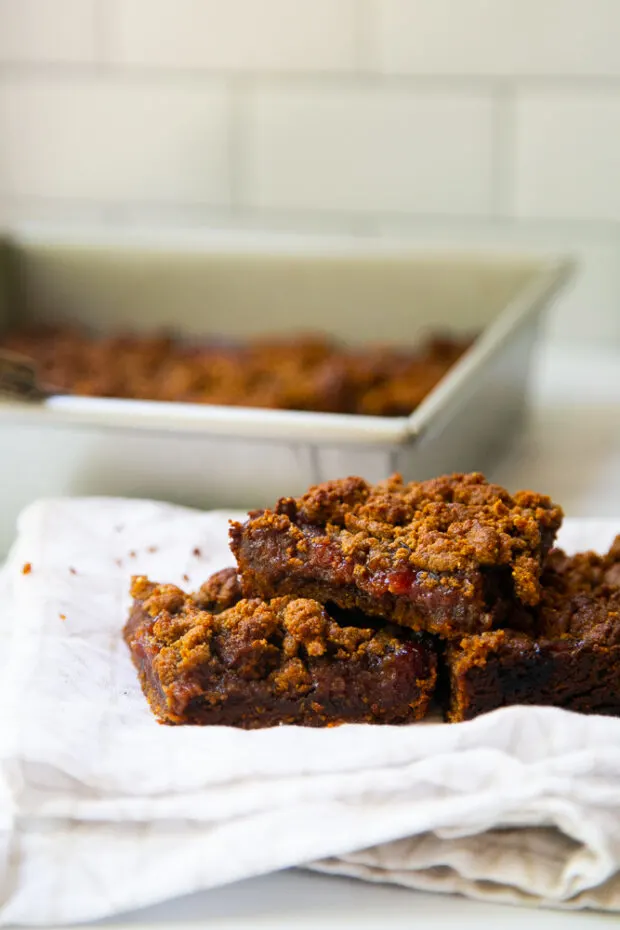 Special Diet Note: Recipe is grain-free, dairy-free, and naturally sweetened by using homemade strawberry jam.(Julia has a great one here! Strawberry Chia Seed Jam).
Prep Ahead: Prep the jelly ahead of time if making your own.
Substitutions: Use a different kind of jelly or swap out the nut butter.
Grocery List
Click HERE to download a handy printable grocery list!