I feel like I created a unicorn here with this grilled eggplant recipe.
It's easy, quick (even quicker if you make the ricotta ahead of time), doesn't require an oven/stove (yay, summer grilling!), and is paleo, low-carb/keto, AND vegan. The fact that it's vegan was totally an accident. If you've spent more than 5 minutes on my site, you'll know that creating vegan recipes is not high on my priority list.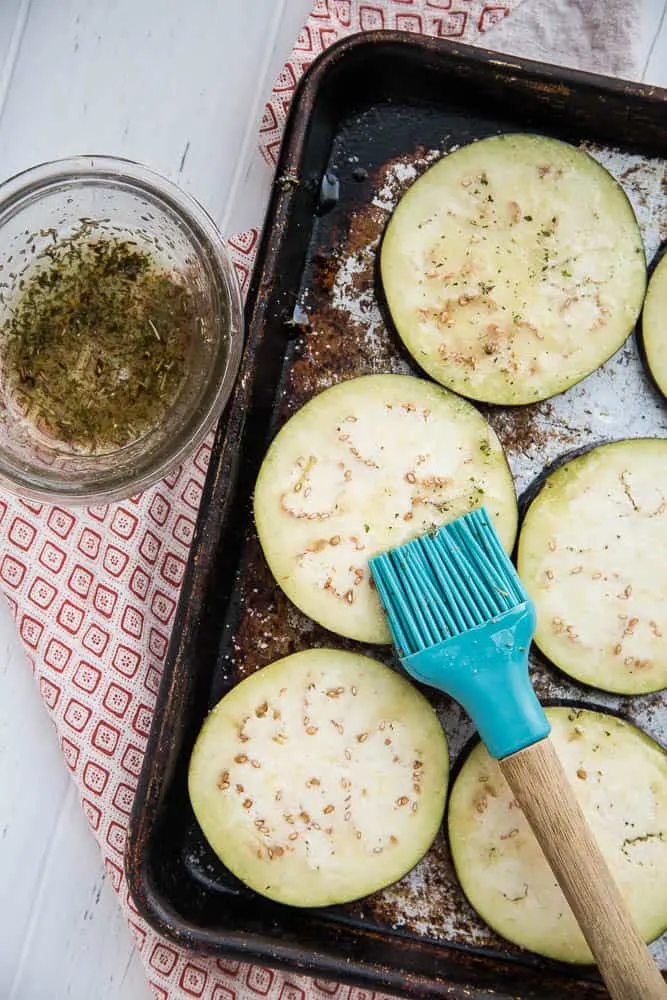 So, eggplant. Love? Hate? Have an issue with its funny texture? I feel like you have to really have to have the end goal in mind when cooking with eggplant for the first time. Picking up a foamy vegetable covered in dolphin-like skin isn't the most appetizing thing.
Eggplant does have a pretty deep purple color, which I love. Too bad it doesn't stick around after cooking. Luckily, that piece of foam turns soft and silky when it's finished.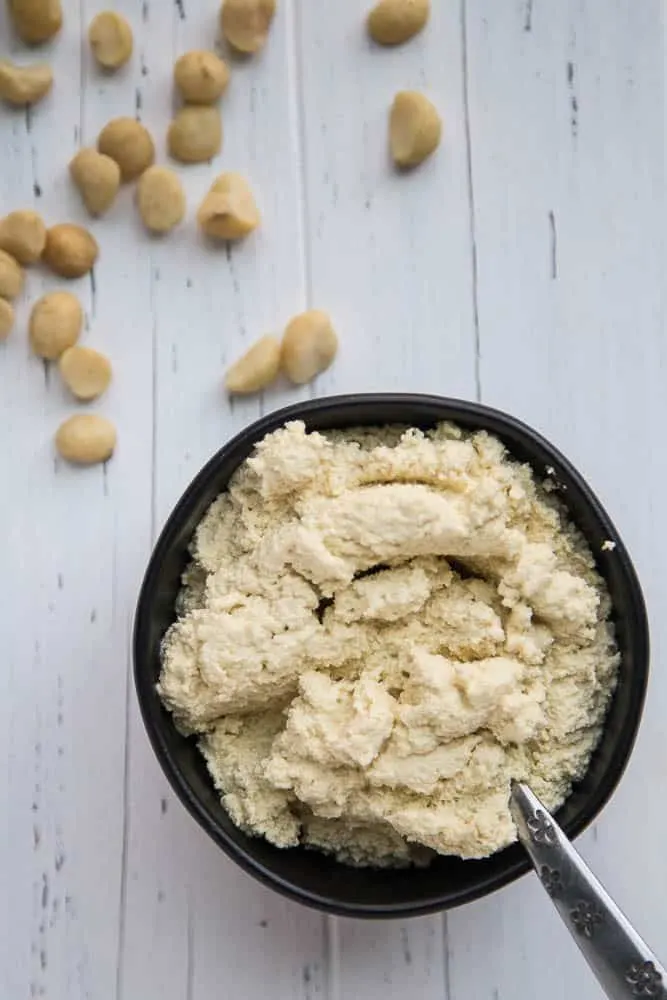 And let's address what you're all thinking when you saw the title of this post, "What the heck is macadamia ricotta?" Well, exactly what it says — a ricotta substitute made of whipped macadamia nuts.
There's a version in Michelle Tam's book, Nom Nom Paleo: Food for Humans, but I prefer to soak the nuts before blending them and adding a couple more ingredients for extra flavor.
Does it taste like macadamia nuts? Kinda, yeah, but only if you're eating it by the spoonful. When it's nestled between a tender piece of grilled eggplant and a drizzle of marinara sauce, it's more ricotta-like.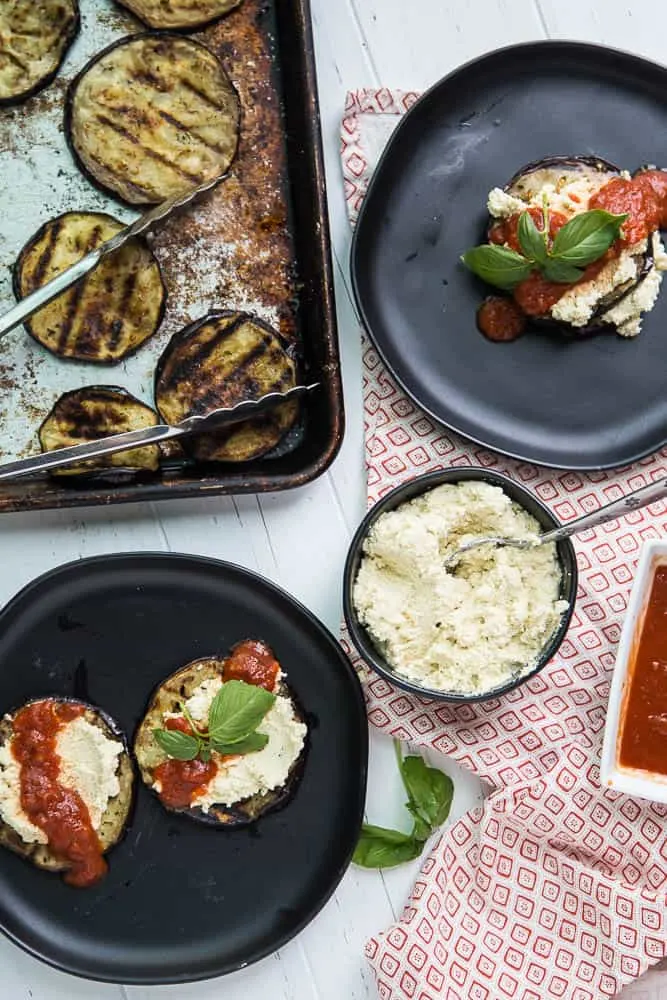 My original intention with this recipe was to layer it in a baking dish and create a lasagna situation, but I'm taking the easy route more often than not these days. Grilling the eggplant and making individual stacks accomplished the same thing without dirtying up a baking dish and turning on the oven.
I was so happy with this recipe. Seriously. Steve liked it, too. I'm still on an eggplant campaign with the kids, and I haven't lost hope yet. I even warmed it up for lunch a few days later and LOVED it with a couple handfuls of spring greens and a drizzle of Trader Joe's balsamic glaze. (Have you had that? Seriously so good.)
I have other eggplant recipes on my site if you want to check them out!
Eggplant Curry with Cucumber-Yogurt Sauce — My favorite vegetarian curry ever! Like an Indian version of Eggplant Parm. (Can be gluten or grain-free, Low-Carb)
Pesto Eggplant Roll-Ups — Rolled up sliced of tender eggplant filled with pesto and mozarella. (Gluten/Grain-Free, Low-Carb)
Grilled Eggplant Parmesan — Similar to this recipe, but topped with a tomato bruschetta and fresh Parm. (Gluten/Grain-Free, Low-Carb)
Eggplant "Bacon" — Perhaps the strangest recipe I have on my site, but it's actually a pretty great meatless "bacon". Or a smoky, crunchy salad topper! (Vegan, Paleo, Low-Carb with a different sweetener)
Spicy Garlic Hasselback Eggplant with Tomato-Basil Relish — This is a Japanese eggplant studded with fresh garlic and chili flakes, wrapped in a foil packet, and grilled to tender perfection. (Paleo, Whole30, Low-Carb, Vegan)
Middle Eastern Chicken & Eggplant Kebabs with Tahini Yogurt Sauce — This is a post I did for Pioneer Woman's site. And the first time I fell in love with tahini! (Gluten & Grain Free, Low-Carb)
Mediterranean Turkey Meatloaf with Sun-Dried Tomato Aioli — A recipe from my first cookbook, The Big Book of Paleo Slow Cooking. Roasted eggplant mixture is folded into ground turkey with spicy peperoncinis. Seriously yum. (Paleo, Low-Carb)
Roasted Ratatouille Meatloaf & Marinara — I loved the previous recipe so much I made an Italian version of that turkey meatloaf with roasted eggplant, tomatoes, and zucchini for my newest book, The Big Book of Paleo Pressure Cooking. (Paleo, Low-Carb) Also in the book is Middle Eastern Eggplant Hummus.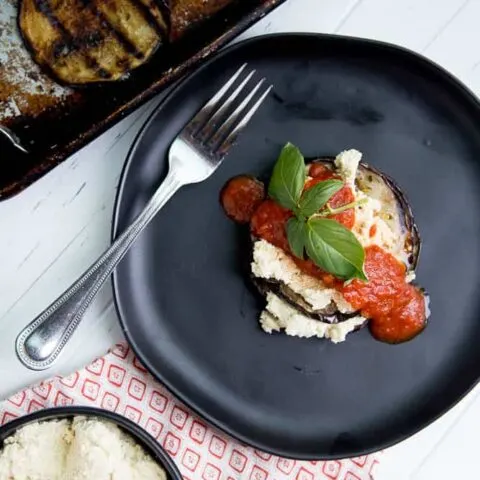 Easy Grilled Eggplant Stacks with Macadamia Ricotta
Have you ever tried macadamia ricotta "cheese"? It's hearty, dairy-free alternative to ricotta filled with lots of healthy fats. These Grilled Eggplant Stacks remind me of lasagna, but much less fussy. It's also paleo, vegan, and low-carb/Keto friendly!
Ingredients
For the macadamia ricotta:
1 cup macadamia nuts (raw and unsalted, if possible)
juice from 1/2 of a lemon
2 tablespoons nutritional yeast
1 clove garlic
1/4-1/2 teaspoon sea salt
For the eggplant stacks:
1 large eggplant, cut into 1/2-inch rounds
6 tablespoons avocado oil
1 teaspoon Italian seasoning
8 ounces basic marinara sauce
1 small bunch of fresh basil
Instructions
Soak the macadamia nuts in hot water for about an hour. Drain them and discard the soaking liquid.
Place the soaked nuts in a food processor or high-powered blender along with the other ricotta ingredients and 1/2 cup of fresh water.
Pulse, until the nuts are finely minced, then blend for 2-3 minutes, scraping the sides of the work bowl (or pitcher) as needed. The ricotta shouldn't be super grainy or crunchy from the nuts. Blend it until it looks somewhat fluffy and there aren't any chunks of nuts remaining. Put in a lidded container and set aside until ready to use.
Preheat the grill to medium heat. Spread the eggplant out on a baking sheet.
Stir together the avocado oil and Italian seasoning. Brush the seasoned oil over both sides of the eggplant.
Grill the eggplant slices, covered, for 10-15 minutes, flipping once or twice during cooking, until they are very tender. Turn down the heat if they brown too quickly -- it takes a while for them too cook all the way through.
Warm the marinara in a skillet or saucepan, if needed. Serve the eggplant slices (stacked or not) with a dollop of ricotta, a drizzle of marinara, and some fresh basil leaves.
Notes
Nat's Notes:

1. Feel free to make the macadamia ricotta a few days ahead of time and chill until ready to use. Once you get that done, it only takes about 20 minutes to make these! If you don't want to put cold ricotta on your eggplant, spread a little on each eggplant slice while they're still on the grill, during the last 2-3 minutes of cooking time.

2. You could also roast the eggplant in the oven if you don't have a grill. Just spread the oil on the slices as instructed and then roast them at 425 until golden brown and very tender, flipping halfway through cooking. It should take about 10-12 minutes.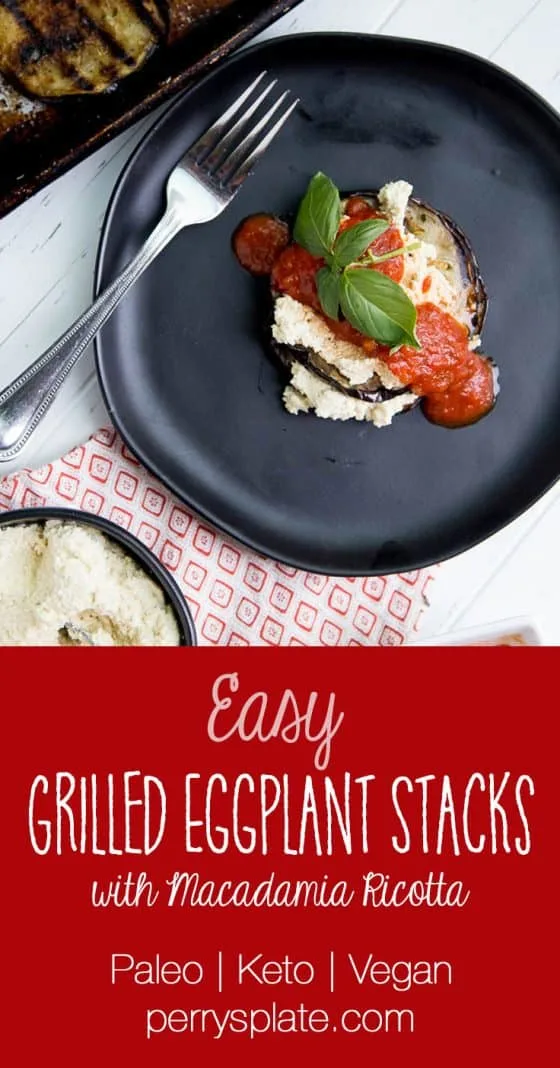 SaveSave
SaveSave
SaveSave
SaveSave
SaveSave
SaveSave
SaveSave