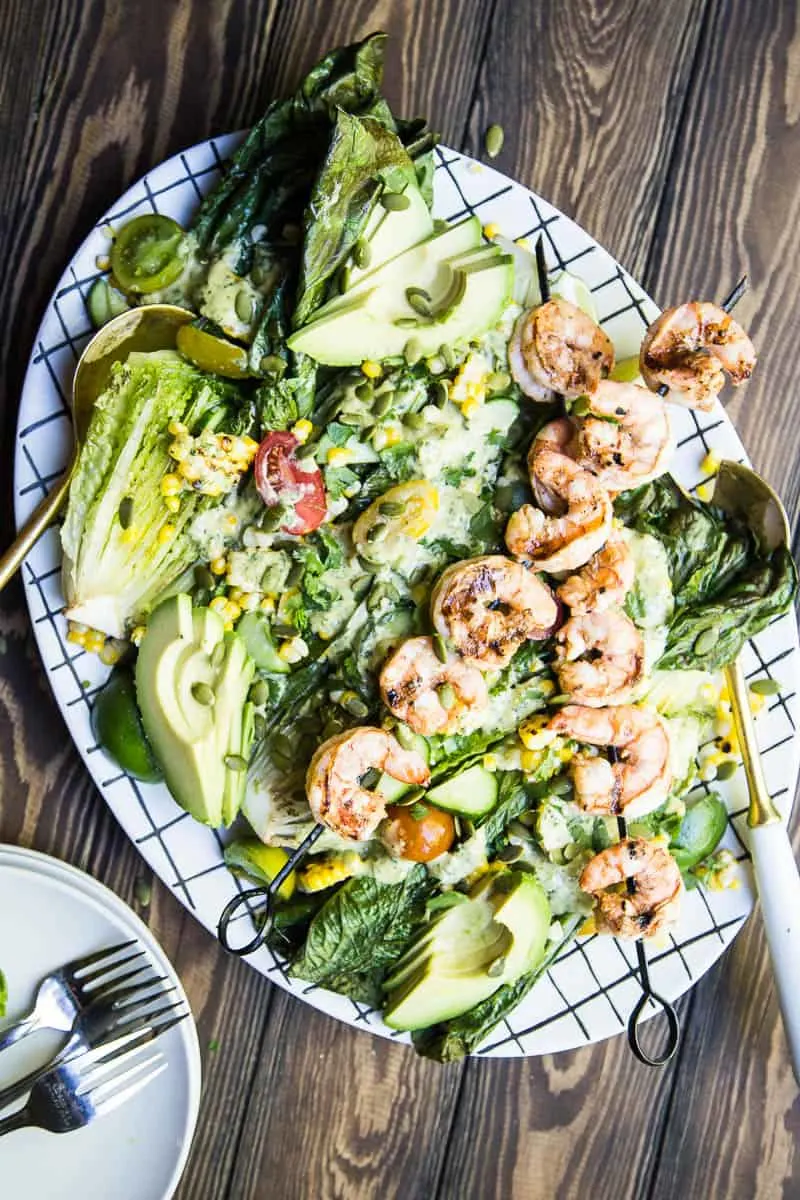 This grilled caesar salad recipe is another recreation of something I ate at a restaurant and furiously jotted down notes as I picked my plate apart and tasted everything individually.
Meanwhile Steve looks at me with an eyebrow cocked.
JK.
He's used to it. And he gets excited because he thinks recreating restaurant recipes is my super power. (It kind of is, TBH.)
The restaurant we were at was Jimmy's Famous American Tavern in Santa Monica, CA. We had gone to LA for a conference and wandered over to Santa Monica Pier. (Such a fun little place, by the way.)
We ordered a "Santa Fe Grilled Caesar Salad" and it was heavenly. Lots of note jotting and finger licking.
The salad we had at JFAT didn't have shrimp, so I added some to make it more hearty. You could also add grilled chicken or steak or just leave it meatless. It's pretty fabulous ALL of the ways.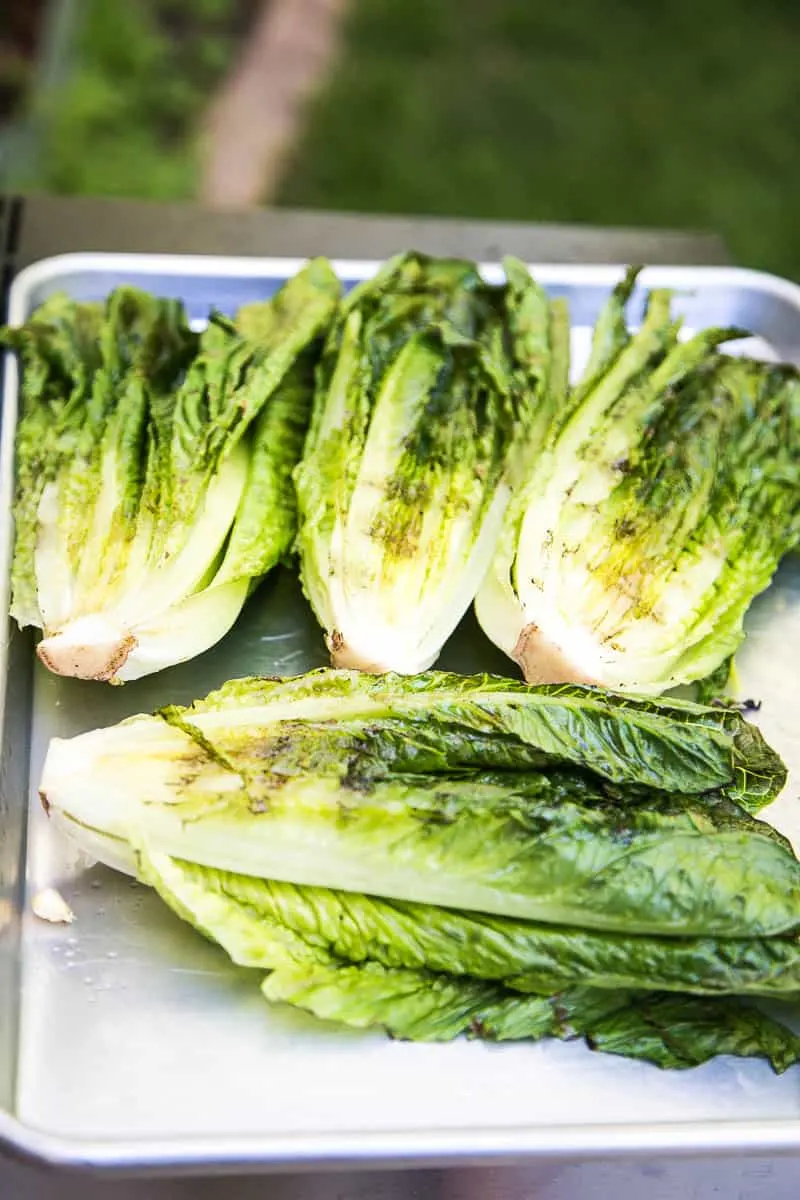 Let's get something out of the way first — Yes, I grilled lettuce. If you've never heard of grilled Romaine, you might think I've lost my mind.
(You should have seen the horrified look on my daughter's face when she saw me grill lettuce.)
You don't leave it on the grill long enough for it to completely turn slimy. Just enough so the curled edges get a little charred kiss and smoky flavor. Maybe 1-2 minutes per side.
A charcoal grill will obviously give the lettuce more flavor, but a gas grill is totally fine. Or a grill pan on the stove.
I had a miserable experience with a charcoal grill in our early years of marriage, and I have ventured to try again. I am toying with the idea of getting a Traeger/smoker kind of thing down the road. But my little gas grill is totally fine for now.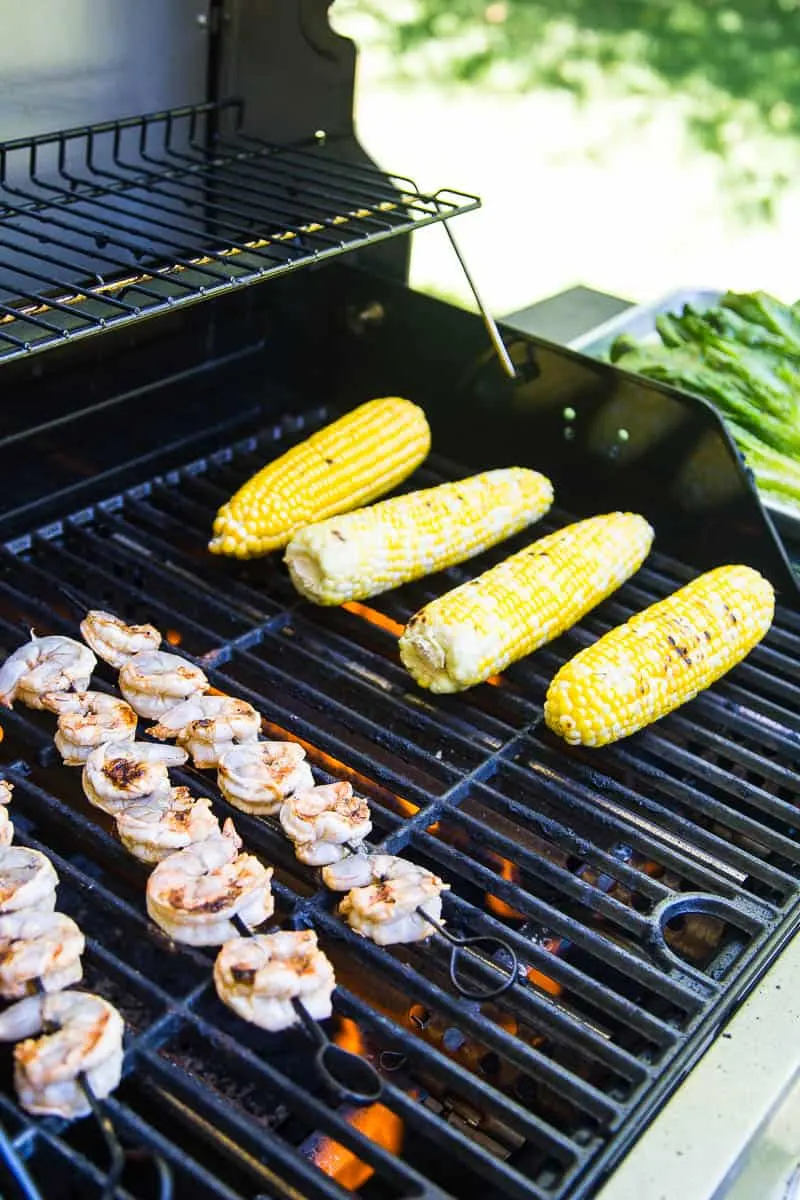 I also grilled the marinated shrimp and cobs of corn. (I almost said "corn on the cobs". You would have said it, too. Admit it.)
Yes, corn on the cob is neither paleo nor low-carb, but I adore it in the summer. ESPECIALLY GRILLED.
You can definitely leave it out if you avoid corn for whatever reason. Actually grilled, diced zucchini would be a great substitute for the corn.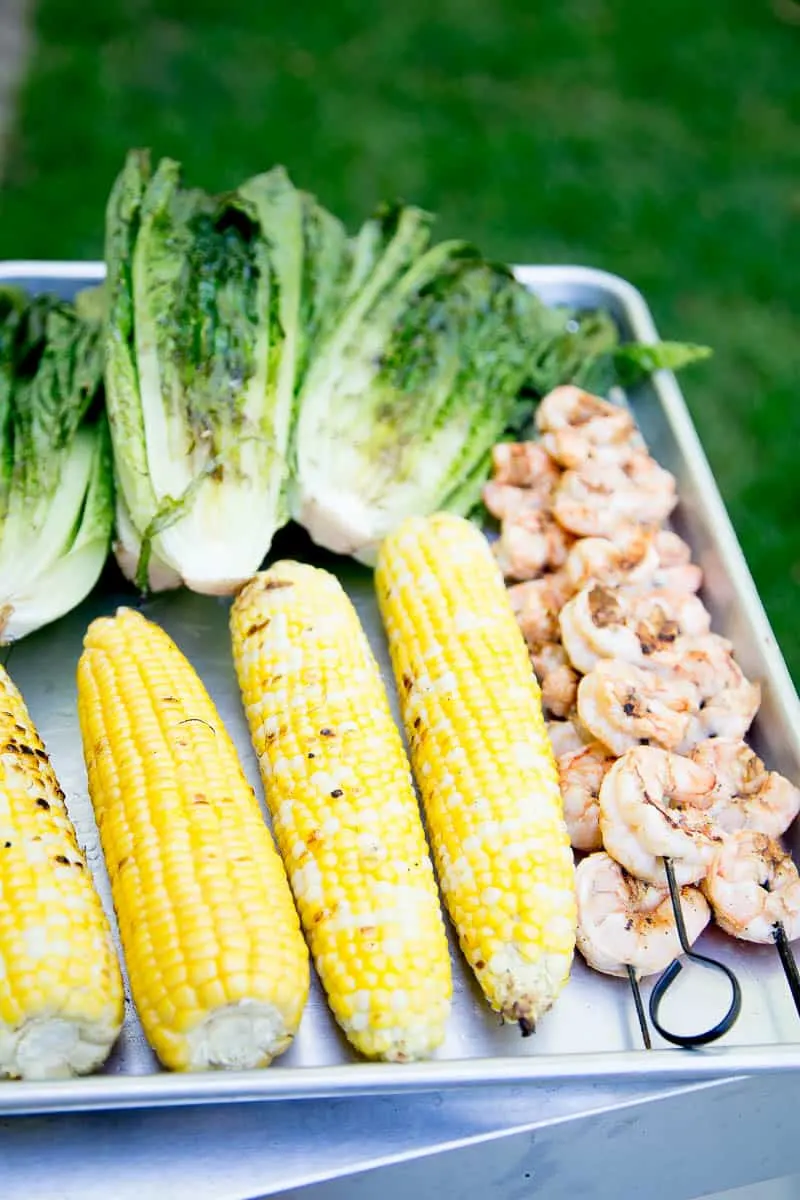 Isn't this the most beautiful sight? And you don't even need your oven. Or stove. It's the most wonderful summertime meal.
Even in September, which is in all regards, still summer to me. If it's hotter than 85 degrees, it's summer. (That's my threshold.)
By now you've noticed that this isn't a traditional caesar salad by any means. The dressing is a traditional egg-yolk based caesar dressing with garlic and Parmesan, but I used lime juice instead of lemon juice, added a pinch of cumin and a handful of fresh cilantro.
GUYS. Santa Fe Caesar is where it's at. I might not be able to go back to regular caesar. But I love cilantro in all the things, so I might be a little biased.
This salad also has pepitas, fresh cucumbers and sweet cherry tomatoes, and avocados.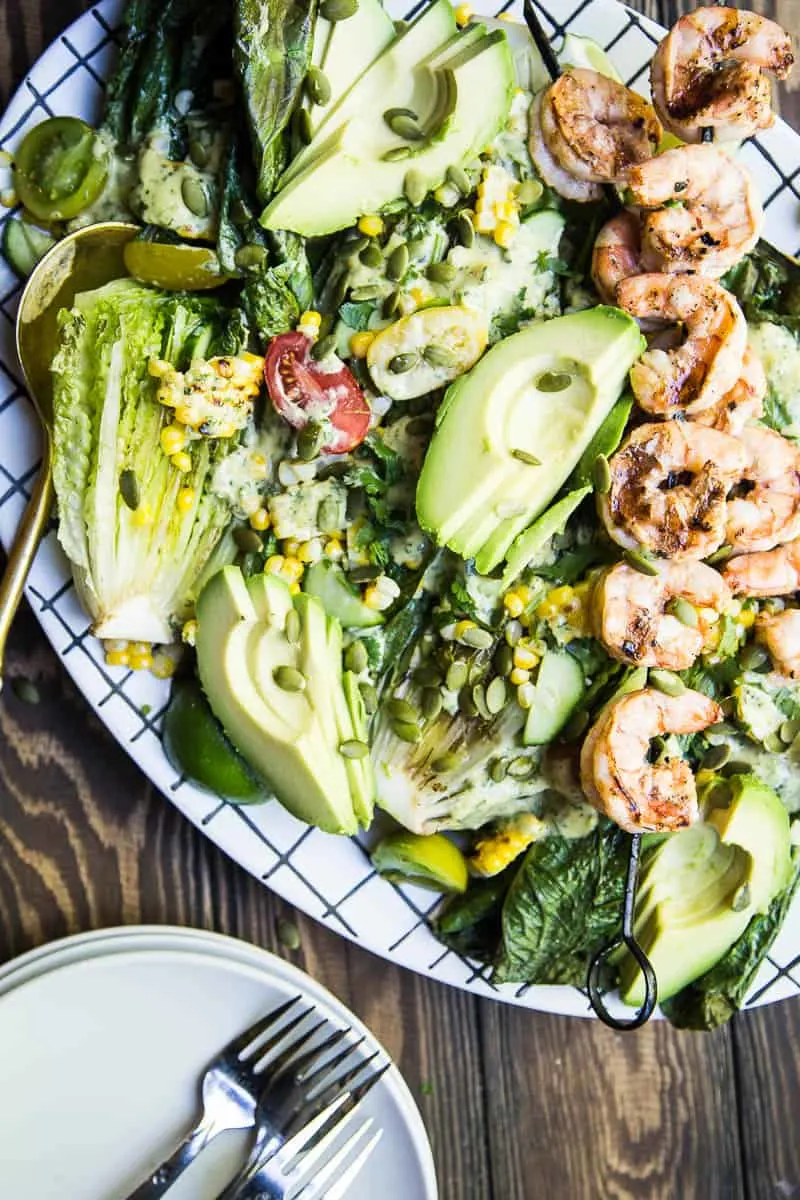 I just piled everything all on a platter like a barbarian, but you can plate these on individual dishes, too. And give everyone a knife so they can cut up their own lettuce. I thought it was weird doing that at a restaurant (I'm cutting up my own dang salad!) but the presentation with that grilled Romaine heart was worth it.
This is one of those salads that I want to make for everyone I meet. I love big salads with a lot going on. They make me so happy.
Here are a few more big, hearty salad recipes that I love!
More Hearty Salad Recipes from Perry's Plate
Strawberry Cobb Salad with Strawberry Balsamic Vinaigrette — A fun twist on a traditional cobb salad with fresh strawberries and the most delicious fruity balsamic dressing. (I like twisting things, can you tell?)
Grilled Jerk Chicken & Mango Salad — Spicy + sweet going on here. And a handful of plantain chips just makes this super delightful.
Fiesta Lime Chicken Salad — Another restaurant knock off! Well, kind of. I based a salad on the Tequila-Lime (turned Fiesta Lime) Chicken at Applebee's. I like it better in salad form, to be honest.
Grilled Vegetable and Rotisserie Chicken Salad is one of my summertime go-to's. Rotisserie chicken makes it super easy to make, but you can use any cooked chicken here.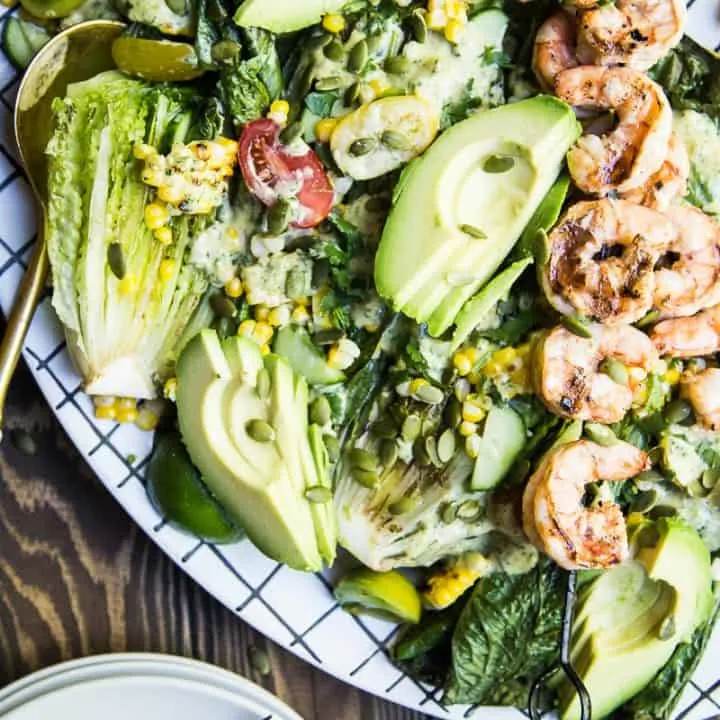 Santa Fe Grilled Caesar Salad with Shrimp
Total Time:
1 hour
45 minutes
When Steve and I were in LA earlier this year we ate the most wonderful Caesar salad of our lives at Jimmy's Famous American Tavern. I immediately got to work and recreated it to share with you. The cilantro-lime caesar dressing ALONE is worth making this.
Ingredients
For the dressing
2 egg yolks
1 juicy lime
1 garlic clove
2 teaspoon Worcestershire sauce or coconut aminos, or 1 teaspoon anchovy paste
1/2 cup extra-virgin olive oil
1/2 cup fresh cilantro (about a handful)
1/2 cup grated fresh Parmesan cheese, plus more for garnish
1/2 teaspoon sea salt
For the Salad
1 1/2 pounds large shrimp, peeled and tails removed (wild-caught, if possible)
1/2 teaspoon sea salt
1 large juicy lime
1/4 teaspoon garlic powder
3 Tablespoons avocado oil, divided
2-3 cobs of fresh corn
2 large heads of Romaine lettuce
2 avocados, peeled, pitted, and sliced
8 ounces cherry or grape tomatoes, halved
1/3 cup pepitas
Instructions
To make the dressing:
Put the egg yolks, juice from the lime, garlic clove, and Worcestershire (or whatever else you're using) in the work bowl of a food processor. (See notes if you don't have a food processor.)
Process until everything is smooth. While the machine is running, add the olive oil.
Turn the machine off and add the cilantro, Parmesan, and sea salt. Pulse until combined. Taste, and add a bit more salt and/or lime juice if you feel it needs it.
Chill until ready to use. You can make the dressing up to 2 days in advance for best flavor.
To make the salad:
Sprinkle the shrimp with 1/2 teaspoon of sea salt. Add the juice from the lime, garlic powder and 1 tablespoon of avocado oil. Mix everything well and let it marinate for at least 15 minutes, up to 3 hours. You can thread them on skewers now or immediately before grilling.
Drizzle 1 Tablespoon of the oil on the corn cobs, using your hands to coat them well.
Cut the Romaine heads in half lengthwise -- KEEPING THE ROOT END IN TACT. Drizzle 1 Tablespoon of oil on the cut sides of the lettuce.
Preheat your grill to medium-high heat.
Put the corn and shrimp on the grill together (if you have room). Grill for several minutes, turning each until golden brown spots form. The shrimp probably be done before the corn, so take them off when they turn pink. (Too long and you'll end up with rubber.)
Put the Romaine on the grill, cut-side down next to the corn (if you have room). Grill the lettuce for just a minute or two on each side until the edges of lettuce turn a little black and charred.
Remove the lettuce and the corn when they're both done. Cut the corn off the cobs.
Assemble the salads by using 1/2 of a head of romaine as a base. Top with a few shrimp, grilled corn, avocado slices, tomatoes, pepitas, and a big drizzle of the Santa Fe Caesar dressing.
Or just throw it all onto a platter and let people have at it.
Notes
Nat's Notes:
1. If you are avoiding fresh corn for a particular reason, diced grilled zucchini would be a great substitute.
2. If you don't have a food processor, mince the garlic as fine as you can (or use a Microplane grater), then whisk it with the yolks, lime juice, Worcestershire, and olive oil. Whisk in the cilantro, Parmesan, and salt. You could also use a blender to buzz everything up really well.