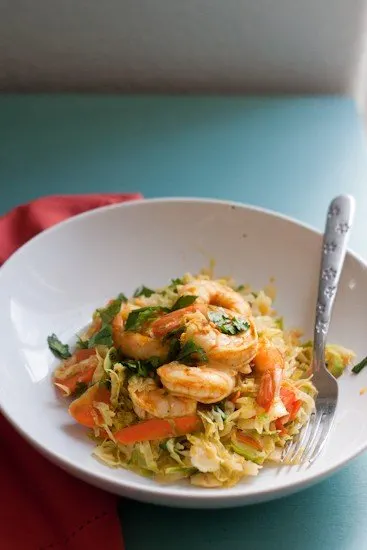 We're about halfway through January, and I finally feel like we've settled into the new year and over the holiday craziness. We spent Christmas at home, but left on the first for a long road trip (1300+ miles) to visit family in two different states.
And we just took our Christmas tree down five days ago. (Don't ask about the lights.)
I think I'm most happy about going back to our regular, mostly-paleo meals at home and all of the leftover treats and candy and "things I buy because it's Christmas and for no other reason, like pasta, eggnog, heavy cream, and eight different kinds of cheese" being cleaned from the counters and cupboards. Consequently, my heartburn and overall energy level have drastically improved. (Funny how that works. ;))
Speaking of heartburn and all of the lovely side effects of being pregnant…. I'm feeling good and I'm 30 weeks this week! I was hoping the holidays would make the time pass more quickly and it worked. I also gained a lot more than I anticipated, but hey… the trade-off was worth it.
And I'm hoping to get a couple rounds of Whole30 in before my birthday in August. Anyone want to do it with me? I want to start the first round around mid to late April, and I'd love to have some Whole30 friends!
This Thai shrimp recipe is an easy one to get us back on track, and it's another recipe that includes my Homemade Thai Spice Blend. Plus my kids all loved it.
I made some ginger rice to go with it because it's one of my favorite things ever, and I'm glad I did. The shrimp and veggies ended up a tad spicier than I anticipated and mixing in some rice helped tone it down for my Littles. But leaving the rice out would make it paleo, if you're on a strict regimen.
You can also shred/slice the vegetables ahead of time. It's perfect for a weeknight meal!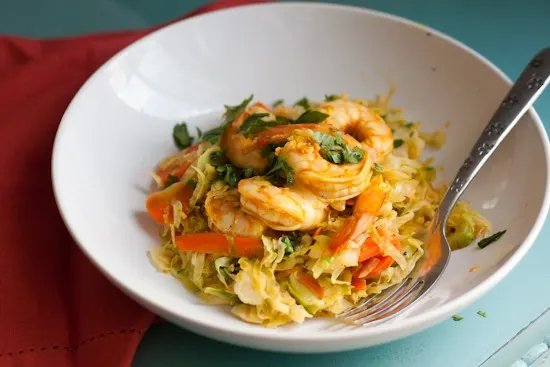 More Asian-Inspired One-Pan Recipes on Perry's Plate
Thai Green Curry Zoodles with Shrimp & Broccoli is a knock off of one of my favorite meals from Noodles & Co. It's a great meal for hot summer days, too.
Easy Paleo Pad Thai is another meal on our "favorite dinner list". And another meal made in under 30 minutes!
A family favorite, Egg Roll in a Bowl with Sriracha Mayo is easy to put together and has all of the flavors of Chinese egg rolls without the fried exterior.
Mango Chicken Curry is an oldie, but such a great recipe for a quick weeknight dinner.
---
If you make one of my recipes, be sure to post it on social media and tag me at @perrysplate or #perrysplate so I can send you some love!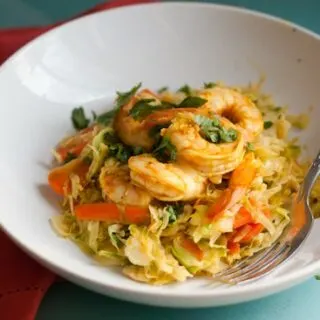 Paleo Thai Shrimp and Vegetable Skillet
Shredded vegetables and tender shrimp gets tossed in a flavorful, Thai-inspired sauce. This comes together so quickly for an easy weeknight meal! It's also Paleo, Keto, and Whole30 friendly!
Ingredients
For the shrimp:
1 pound medium or large uncooked, peeled shrimp (tails on or off)
1 lime
2 cloves garlic, minced
sea salt
2 Tablespoons coconut oil (more, if needed)
For the vegetables
1 cup thinly sliced onions (about 1/2 of a large onion)
2 large carrots
1/2 head of green cabbage
1 pound Brussels sprouts
sea salt
1 can of coconut milk or coconut cream
2 Tablespoons sugar-free fish sauce
1/4 teaspoon crushed red pepper flakes (or more if you'd like it spicier)
juice from 1 lime
a handful of fresh cilantro, chopped
Instructions
If the shrimp isn't thawed, put them in a strainer and run cool water over them for a couple of minutes or put the strainer in a bowl and fill with water. When thawed, drain and place in a medium bowl. Sprinkle liberally with sea salt.
Combine the spice blend, the zest and juice from the lime, and the garlic in a small bowl. Add mixture to the shrimp and toss to evenly coat. Refrigerate for about 10 minutes or until you're ready to use them. (I wouldn't let them sit in the marinade for more than a couple of hours.)
Prep the vegetables by shredding the cabbage, trimming and shredding the Brussels sprouts, and peeling and thinly slicing the carrots. If you have a slicer attachment on your food processor or a mandoline slicer this will go very quickly. If you don't, then just quarter the sprouts and slice everything else as thin as you can with a sharp knife.
Heat the 2 Tablespoons of coconut oil in a large skillet over medium-high heat. Once hot, add the shrimp; flip them over as they cook. When the shrimp is completely pink and the edges begin to curl slightly, then transfer them to a plate or bowl.
Add the carrots and onions to the pan with more coconut oil, if you need it. Cook, stirring frequently, until onions are soft, about 5 minutes. Add the shredded cabbage and sprouts and toss around to coat them in the oil and spices. Cook for another 2-3 minutes.
By now you might have some stuff sticking to the bottom of your pan. Pour in the coconut milk and add the fish sauce, 1 teaspoon Thai Spice Blend, crushed red pepper flakes (if using), and lime juice. Stir to combine and let everything cook until the greens are wilted and the carrots are cooked through, 5-7 minutes.
Add the shrimp back to the skillet with about half of the chopped cilantro. Stir to reheat the shrimp.
Serve with a sprinkle of fresh cilantro.
Notes
Nat's Note:
You can shred/slice the vegetables ahead of time to make this an even quicker meal to prepare during the week!
Feel free to substitute sliced, uncooked chicken for the shrimp, too. And you can let it marinate for up to 24 hours.
This post may contain affiliate links. Any purchases made by using these links won't cost you any extra and helps keep my content free. These links may be Amazon links as I am part of the Amazon Associate Program.