This paleo turkey chili recipe has a Moroccan twist with a fun spice blend and a couple of unique ingredients! Make it on the stove top, in a Crock Pot slow cooker, or in an Instant Pot!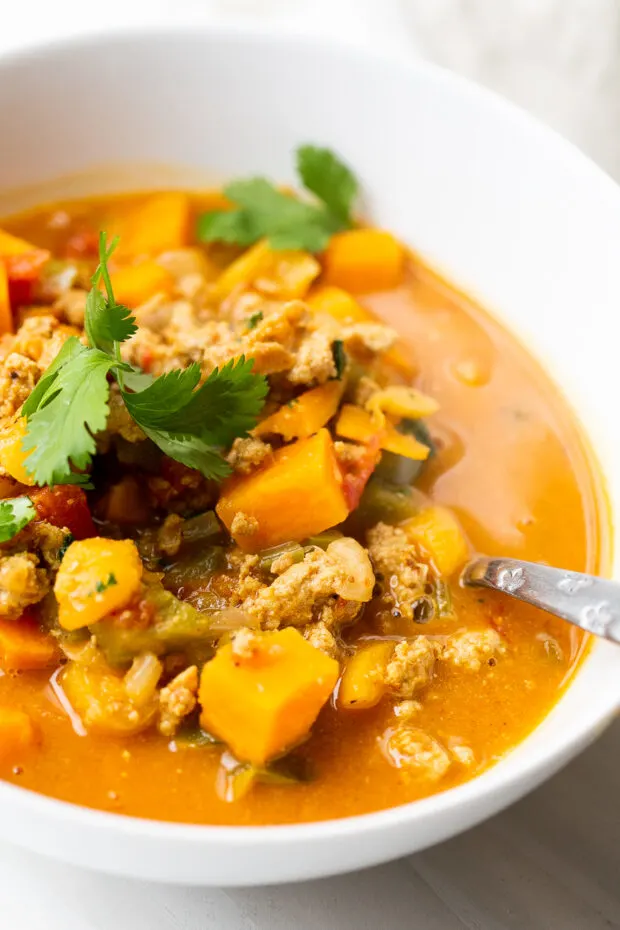 This is one of my favorite kinds of chili — which might sound strange talking about a healthy turkey chili. Ha.
The flavors are so fun and it's a lighter chili that doesn't feel heavy when you eat it. A couple of my picky eaters even like it. So, there's that.
It also joins the ranks of those great recipes you can make on a busy weeknight, so that's a plus.
I love taking a typical chili recipe and making it a little more exotic and different. I love the spices and flavors of Moroccan cooking and this turkey chili was the perfect home for that change.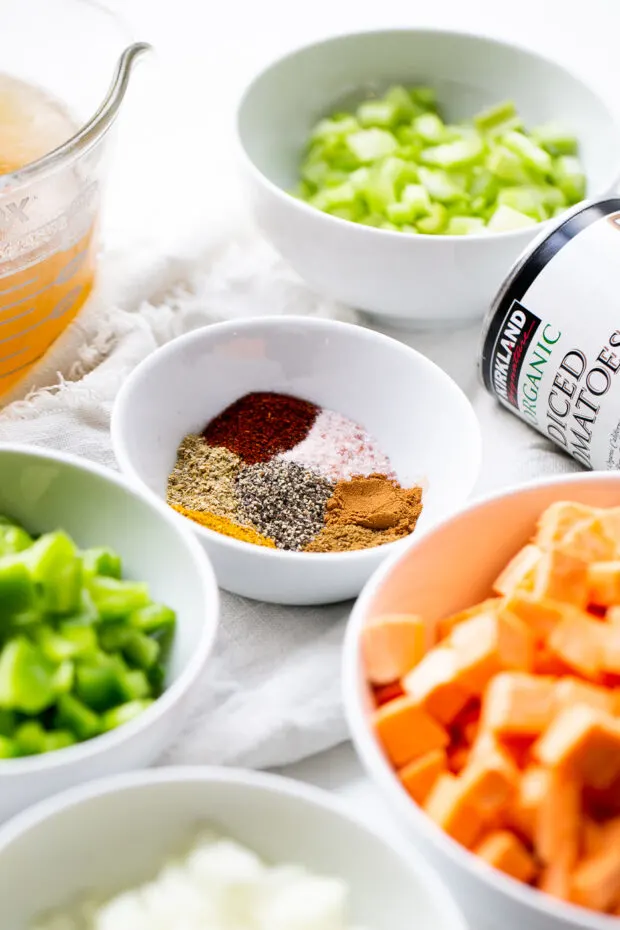 You'll recognize some classic turkey chili elements here — chili powder, cumin, bell pepper, lean ground turkey, garlic, diced tomatoes (instead of tomato sauce or tomato paste).
Sweet potatoes aren't too unusual for a chili, though right? I loved sweet potatoes in this Paleo Vegetarian Chili — it's similar to a sweet potato chili.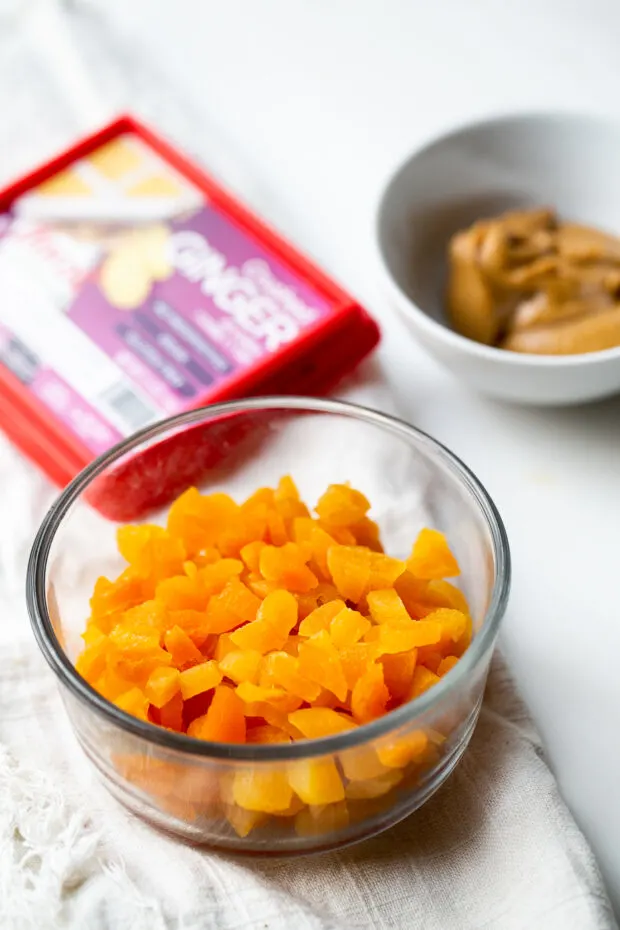 And then it takes an exotic turn with fresh ginger, golden raisins (or dried apricots), and a dollop of peanut butter or almond butter.
WAIT. PLEASE STAY.
Hear me out. I loathe raisins, but I do like some golden raisins in curry-type dishes and this paleo chili has some curry-type of spices in it, so I think it can get a free pass.
As far as the nut butter — It adds a richness that the turkey is missing since it's so lean. I also love how it makes the chili a little creamy, too, and adds a little nutty flavor.
Maybe think of this healthy chili recipe as more of a curry? Does that feel better?
Can I use ground beef?
One of the reasons I like using ground turkey is because its flavor is so mild. It's the perfect blank canvas to highlight bold flavors. Ground chicken is the same way.
Ground beef would be good in this, too, but it would have a more prominent flavor. Just be aware.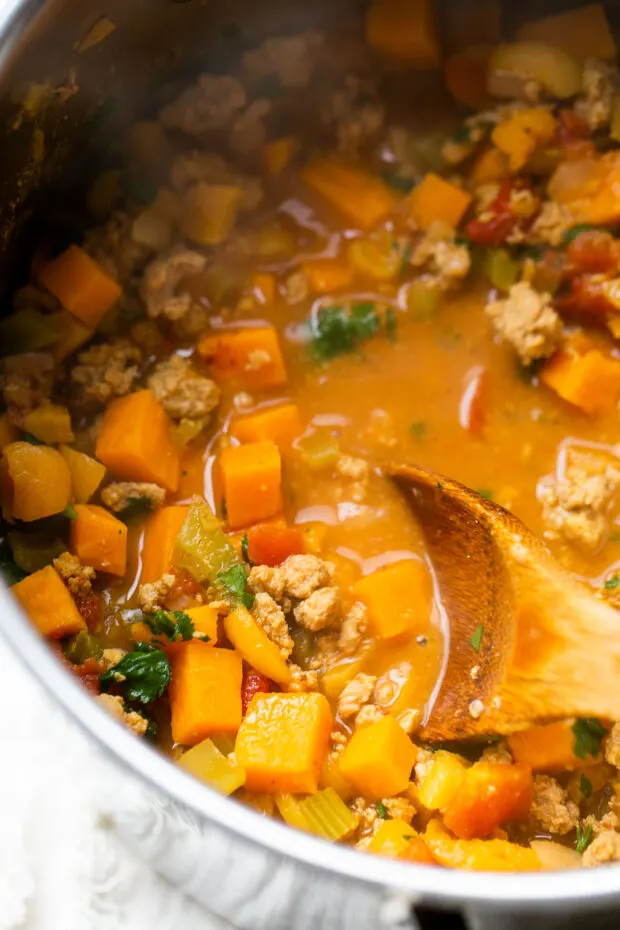 Is this Moroccan Turkey Chili spicy?
As is, it's not spicy at all. Feel free to throw in a pinch of cayenne pepper or crushed red pepper flakes while you're cooking. Green chiles would be a fun addition, too.
OH! You could also use some harissa paste, which would be REALLY good. You could also add it to your own bowl as a garnish if you didn't want to spice up the whole batch of chili.
My favorite spicy garnish is the Chili Crunch from Trader Joe's. It's a great all-purpose spicy condiment for all the things.
Can I freeze this chili?
Like just about all chili recipes that I know of, YES you can freeze it.
Just store it in a freezer-safe airtight container and freeze it for several months. Make a double batch — your future self will thank you.
I try to stay away from using a freezer bag because I find that they leak really easily.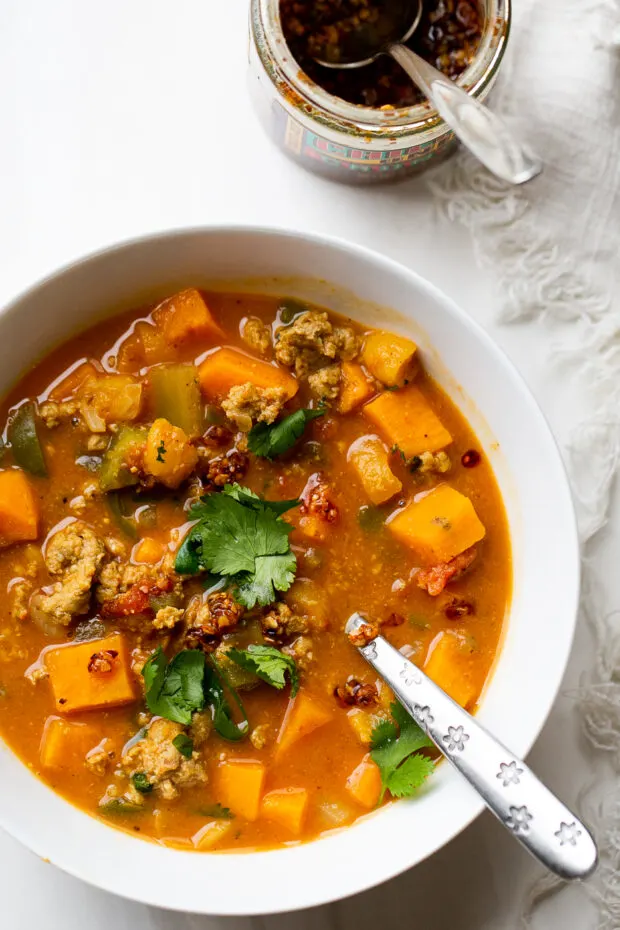 A few more notes about this healthy turkey chili recipe
I like to top this chili with some fresh cilantro and sliced green onion along with some hot sauce.
Like most chili recipes, it's often better the next day after the spices have all married well together.
If you like this chili, next time try another one of the hearty chili recipes on my site!
More easy recipes for chili on Perry's Plate
Vegetarian Paleo Chili is meatless, easy to make vegan (use veg broth instead of chicken broth!), and it's also Whole30 friendly! It has a fun combination of spices that compliment the sweet potatoes well.
Smoky BBQ Beef Chili is my favorite chili recipe when I need a classic chili recipe in a hurry. It's an easy recipe and has bold spices and a hit of BBQ sauce!
The Best Steak Chili Ever is just that — The best chili recipe! It's a little more time consuming, but it has won a lot of chili cook-offs around the country! (Read the comments and see!) You can use your Instant Pot or slow cooker for this one, too.
PSST — I have even more chili recipes (more chicken and pork chilis especially!) in my cookbooks. Grab a copies of The Big Book of Paleo Slow Cooking and The Big Book of Paleo Pressure Cooking for more delicious chili recipes and a whole slew of Instant Pot and slow cooker recipes!
---
If you make one of my recipes, be sure to post it on social media and tag me at @perrysplate or #perrysplate so I can send you some love!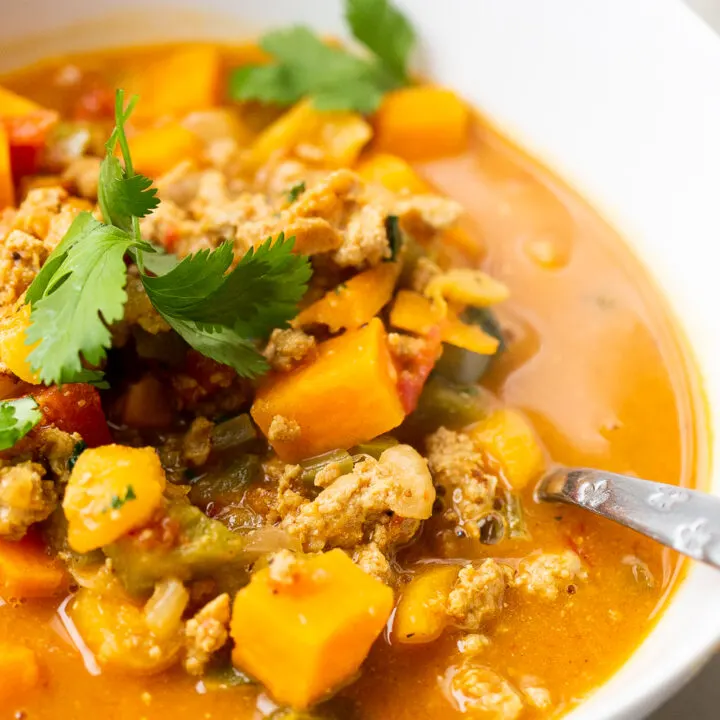 Paleo Moroccan Turkey Chili
This is a Moroccan-style twist on paleo turkey chili with a fun spice blend, creamy almond butter, and bits of sweet apricot. Don't let the long ingredient list scare you -- many of those are spices you probably already have on hand.
Ingredients
2 Tablespoons avocado or coconut oil
1 1/2 lbs ground turkey or chicken
1 1/2 teaspoons ground cumin
1 1/2 teaspoons curry powder
1 teaspoon black pepper
1 1/2 teaspoons ground coriander
1 1/2 teaspoons chili powder
1/2 teaspoon salt
1/4 teaspoon cinnamon
1 medium onion, diced
1 cup chopped celery
1 green bell pepper, diced
2 garlic cloves, minced or grated
2 Tablespoons fresh minced or grated ginger
1 15-ounce can diced tomatoes, undrained
3 cups chicken broth
Juice from 1 lemon (about 1/4 cup)
1 large sweet potato, peeled and diced
1 cup chopped dried apricots or golden raisins
3 Tablespoons almond butter or peanut butter
1/4 cup chopped cilantro
Instructions
Heat the oil in a large pot over high heat. Add the ground turkey and brown the meat, stirring often, until it's fully cooked.
Add all of the seasonings (cumin through cinnamon) and onion. Cook, stirring often, for another 3-5 minutes until the onion softens. If the mixture begins to stick, add the lemon juice to deglaze the pan.
Add the rest of the ingredients (except the cilantro). Stir well. Bring the chili to a boil, then reduce heat to medium-low and let it simmer for 15-20 minutes until all of the vegetables are cooked through and the flavors have combined well.
Taste, and add more salt if needed. Serve with a sprinkle of fresh cilantro.
Notes
FOR SLOW COOKER: Follow steps 1 & 2 in a skillet over the stove, then transfer everything to a 4 or 6 quart slow cooker. Add the rest of the ingredients (except cilantro) and cook on low for 5-6 hours until the sweet potatoes are cooked through.
FOR INSTANT POT: Follow the directions using the Saute mode to brown the meat. Add all of the ingredients (except cilantro, almond butter, and apricots/raisins). Add an extra cup of chicken broth, then seal the pot and cook it on high pressure for 5 minutes. Let the steam naturally release for 5 minutes before releasing it manually. Remove some of the broth into a glass measuring cup and whisk in the almond butter. Pour it back into the chili and add the aprocits/raisins. Stir and cover the pot with the lid. Let it sit for another 5 minutes to plump up the dried fruit.
Recommended Products
As an Amazon Associate and member of other affiliate programs, I earn from qualifying purchases.