This hearty, smoky chili has become my go-to recipe for a weeknight chili. I love the extra flavor BBQ sauce adds!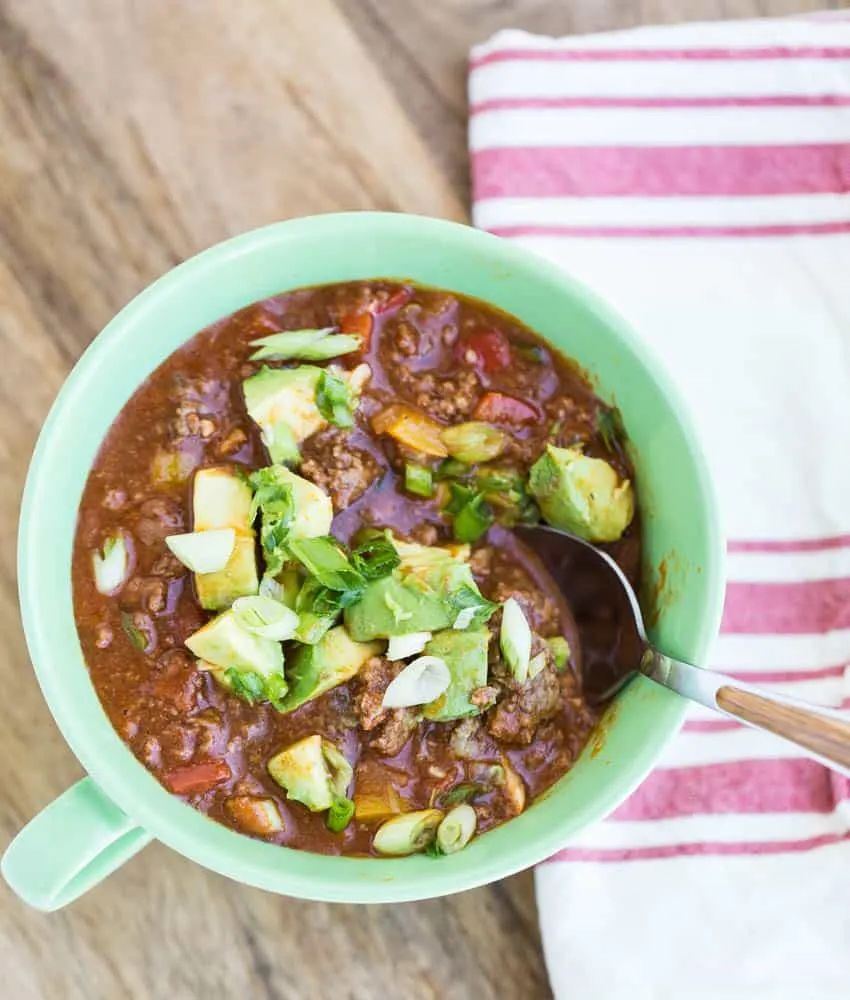 Chili recipes, to me, are like chocolate chip cookie recipes.
There are as many variations as there are people whole prepare them and everyone has a favorite, reliable, "best ever" version.
This chili falls into the category of "Best Chili I Can Make in an Hour".
Also a good use for a remnant bottle of BBQ sauce.
Yes, there's BBQ Sauce in this delicious chili. And lots of steak seasoning. Smoky to the max right here.
Speaking of steak seasoning, I make my own Homemade Montreal-Style Steak Seasoning. You can use whatever you like!
The BBQ sauce gives it a quirky "am I eating chili or BBQ brisket?" taste, and if you have leftover chili, freeze it and save it for later. It makes THE BEST baked potato topping.
I must say. . . I think I liked it best on the potatoes. I'm an Idaho girl, so can you blame me?
SaveSave
---
If you make one of my recipes, be sure to post it on social media and tag me at @perrysplate or #perrysplate so I can send you some love!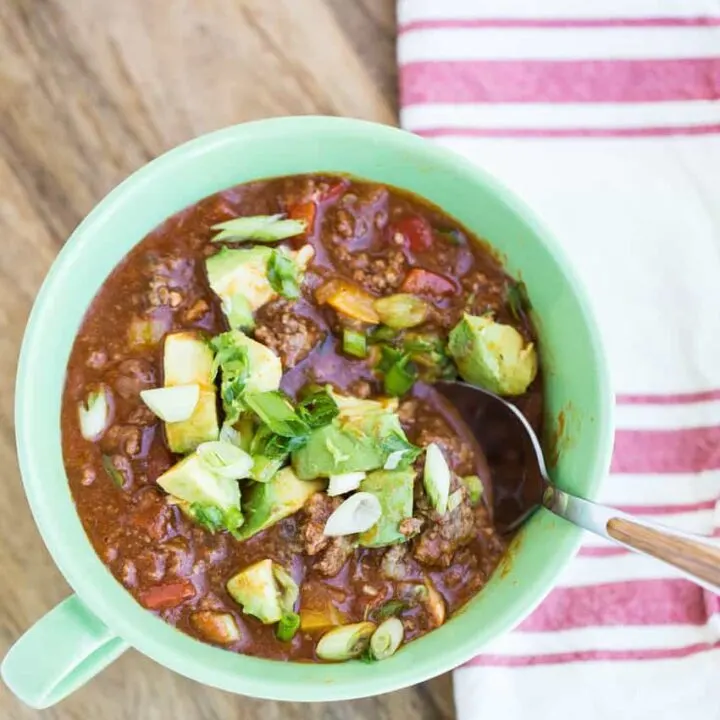 Smoky BBQ Beef Chili
This hearty, smoky chili has become my go-to recipe for a weeknight chili. I love the extra flavor BBQ sauce adds!
Ingredients
3 Tablespoons avocado or coconut olive oil
1 pound ground beef
2 cans black beans, drained
2 tablespoons dark chili powder
1 tablespoons ground cumin
2 tablespoons Worcestershire sauce
1 to 3 tablespoons hot sauce, to taste
1 large onion, chopped
4 garlic cloves, minced
2 large bell peppers, chopped
1 ½ cups water (or beer)
1 (14-oz.) can tomato sauce
½ cup smoky barbecue sauce
for garnish:
Shredded cheddar cheese
Sour cream
Scallions, thinly sliced
Instructions
In a large stock pot or Dutch oven over medium-high heat, add olive oil followed by ground sirloin. Season meat with chili powder, grill seasoning, cumin, Worcestershire, and hot sauce. Break up the meat into small crumbles as it cooks.
Add onion, garlic, and bell peppers and cook until onions are translucent and soft, about 10 minutes more.
Add water and deglaze the pan, scraping up the browned bits from the bottom of the pan.
Add beans, tomato and barbecue sauces and bring to a bubble. Let chili simmer 15 minutes.
Adjust seasonings and heat level to your taste. Remove from heat and serve with your favorite garnishes.
This post may contain affiliate links. Any purchases made by using these links won't cost you any extra and helps keep my content free. These links may be Amazon links as I am part of the Amazon Associate Program.