Smoky BBQ Beef Chili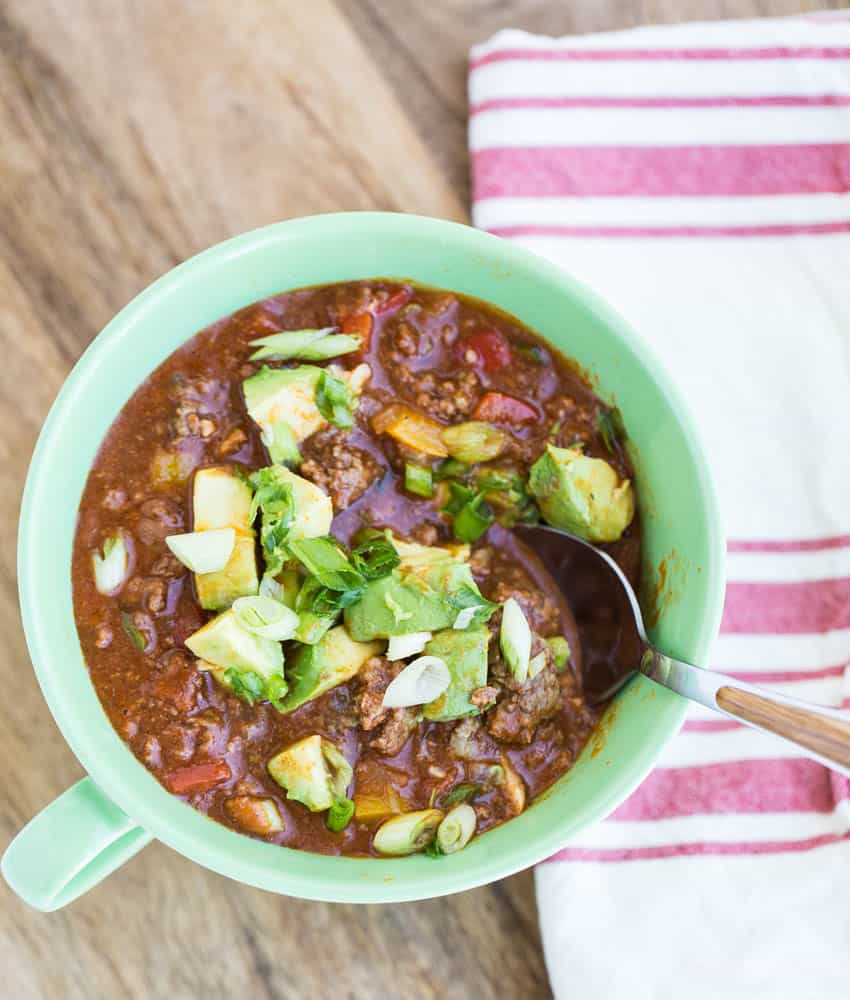 Chili recipes, to me, are like chocolate chip cookie recipes. There are as many variations as there are people whole prepare them and everyone has a favorite, reliable, "best ever" version. When I saw this verison I was intrigued by the BBQ sauce and copious amounts of grill seasoning in the recipe. It stood out to me from other chili recipes I've seen. Things that intrigue me usually get prepared eventually.
This is by no means a pansy chili. It's hearty. It's also very meaty. And manly. So hearty, in fact, that I had to tone it down a little for me, my capsaicin-sensitive toddlers, and my "I would rather not ingest an entire cow in one sitting" husband. So I swapped out over half of the meat for a couple of cans of black beans and held back on the chili powder and hot sauce.
I loved the end result. Even after my pansifying alterations, it was still pretty hearty and rich. The BBQ sauce gave it a quirky "am I eating chili or BBQ brisket?" taste, and because we had a lot leftover, I froze it and reheated it as a baked potato topping a week or so later.
I must say. . . I think I liked it best on the potatoes. I'm an Idaho girl, so can you blame me?
Smoky BBQ Beef Chili
Yield: Serves 6-8
Prep Time: 15 minutes
Cook Time: 25 minutes
Total Time: 40 minutes
This hearty, smoky chili has become my go-to recipe for a weeknight chili. I love the extra flavor BBQ sauce adds!
Ingredients
3 Tablespoons avocado or coconut olive oil
1 pound ground beef
2 cans black beans, drained
2 tablespoons dark chili powder
2 tablespoons grill seasoning (I used Montreal Steak seasoning)
1 tablespoons ground cumin
2 tablespoons Worcestershire sauce
1 to 3 tablespoons hot sauce, to taste
1 large onion, chopped
4 garlic cloves, minced
2 large bell peppers, chopped
1 ½ cups water (or beer)
1 (14-oz.) can tomato sauce
½ cup smoky barbecue sauce
for garnish:
Shredded cheddar cheese
Sour cream
Scallions, thinly sliced
Instructions
In a large stock pot or Dutch oven over medium-high heat, add olive oil followed by ground sirloin. Season meat with chili powder, grill seasoning, cumin, Worcestershire, and hot sauce. Break up the meat into small crumbles as it cooks.
Add onion, garlic, and bell peppers and cook until onions are translucent and soft, about 10 minutes more.
Add water and deglaze the pan, scraping up the browned bits from the bottom of the pan.
Add beans, tomato and barbecue sauces and bring to a bubble. Let chili simmer 15 minutes.
Adjust seasonings and heat level to your taste. Remove from heat and serve with your favorite garnishes.
Save
Save
SaveSave