This paleo vegetarian recipe for chili is a hearty, meatless meal that pleases everyone! The unique blend of spices pulls out the flavors from the sweet potato and squash so beautifully!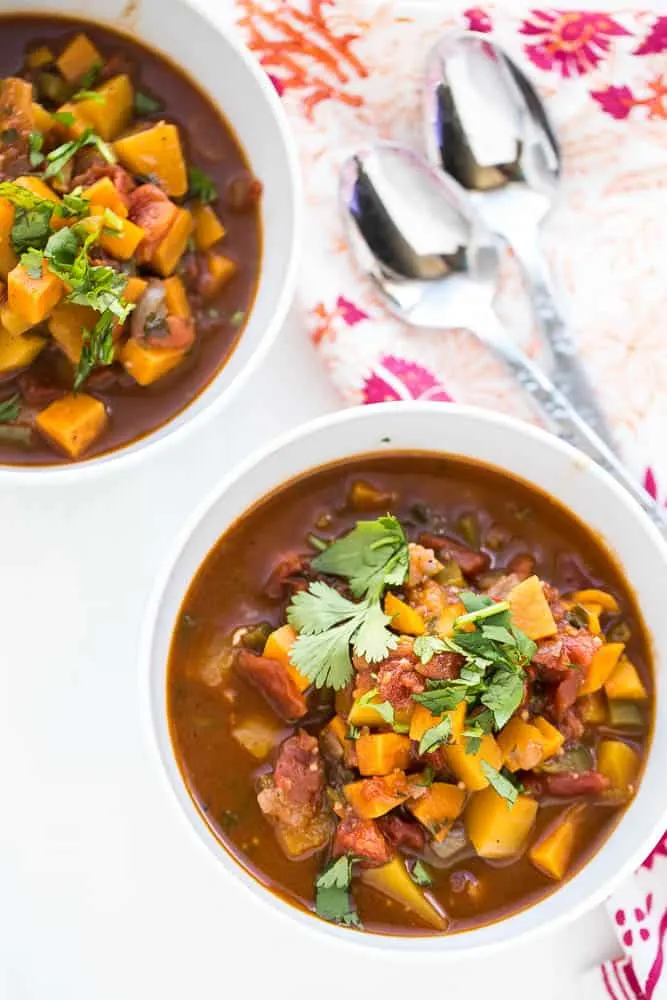 This vegetarian and paleo friendly chili is full of sweet potatoes and bell peppers and diced tomatoes and it's just all kinds of good.
Well, I pulled out the beans, threw in some butternut squash and made it vegetarian AND paleo. AND Whole30 friendly.
My favorite part of this chili is the seasoning blend. It has the traditional chili powder/cumin/cayenne blend, but it also has a little cinnamon that plays well with the sweet potato and squash and some cocoa powder that deepens the flavor.
It's just…… goooooood. Trust me. Everyone who has ever tried it is super surprised how good it is. And raves about it.
I usually make this in an enamel coated dutch oven pot on the stove, but you could totally use a slow cooker (crock pot). Just toss everything in and cook it on low for 4-5 hours. I imagine there aren't many vegetarian chilis for crock pot that are also Whole30 compliant? Hold on to this one!
A Paleo AND Vegetarian Whole30 Chili recipe. (Which means your gluten free friends can also eat this.) Yes, that's possible. It's even vegan if you don't do this…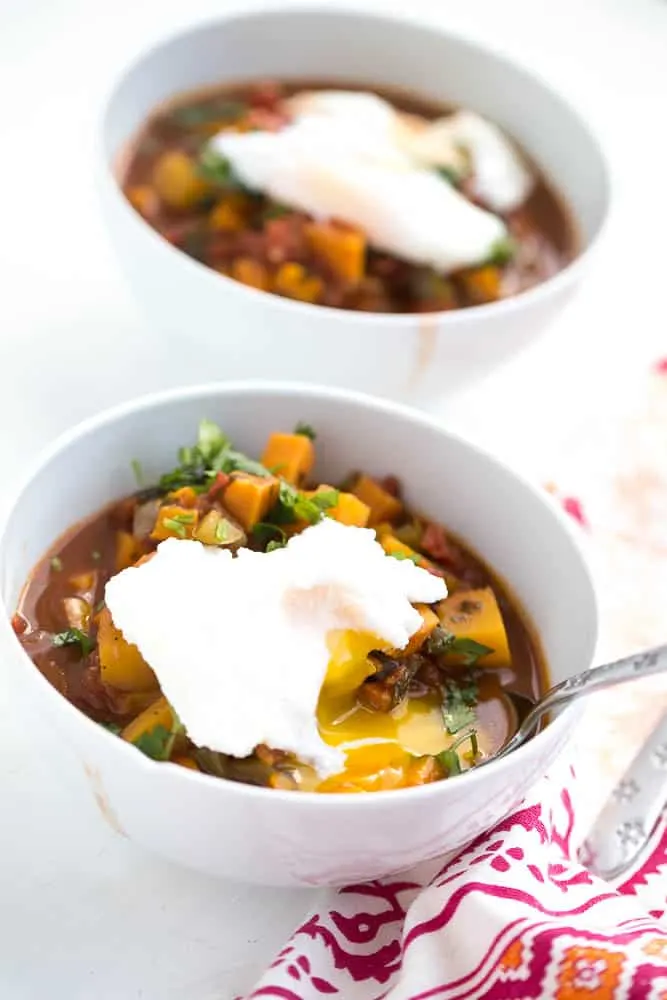 Have you ever put a poached egg or a fried egg on chili?
Poached eggs make everything a million times better. And this girl's gotta have more protein or she gets hangry really quickly. I think I've only made one poached egg in my life that didn't resemble an albino dementor. Clearly this wasn't it.
UPDATE: I discovered how to make perfect poached eggs to put on your vegetarian chili — USE YOUR INSTANT POT. I wrote a post about it over on The Pioneer Woman — Instant Pot Poached Eggs.
If you aren't a vegetarian, you could also make this with chicken broth or any kind of bone broth. I'm definitely not one, much less a vegan, but I don't like eating a large amount of meat, either. We eat LOTS of vegetables and meat is a side dish around here most of the time.
Heck, you could even add some ground beef or ground turkey (or chicken) if you want to undo the entire vegetarian thing we've got going on. But that's maybe not why you're here?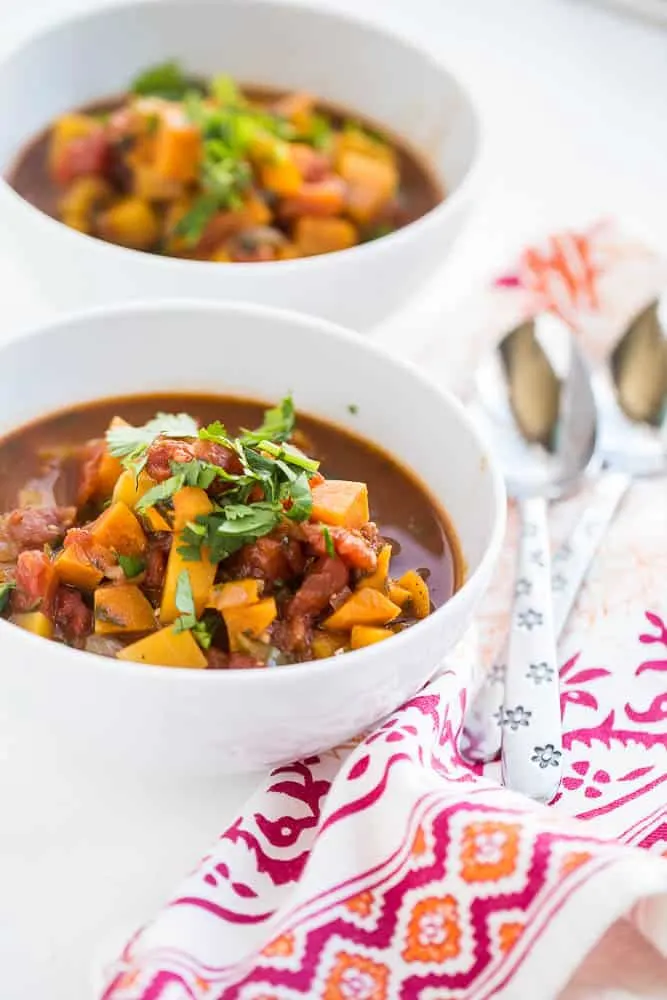 My guess is that you're doing a round of Whole30 and you're looking for Whole30 vegetarian recipes. And not ways to meat-ify a vegetarian recipe. I get it. Doing Whole30 as a vegetarian is tricky, but not impossible.
I've got a few other meatless Whole30 recipes on my site, if it helps! And ones that just require the omission of meat, but won't leave you feeling like something is missing.
Whole30 Vegetarian Recipes
Thai Green Curry Zoodles with Broccoli — This is a copycat version of the dish found at Noodles & Co! Just omit the shrimp and add more broccoli to make it compliant.
Spaghetti Squash with Roasted Mushroom & Garlic Sauce — Perhaps the most hearty meatless (and Whole30 compliant) meal you'll eat. It's warm and cozy, but won't make you feel like taking a nap afterward.
Paleo Asian Chopped Salad — Another copycat (I love copycat recipes!) of the Taylor Farms Asian Salad Kit found at Costco, but I cleaned up the dressing.
Crispy Oven Sweet Potato Hash Browns — Definitely the BEST way to cook shredded sweet potatoes.
Syrian Salad with Za'atar Vinaigrette — This salad has SO much flavor. It's the best punch in the face you'll ever get from a salad.
Kale Salad with Roasted Butternut Squash & Apples — This is my favorite fall salad. Hands down. And it's hearty enough to stand alone as a meal! Just omit the sweetener in the dressing to make it compliant or replace it with a little Date Paste or fruit juice.
Southwest Cabbage Slaw — Eat this with everything. All of your random leftover bowls. All of your eggs. All of your salads. You'll love it.
Azteca Squash Soup — I love the southwest flavors in this! Just use vegetarian broth and omit the chorizo to make it vegan.
Simple Roasted Tomato Soup — When your garden starts exploding with tomatoes this summer, grab a few pounds and make this soup. It freezes well, too!
Roasted Potato Salad with Dill-Scallion Vinaigrette — This isn't your regular mayo-laden potato salad. (Although some of those can be pretty fantastic, too.) It's lighter, with a spring-like vinaigrette made from fresh dill and scallions.
And a few of my favorite vegetarian or vegan Whole30 necessities are Everything Bagel Seasoning, Dill Pesto & Date Paste (for when you need a dab of honey to tone down a vinaigrette).
I noticed another vegetarian chili-type soup you'll love — check out the Enchilada Chowder over at Vegetarian Mama!
Speaking of chili. Or, rather, non-vegetarian chilis. I wrote 10 (yes TEN) chili recipes for my cookbooks. There are four in The Big Book of Paleo Pressure Cooking and six in The Big Book of Paleo Slow Cooking. If you don't have those books yet, click over and grab one!
---
If you make one of my recipes, be sure to post it on social media and tag me at @perrysplate or #perrysplate so I can send you some love!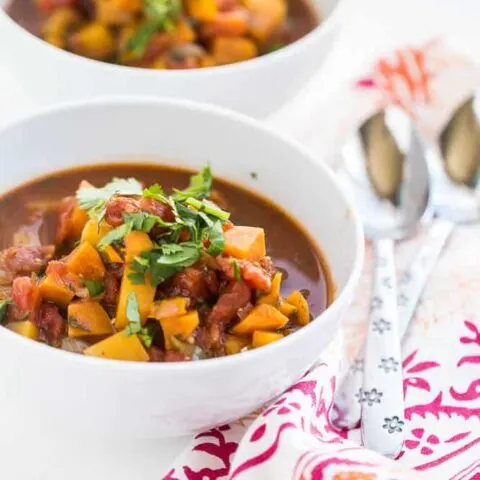 Vegetarian Paleo Chili
This paleo vegetarian recipe for chili is a hearty, meatless meal that pleases everyone! The unique blend of spices pulls out the flavors from the sweet potato and squash so beautifully!
Ingredients
2 Tablespoons avocado or coconut oil
1 medium red onion, chopped
1 green bell pepper, chopped
1 red bell pepper, chopped
1 medium sweet potato, peeled and cut into 1⁄2-inch pieces
2 1/2-3 cups of butternut squash, cut into 1/2-inch cubes (about 1 small squash)
4 garlic cloves, chopped, or 1 heaping tablespoon of minced garlic
1 tablespoon chili powder
1 teaspoon ground cumin
1 teaspoon cayenne pepper (I only used 1/4 tsp because I have little ones)
2 teaspoons unsweetened cocoa powder
1/4 teaspoon ground cinnamon
ground sea salt and black pepper
1 28-ounce can diced tomatoes, including the liquid
2 cups vegetable broth
1/2 cup chopped fresh cilantro
Poached or fried eggs, for serving (optional)
Instructions
In a 4 to 6 quart Dutch oven or stockpot, heat the oil to medium-high heat. Add the chopped onion and bell peppers to the pot, and cook, stirring, until the onions become translucent, about 4-5 minutes.
Add the rest of the ingredients (except the cilantro and eggs) and stir. Cover and let it simmer, stirring occasionally, for about 30 minutes.
Stir in the cilantro. Taste, and add more salt, if needed.
Ladle into bowls and throw a poached egg on top if you feel so inclined.
Nutrition Information
Yield

6
Serving Size

1 1/2 cups
Amount Per Serving
Calories

218
Total Fat

5g
Saturated Fat

2g
Trans Fat

0g
Unsaturated Fat

2g
Cholesterol

31mg
Sodium

498mg
Carbohydrates

43g
Fiber

13g
Sugar

12g
Protein

6g
The information shown is an estimate provided by an online nutrition calculator. It should not be considered a substitute for a professional nutritionist's advice.
This post may contain affiliate links. Any purchases made by using these links won't cost you any extra and helps keep my content free. These links may be Amazon links as I am part of the Amazon Associate Program.