These Paleo-friendly meal plans are for six dinner recipes and a dessert thrown in for fun! All of these recipes are paleo friendly, seasonal, and most can be easily adapted to be Keto/Low-Carb or Whole30 friendly.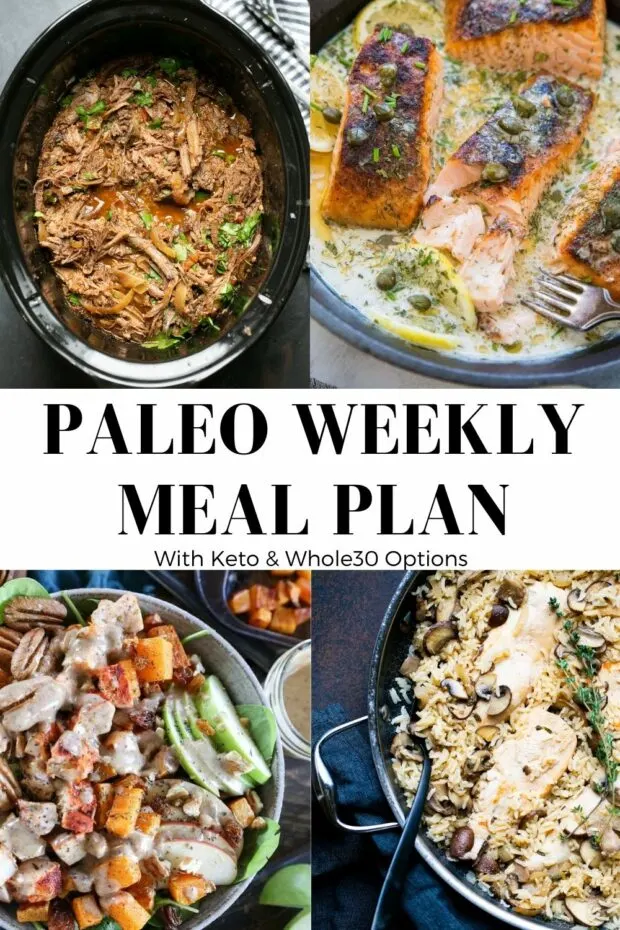 Hey there!
Julia and I have more fresh, yet cozy recipes for you!
I'm dying to try Julia's roasted butternut salad — I mean that cinnamon cider dressing looks amazeballs.
I added three of my most recent recipes if you haven't tried them yet! The barbacoa beef makes a big batch, but it freezes well, so tuck some away for later if it's more than you can eat in a week or so!
Valentine's Day is coming up and I think Julia's salmon would be a delicious and easy meal for 2! Or serve up some of her paleo coffee cake for breakfast in bed.
xoxo
Natalie
---
Sunday
HEARTY GROUND TURKEY SOUP WITH VEGETABLES — Hearty ground turkey soup with vegetables is a clean and comforting meal perfect for soothing the belly and soul. Make it if you're feeling under the weather, or if you just love a great nourishing soup recipe!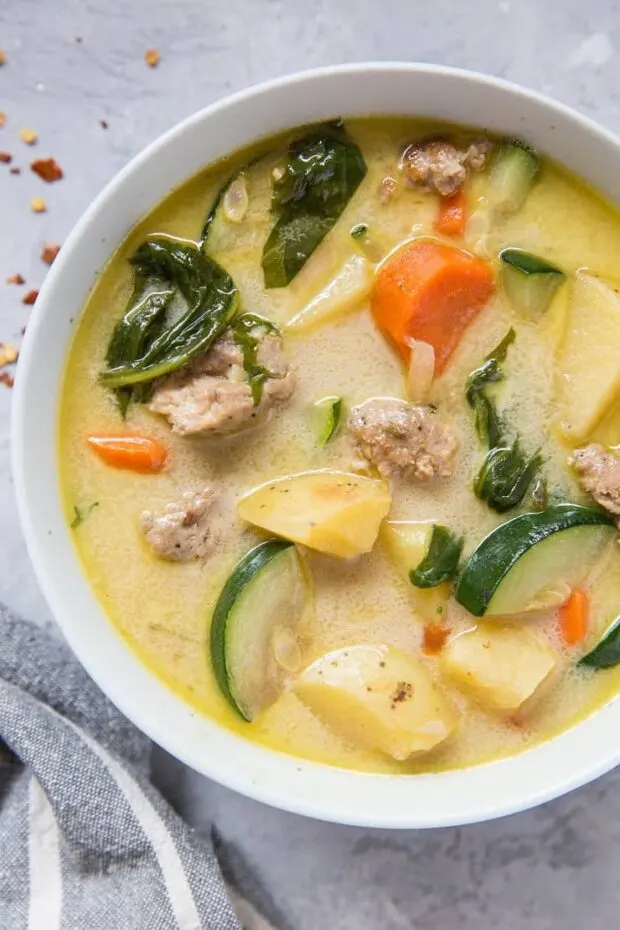 Special Diet Note: This healthy soup recipe is paleo and whole30. Make it low-carb by omitting the potatoes. You can also omit the onion to make it low-FODMAP.
Prep Ahead: The soup comes together in a flash! No advance prep is neededor meals later on.
Substitutions: Swap out any of the veggies for your favorites. Cauliflower, broccoli, and bok choy work great. You can use ground beef, Italian sausage, or ground chicken instead of ground turkey if you'd like.
Monday
COPYCAT CHIPOTLE BARBACOA BEEF — This deeply flavorful, tender shredded beef is a copycat version of Chipotle's barbacoa beef! I included instructions for both slow cooker and Instant Pot. Serve this beef however you like — nestled in some gluten-free tortillas or in a burrito bowl or salad!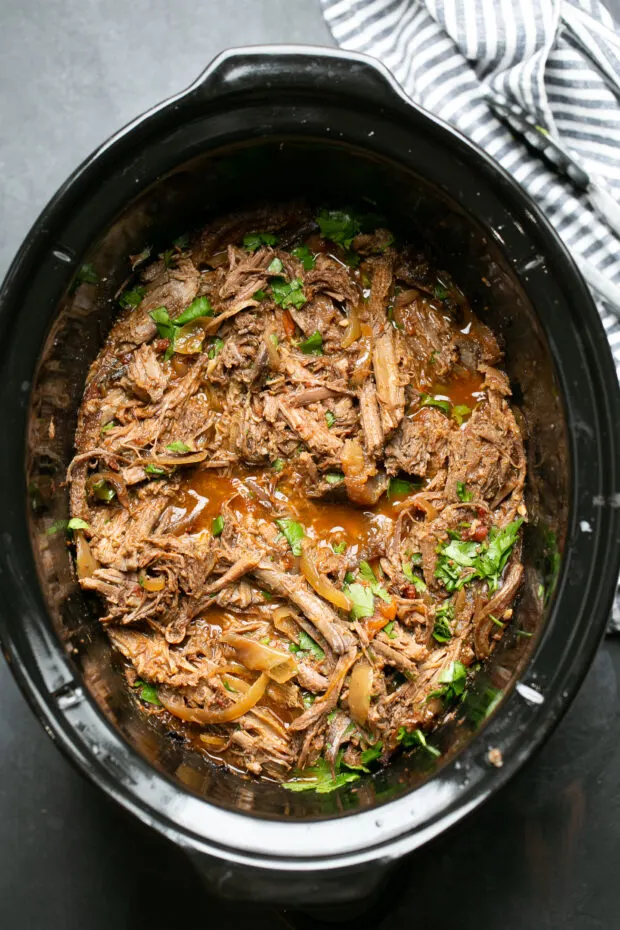 Special Diet Note: Recipe is paleo, low-carb, keto, & Whole30 friendly
Prep Ahead: This beef can be made several days in advance and it's freezer friendly!
Substitutions: Serve this beef in a taco salad, a burrito bowl, or however you like! Try this recipe with a pork shoulder roast if you want!
Tuesday
ROASTED BUTTERNUT SQUASH & CHICKEN SPINACH SALAD — This mega filling salad with pecans, apples, golden raisins and cinnamon maple cider vinaigrette – a super nutritious entrée salad for lunch or dinner!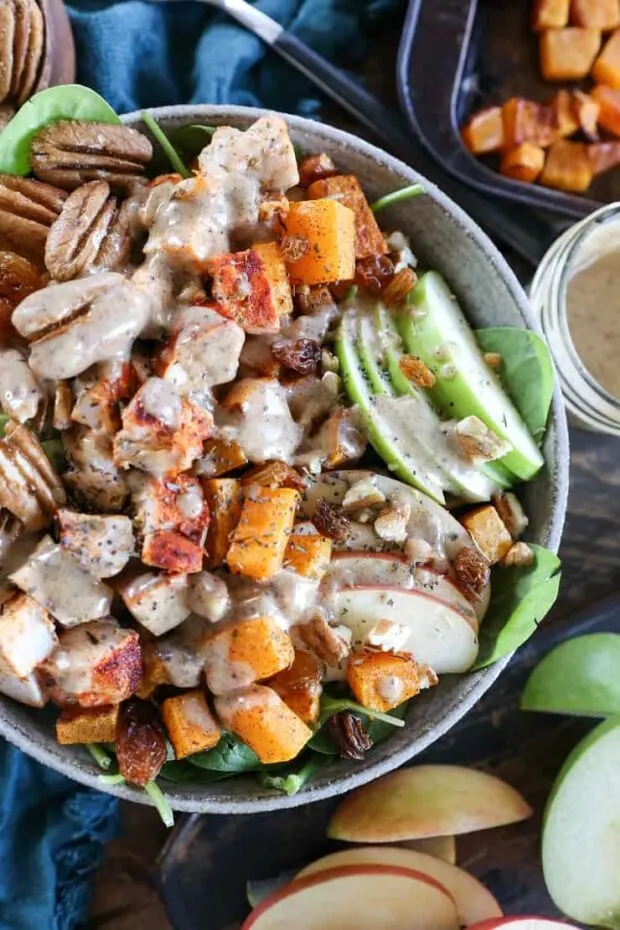 Special Diet Note: Recipe is paleo! Make it whole30 by omitting the pure maple syrup.
Prep Ahead: The butternut squash and chicken can be roasted up to 3 days ahead of time.
Substitutions: Use dried cranberries instead of raisins, or swap the vinaigrette out for your favorite store-bought or homemade salad dressing.
Wednesday
PUREED BEET SOUP WITH CITRUS & FENNEL — This delicious and smooth beet soup is as tasty as it is gorgeous! It's fruity and earthy and is served with a sweet apple-fennel slaw. I included directions for Instant Pot, slow cooker, and stove top!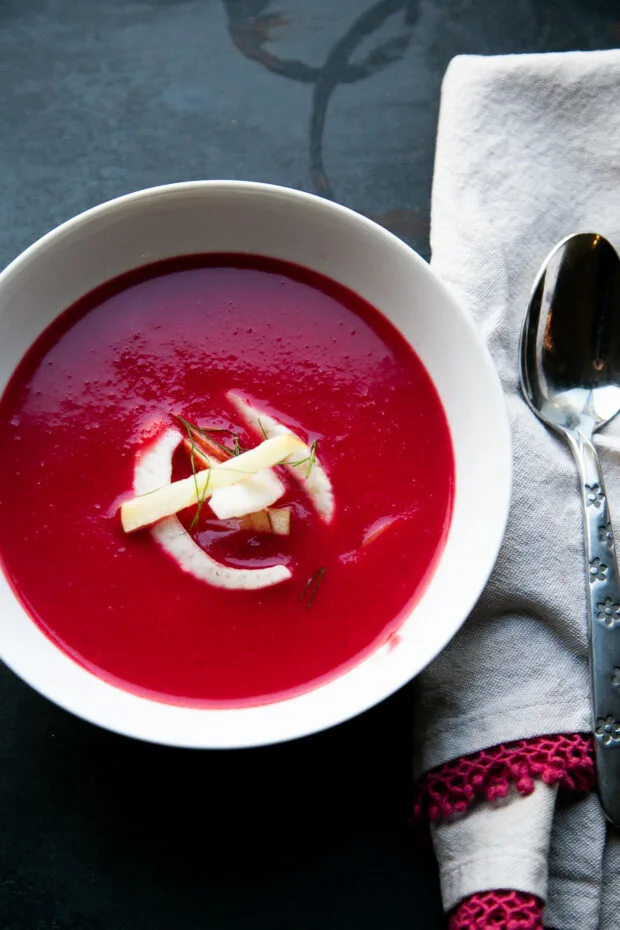 Special Diet Note: Recipe is paleo & Whole30 friendly. Use vegetable broth to make it vegan.
Prep Ahead: No prep ahead needed!
Substitutions: Add some leftover roasted chicken from Tuesday for some extra protein.
Thursday
CRISPY SALMON SKILLET WITH LEMON DILL CAPER SAUCE — This is a fresh and flavorful dinner recipe that covers all the flavor bases! This easy meal takes less than 30 minutes to prepare.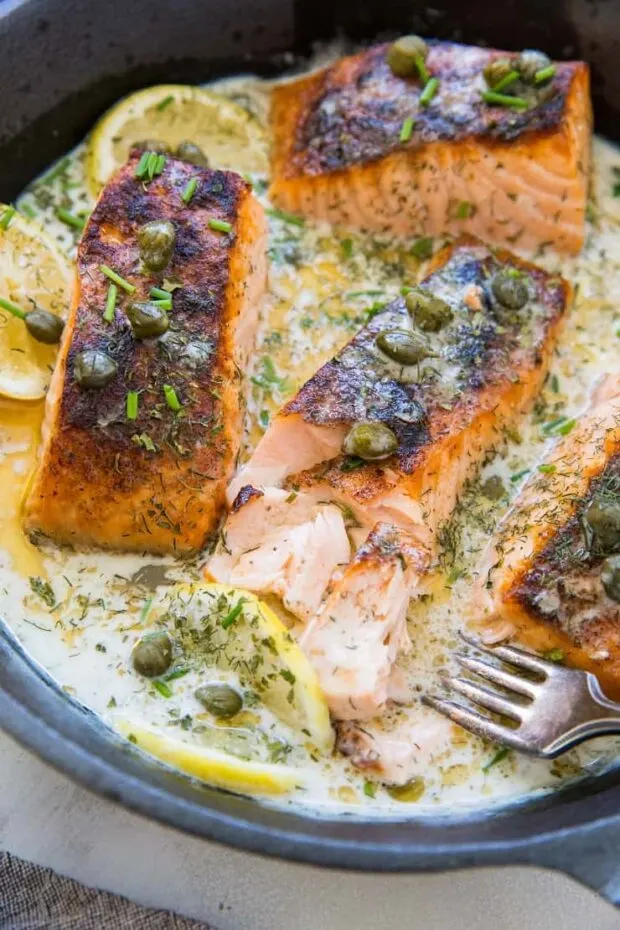 Special Diet Note: This recipe is paleo, keto, and whole30! Make it Low-FODMAP by omiting the garlic.
Prep Ahead: No advance prep is needed, as the recipe comes together quickly and is best when served fresh!
Substitutions: Add in some fresh basil, onion, artichoke hearts, and/or sun-dried tomatoes if you'd like. Swap the salmon for your favorite fish – halibut and cod work great too!
Friday
CHICKEN RICE AND MUSHROOM SKILLET — One skillet meals are my favorite and this Chicken Rice & Mushroom Skillet is high on my list with tender chicken, sauteed mushrooms and the most flavorful rice!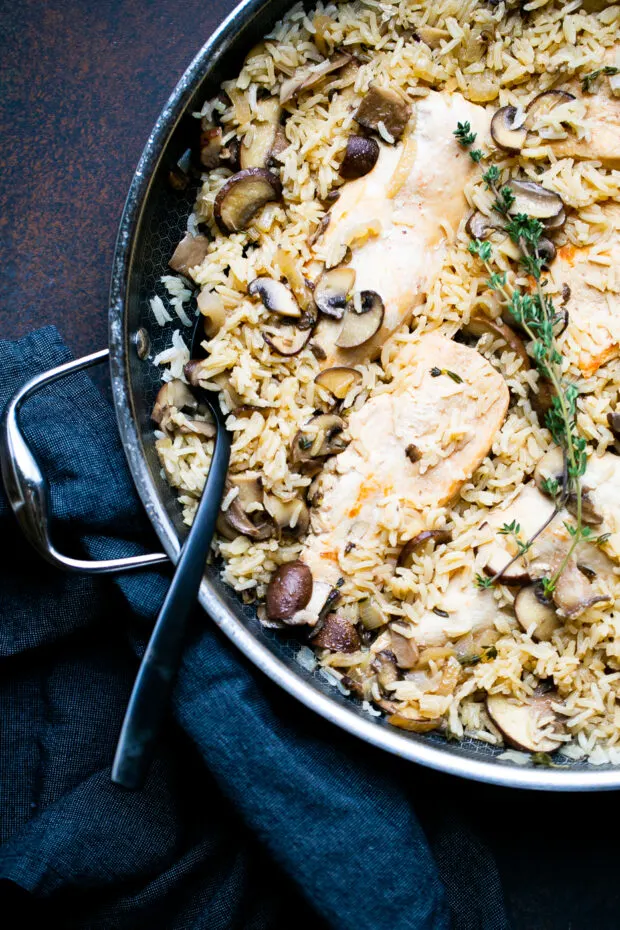 Special Diet Note: Recipe is gluten-free and dairy-free.
Prep Ahead: This easy one-skillet meal comes together quickly, so no preparation in advance is needed.
Substitutions: If you don't eat rice, swap it out for quinoa or another grain that cooks in a similar amount of time.
Dessert
PALEO BLUEBERRY COFFEE CAKE — Moist, fluffy, cinnamony paleo blueberry coffee cake made with coconut flour, almond flour, and pure maple syrup. This flavorful cake is perfectly healthy for breakfast, yet tasty enough to enjoy as dessert!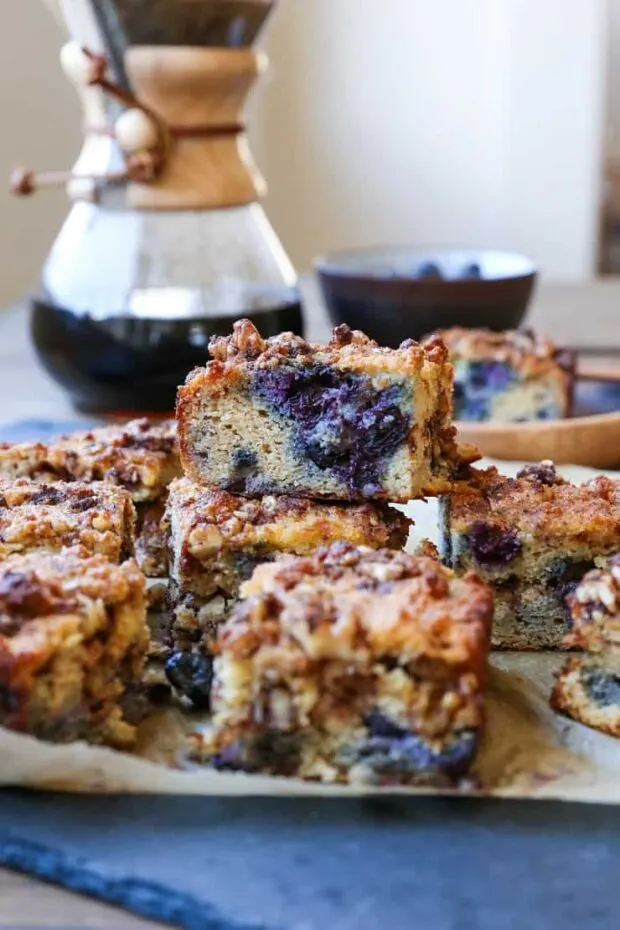 Special Diet Note: This yummy coffee cake recipe is Paleo!
Prep Ahead: Nothing needs to be prepared ahead of time.
Substitutions: I don't recommend swapping out the coconut flour for anything else, as the recipe is designed to accommodate the massive absorbency of coconut flour. The rest of the recipe will need to be changed when using a different flour. For almond flour only, follow Julia's Almond Flour Coffee Cake recipe: https://www.theroastedroot.net/almond-flour-coffee-cake-paleo/
Grocery List
Click HERE to download a handy printable grocery list!