These healthy meal plans are for six dinner recipes and a dessert thrown in for fun! All of these recipes are (mostly) paleo friendly, seasonal, and most can be easily adapted to be Keto/Low-Carb or Whole30 friendly.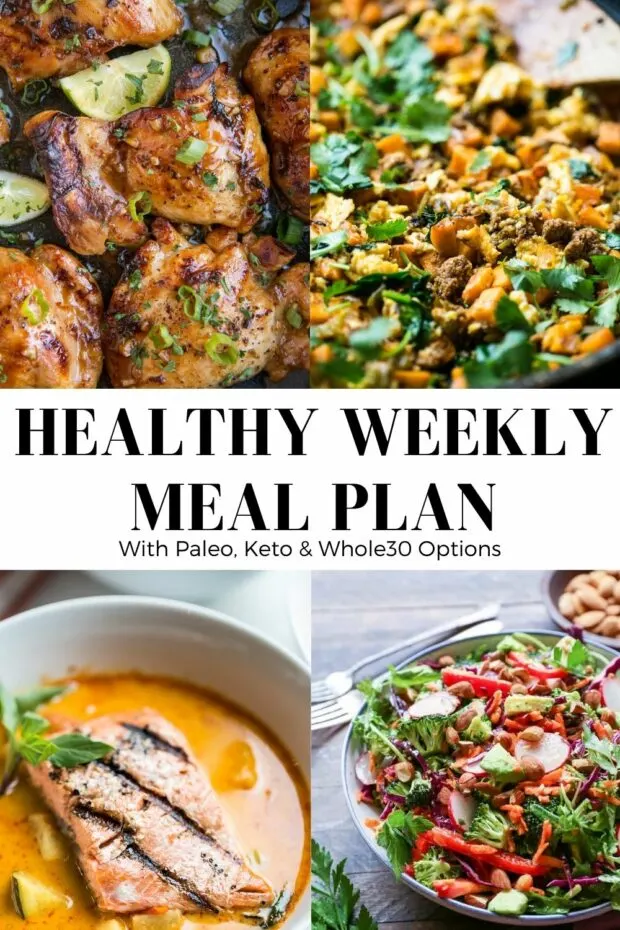 Hi friend!
This month we're lightening up our plan with more spring vegetables & lighter flavors!
We also included a few recipes that would be great options for meal prep! Julia's gorgeous salad and baked chicken thighs would make several tasty dinners and my hash would keep you powered up in the morning for a week.
If you try any of the recipes from this month's meal plan, we'd love to hear about it! Tag us on social media @perrysplate & @the.roasted.root so we can give you some love!
xox
Natalie
---
Sunday
ASIAN BAKED BONELESS CHICKEN THIGHS — These tasty thighs with garlic and sesame oil are incredibly flavorful, loaded with sweet and sour and umami flavors. They make a great meal prep recipe, too!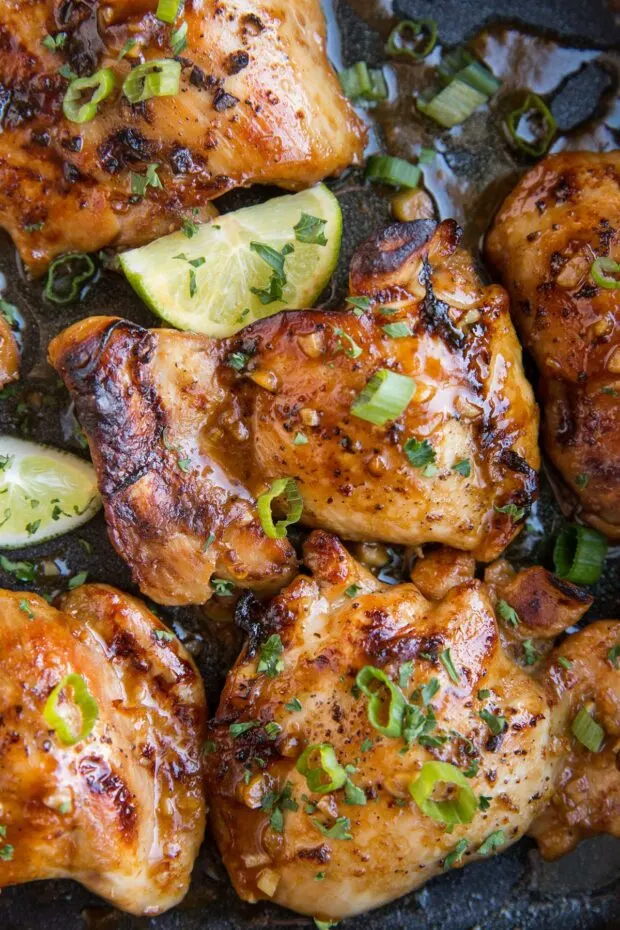 Special Diet Note: The recipe is paleo as written.
Prep Ahead: The chicken can be marinated up to 24 hours in advance.
Substitutions: Replace the coconut aminos with soy sauce or liquid aminos.
Monday
SWEET POTATO HASH WITH TURKEY CHORIZO — This is one of my favorite breakfast recipes and also doubles as a tasty taco or burrito filling! It also makes a great meal prep recipe and warms up beautifully for a healthy meal the next day or a make ahead breakfast during the week.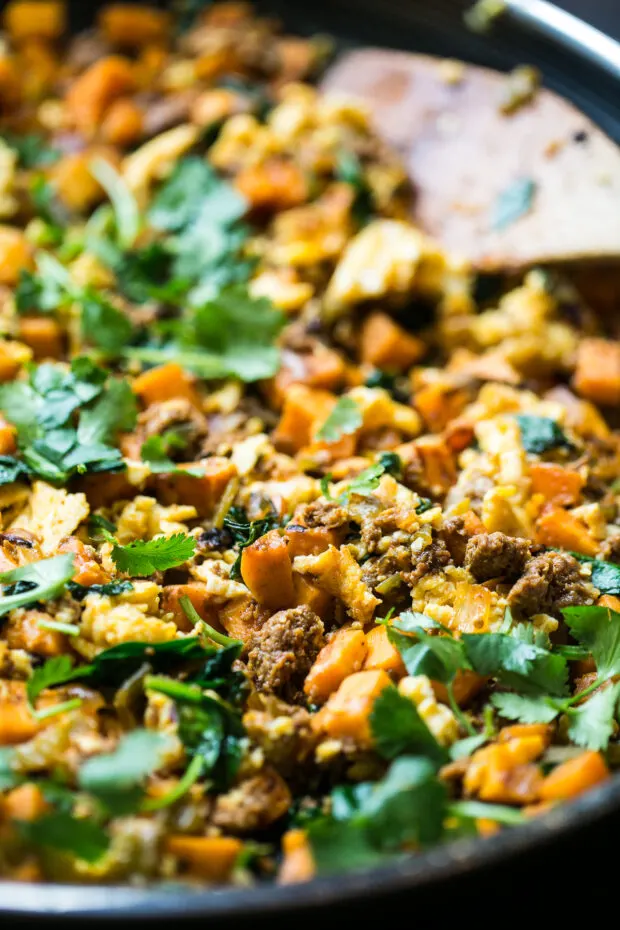 Special Diet Note: This recipe is paleo and Whole30 friendly if you can find compliant chorizo. Try Diestel turkey chorizo.
Prep Ahead: No need to prep ahead.
Substitutions: If you have some grain-free tortillas, this makes a really great breakfast burrito/taco filling! You can also make your own turkey chorizo — here's a great recipe: Copycat Chipotle Chorizo.
Tuesday
THAI CABBAGE TURKEY BOWLS — Super delicious and easy turkey bowls with with red bell pepper, onions, garlic, ginger, carrots, and an amazing sweet and tangy sauce. This easy meal comes together in 30 minutes or less and is jam packed with flavor!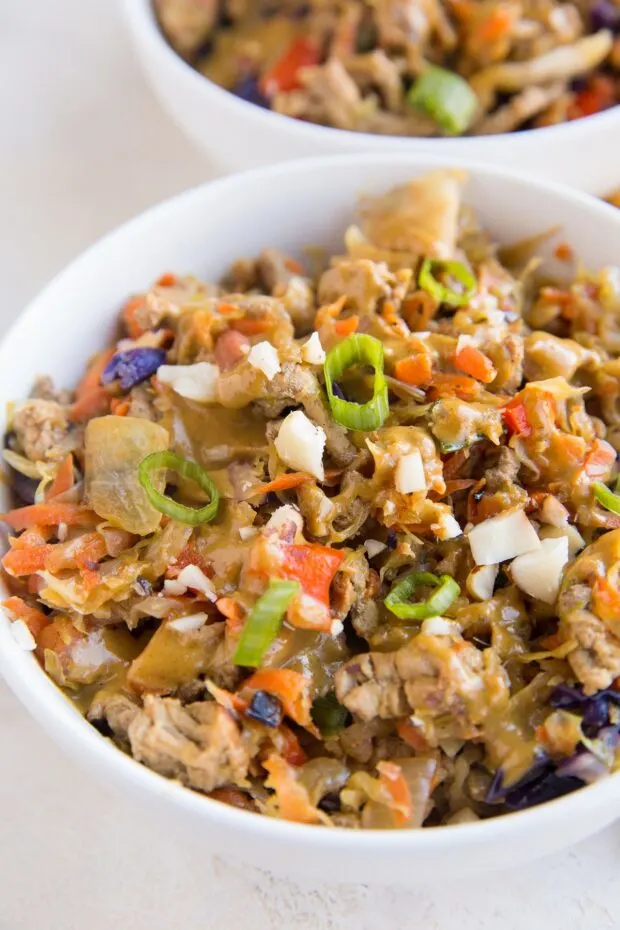 Special Diet Note: Recipe is paleo and can be made low-carb by omitting the pure maple syrup from the sauce.
Prep Ahead: No advance prep is needed, as the recipe comes together quickly.
Substitutions: You can use this marinade for steaks or chicken breasts, too! Add a side salad, some roasted vegetables, or throw some veg in the skillet after you cook the chops for an easy side.
Wednesday
QUICK SAUSAGE & VEGGIE SHEET PAN DINNER — I always keep some clean pre-cooked sausages in the freezer for a quick meal! This meal can be eaten alone or over salad greens or as part of a rice bowl.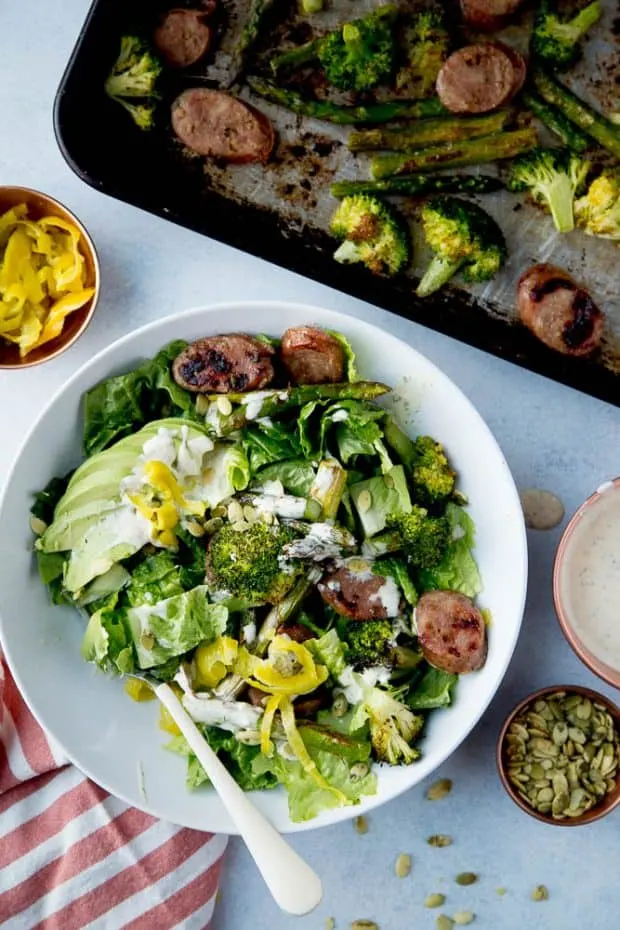 Special Diet Note: Recipe is paleo. To make this Whole30 friendly, use Aidell's chicken-apple sausages. To make this low-carb, use low-carb vegetables.
Prep Ahead: Everything can be chopped ahead of time.
Substitutions: Serve the sausage and veggies alone with your favorite sauces/condiments, make it into a salad, or serve it with some jasmine or cauli rice.
Thursday
ALL THE GOOD VEGGIES DETOX SALAD — All the Good Veggies Detox Salad with Lemon-Parsley Dressing is a clean and nutritious salad recipe that is vegan, paleo, whole30 and requires less than 30 minutes to prepare.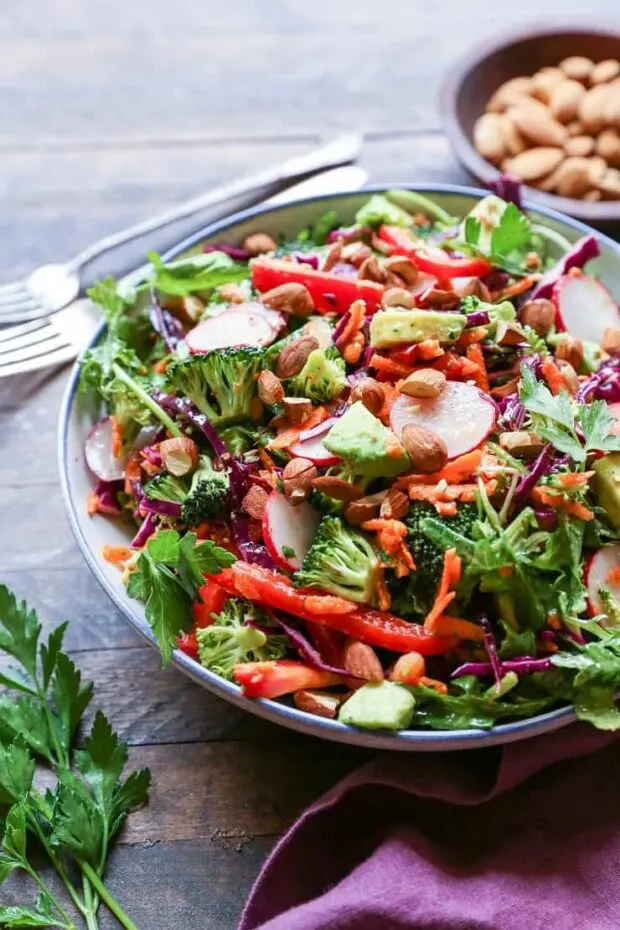 Special Diet Note: Recipe is paleo and can be made whole30 by omitting the pure maple syrup from the salad dressing.
Prep Ahead: The salad dressing can be made up to 5 days in advance, but the salad is best when served fresh.
Substitutions: Use any of your favorite store-bought or homemade salad dressings to replace the Lemon Parsley Dressing in the recipe.
Friday
PINEAPPLE SALMON CURRY — This delicious curry is filled with vegetables, sweet pineapple, a rich coconut curry sauce and topped with a tender grilled salmon fillet! Fancy enough for company and easy enough for a weekend family meal.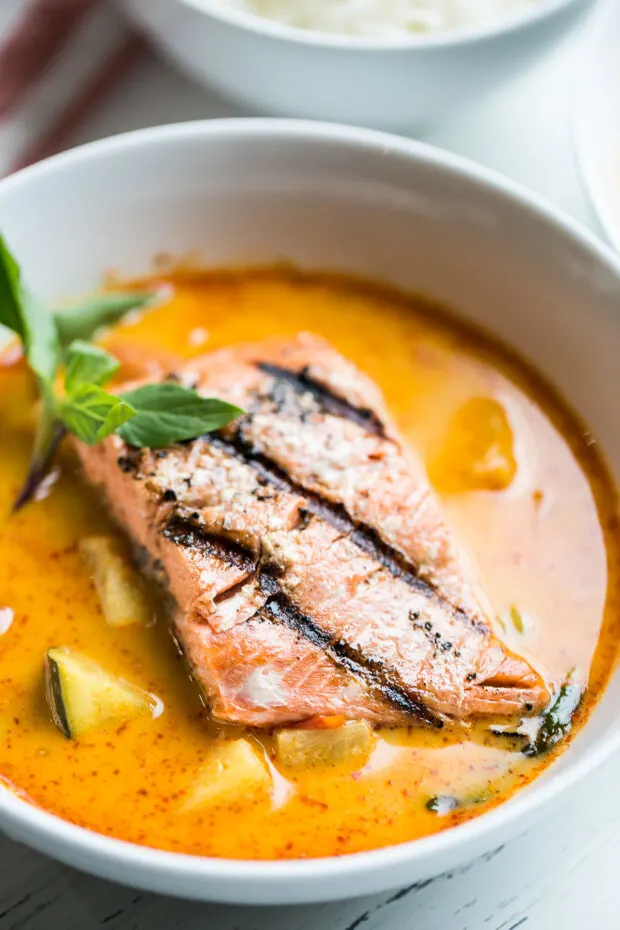 Special Diet Note: This recipe is paleo served with cauli rice. Make it Whole30 friendly by omitting all sweeteners.
Prep Ahead: You can grill the salmon ahead of time and reheat it by putting the fillets in the curry before you serve it. Veg can also be chopped ahead of time.
Substitutions: If you don't want to use salmon, use grilled white fish fillets or chunks of chicken breast put into the curry along with the vegetables. You can also swap out any of the vegetables for quick cooking veg that you prefer.
Dessert
LOW-CARB BLUEBERRY CRUMB BARS — These easy bars are grain-free, sugar-free, dairy-free, vegan, and so easy to make! With a flaky almond flour shortbread crust, fresh jammy blueberry filling and a crumble topping, these easy low-carb crumb bars are so addicting!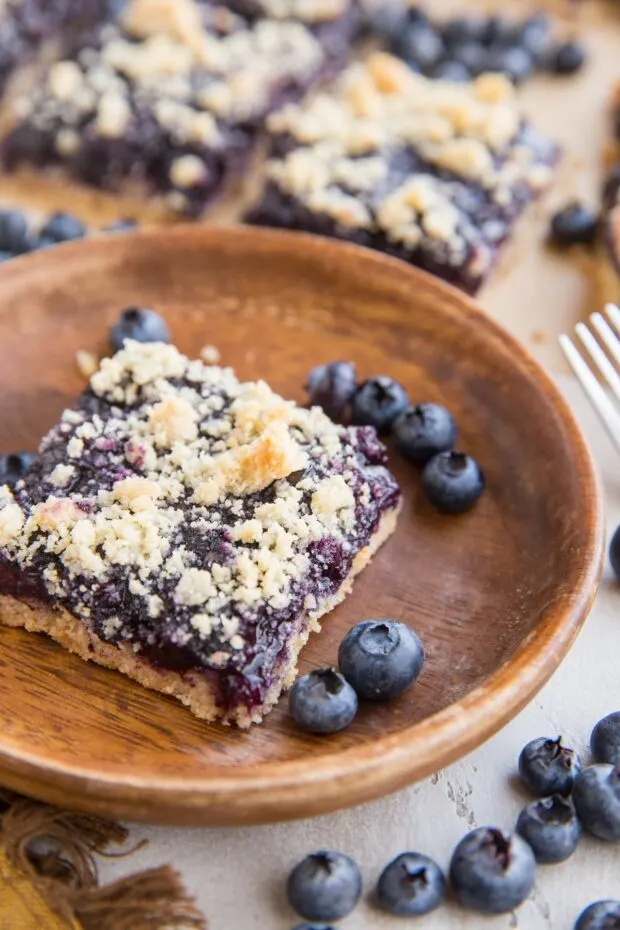 Special Diet Note: These crumb bars are keto and grain-free. They can be made paleo by substituting maple sugar for the sugar-free sweetener.
Prep Ahead: No advance prep is needed!
Substitutions: Use maple sugar instead of sugar-free sweetener to make the crumb bars paleo. You can also use strawberries, raspberries, or blackberries instead of blueberries.
Grocery List
Click HERE to download a handy printable grocery list!