This delicious curry is filled with vegetables, sweet pineapple, a rich coconut curry sauce and topped with a tender grilled salmon fillet! Fancy enough for company and easy enough for a weekend family meal.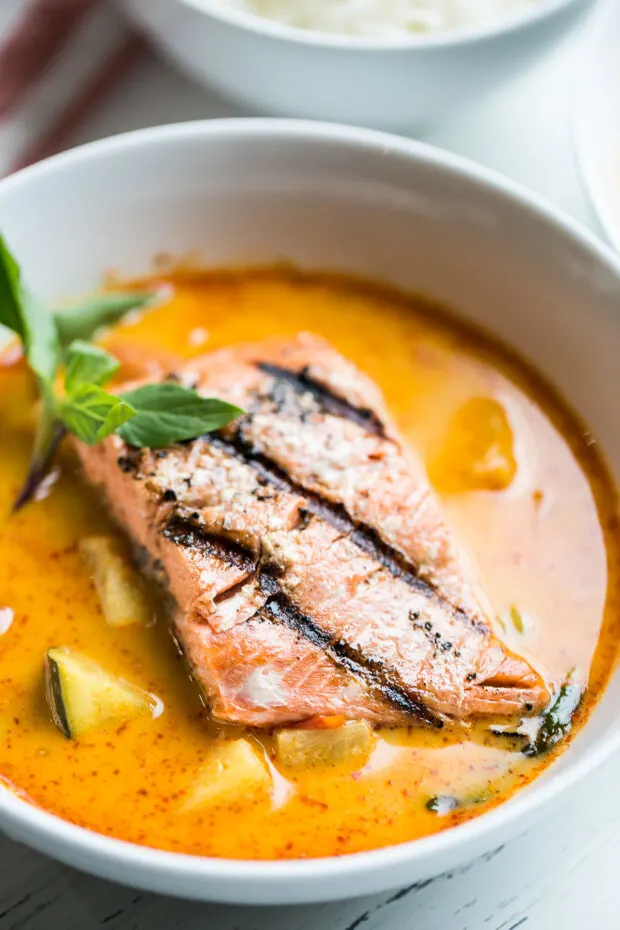 One of my favorite things to do is recreate restaurant meals at home! Steve and I LOVE Thai food and ate a salmon pineapple curry at a local Asian restaurant that we REALLY loved. (Rice Contemporary Asian in Eagle, ID, if you're local!)
I thought it was interesting that the salmon fillets in the curry was grilled and placed on top instead of cooked with the curry. I loved how the charred flavors of the salmon played off of the sweet pineapple curry.
I've been making Thai-style curries for a while (see the Thai section of my recipe index!). There are a few ingredients in authentic Thai curries that are hard to find, but if you have fish sauce, lime juice, coconut milk (or coconut cream), and a high quality curry paste, it takes you pretty close!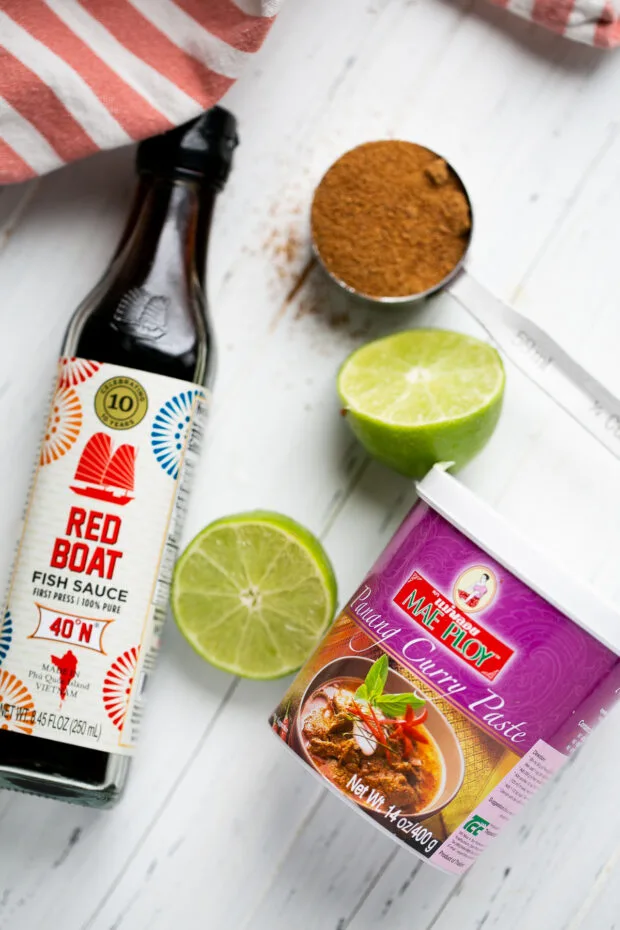 Scared of fish sauce?
If you're scared of fish sauce, don't be. It doesn't give this curry a fishy taste, but a deep, salty umami flavor. If fish sauce is off the table, you could use soy sauce here or tamari (a wheat-free soy sauce).
Curries you find in restaurants here in the States are usually pretty sweet. I like to use coconut sugar to mimic that sweetness, although I don't make mine nearly as sweet. The amount can be up to you. And you can use brown sugar if you don't want to use coconut sugar.
A lot of those hard to find ingredients (curry leaves, galangal, etc) are in the curry paste. Along with ginger, garlic, chilies and other things that you don't have to chop.
Where do I find Thai curry paste?
Mae Ploy is my favorite kind of curry paste. I get Mae Ploy curry paste on Amazon in a 3-pack so I have different kinds. They're also super clean and don't have any additives or fillers.
I like using Panang curry paste in this recipe because it has shrimp in it which compliments the salmon. I'm pretty sure it's what the restaurant version uses, too.
Thai Kitchen also makes easy to find curry pastes for a more mild curry. You can find them in the Asian section of the grocery store in most places.
Is this salmon curry recipe spicy?
Yes, if you use this particular panang curry paste. (Mae Ploy curry pastes tend to run spicier than other kinds.) This curry was too spicy for our kids.
If you wanted to crank it up another notch, add some red pepper flakes or a pinch of cayenne pepper.
Can I use a different kind of curry paste?
Sure! If you like yellow curry paste or red curry paste more, then go ahead and use one of those. Or green curry paste. There are lots of them.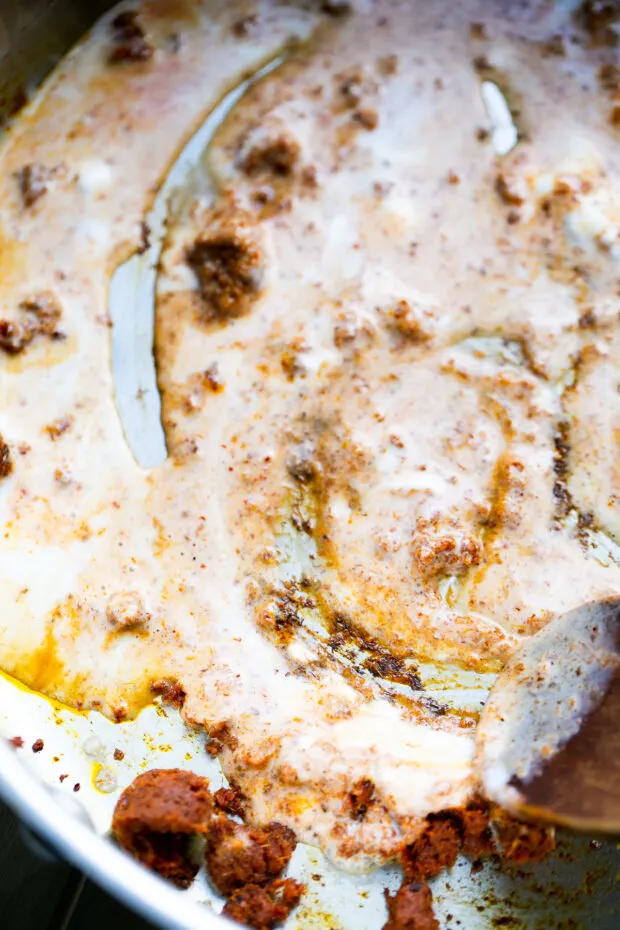 Helpful tips for making curry
A technique I learned from Thai and Indian cooks is to fry the curry paste (or Indian spices) when you make the curry. This wakes up your spices and gives them a richer flavor.
Be sure to use a heat-safe oil like avocado oil or coconut oil.
Another technique I learned from an Indian friend is to reduce some coconut milk along with the fried curry paste at medium-high heat. This also creates a richer tasting curry sauce.
I use full fat coconut milk, but if you prefer light coconut milk you can use that. The sauce might not be as thick or rich tasting, though.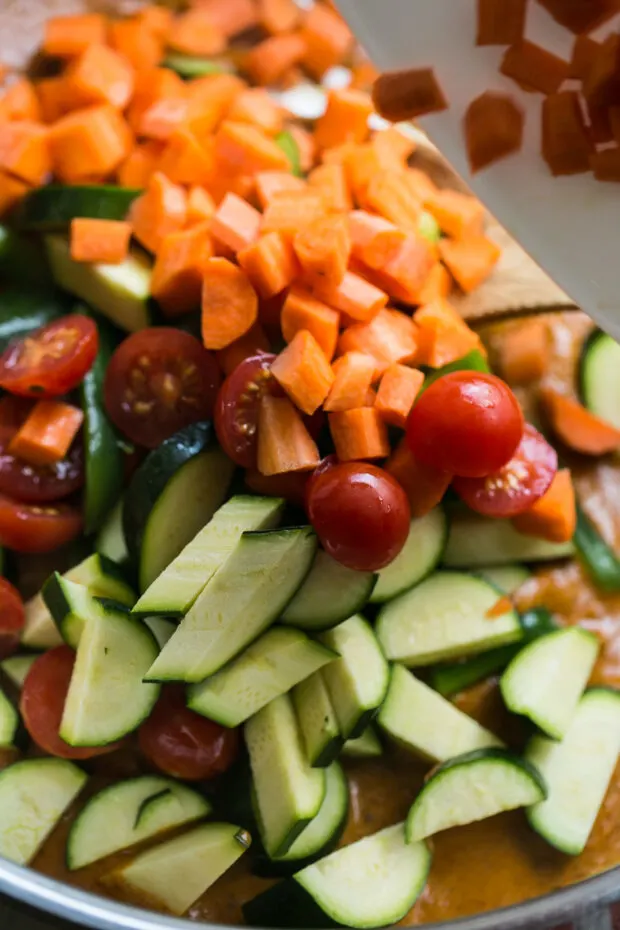 As far as vegetables, I added what the original recipe used: carrots, zucchini, cherry tomatoes, bell peppers, and peas, but you can use any quick-cooking vegetables you like! If you don't like green bell peppers, use red peppers or any other color. Bok choy, small-diced sweet potatoes, or bamboo shoots would also be great in this curry, too.
If you use carrots, which typically take longer to cook, cut them small so they cook faster.
Do I have to use fresh pineapple?
Nope. You can use canned pineapple chunks if you like. I like to add the juice from the can in place of some of the broth, too.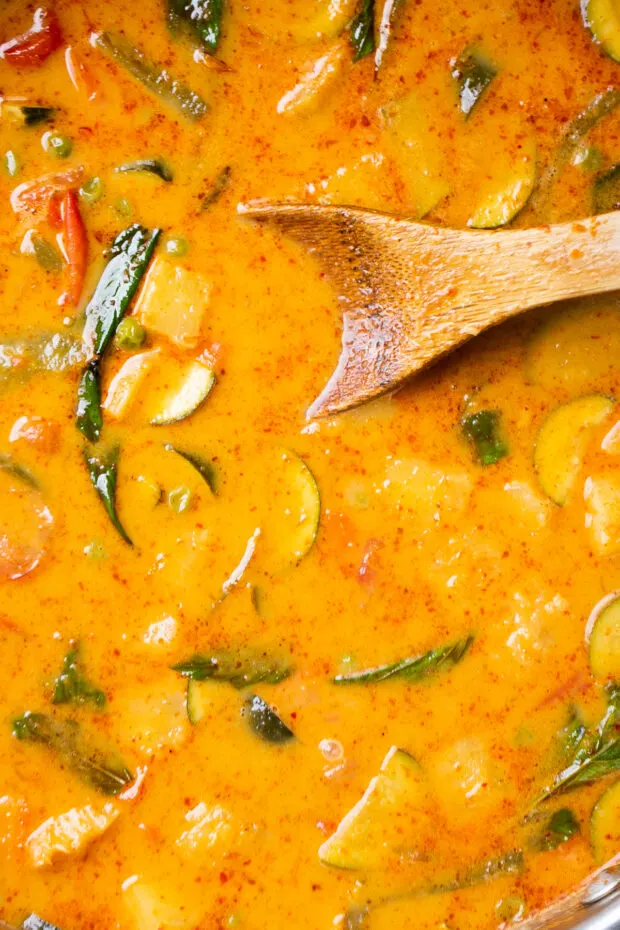 Can I serve this with grilled chicken instead of salmon?
Sure! I would sear the chicken breasts or thighs, but let it simmer and finish cooking in the curry to give the chicken more flavor. Pineapple chicken curry is super tasty.
It doesn't take long for this curry to simmer. Just keep it over medium heat for 12-15 minutes until those carrots (or the longest cooking vegetable you use) is cooked through. Keep the pan uncovered to reduce the sauce some, too.
What kind of basil should I use?
I found Thai basil leaves in our grocery store, but you can use regular sweet basil. They both work well. You don't need to chop them either. Just pull the leaves out and throw them in the pan.
I added more detailed instructions in the recipe card for you!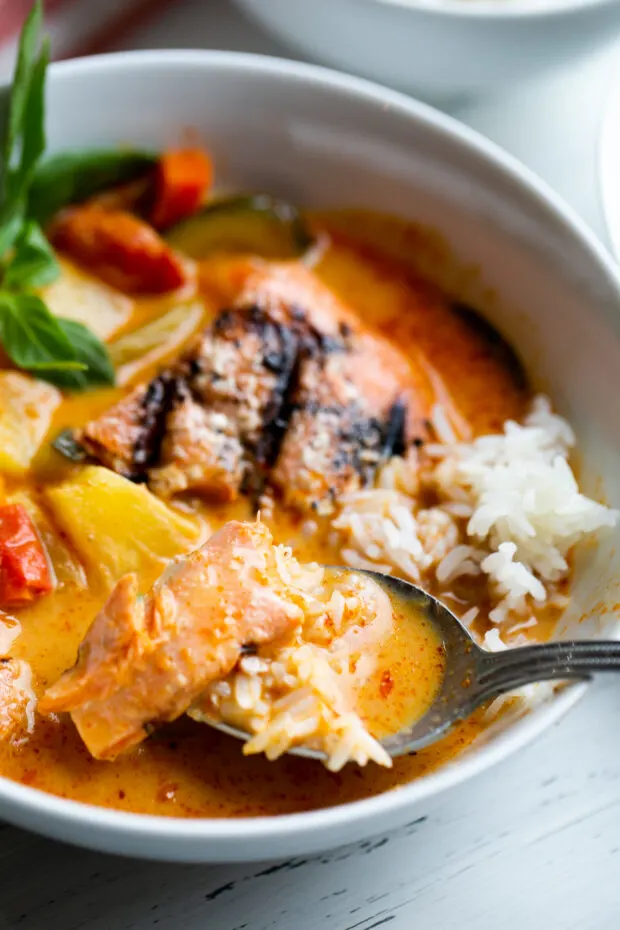 The pineapple + salmon + creamy curry sauce is such a great combination with tons of flavor. We served ours over jasmine rice, but if you're avoiding grains, use cauliflower rice instead.
My Roasted Cauliflower Rice is easy with frozen riced cauliflower, too. I love it alongside any kind of curry.
This coconut curry salmon recipe would also be good with red curry sauce! I think i'll do that next time. Mmm.
If you like this recipe and are looking for more Thai-inspired curry recipes, try one of these! I have some for stove top, slow cooker, and Instant Pot. They're fantastic one-pot meals that my kids love.
More Thai Curry Recipes on Perry's Plate
Thai Peanut Curry with Ginger Chicken Meatballs — a fun take on a Thai curry with creamy, nutty sauce and tender meatballs.
Quick Thai Fish Curry with Coconut Rice — I was surprised how much my kids liked this curry — especially with my Instant Pot Coconut Rice!
Easy Thai Chicken Curry for Instant Pot — I like to make this for first-time Thai food eaters. It's a very mild curry with lots of flavor that eases them into Thai cuisine.
Thai Green Curry Zoodles with Shrimp & Broccoli — A lighter green curry that is a copycat version of one served at Noodles & Co a while back! I love this one in the summertime.
Shredded Red Curry Chicken with Slaw — This is a great meal prep recipe! Just a big pot of shredded chicken covered in a rich red curry sauce.
Thai Shrimp Curry with Summer Squash — Another great one for summer when summer squash is abundant. This recipe features a homemade green curry sauce, too, and is great for a weekend cooking project.
---
If you make one of my recipes, be sure to post it on social media and tag me at @perrysplate or #perrysplate so I can send you some love!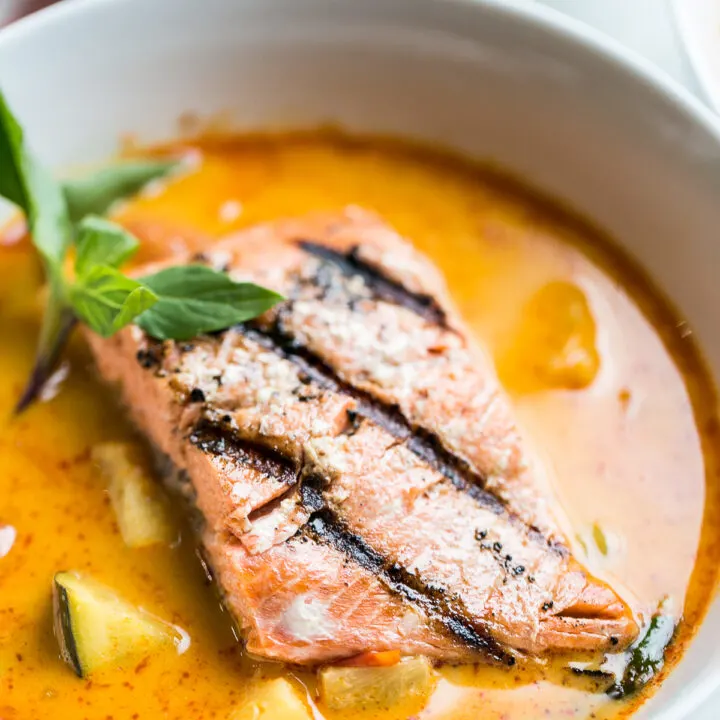 Pineapple Salmon Curry
This delicious curry is filled with vegetables, sweet pineapple, a rich coconut curry sauce and topped with a tender grilled salmon fillet! Fancy enough for company and easy enough for a weekend family meal.
Ingredients
For the salmon:
6 4-ounce fresh salmon fillets
Sea salt
3 Tablespoons pure maple syrup
For the curry:
2 Tablespoons coconut oil or avocado oil
2-3 Tablespoons curry paste (see note)
1 13.5 ounce can of full-fat coconut milk
1 cup small diced carrots
1 cup chopped zucchini
1 bell pepper, any color
1/2 cup cherry tomatoes, halved
3 cups chicken or vegetable broth
2 Tablespoons fish sauce
1 lime
1/3 cup coconut sugar
1/2 cup frozen peas
1 cup pineapple chunks, fresh or canned
2 sprigs Thai basil or sweet basil
Steamed jasmine rice, for serving
Instructions
Sprinkle the salmon generously with sea salt. Brush all of the fillets with maple syrup. Set aside.
In a large skillet, heat the oil to medium high heat. Add the curry paste, breaking it up and stirring it with a spatula. Fry it in the oil for a minute or two, then add half of the coconut milk. Cook for another 2-3 minutes, stirring often to combine into a thick sauce.
Add the carrots, zucchini, bell peppers, cherry tomatoes, and broth. Bring the mixture to a boil, then reduce heat to medium-low, and simmer, uncovered, for 12-15 minutes until the carrots are cooked through.
Meanwhile, preheat your grill or a grill pan on the stove to high heat. When it is hot, add the salmon fillets skin-side up. Sear for 3-4 minutes, then flip them. Cook on the other side for 2-3 more minutes until the salmon is just cooked through and flakes away with a fork. Set aside.
To the curry, add the fish sauce, juice from 1/2 of the lime, sugar, peas, pineapple chunks, and the rest of the coconut milk. Cook for another 5 minutes or so. Remove the basil leaves from their stems and add them to the pan. Taste, and add additional lime juice if you think it needs it.
Serve the curry with rice and a salmon fillet on top. If you're avoiding rice, serve it with some cauliflower rice instead.
Notes
I like to use panang curry paste (linked below and in the post) for this because it compliments the salmon well. However, it's pretty spicy, and you can use any kind of curry paste you like.
If you use canned pineapple chunks try replacing some of the broth with the pineapple juice from the can for extra sweetness.
I liked this particular combination of vegetables, but feel free to use whatever quick-cooking vegetables you like. Chop longer-cooking vegetables small (like the carrots).
Recommended Products
As an Amazon Associate and member of other affiliate programs, I earn from qualifying purchases.
Nutrition Information
Yield

6
Serving Size

1
Amount Per Serving
Calories

627
Total Fat

31g
Saturated Fat

10g
Trans Fat

0g
Unsaturated Fat

18g
Cholesterol

135mg
Sodium

1001mg
Carbohydrates

42g
Fiber

3g
Sugar

26g
Protein

45g
The information shown is an estimate provided by an online nutrition calculator. It should not be considered a substitute for a professional nutritionist's advice.