These healthy meal plans are for six dinner recipes and a dessert thrown in for fun! All of these recipes are (mostly) paleo friendly, seasonal, and most can be easily adapted to be Keto/Low-Carb or Whole30 friendly.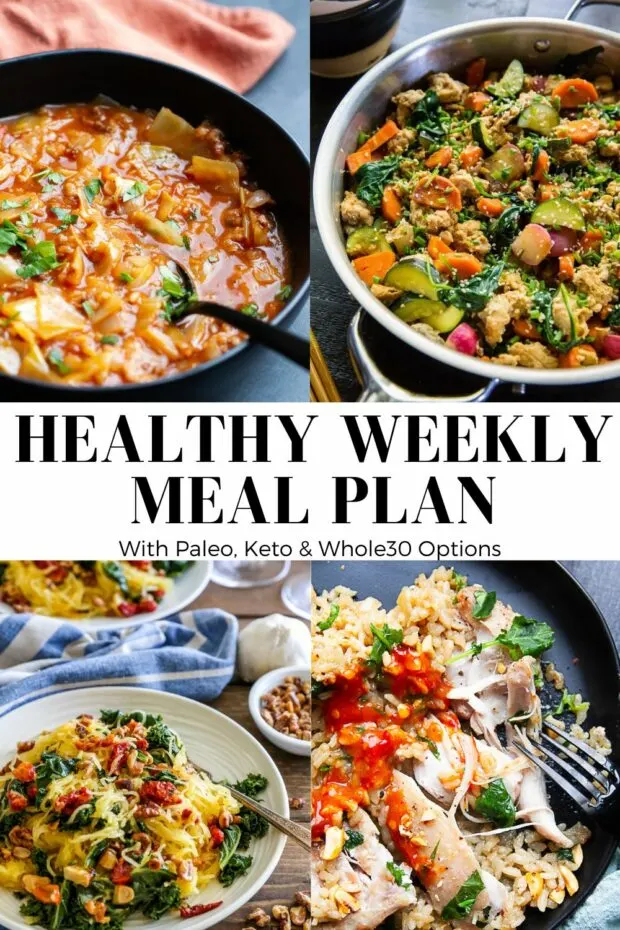 As we head into February, we chose more cozy, cold weather favorites of ours!
Julia's spaghetti squash dish looks especially tasty and I added a fun dessert for you for Valentine's Day!
Like always, we try to choose recipes that have seasonal, nourishing ingredients and give you ideas to adapt them to your dietary style.
Let's keep souping for a while, too. It seems to make the below freezing temps around here more bearable.
xoxo
Natalie
---
Sunday
EASY CABBAGE ROLL SOUP — This easy & delicious soup has all of the flavors of traditional cabbage rolls without all of the tedious work!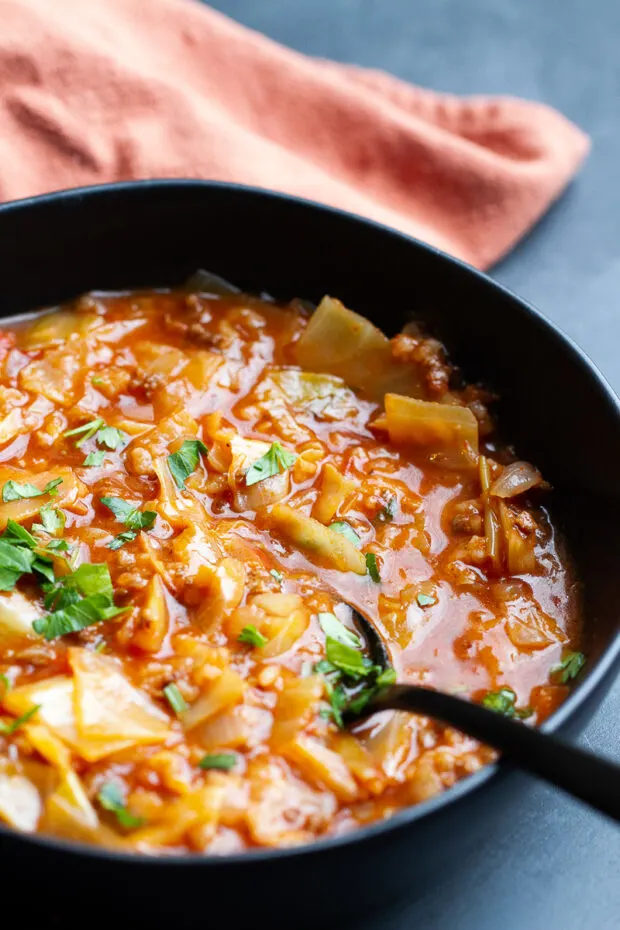 Special Diet Note: Recipe is gluten free and dairy free. To make it grain-free you can omit the rice as well as a cup of the broth.
Prep Ahead: Cabbage and onion can be chopped ahead of time.
Substitutions: You can replace the white rice with brown or wild rice, but add COOKED brown or wild rice at the very end of cooking. Quinoa can also be used as a substitute, added when the recipe calls for white rice.
Monday
ROASTED BUTTERNUT SQUASH AND CHICKEN SPINACH SALAD — This mega filling salad with pecans, apples, golden raisins and cinnamon maple cider vinaigrette makes a super nutritious entrée salad for lunch or dinner!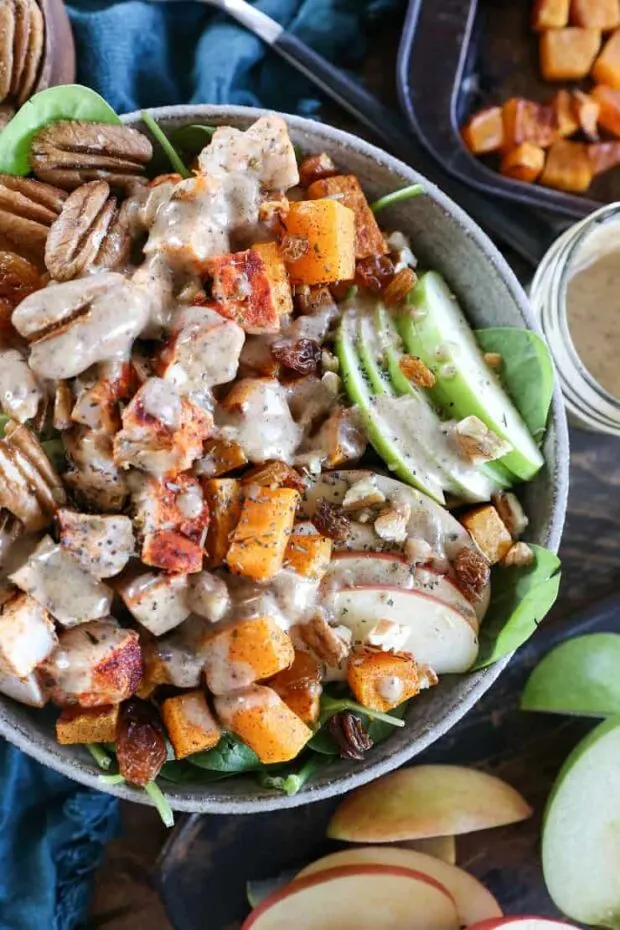 Special Diet Note: Recipe is paleo! Make it whole30 by omitting the pure maple syrup.
Prep Ahead: The butternut squash and chicken can be roasted up to 3 days ahead of time.
Substitutions: Use ground beef or chicken instead of turkey if you'd like.
Tuesday
ONE PAN COCONUT CHICKEN & RICE — Tender, juicy chicken thighs are nestled in creamy, savory coconut rice with bits of kale and peanuts for garnish.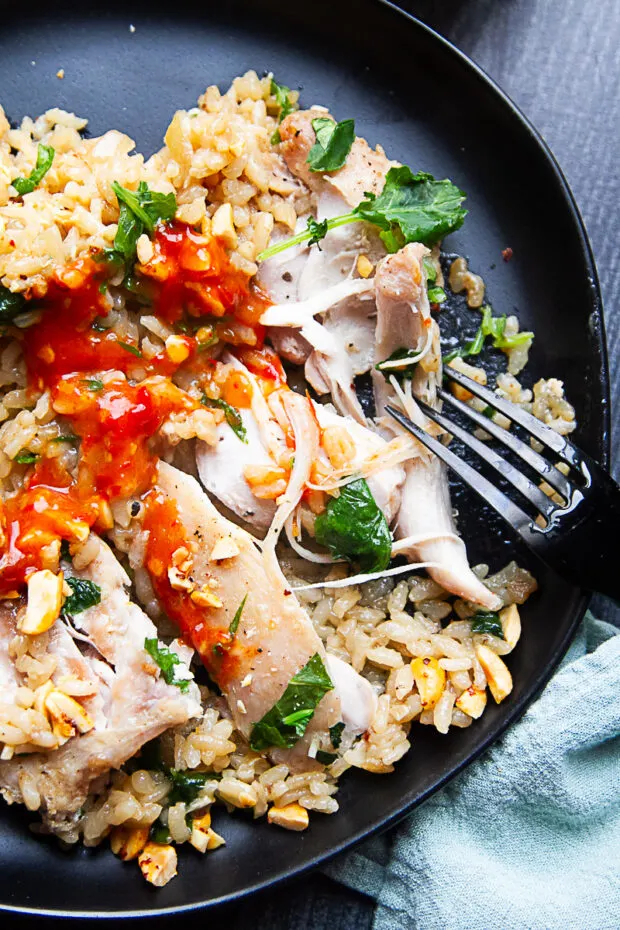 Special Diet Note: This recipe is gluten free & dairy free.
Prep Ahead: No need to prep ahead!
Substitutions: Use any type of dark leafy greens in place of the kale. Or any finely shredded vegetable that steams quickly — like cabbage or brussels sprouts. The peanuts are optional. Cashews would also work well!
Wednesday
TERIYAKI GROUND TURKEY SKILLET WITH VEGETABLES — Quick and easy teriyaki ground turkey and vegetable skillet made in under 45 minutes. Easy to customize, you can mix and match your favorite veggies and use any type of ground meat.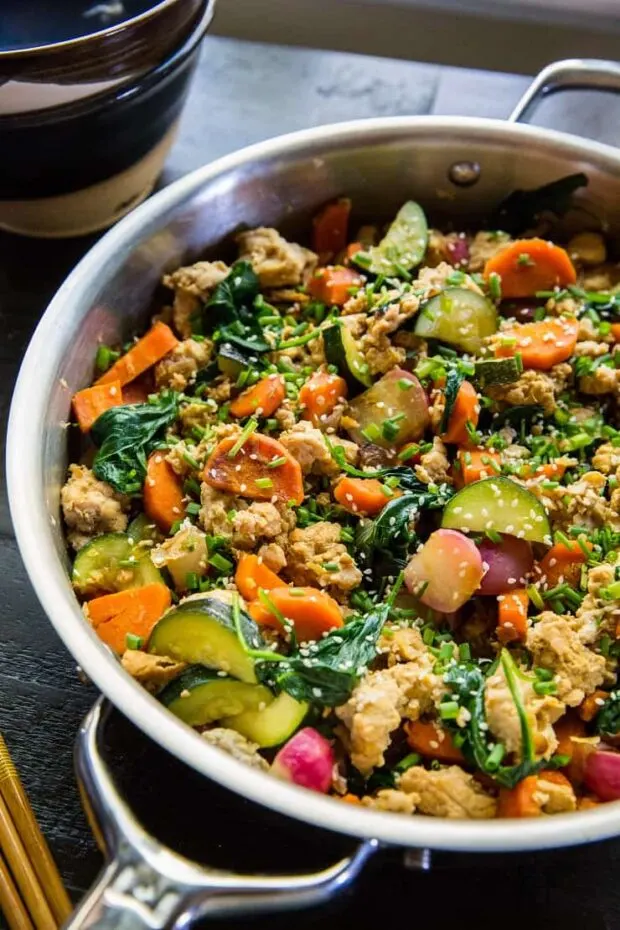 Special Diet Note: Paleo and low-carb! Make it keto by using a keto-friendly teriyaki sauce.
Prep Ahead: Because this recipe comes together quickly, there is no advance prep needed!
Substitutions: Swap out any of the veggies with your favorites (broccoli and cauliflower are great additions), or use ground beef or ground chicken instead of turkey.
Thursday
QUICK THAI COCONUT SOUP WITH SHRIMP — This quick Thai Coconut Soup (inspired by Tom Kha soup) has tender bits of shrimp and sautéed mushrooms in coconut-lime broth. And it's done in under 30 minutes!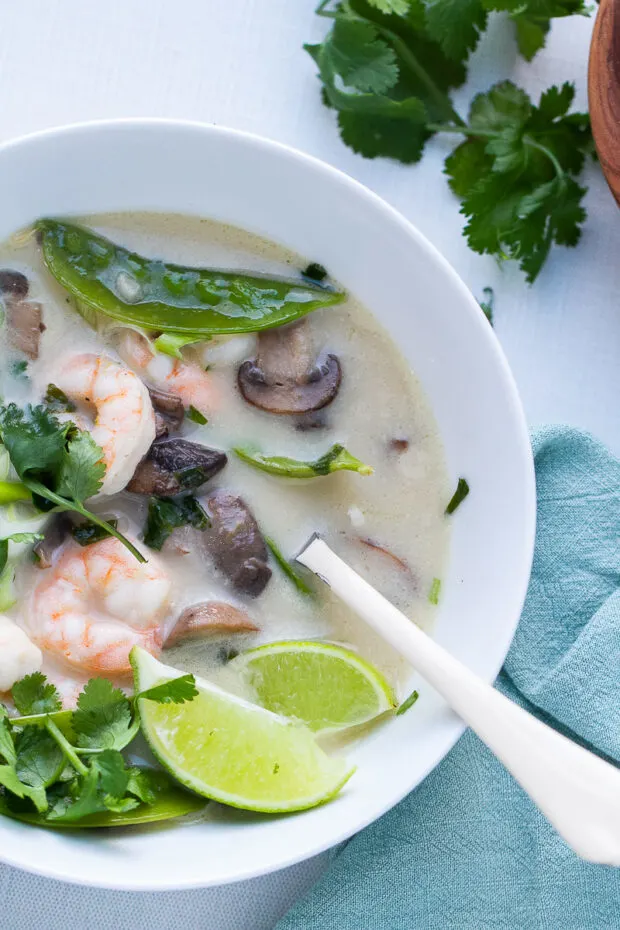 Special Diet Note: Recipe is paleo friendly. Omit the honey to make it Whole30 friendly.
Prep Ahead: Prep the shrimp ahead of time if you need to remove the peels and tails. Buying pre-sliced mushrooms saves time, too.
Substitutions: Replace the mushrooms with another quick cooking vegetable if you like! Shredded carrots & cabbage would be good here, too.
Friday
ROASTED GARLIC KALE SPAGHETTI SQUASH — This easy sausage & rice skillet is one of my favorite ONE PAN meals. And bonus — it's done in about 30 minutes! (And everyone will like it. Honest.)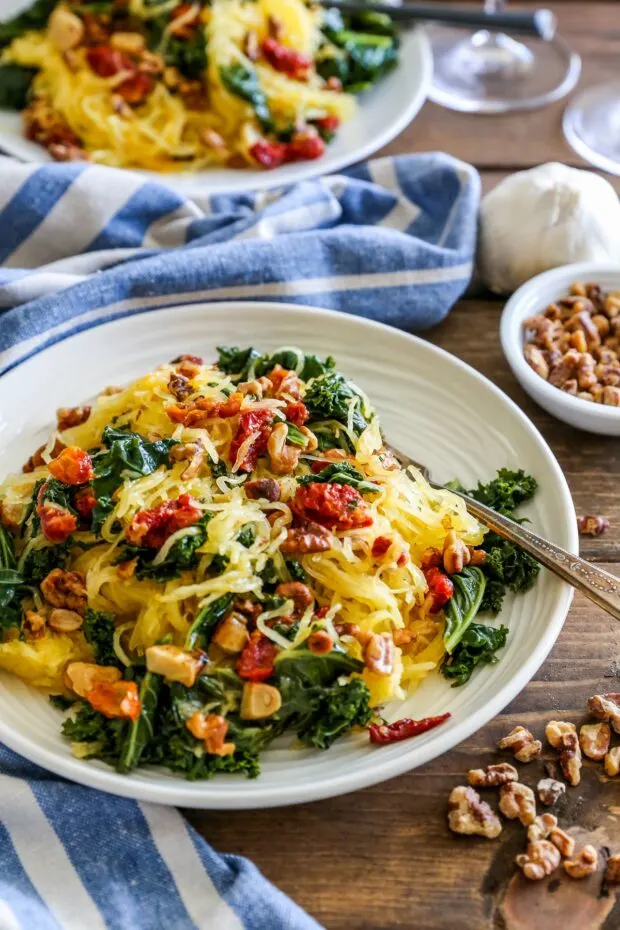 Special Diet Note: This simple recipe is vegan, paleo, vegetarian, and whole30.
Prep Ahead: Roast the spaghetti squash up to 4 days ahead of time. The rest of the recipe comes together very quickly!
Substitutions: Add in your favorite veggies, such as broccoli, cauliflower, or swap the kale for spinach. You can also add your protein source of choice.
Dessert
GOOEY PEANUT BUTTER CHOCOLATE LAVA CAKES — The only thing better than a gooey chocolate lava cake is a gooey chocolate lava cake with peanut butter oozing out. Oh, and this one is grain-free and easily made dairy-free!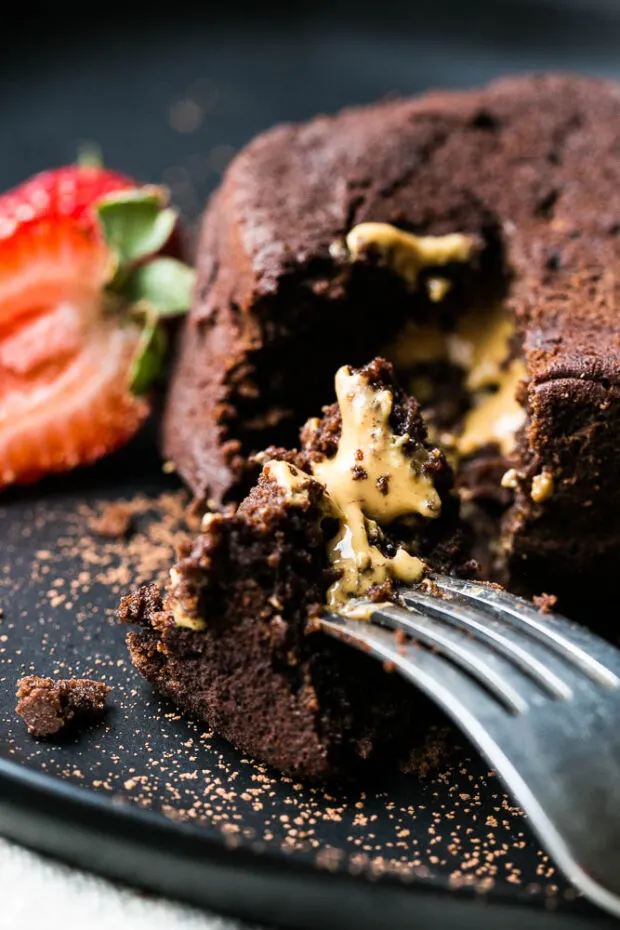 Special Diet Note: Recipe is grain-free & dairy-free (with coconut oil). Use stevia-sweetened chocolate to reduce the amount of sugar if you like.
Prep Ahead: These are best made and eaten fresh instead of in advance.
Substitutions: Use any kind of nut butter you like if you don't eat peanut butter. Just ensure that it has a loose consistency.
Grocery List
Click HERE to download a handy printable grocery list!