This quick Thai Coconut Soup (inspired by Tom Kha soup) has tender bits of shrimp and sautéed mushrooms in coconut-lime broth. And it's done in under 30 minutes!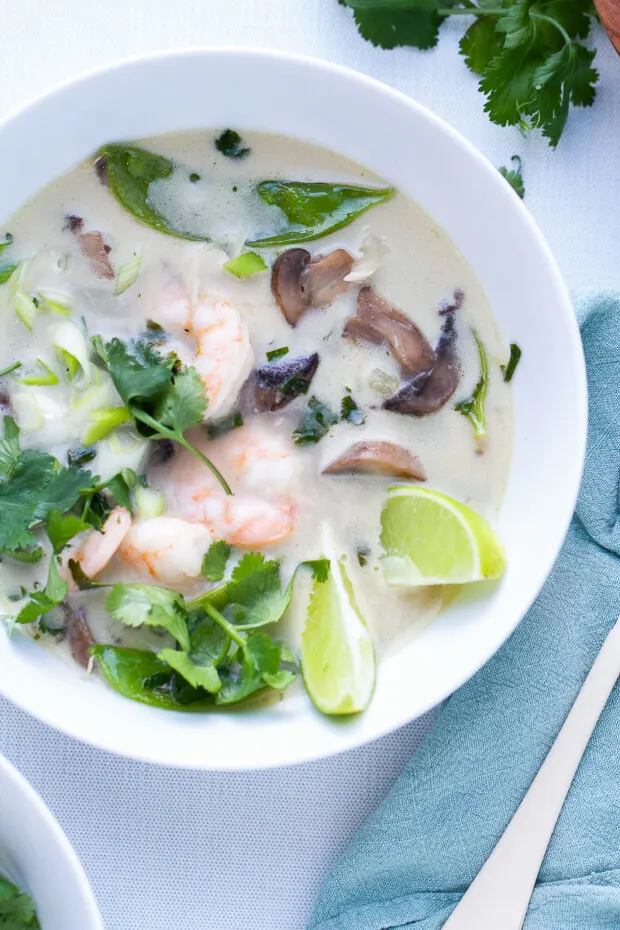 Thai is one of my favorite kinds of ethnic food. Steve and I love trying new Thai restaurants and I've been able to make quite a few delicious Thai recipes at home (see the Thai section of my recipe index for more Thai-inspired recipes!)
Tom Kha Gai is a popular Thai soup with chicken, vegetables, and a light coconut lime broth. I LOVE it. I created a slow cooker version of Tom Kha Gai for The Big Book of Paleo Slow Cooking.
I wanted to have a Thai coconut soup recipe on my blog, too, so I took my slow cooker version, made a few tweaks and created a quicker version you can make on the stovetop!
This recipe is naturally dairy free and gluten free. It's also low-carb, keto-friendly, and paleo!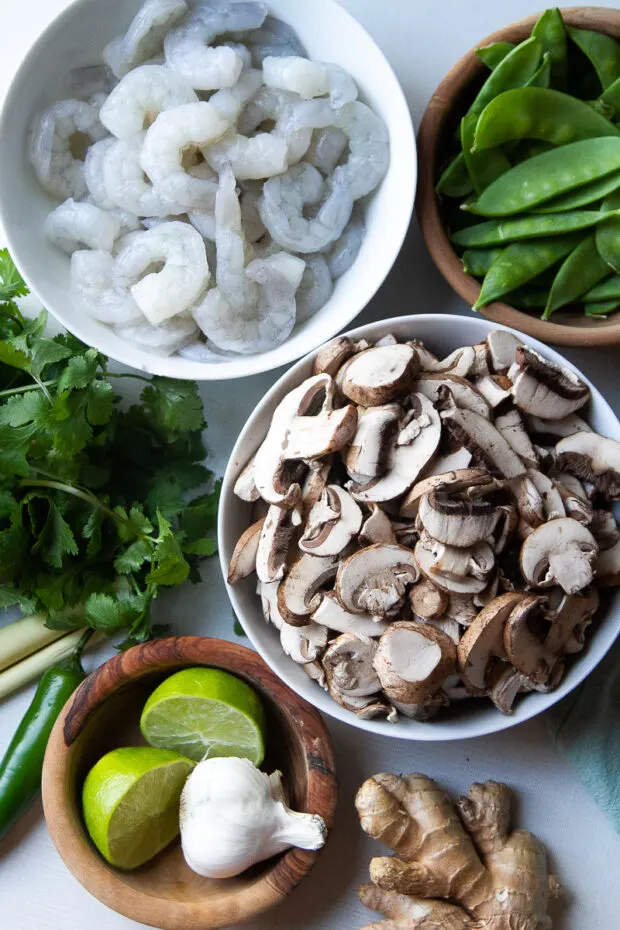 Ingredients for Thai Coconut Soup
This particular version has these ingredients:
Shrimp
Sliced mushrooms
Garlic
Lime
Thai chili (optional)
Ginger
Fish sauce
Honey
Lemongrass (optional)
Coconut milk
Snow Peas
Cilantro
Chicken broth or vegetable broth
This recipe differs from Thai coconut curry soup because it doesn't contain any Thai curry paste (either red or yellow curry paste). I do have a recipe for Thai Coconut Curry Soup using red curry paste you might like, though!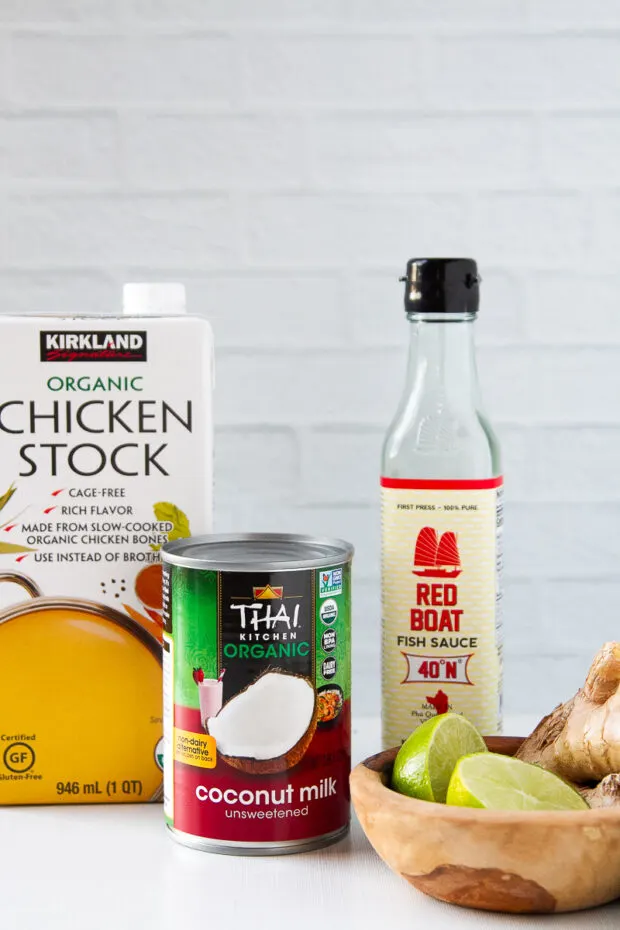 Can I use light coconut milk?
I use full fat coconut milk in this recipe because I love the richness and creaminess it adds, but you can use light coconut milk if you like.
Substitution for fish sauce?
Fish sauce is a key ingredient for flavoring the broth. A couple tablespoons fish sauce helps to give the broth its distinct flavor. Red Boat is my favorite brand because, as far as I know, it's the only brand that doesn't contain sugar. (Which also makes it Whole30 compliant!)
If you absolutely don't want to use it, try using soy sauce or coconut aminos instead.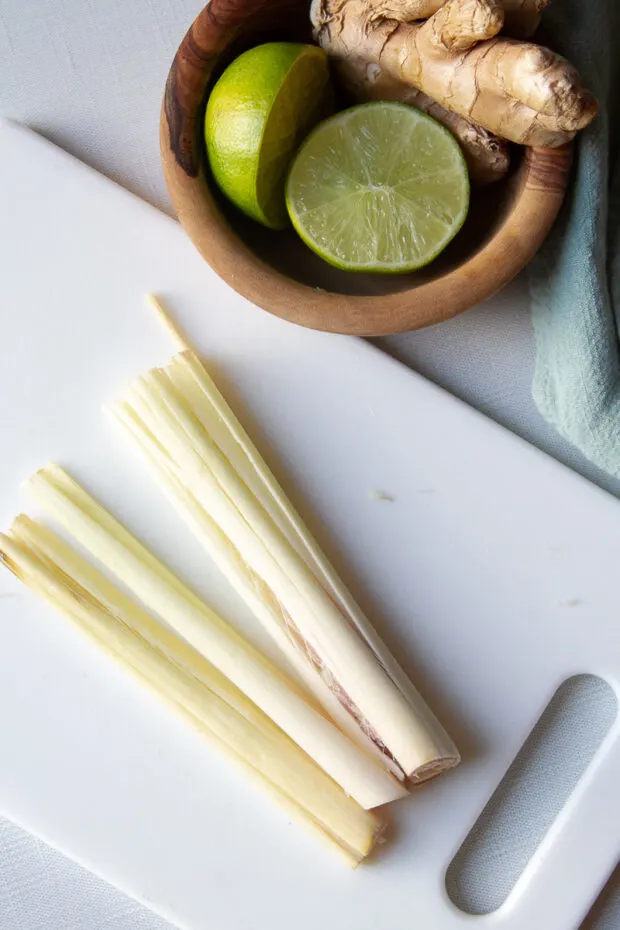 Where do I find lemongrass?
Lemongrass is a common ingredient in Thai cooking and it's becoming easier to find. It has a lemony floral flavor that's unique and delicious.
It's usually in the section with the boxed herbs. If your store doesn't have it, see if you can find lemongrass paste instead. If you still can't find it or would rather not buy it, use 1/2 teaspoon of lemon zest and and extra 1/2 teaspoon of grated ginger instead.
How do I use lemongrass?
In this recipe, you want to rough it up a bit so it releases more of its yumminess.
To do this, just lay the stalks on your cutting board with the flat side of your knife on them and hit it firmly with the palm of your hand or your fist. Do this several times, rotating the stalks a few times.
Also, remember to remove the lemongrass stalks before serving. You don't want to eat those.
Can I use chicken instead of shrimp?
Sure! Just slice some uncooked chicken thighs or breasts really thinly and add them to the recipe when you add the broth and cook it a little longer to make sure it cooks through.
You could even use thinly sliced steak in this soup. Add it the same way as you would chicken.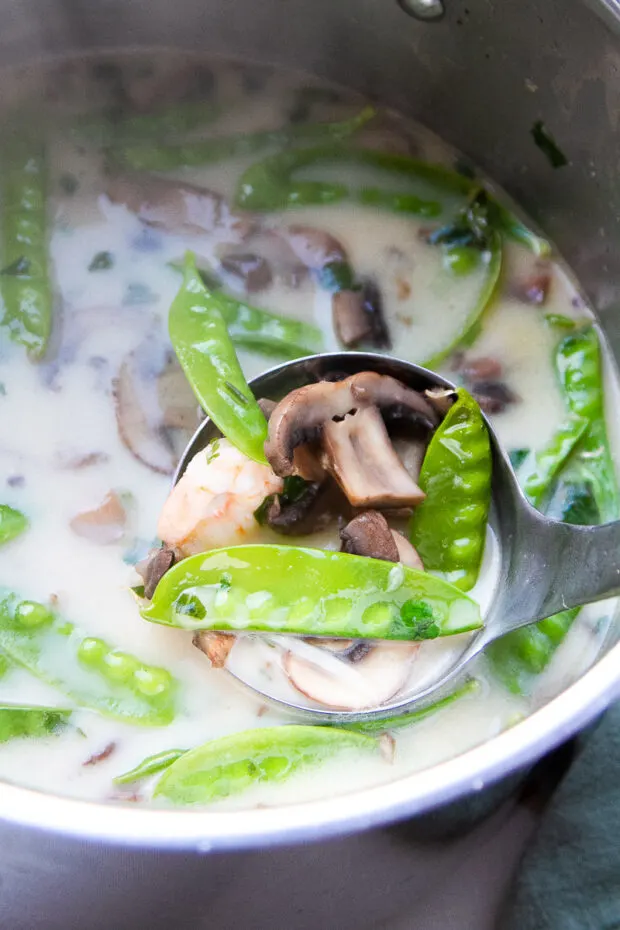 Can I make this in the Instant Pot or slow cooker?
I suppose, but it might actually take longer. haha.
This soup is designed to cook quickly — just a few minutes of simmering and you're nearly there. Waiting for an Instant Pot to come to pressure
Can I add rice noodles?
Sure! The recipe won't be low-carb or paleo friendly anymore.
If you'd like to add some noodles I'd recommend using the flat pad Thai rice noodles.
I'd recommend cooking them in a separate pot of water so it doesn't release as much starch into your soup.
But if you're in a pinch and don't want to hassle with another pot, you can add them toward the end of cooking when the soup is hot and simmering. Add the shrimp after the noodles are finished cooking so you don't overcook them.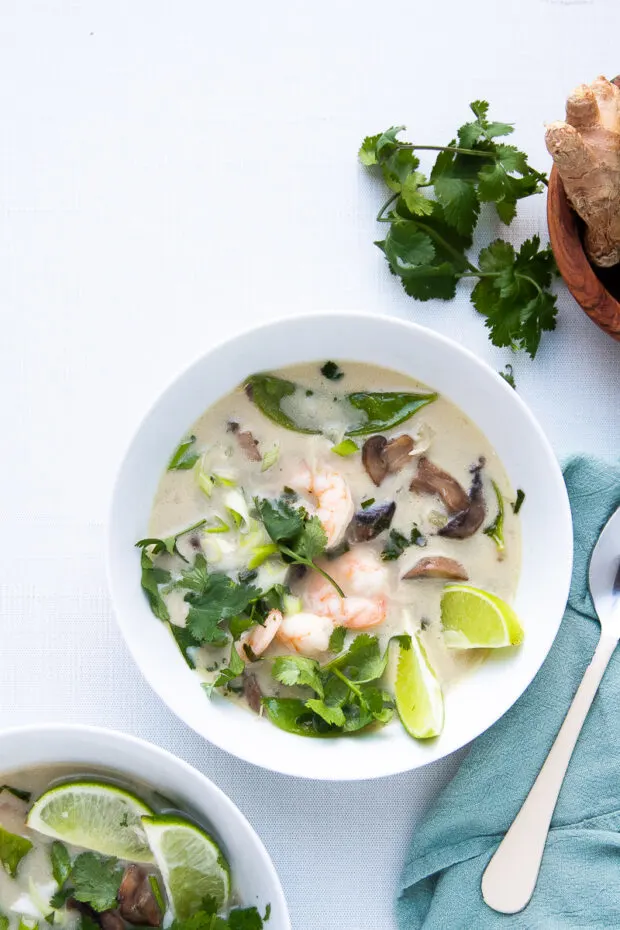 More easy Thai Recipes on Perry's Plate
Easy Paleo Pad Thai is one of our family's most favorite meals. I like to eat it with zucchini noodles, but you can use rice noodles if you like.
Quick Thai Fish Curry and Coconut Rice is a fun combination that's finished in about 30 minutes. It uses my popular Thai Spice Blend, too, which is nice to have on hand if you don't have curry paste.
Easy Thai Chicken Curry for Instant Pot is a great intro recipe to make for those having Thai food for the first time (ahem… kids you're trying to win over!) It's very mild and has familiar ingredients.
Shredded Red Curry Chicken with Slaw is another Instant Pot favorite and great for meal prep! Tender shredded chicken is flavored with bold red curry paste.
Thai Steak Kabobs with Coconut Curry Sauce is a fun one for grilling season! I love this with Coconut Rice, too.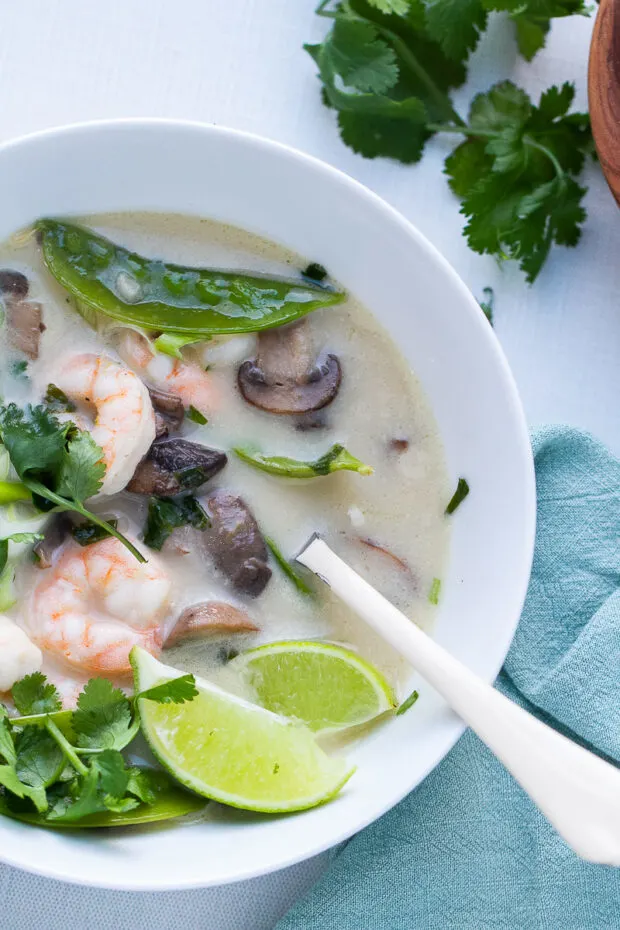 More Shrimp Recipes on Perry's Plate
Thai Green Curry Zoodles with Broccoli & Shrimp is another Thai inspired dish with shrimp! This recipe is a copycat version of one I had at Noodle & Co.
Paleo Thai Shrimp & Vegetable Skillet is a quick, light meal that's stir-fry like and uses my Thai Spice Blend.
Shrimp & Ramen Noodle Bowl is one of our family's favorites, too. I like to use rice ramen noodles in this one to keep it gluten free.
Grilled Shrimp Tacos with Pineapple Avocado Salsa are a tasty, quick meal for summertime when it's hot!
Tropical Shrimp Ceviche is a great option if you're nervous about using raw seafood in ceviche.
---
If you make one of my recipes, be sure to post it on social media and tag me at @perrysplate or #perrysplate so I can send you some love!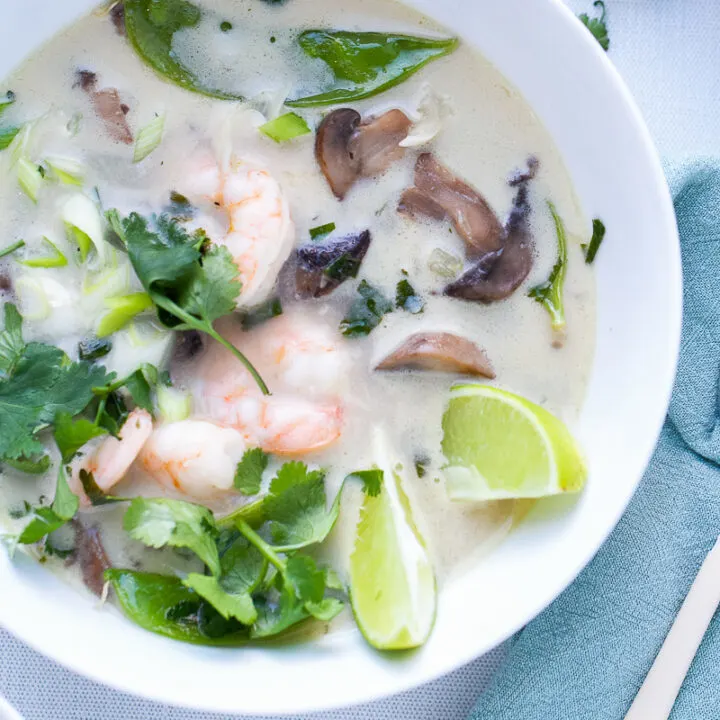 Quick Thai Coconut Soup with Shrimp
This quick Thai Coconut Soup (inspired by Tom Kha soup) has tender bits of shrimp and sautéed mushrooms in coconut-lime broth. And it's done in under 30 minutes!
Ingredients
2 Tablespoons coconut oil
12 ounces sliced cremini or baby Bella mushrooms
1 Thai chili, serrano chili, or small jalapeño, seeded and chopped
3 cloves garlic
2 limes, divided
1 1/2 quarts chicken or vegetable broth
2-inch knob of fresh ginger, finely grated (about 2 Tablespoons)
3 Tablespoons fish sauce
1 Tablespoon honey
1 teaspoon sea salt
1/2 teaspoon black pepper
2 3-inch pieces of lemongrass or 2 teaspoons lemongrass paste
1 14-ounce can coconut milk
1 pound medium shrimp, peeled and tails removed
1 cup fresh snow peas
1/3 cup fresh chopped cilantro, plus more for garnish
3 green onions, thinly sliced
Instructions
Heat the coconut oil in a large soup pot (5-6 qt) over medium-high heat. Add the mushrooms, chili, & garlic. Cook for 3-4 minutes until the mushrooms soften a little.
Add the broth, zest and juice from 1 of the limes, ginger, fish sauce, honey, salt, & pepper.
Prep the lemongrass by laying it on a cutting board. Place the flat side of your knife on the stalks and hit it firmly with the palm of your hand or fist, rotating the stalks a few times. You'll want them roughed up, but not torn apart. Add the stalks to the soup.
Bring the soup to a boil, then reduce the heat to a low simmer for a minute or two.
Stir in the coconut milk and stir until any coconut cream clumps have smoothed out. When the soup has started to bubble again, add the shrimp, snow peas, and 1/3 cup cilantro.
Cook for 2-3 minutes until the shrimp is just barely pink.
Remove the lemongrass stalks (or keep them in there to keep releasing flavor and ladle around them.
Cut the remaining lime into wedges. Serve the soup with a sprinkle of fresh cilantro, sliced green onions, a wedge of lime, and your favorite spicy Asian condiment (if you want :)).
Notes
If you can't find fresh lemongrass or lemongrass paste, use 1/2 teaspoon of lemon zest and an extra 1/2 teaspoon grated ginger.
If you can find galangal, use that in place of fresh ginger for a more authentic Thai taste.
Recommended Products
As an Amazon Associate and member of other affiliate programs, I earn from qualifying purchases.
This post may contain affiliate links. Any purchases made by using these links won't cost you any extra and helps keep my content free. These links may be Amazon links as I am part of the Amazon Associate Program.