Strawberry Holiday Trifle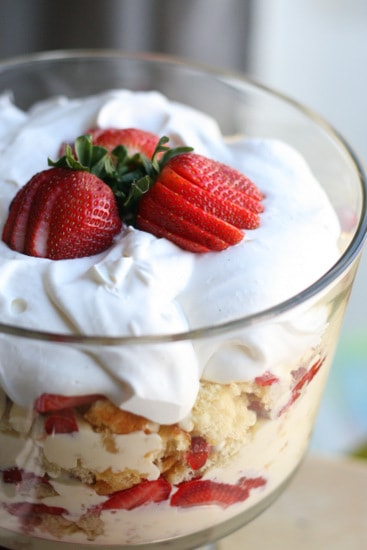 I love this recipe for a lot of reasons…
1. It's freaking delicious.
2. It doesn't take much precision. If the cake falls apart when it comes out of the pan, who cares? It gets ripped apart anyway.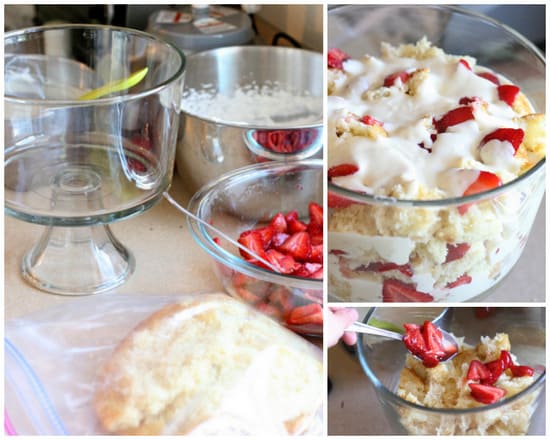 3. The custard is the best ever. Please don't substitute instant vanilla pudding. If you do you'll wonder what all the fuss is about (and it won't be freaking delicious.)
4. This trifle won me $75 in a bake off when my husband was in grad school.
5. It reminds me of my mom. She made these for big family dinners.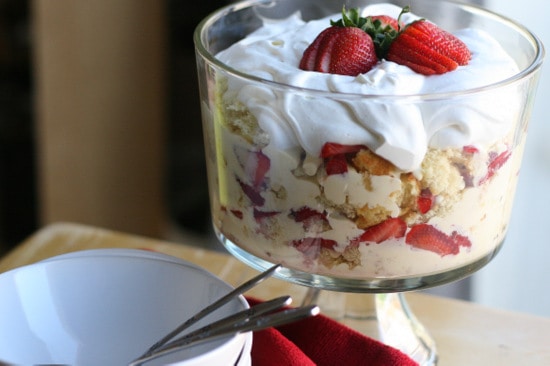 6. One time we made one together for Easter, and I stuck it in the garage fridge.  I couldn't find a place for it, so I put it in the door. My dad went out later to get a pop, swung the door open hard, and the whole trifle came crashing down on the garage floor. We kind of blame each other for that one. I shouldn't have put it in the door, yet my dad has pretty rough, jerky movements.
That was a very, very sad day. We were more saddened by the loss of the trifle than the bowl itself.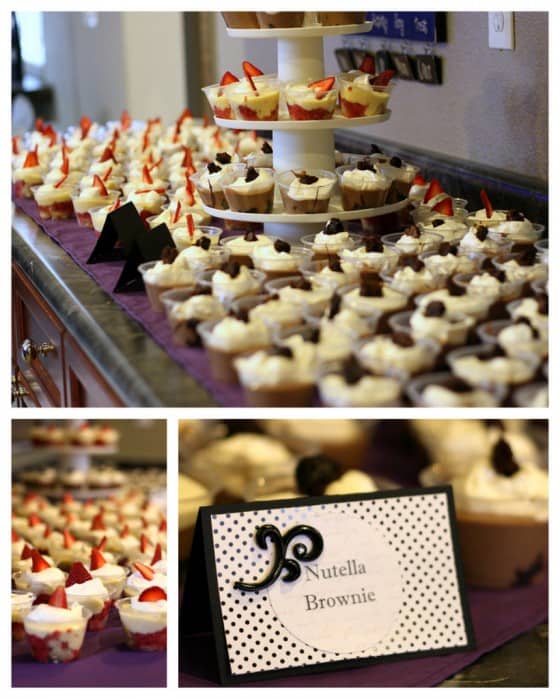 This recipe fills one standard trifle dish or can be made into about 20 4-ounce "shots" shown above. You'll need slightly less cake and strawberries and more whipped cream to make the shots. I made these for a wedding open house I catered and they were a big hit. I also made a Nutella Brownie version which was just as amazing. I put the variation instructions in the recipe. You're welcome :)
Strawberry Holiday Trifle

Yield: 10-15 servings

Prep Time: 45 minutes

Cook Time: 16 minutes

Total Time: About 1 hour active + 2 hours chilling time

Ingredients:

For the custard:
2/3 c. sugar
2 T. cornstarch
¼ t. salt
2 c. milk
4 egg yolks, lightly beaten
2 T. butter/marg.
1 ½ tsp. vanilla

For the sponge cake:
2 eggs
1 c. sugar
1 c. flour
1 tsp. baking powder
¼ tsp. salt
½ c. milk
2 T butter
1 tsp. vanilla

For the trifle:
4 pints strawberries, rinsed, hulled and chopped
3 T. sugar
¾ c. slivered almonds (optional)
2 1/2 cups of whipped cream (store-bought or homemade)

Directions:

To make the custard:
Whisk together sugar, cornstarch, salt and milk in a medium saucepan. Cook over medium heat, stirring constantly, until thickened and bubbly. Meanwhile, combine egg yolks into a small bowl and whisk together. Gradually stir 1/2 cup of hot custard mixture into the egg yolks and stir well; add egg yolk mixture back into saucepan, stirring constantly. Cook over medium heat, stirring constantly for 2 min. Remove from heat. Add butter and vanilla, stirring until butter melts. Cover with plastic wrap, gently pressing it onto surface. Chill at least 2 hours.

To make the sponge cake:
Preheat oven to 350 degrees F. Beat eggs at high speed with electric mixer for 3 min or until thick and pale. Gradually add sugar; beat 4 min. Combine flour, baking powder and salt; gradually fold into batter. Combine milk and butter in saucepan; cook over low heat until butter melts (or zap in the microwave). Gradually stir milk mixture and vanilla into batter. Pour into 2 greased and floured 8" round cake pans. Bake for 16 min or until toothpick comes clean. Cool on wire racks for 10 min. Remove from pans; cool completely on racks. Cut or tear into 1 in. cubes.

For the rest of the trifle:
Combine strawberries and sugar. Refrigerate for a couple of hours until they get really juicy.

Stir about 1 cup of whipped cream into the chilled custard. Spoon 1/2 cup custard on bottom of trifle bowl. Sprinkle with 1/4 c. almonds (if using). Continue layering in this order: cake cubes, strawberries, custard, until you run out of ingredients. Top with remaining whipped cream. Cover and chill.

Chocolate variation: Use prepared brownies in place of sponge cake and stir 1/2 cup Nutella into the custard. Layer: custard, brownies, a few drizzles of Nutella, (repeated) and add the whipped cream on top.

Nat's Notes:
1. All of the components can be made the day before. And if you can, let the assembled trifle sit in the fridge for a few hours before serving so the cake soaks up more of the strawberry juice and custard.

From my mom's recipe file. (Debbie Phillips)