Italian Lemonade
When life, or an impulse buy at Costco (what was I thinking?), gives you an abundance of lemons, try this lemonade for a change. A change, because it's not just ordinary lemonade. It's
Giada de Laurentiis
lemonade. It's "throw a stereotypically-Italian ingredient into a recipe that's not Italian and suddenly it becomes Italian" lemonade. Seriously, have you noticed that? She throws a handful of hazelnuts on some ice cream or spreads Nutella over a piece of bread and suddenly it's
Italian
.I actually really like Giada. A lot. She has great recipes, she's as cute as a button, and she has a beautiful kitchen. I was just teasing her. I do that to people I like.(I wonder if ginormous hair would make my waist look smaller, too. Hmm.)
What makes this lemonade special is the basil-infused simple syrup. Basil and lemons typically go well together in savory dishes, so it makes sense that they would compliment each other in something sweet. I couldn't get enough of this. Instead of mixing it all together, I kept the syrup in the fridge and juiced a lemon into a glass when I wanted some. The syrup will last a few months and it's the perfect way to use up extra basil.
And hooray for Perrys' Plate's (whoa, tricky punctuation) very first beverage!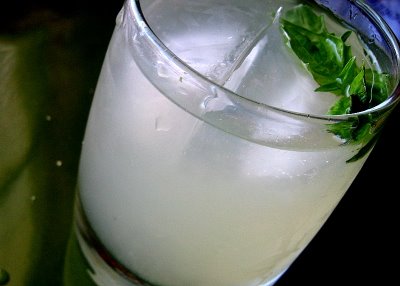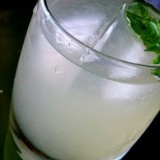 Italian Lemonade
Ingredients:
For the Basil Simple Syrup:
1 large or 2 small bunches of fresh basil, washed and stemmed
2 c sugar
1 c water
For the lemonade:
2 c freshly squeezed lemon juice (about 12-15 lemons)
2 c Basil Simple Syrup
3 qt (12 c) cold or sparkling water
Ice
lemon twists or basil sprigs for garnish
Directions:
To make the simple syrup:
In a saucepan combine basil, sugar, and water and simmer until sugar is dissolved, about 5 minutes. Cool, strain leaves from syrup and store in the fridge.
To make the lemonade:
Mix lemon juice, basil simple syrup, and water together in a large pitcher. Store in the fridge until ready to serve. Pour into glasses and garnish. Makes 1 gallon.
Nat's Notes:
1. A wooden citrus reamer was probably one of the best things I ever bought to juice citrus. I bet I get twice as much juice than any other tricks (aside from getting an electric juicer).
2. The original recipe said to mix equal parts juice, syrup, and water. WHOA... talk about face implosion. It needs a LOT more diluting than that. Start with equal parts juice and syrup, then start adding water until you reach your desired taste. The water content above is about where I liked it.
adapted from Giada de Laurentiis (FoodNetwork.com)