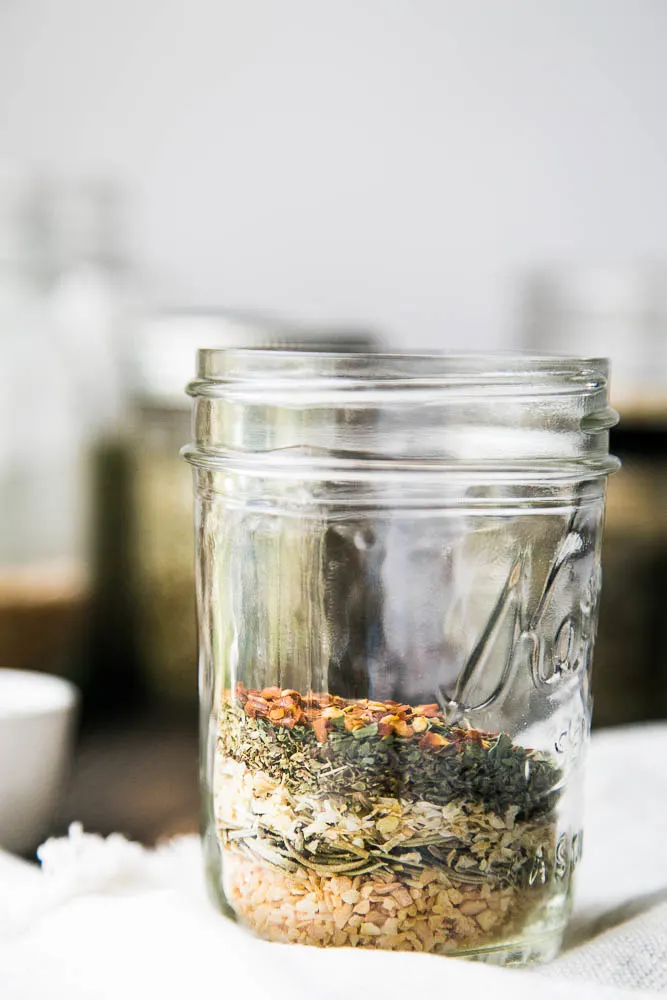 Italian seasoning is pretty straightforward, right? Why make homemade Italian seasoning?
It's usually a blend of 4-5 herbs. No fillers or sweeteners or weird ingredients. As far as seasoning blends go, it's pretty clean.
So, why bother making it?
Because the regular stuff is boring.
There. I said it.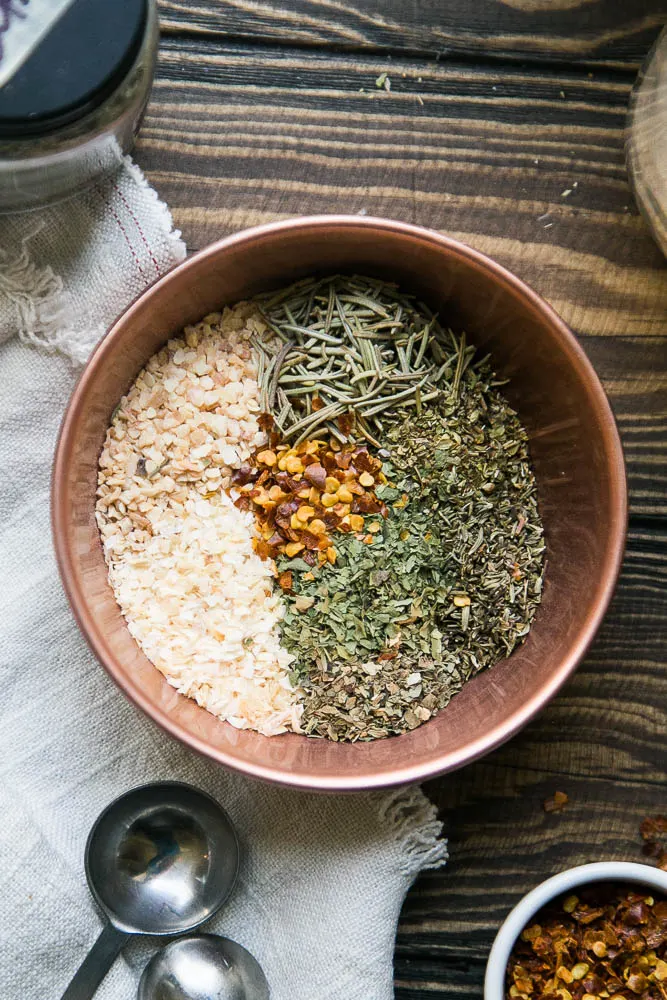 Truth be told I've never been a fan of Italian seasoning. I've always thought it was boring, and I rarely used it.
Until I tried an "Italian blend" from a specialty spice company.
It will filled with bits of dried garlic and it had a little kick to it. It took regular Italian seasoning to a whole, new upgraded level.
AND I LOVED IT.
So, clearly I had to hack my own version. I kid you not, I LOVE this Italian seasoning blend. It has so much personality and kick.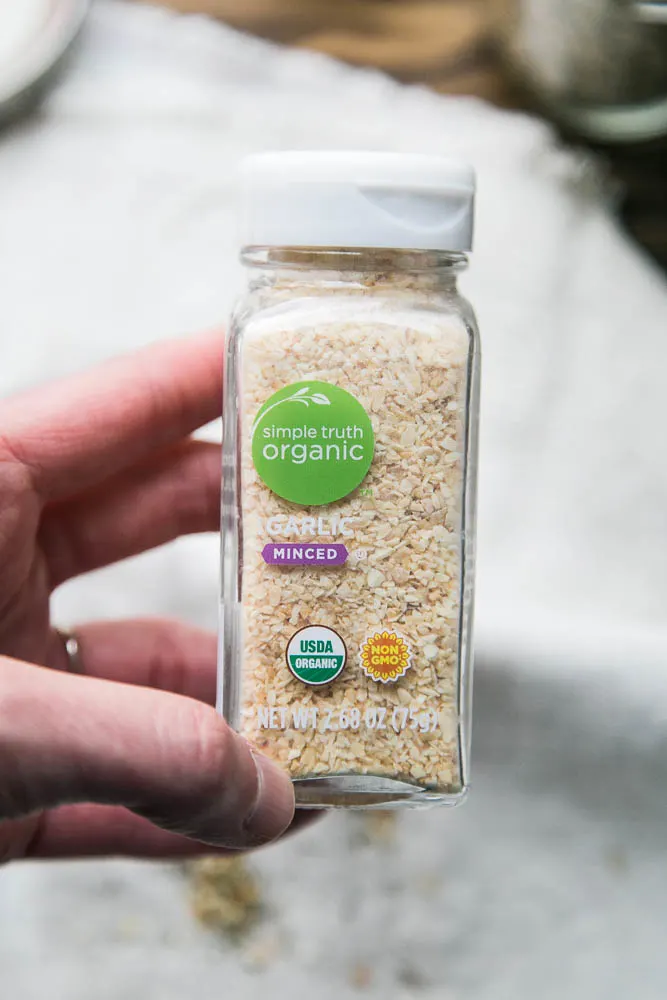 Where to find dried minced garlic?
The key is using dried minced garlic. (The same minced garlic I use in my Homemade Everything Bagel Seasoning.)
Why? Because it give it a bigger punch of garlic flavor (and usually a better flavor) than using granulated garlic or garlic powder.
Usually I find it in bulk spice sections of a couple grocery store (Winco, Fred Meyer, natural food stores usually have it). I recently saw some on the shelf with all the other spices (but costs more this way). This Simple Truth Organic label is a Kroger brand.
I also added dried minced onion and some crushed red pepper flakes for a little punch.
I like storing these in little mason jars — bigger jars for bigger batches I make more often. (I make quart-size batches of Everything Bagel Seasoning. I'm not kidding.)
The recipe below makes about a cup, but you can cut it in half if you like. Or double/triple to make a bigger batch.
What to do with Homemade Italian Seasoning?
Oh, lots of things…
Sprinkle over your vegetables before you roast them (recipe below!)
Add a little to your vinaigrettes or creamy dressings for more flavor.
Give your meatballs and meatloaves and extra kick.
Upgrade plain steamed rice or Roasted Cauliflower Rice.
Add to soups or stews.
Rub a bunch all over a pot roast before roasting.
Use in an Italian-flavored marinade for chicken or pork.
Sprinkle some on your pizza before baking, too!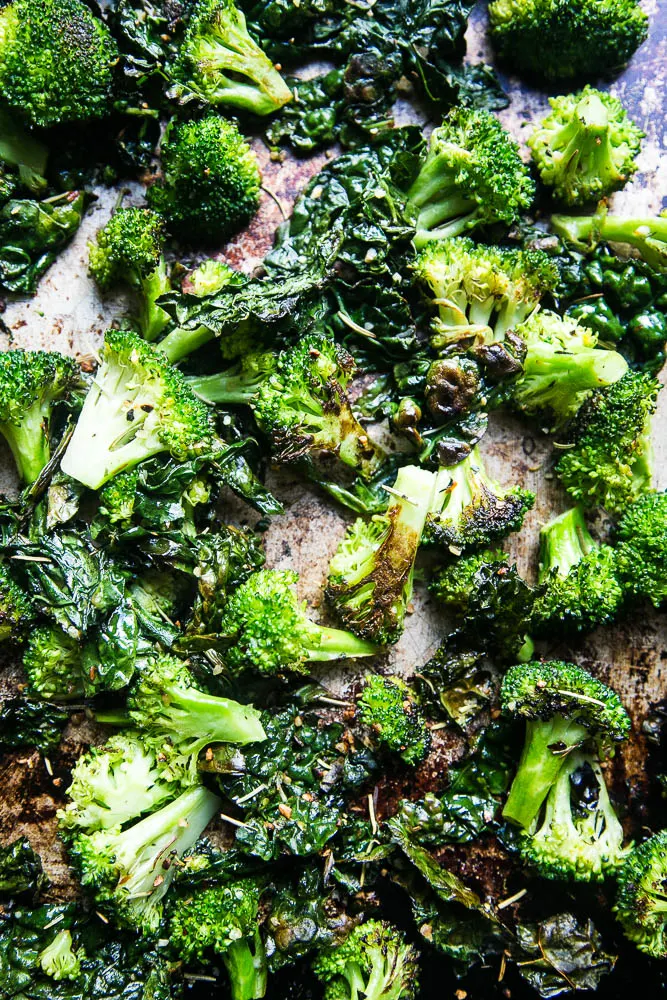 Bonus recipe: Italian Roasted Broccoli & Kale
Then I made some Italian Roasted Broccoli & Kale and it was SO PERFECT with a Roast Chicken and Lemon Herb Rice.
Have you ever roasted kale with your other vegetables? It turns all crispy and delicious. Like a bunch of kale chips mixed into your roasted vegetables. I love it.
It works well paired with quick-roasting vegetables like broccoli, shaved Brussels sprouts, asparagus, and small cubed sweet potatoes.
I added that recipe for you below, too!
---
If you make one of my recipes, be sure to post it on social media and tag me at @perrysplate or #perrysplate so I can send you some love!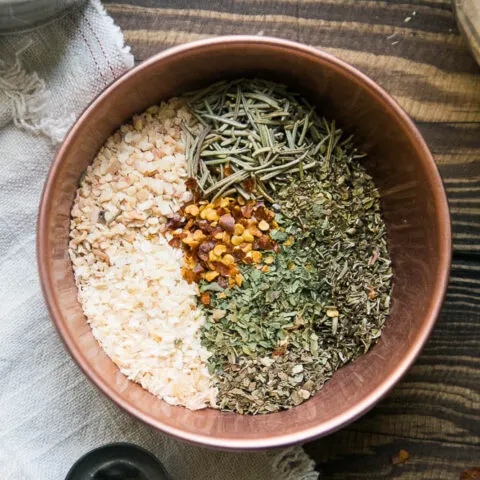 Homemade Italian Seasoning
This isn't your regular Italian seasoning -- it's an upgraded one with lots of garlic bits, minced onion, and pepper flakes for an added kick!
Ingredients
1/4 cup dried minced garlic
2 Tablespoons dried minced onion
2 Tablespoons dried rosemary
2 teaspoons dried oregano
2 teaspoons dried thyme
2 teaspoons dried basil
2 teaspoons dried parsley
1/2 teaspoon crushed red pepper flakes
Instructions
Combine all ingredients and store in a lidded container at room temperature for up to 24 months.
Recommended Products
As an Amazon Associate and member of other affiliate programs, I earn from qualifying purchases.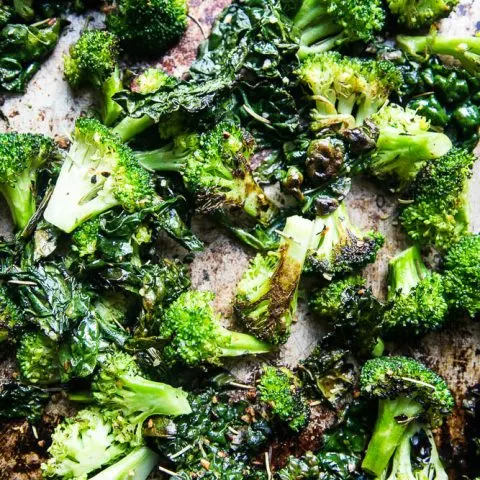 Italian Roasted Broccoli & Kale
Yield:
Serves 6 as a side
Use your new Homemade Italian Seasoning to make this flavorful roasted broccoli and kale side dish! It goes beautifully with roasted or grilled meats or in a vegetarian grain bowl.
Ingredients
2-3 large broccoli crowns, cut into florets (about 4-5 cups)
1 small head of kale, leaves removed from the stems and chopped into bite-sized pieces
2 Tablespoons avocado oil, or other neutral oil
1 Tablespoon Homemade Italian Seasoning (see note)
1/2 teaspoon sea salt
Instructions
Preheat your oven to 450 degrees F.
Lay the broccoli florets and chopped kale on a large rimmed baking sheet.
Drizzle everything with the oil and sprinkle with Italian seasoning and salt.
Use your hands to combine everything well and spread it out evenly on the baking sheet.
Roast on a lower oven rack for 15-20 minutes, flipping everything around every 5 minutes or so until the broccoli has dark golden spots and the kale is crispy.
Serve immediately.
Notes
Nat's Note:
1. If you don't have my Homemade Italian Seasoning, use 2 teaspoons of regular Italian seasoning plus 1/4 teaspoon each of dried rosemary, granulated garlic, and onion powder. And a pinch of crushed red pepper flakes, if desired.
2. Adding some freshly grated Parmesan over these vegetables when they come out of the oven is not a bad idea.
Recommended Products
As an Amazon Associate and member of other affiliate programs, I earn from qualifying purchases.