Bobby Flay's Cheyenne Burger + BBQ Sauce
All I can say is that this burger is the BOMB. I was surprised when I saw the meat was actually ground turkey, and then he goes and names it the "Cheyenne" burger. I bet there would be a lot of cowboys in Wyoming laughing their chaps off at the thought of eating a turkey burger. While eating it, though, I could see why Bobby would use turkey, a milder, often bland-tasting burger meat. All of these toppings have strong flavors, so it was actually a charitable act of the burger, to sacrifice its flavor, to showcase its toppings. Thanks, man.
This was the first time I'd ever made onion rings or BBQ sauce from scratch. I'm a "make it from scratch" junkie, so I had to give it a try. Honestly? The BBQ sauce was great, but using your favorite store-bought kind would have done just as well. The onion rings, though? Holy. Cow. They were so amazing, they earned their own post.
If I don't get another post up before Saturday, have a great 4th of July weekend!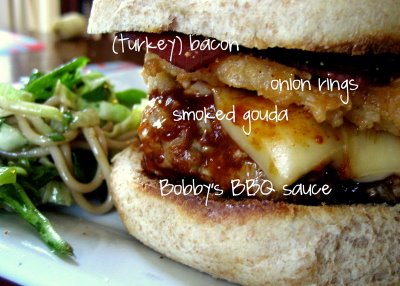 Burger pictured with some Asian Noodle Salad — an unlikely, but tasty compliment to the burger. Thank goodness for leftovers.
Bobby Flay's Cheyenne Burger + BBQ Sauce

Ingredients:


For the BBQ Sauce:
2 T oil
1 Spanish onion, chopped (I used a regular yellow one, I think.)
3 cloves garlic, chopped
1 c ketchup
2 T chili powder (ancho, if you have it)
1 T paprika
1 heaping tablespoon Dijon mustard
1 T red wine vinegar
1 T Worcestershire sauce
1 chipotle chile in adobo, chopped
2 T dark brown sugar
1 T honey
1 T molasses
Salt and black pepper

For the burgers:
4 ground turkey or beef patties, seasoned with salt and pepper
8 slices of bacon (turkey works great), cooked
4 slices of smoked gouda (Bobby used smoked cheddar, but I couldn't find any.)
4 hamburger buns
1 Recipe Onion Rings (see link in post)

Directions:

To make the sauce:
In a medium saucepan, heat the oil over medium-high heat. Add onion and cook until soft, 3-4 minutes. Add the garlic and cook for another minute. Add ketchup and 1/3 c water, bring to a boil and simmer for 5 minutes. Add everything else (except salt and pepper); simmer for 10 minutes or until thickened, stirring occasionally.

Transfer the mixture to a blender or food processor (or use a stick/immersion blender in your saucepan); puree until smooth. Season with salt and pepper to taste, then pour into a bowl. Allow to cool to room temperature. Store in an airtight container in the fridge. Makes about 1 cup.

Nat's Notes:
1. If you'd rather use store-bought BBQ sauce, it would work just as well. I'm sort of a "make it from scratch" junkie, and tried out his BBQ sauce. It's great, but it tastes a lot like stuff I'd normally buy.

To make the burgers:
Brush patties with BBQ sauce and grill for 5-8 minutes per side, depending on the thickness of the patty and the type of meat you have -- until it's cooked through. Add cheese slices to patties during the last 2-3 minutes of cooking.

When the patties are done (or while they're cooking, if you have room on your grill), place the buns inside-down on the grill for 2-3 minutes toast. (This is totally optional, but it's amazing at the difference it makes.)

To assemble burgers, brush both sides of the bun with BBQ sauce, and layer a couple of onion rings and bacon slices on top of the patties. Eat. Groan.

Makes 4 burgers.

from Food Network Magazine June/July 2009