Cooking burgers on the smoker is surprisingly easy! If you're new to using a pellet grill it might seem intimidating, but once you have one round of smoked burgers under your belt you'll be making these every weekend! I included my secret for extra flavorful burgers, too.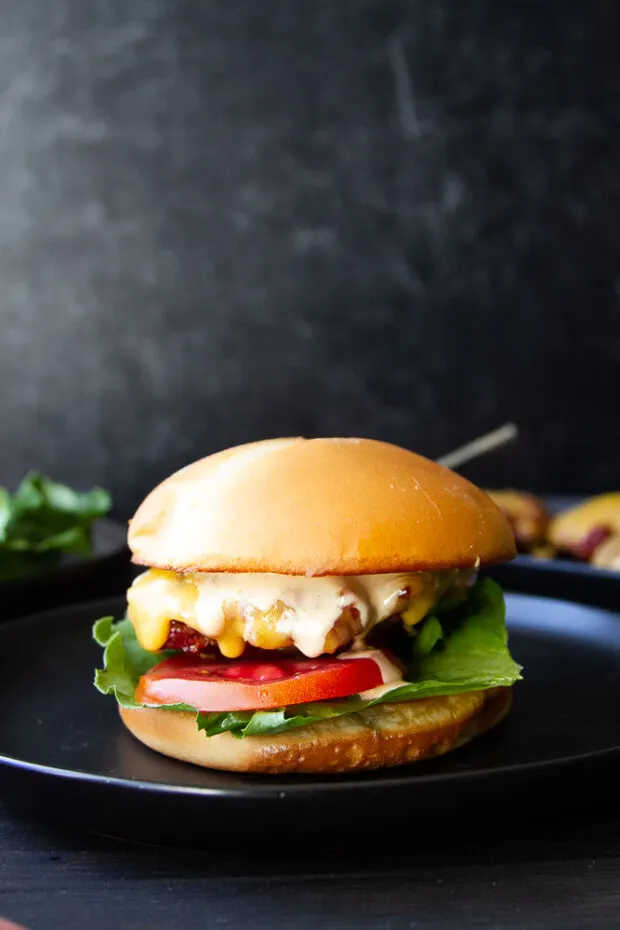 You will love Smoked Burgers
I promise you that once you make smoked burgers, you'll be ruined. You'll be smoking all of your burgers from here until forever. "Just" grilled burgers won't be enough for you anymore. Are you sure you want to do this?
Yes?
Ok, listen. In order to make the most amazing smoked burgers, you'll need to do a few easy things.
Form your burger patties from ground beef. I know those frozen patties are convenient (and hey… I use those in a pinch, too!) but sometimes… go for the gold and make them special! I'll show you a tip here in a minute for getting them all evenly sized without having to weigh your meat.
Add a couple of flavor-boosting ingredients. It doesn't take long to shake in a little seasoning and the payoff is worth it. (I actually tested this recipe with seasonings and with simply salt & pepper and adding some seasonings definitely made the burgers better.)
Don't overcook them! Use your meat thermometer to get the temperature where you want it.
Smoked Burger Ingredients
I kept these burgers simple. You can add whatever fun burger toppings you like, but for these, you'll need these ingredients:
Ground beef – Ground sirloin or 80/20 ground beef would give you great flavor. I love the taste of grass-fed beef which is what we always use.
Steak seasoning – I make my own Homemade Steak Seasoning Recipe, but you can use whatever you like!
Salt – The amount of salt you use will depend on the amount of salt in your steak seasonings. Most commercially made steak seasonings have a lot of salt, so you may just need a small amount (notes in the recipe).
Worcestershire Sauce – I love the added smokiness and umami flavor this adds! If you don't like using Worcestershire sauce, you could use coconut aminos instead.
Buns & toppings – Go nuts here! I like a classic burger with some burger sauce, cheese, lettuce, tomato and maybe some bacon.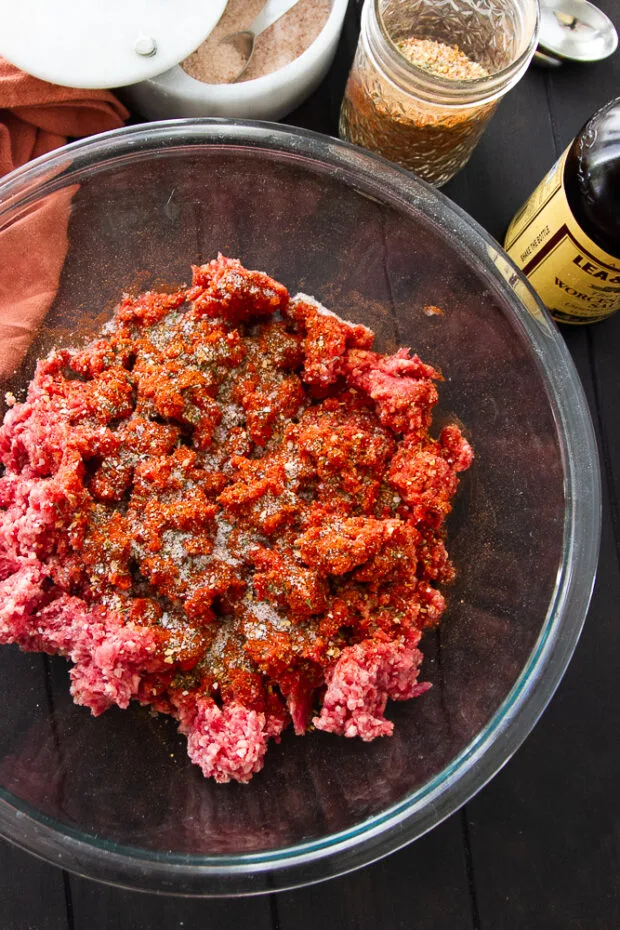 Smoked Burger Variations
Smoky Bacon BBQ – Brush some BBQ sauce on the burgers at the end of cooking and add some smoky, flavorful cheese (smoked gouda is my favorite) along with a couple strips of bacon.
Chipotle Caramelized Onion Mushroom Burgers – These mushroom burgers have sweet caramelized onions + sautéed mushrooms + chipotles in adobo sauce. Just add the mushroom-onion mixture when you finish smoking your burgers!
Guacamole Bacon Burgers – Exactly how it sounds! Serve up your burgers with a dollop of guac and some crispy bacon.
Double Mushroom Burgers – These burgers have pulverized mushrooms mixed into the meat AND sautéed mushrooms on top. AND a roasted garlic burger aioli. This one is stellar.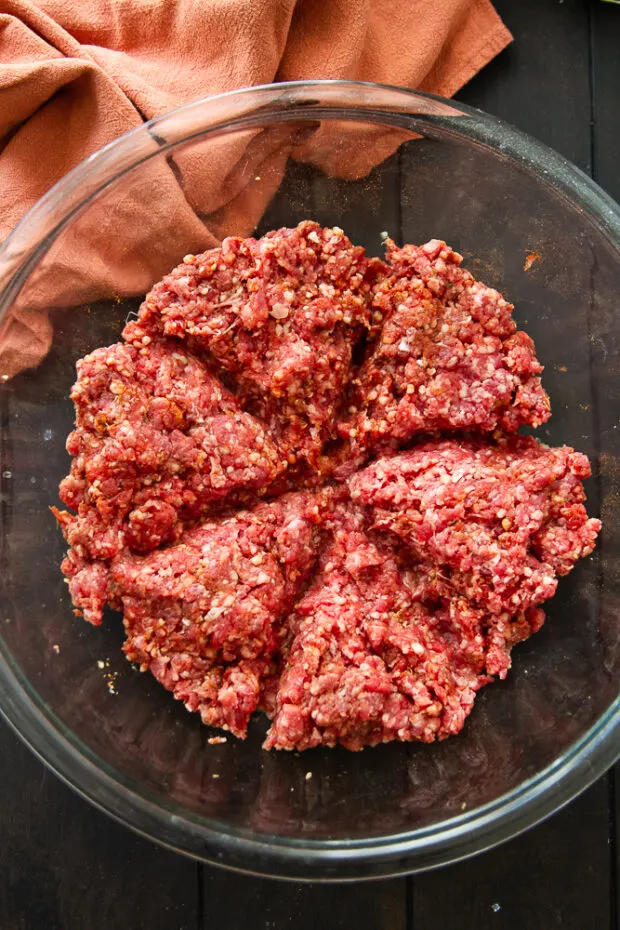 How to make Smoked Burgers on Smoker
Combine the ground beef with the seasonings.
Divide the meat into 6 patties.
Get your smoker up to 250 degrees F.
Put your burgers in the smoker and stick a meat thermometer probe into one of them.
Cook until it reaches the temperature you want.
Add cheese during the last few minutes of smoking. Then assemble your burgers and serve!
TIP: Make roughly equal sized patties by pressing the meat into a bowl and use your fingers to divide the meat into equal sections (see photo above). You could also use a kitchen scale and measure out about 5-6 ounces of meat per patty.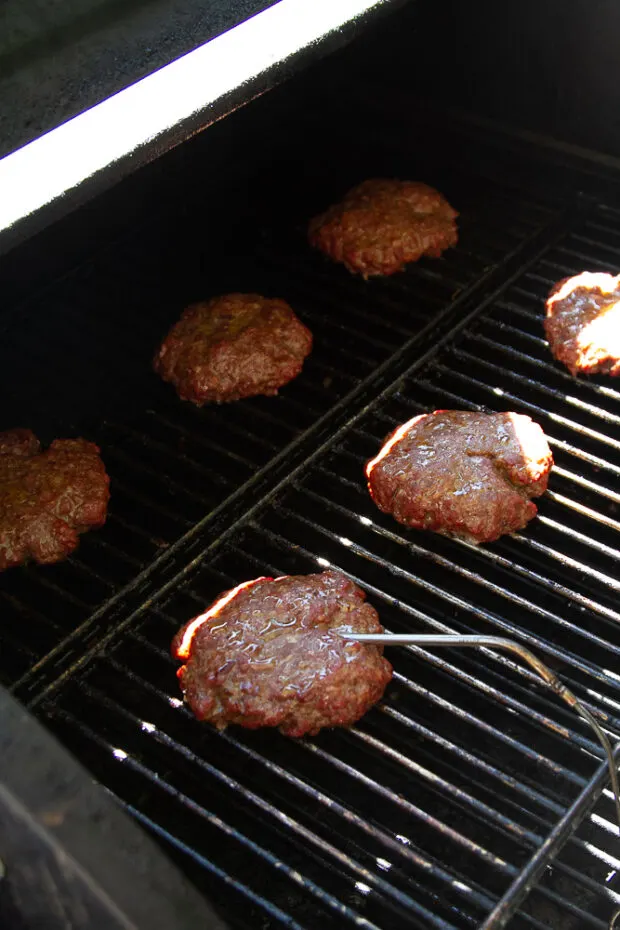 Smoked Burger Temp when done
Here's a temperature guide for cooking burgers:
Rare: 120-125F (I wouldn't recommend doing this unless your beef is well sourced.)
Medium Rare: 130-135
Medium: 140-145
Medium Well: 150-155
Well done: 160
How to serve this Smoked Burgers Recipe
Toast the buns
While the burgers are finishing up, I like to toast the buns. You can do this in the oven by separating them and placing them insides-up on a big cookie sheet and put them on low broil for about 5-8 minutes.
If you have a large skillet or griddle you could put them insides-down after coating the surface with butter.
Add the cheese
You'll want to add the cheese during the last 5-8 minutes of smoking time to allow it to melt. Usually we put cheddar on our burgers, but other kinds of cheese are fun too. I especially love smoked gouda, pepper jack cheese, or Swiss cheese on burgers.
Make some burger sauce
I don't have a recipe for burger sauce, and usually I just eyeball it. To give you a rough idea, I mix about 2 parts mayonnaise with 1 part ketchup along with a heavy squirt of mustard and some dill pickle relish if I have it. (Or I splash in a little pickle juice instead of relish)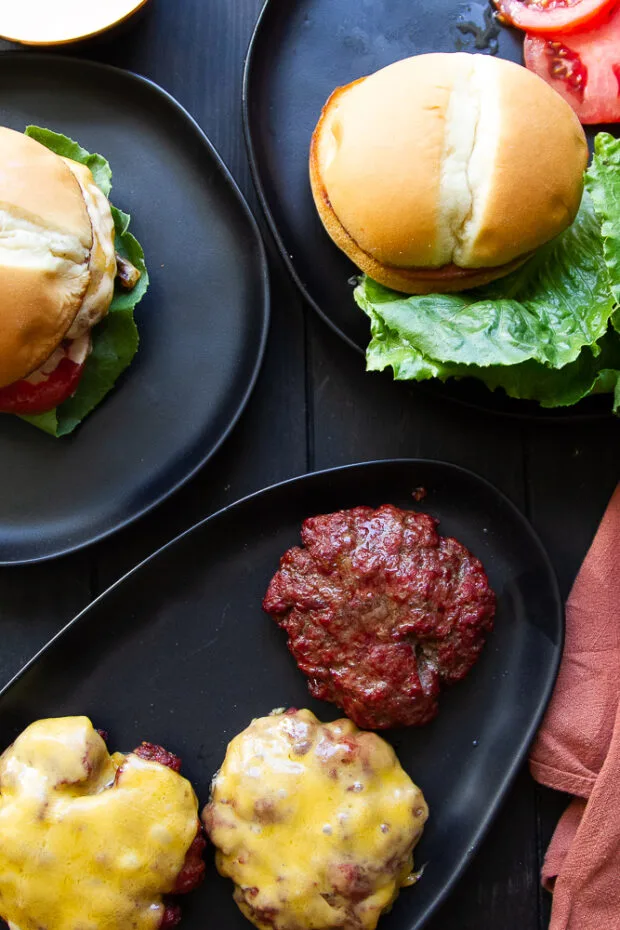 How to store Smoked Burgers
I highly recommend eating these hamburgers as soon as they're finished. If you have leftovers, just store them in a lidded container in the fridge for a few days.
Reheating a burger
I don't like using the microwave to reheat burgers. I use a skillet with a few tablespoons of water, add the burger and cover it for 3-4 minutes or until the burger is heated through. That way it steams and doesn't dry out.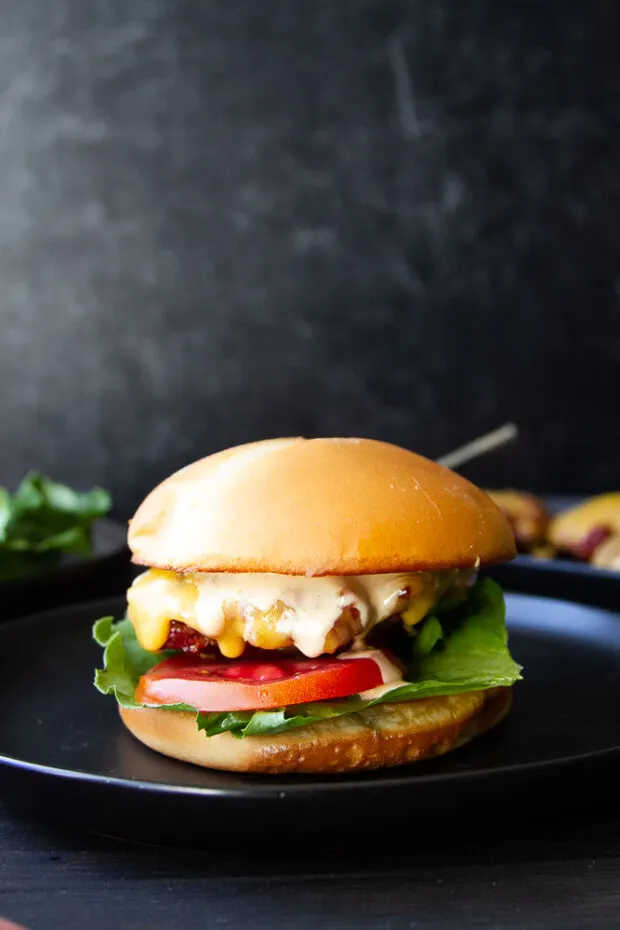 Smoked Burger Recipe FAQs
Why are smoked burgers pink inside?
During the smoking process there's a chemical reaction between the smoke and the protein in the meat that results in a pink color or (smoke ring). It can be alarming if a well cooked piece of meat is still pink, but rest assured it's normal. Just use your meat thermometer to make sure it's at the temperature you want it.
Do you flip burgers when smoking?
Nope! You don't have to.
What is the best wood for smoking burgers?
I use CampChef wood pellets and like using the "Competition Blend" for most things. It's a great all-purpose blend of a few different types of wood. You can try it with other types of wood and see what you like better. Beef already has a strong flavor so I'd use a stronger type of wood rather than a more mild one like apple wood.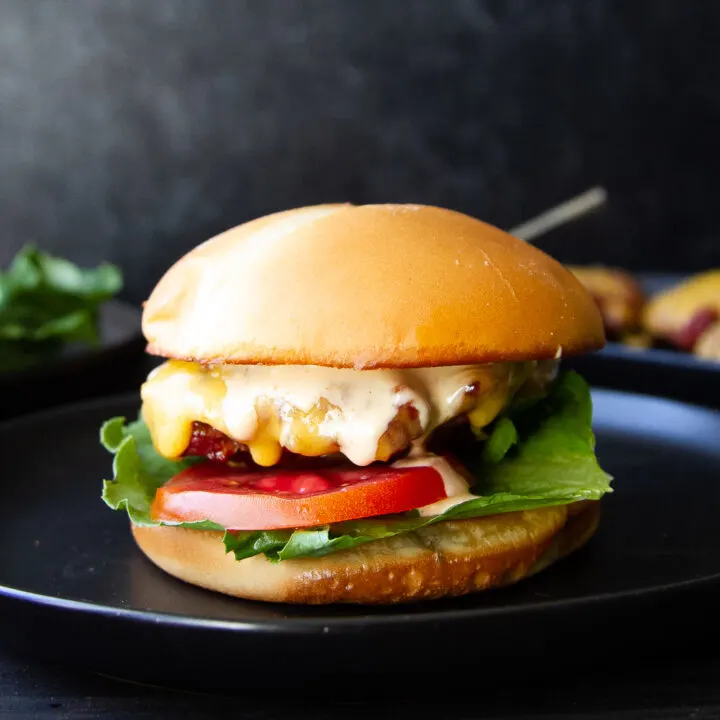 Smoked Burger Recipe
Cooking burgers on the smoker is surprisingly easy! If you're new to using a pellet grill it might seem intimidating, but once you have one round of smoked burgers under your belt you'll be making these every weekend! I included my secret for extra flavorful burgers, too.
Ingredients
2 pounds ground beef (or 6 hamburger patties)
1 Tablespoon steak seasoning
2 Tablespoons Worcestershire sauce
Hamburger buns & toppings (cheese, tomatoes, lettuce, condiments)
Instructions
Preheat your smoker to 250 degrees F.
Place the ground beef in a medium bowl. Add the steak seasoning and Worcestershire sauce, then carefully mix everything together with your hands to get the seasonings incorporated into the meat well. Avoid squishing it tightly in your fists or it'll make your burgers mushy.
Press the meat into the bowl evenly. Use your fingers to divide the meat into 6 sections (see photo in post). Remove each section and form into a tight patty. Set them on a large platter or plate.
Place the patties on the grill and insert a meat thermometer into one of them to monitor the internal temperature.
Close the smoker and cook until the burgers have reached your desired temperature. Medium well takes about 45 minutes to cook.
If you're adding cheese, do this during the last few minutes of cooking time.
Remove the burgers from the grill and assemble your burgers immediately. If you need to keep them warm for a few more minutes, shut your smoker down and close the lid to keep them warm.
Notes
If you're using my Homemade Steak Seasoning, you might want to add an extra 1/2 teaspoon sea salt to the meat. My bledn doesn't have as much salt as store-bought steak seasoning.
You can also weight out the meat if you want more precisely equal patties. I figure about 1/3 lb per burger. If you make them smaller you won't have to smoke them as long, but I prefer them bigger.
Nutrition Information
Yield

6
Serving Size

1
Amount Per Serving
Calories

440
Total Fat

27g
Saturated Fat

10g
Trans Fat

1g
Unsaturated Fat

13g
Cholesterol

135mg
Sodium

473mg
Carbohydrates

6g
Fiber

0g
Sugar

1g
Protein

42g
The information shown is an estimate provided by an online nutrition calculator. It should not be considered a substitute for a professional nutritionist's advice.