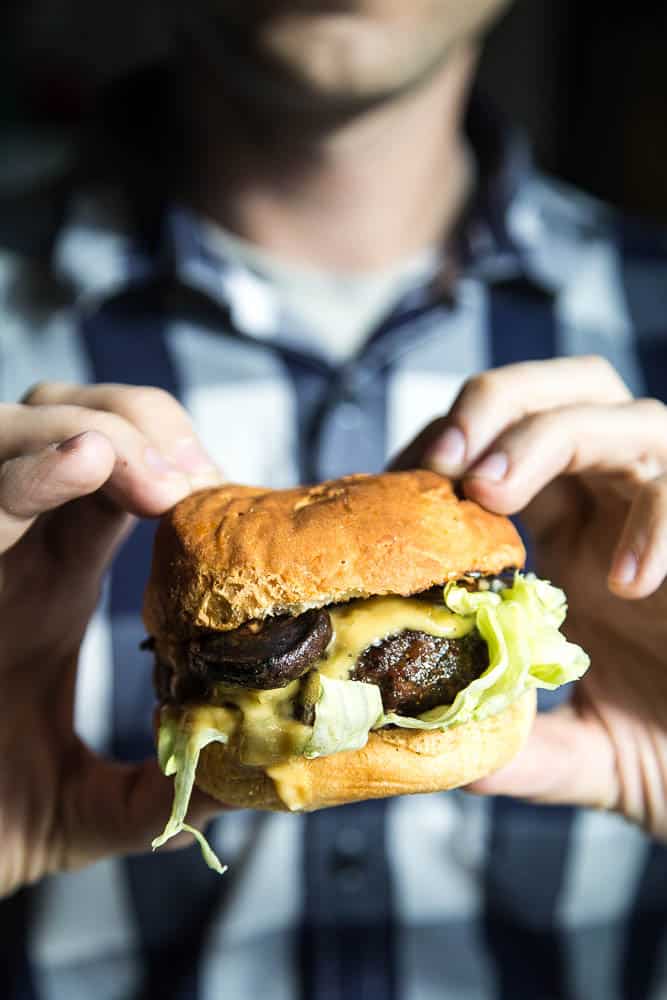 As much as I love throwing a burger on the grill with some wild toppings, I sure don't have a lot of burger recipes on my site! Note to self: create more burger recipes.
And, in full disclosure, we don't even have a grill at the moment. Super sad, I know. We couldn't take it when we moved and haven't replaced it yet. Soon, though, because I'm getting twitchy without it and this post is only making me more antsy.
Not that you even need a grill to make a great burger. You can make a pretty fantastic burger in a cast iron pan. Or without a bun. We don't usually use buns, and if you're gluten-free, paleo, or following a keto diet, it's easy to take a traditional burger recipe, remove the bun, and customize it how you like! Easy peasy.
Making burgers is pretty straightforward. I mean you just slap some burger patties on a bun. Maybe add some salt and pepper? Even if you go totally minimalist with your burgers, you'll end up with something super tasty if you start with high quality ingredients.
Using 80/20 ground chuck is probably the most common recommendation. I love using the grass-fed ground beef I use from a local rancher. Grass-fed beef is usually leaner, but it always tastes amazing. And I feel great about knowing the people who raise the beef.
I gathered the most creative burger recipes I could find. Most of them you could easily make dairy free, and all of them you could eat paleo/keto/Whole30 style without a bun. Here are burgers with all kinds of ground meat (not just beef), cheese stuffed burgers, exotic ethic twists on burgers, and restaurant copycats. And some of the most creative toppings I've seen.
This is a great list, people. Of course, I sprinkled in the burger recipes I have on my own site. (Ahem, all four of them. I should really come up with more.) They're pretty fabulous, too.

Restaurant Copycat Burgers
Copycat Freddy's A1 Chop House Steakburger — One of the first restaurants we went to in Boise was Freddy's. They're steakburgers are fabulous! Check out this recipe from Food Hussy. (Shown above.)
Animal Style Double-Double Burger — We're big In-N-Out fans over here. My usual is a protein-style (lettuce-wrapped) cheeseburger with extra grilled onions. Animal style means they put grilled onions, extra spread, and fry mustard into the beef patties. (I love that, too, but it gets rather messy in a lettuce wrap.) Thanks to Karen's Kitchen Stories recipe, I can make them at home since we don't live close to an In-N-Out anymore! *sob*
Smash Burger Recipe – Karen at The Food Charlatan has gotten the technique mastered to make those flattened patties with the crispy, craggy edges like Smash Burger makes.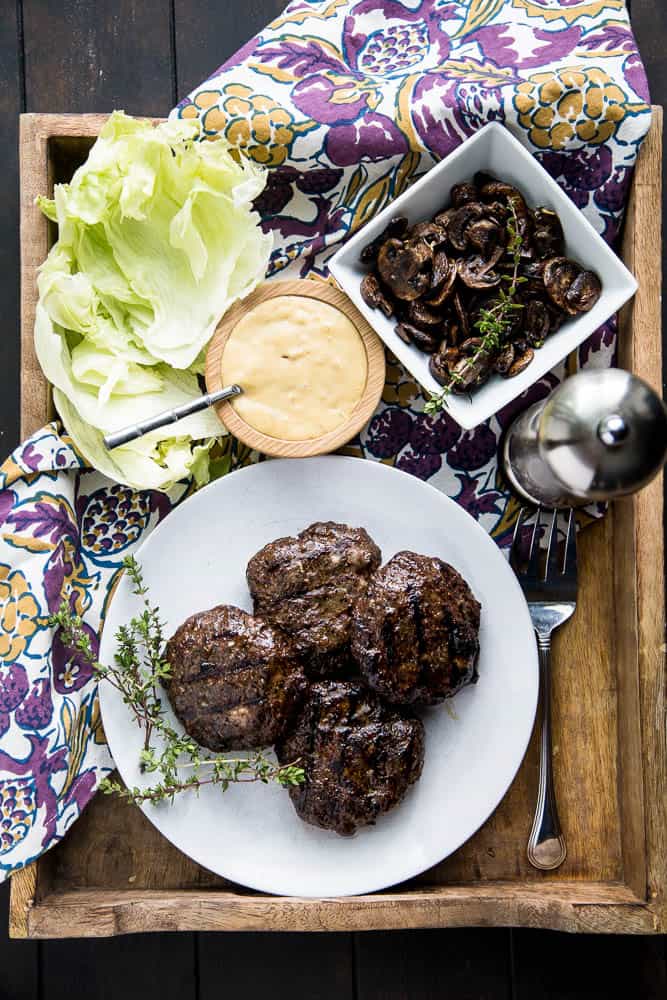 Burgers with Creative Flair
Double Mushroom Burgers with Roasted Garlic Aioli — My burger has pulverized dried mushrooms in the beef patties AND roasted mushrooms on top. The garlic roasts along with the mushrooms and gets buzzed into a fabulous aioli. (Clearly, I've overcome my aversion to mushrooms. Ha!)
Chipotle Caramelized Onion & Mushroom Burgers — Here's another one of mine — and another burger with mushrooms! These ones have a to-die-for caramelized onion and mushroom mixture spiked with chipotle peppers. That mixture alone is great to add to a meal prep routine because it's great on a lot of things.
Keto Bacon Cheeseburger Bites – These mini bacon burgers from Keto Cooking Christian are adorable!
Grilled Keto Cheese Burgers on Portbello Buns — Another keto burger from Plating Pixels using portobello mushrooms as the bun!
Fajita Burger with Peppers and Guac — When you adore fajitas, but you feel like cooking burgers, this recipe would be a good compromise. Recipe is on Good Life Eats!
Herb Loaded Beef Burgers — Fresh herbs are such a great addition to a burger! I love this idea from Recipes from a Pantry.
Pesto Burgers with Caramelized Onions and Mushrooms – My girl Julia at The Roasted Root takes it one step further and used pesto, caramelized onions, and mushrooms on this gorgeous burger!
Who says that burgers HAVE to be ground beef patties? No one, that's who.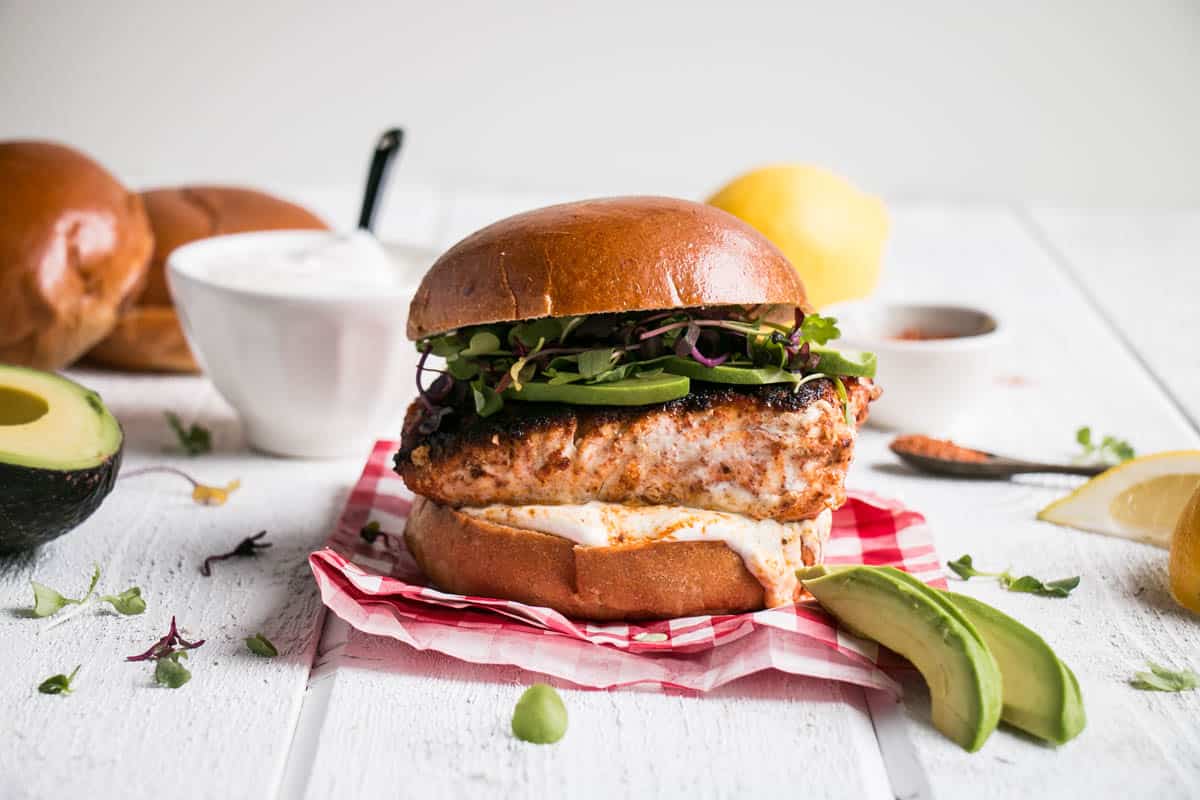 Burgers that aren't Beef
Green Chile Turkey Burger with Guac Ranch — Here's a great one from my archives and shows that turkey burgers do NOT have to be boring! There's a lot going on in this one — green chiles, caramelized onions, a fried egg (!), and guac-ranch. Don't skimp on the guac-ranch.
Salmon Burgers with Greek Yogurt Dill Sauce – Karen's Kitchen combined salmon burgers with a creamy dill Greek yogurt sauce! I love this idea!
Cajun Pork Burgers with Shrimp & Spicy Aioli — I can't get these pork burgers out of my mind. The cajun spin is super fun and adding SHRIMP to a burger? I can't even. Recipe from Beyer Beware!
Lamb Burgers with Feta and Harissa Aioli — Pinch and Swirl has a great lamb burger paired with feta and a spicy aioli. (I'm such a sucker for harissa anything. And feta.)
Blackened Harissa Halibut Burgers — Like I said. I love harissa. And fish burgers are a lighter alternative to a red meat burger! Recipe over at My Kitchen Love. (Pictured above.)
Zucchini Basil Chicken Burgers — Tasting Page uses zucchini and basil to liven up a chicken burger — this a great way to use fresh garden harvests in the summer!
Easy Caprese Chicken Burgers — Another burger from My Kitchen Love — one that mimics a caprese salad on a light chicken burger. I love this idea! (Especially with some balsamic glaze. Mmm.)
Spicy Tuna and Tomato Burgers — The lovely Emma at Better with Cake took a simple tuna burger and added a little tomato paste (so creative!), red onion, and a diced chili! It's like a richer, spicier version of a tuna salad. In burger form. Brilliant. It would be super good with some barbecue sauce, too!
You all know how I feel about cheese. So this section should be no surprise to you except blue cheese is missing. Blue cheese is a popular cheese option for a burger, but I can't do blue cheese, guys. I just can't.

Burgers Starring Cheese
The Ultimate Goat Cheese Lovers Burger — I created this recipe several years ago, and I still think of it during grilling season. You need to love goat cheese for this one, though. These burgers are stuffed with goat cheese and have a goat cheese-cucumber sauce that's similar to tzatziki sauce. (Pictured above.)
Crispy Cheese Burger Sliders – Crispy cheese is the best kind of cheese — am I right? This burger has cheese oozing out of the side that crisp up in the pan, creating a "cheese skirt" around the burger. Brilliant recipe from Coupon Clipping Cook!
Gouda Stuffed Burgers with Horseradish Aioli & Caramelized Onions — Any burger stuffed with cheese is a winner in my book. I love the combination of caramelized onions and gouda on this burger from Katie at Good Life Eats!
Pimento Cheese Burgers — I only had pimento cheese for the first time recently. Where has it been all my life? This burger from NeighborFood is going on my summer grilling list!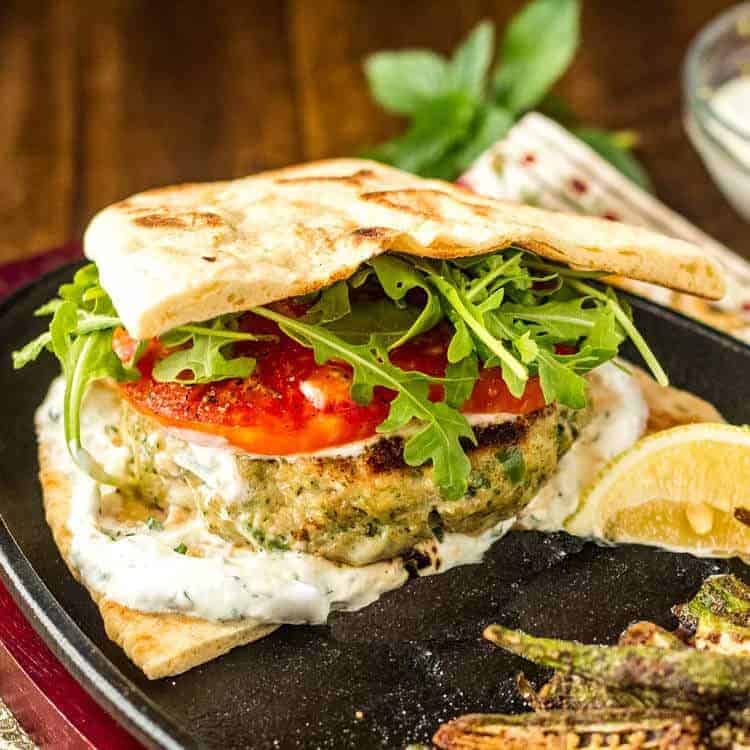 Sometimes you just want a burger that's out of the box. Or out of the country.
Exotic Burgers
Indian-Style Chicken Sausage Burgers — Adding Indian spices to ground chicken created a sausage-like patty for this exotic burger by Beyond Mere Sustenance. Love this idea! (Pictured above.)
Vietnamese Lemongrass Pork Bahn Mi Burger – I love the combination of lemongrass and ground pork! in this Vietnamese-inspired burger by Wok & Skillet
Jamaican Jerk Beef Sliders — This exciting, spicy seasoning blend is great paired with a cool coleslaw in this burger by Mama Latina Tips.
The Classic Cuban Burger — A burger that has all of the components of a Cubano sandwich. Great burger idea by Latina Mom Meals!
Grilled Za'atar Chicken Burgers with Cucumber Mint Tzatziki — Za'atar is one of my favorite exotic spice blends! It goes so well with tzatziki. I love the flavor profile in this burger by Healthy Seasonal Recipes.
Chilean Inspired Lamb Burgers with Chilli Salsa – Heading to South America, here's a Chilean-inspired burger by Elizabeth's Kitchen Diary featuring a lamb burger and a homemade salsa!
Air Fryer Beef Bulgogi Burgers – My Korean food loving husband perked up when I told him about this burger from Two Sleevers. Bulgogi is his favorite and would be perfect for Father's Day!
Easy Thai Burgers with Peanut Sauce — This is a knock off of a burger at a local place here in Boise. Mel from Mel's Kitchen Cafe has already done the work of hacking it! Thai flavors (and peanut sauce) are one of my favorite things. Especially on a burger.
Ok, guys. This should be enough to get the wheels turning, right? There are enough burger ideas here to have a couple of different ones all summer long!
I'd love to know if you try any of these and what you think! Drop me a comment below or tag me at #perrysplate or @perrysplate on social media!