Joey Campanaro's Meatball Sliders
I didn't know what a "slider" was until I made these. Mini burgers and such are pretty hot right now, and I suppose it was only a matter of time before someone replaced a boring hamburger patty with a flavorful, saucy meatball.
Because of this recipe, I started looking at the weather when I do my menu planning. That's what happens when you live in an uninsulated, unairconditioned little duplex that was built in 1950. Turning the oven on in the summer means spending the rest of the day in a sauna that has taken over your entire house.
This recipe typically isn't something you'd make in June when you live in such a place. But I did. June 24th to be exact. And it was a Wednesday. This is definitely not a quick weekday dinner. Because I had bought the stuff to make it, I had to choose between making it on a Saturday, which was supposed to get in the 90s, or on a Wednesday with slightly cooler weather. I chose Wednesday. Luckily Steve was home, so I could spend two hours making dinner.
I was pleased with these cute little sliders. Instead of making them as an appetizer, I made them for dinner, then froze the leftovers (about half of what I made, buns included), and heated them up a few weeks later for a quick dinner. They were time consuming, but they had a fantastic flavor. Next time I think I'll do the buns the day before.

Roasted garlic is one of my best friends.
And honestly… you could use a couple jars of your favorite pasta sauce instead of doing the sauce from scratch, too. I'd maybe buy the buns, but I don't know where you can get buns that small with out chopping holes out of big ones. From scratch always tastes the best and most of the time it's worth the effort. To someone else, it might not be. That's OK. Now that I have two children demanding every ounce of my attention (and snacks), I understand how valuable a quick dinner can be.
Sophie thought these little sliders were pretty cool. And tasty, too. See the look of shock on her face when she realizes how good they are? (OK, I'm not sure if that's really what was going on in her head. She might have been spacing off for a minute. She did like them, though.)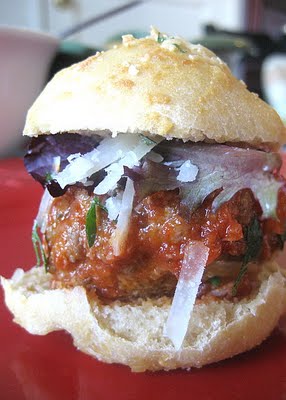 Joey Campanaro's Meatball Sliders

Yield: Makes 6 3-slider appetizer servings or dinner for 4-5.

Ingredients:

1/2 pound ground beef
1/2 pound ground pork
1/2 pound ground veal
1/2 cup panko (Japanese breadcrumbs) or fresh breadcrumbs
1/2 cup water
8 tablespoons freshly grated Pecorino Romano cheese, divided
1 large egg
1 large egg yolk
1/4 cup plus 2 tablespoons chopped fresh parsley
1 teaspoon salt
1/2 teaspoon ground black pepper
1/4 cup vegetable oil
2 tablespoons olive oil
1 cup chopped onion
6 garlic cloves, chopped
1/4 cup (packed) fresh basil leaves
1 1/2 teaspoons fennel seeds
1 28-ounce can whole peeled tomatoes
1 14.5-ounce can whole peeled tomatoes
salad greens (optional)
18 very small soft rolls, split horizontally

Directions:

Combine all meats, panko, 1/2 cup water, 6 tablespoons cheese, egg, egg yolk, 1/4 cup parsley, 1 teaspoon salt, and 1/2 teaspoon black pepper in large bowl. Mix gently with your fingers, sort of "tossing" everything together. Don't squish it in your fist. Form into eighteen 2-inch-meatballs.

Heat vegetable oil in large skillet over medium-high heat. Working in batches, fry meatballs until brown all over. Transfer to plate. Pour off drippings from skillet. Reduce heat to medium. Add olive oil to skillet. Add onion, garlic, basil, and fennel seeds. Sauté until onion begins to brown, about 5 minutes. Add all tomatoes with juices. Bring to boil, scraping up browned bits. Reduce heat to low, cover with lid slightly ajar, and simmer, stirring occasionally, about 30 minutes.

Use a stick/immersion blender or transfer to a blender/food processor and puree until almost smooth. Return to same skillet (if you took it out). Add meatballs. Cover with lid slightly ajar and simmer until meatballs are cooked through, stirring occasionally, about 30 minutes longer. Do ahead: Can be made 1 day ahead. Cover; chill.

Place salad greens on bottom of each roll, if desired. Top each with 1 meatball. Drizzle meatballs with some of sauce and sprinkle with remaining 2 tablespoons parsley and 2 tablespoons cheese. Cover with tops of rolls.

Nat's Notes:
1. Instead of veal, I more ground beef and ground pork until I had 1 1/2 lbs of meat.
2. I made the Roasted Garlic Buns that went along with this recipe, and I wasn't overly thrilled with them. I think the idea of roasting garlic and incorporating it into bread is brilliant, but I would use another dough recipe.

Adapted from The Little Owl restaurant by Smitten Kitchen