This fun Thai Peanut curry has a rich, peanutty sauce, lots of vegetables, and tender ginger chicken meatballs! Have a takeout quality meal on the table in under an hour.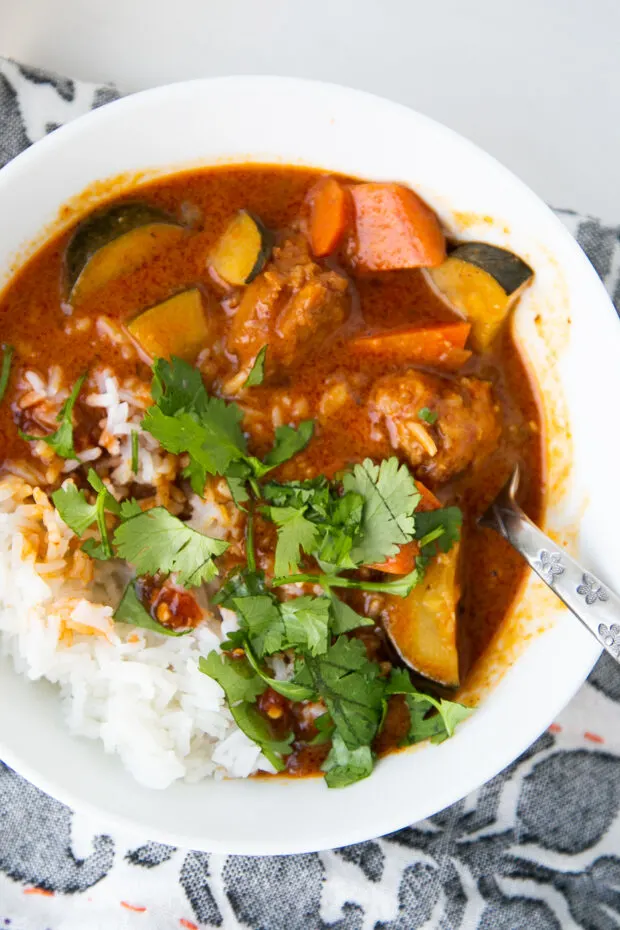 I feel like Thai inspired curry is one of those meals where you can use whatever meat and vegetables you have on hand and make a fantastic meal.
Just keep a few key ingredients on hand and you can make Thai chicken curry whenever you want!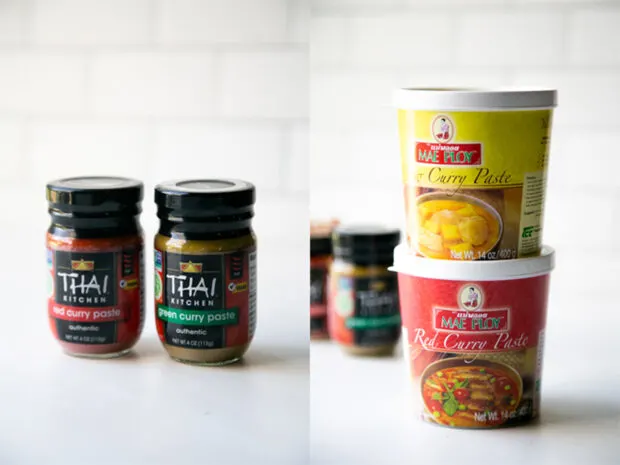 What Thai Curry Paste to use?
Thai Kitchen
The most readily available curry paste I've found is Thai Kitchen brand curry paste.
It's affordable, keeps for a long time after you open it and is packed with ginger and herbs and some key ingredients for Thai curries that are a little harder to find — like lemongrass, galangal, and kefir lime leaves — but don't have any vegetable oils or additives or strange ingredients.
You'll notice on the label that it has a high heat rating (both the red and green pastes are rated high), but they actually aren't that spicy. I mean, I use a whole jar in this recipe and my kids didn't complain.
Mae Ploy
Another kind of curry paste that I use is Mae Ploy curry paste. I found this at an Indian spice market here in Boise and I like the flavor of these curry pastes more than the Thai Kitchen ones.
I noticed they sell it on Amazon! I even found a 4-pack of Mae Ploy curry pastes in different flavors. Definitely getting that one when I run out. And I love the clean ingredients in this paste, too.
The downside(?) to this one is that they have a lot more heat than Thai Kitchen curry pastes. But only a downside if you're feeding spice-sensitive people.
I usually add a shake or two of sriracha to my curry, but when I use Mae Ploy, it doesn't need it.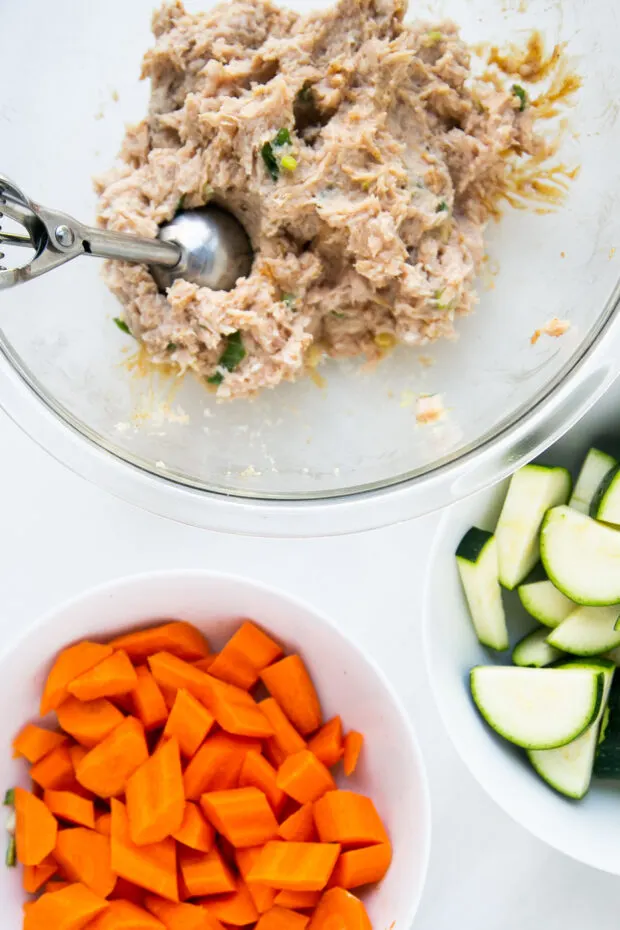 Let's talk about these meatballs. They're flavored with a bunch of ginger, some green onions, and a glob or two of peanut butter.
Yeah, peanut butter. It's super tasty and acts as a binder and keeps them soft so you don't need an egg.
Can I use a different kind of meat?
Sure! Ground turkey works well. Ground pork would be good in this as well. You could even use chunks of chicken breast, thighs, or even shrimp.
If you use shrimp, add them at the end so they don't overcook.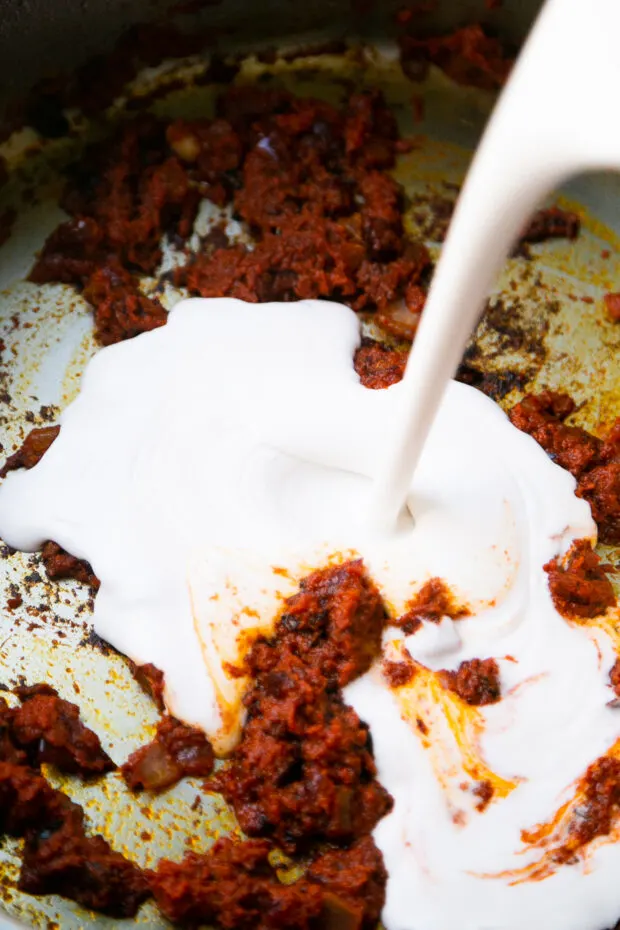 One thing to know about curry pastes — it's a good idea to "fry" them in oil before you add the rest of the ingredients.
It allows the flavors to deepen and "bloom", if that makes sense.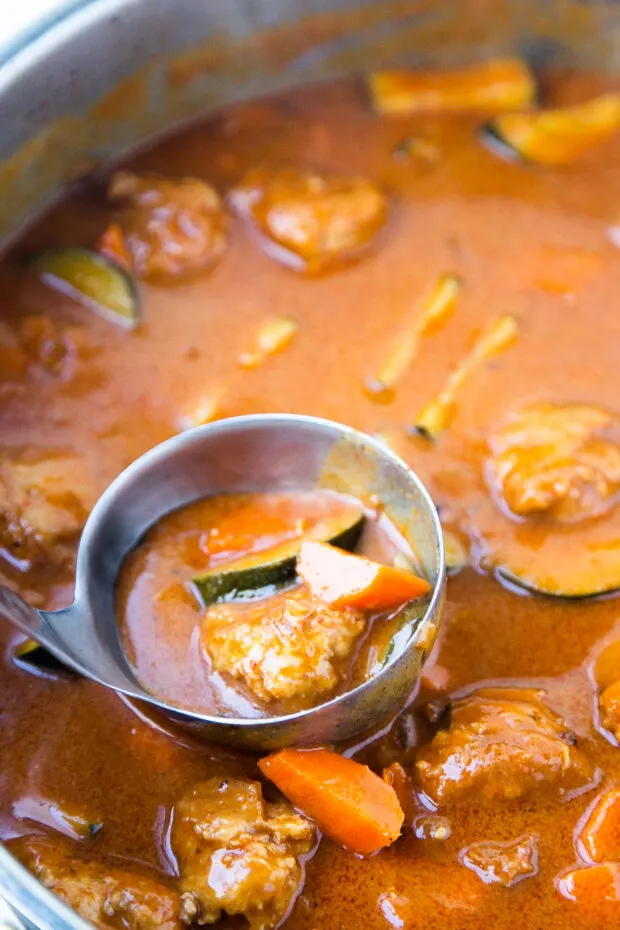 Tips for making Thai Peanut Curry more quickly
Make the meatball mixture ahead of time and store it in the fridge until you're ready to form them.
Chop the vegetables while the meatballs are browning.
Get the rice started while the curry is simmering. I use my Instant Pot and when I set my rice for 8 minutes while the curry is simmering, they're done at the same time!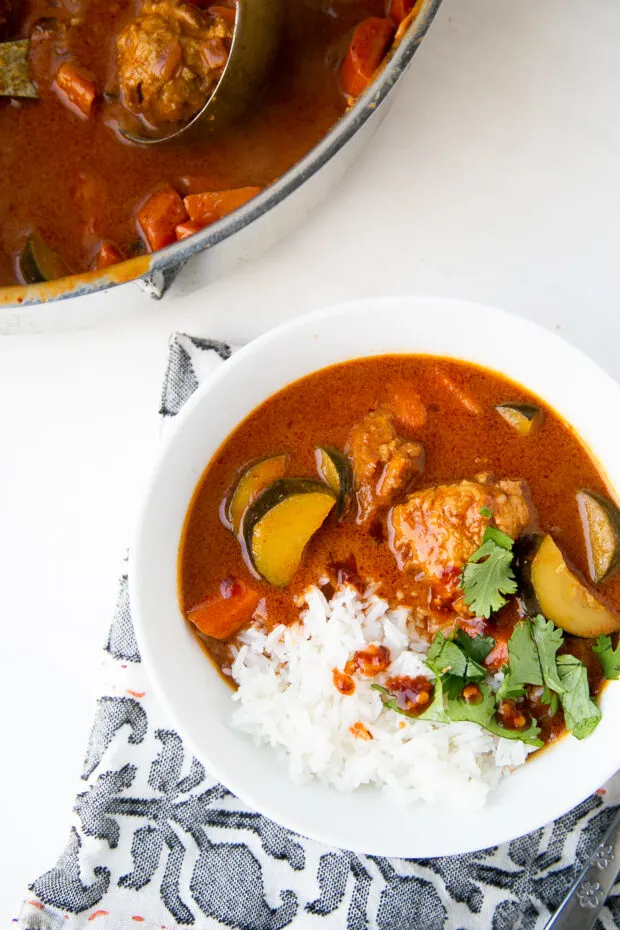 What to serve with Thai Peanut Curry?
Most of the time I serve all kinds of curry with steamed jasmine rice.
If you're avoiding grains, you can throw a batch of Roasted Cauliflower Rice into the oven while the curry cooks. I buy the frozen riced cauliflower at Costco and toss a bag with oil and sprinkle with salt before roasting it at 450.
If you enjoy this recipe, try some of my other Thai-inspired curry recipe!
More Thai Curry recipes on Perry's Plate
Easy Thai Chicken Curry for Instant Pot — This one is made with chunks of chicken and comes together easily in your pressure cooker.
Quick Thai Fish Curry & Coconut Rice — A quick skillet curry with flaky white fish using my Thai Spice Blend instead of curry paste!
Thai Green Curry Zoodles with Shrimp — A knock off of one of my favorite dishes at Noodles Cafe! Perfect for a light summertime meal.
Thai Shrimp Curry with Summer Squash — If you have some extra time on the weekend, this is a good project meal. A delicious summertime curry with a HOMEMADE green curry paste.
---
If you make one of my recipes, be sure to post it on social media and tag me at @perrysplate or #perrysplate so I can send you some love!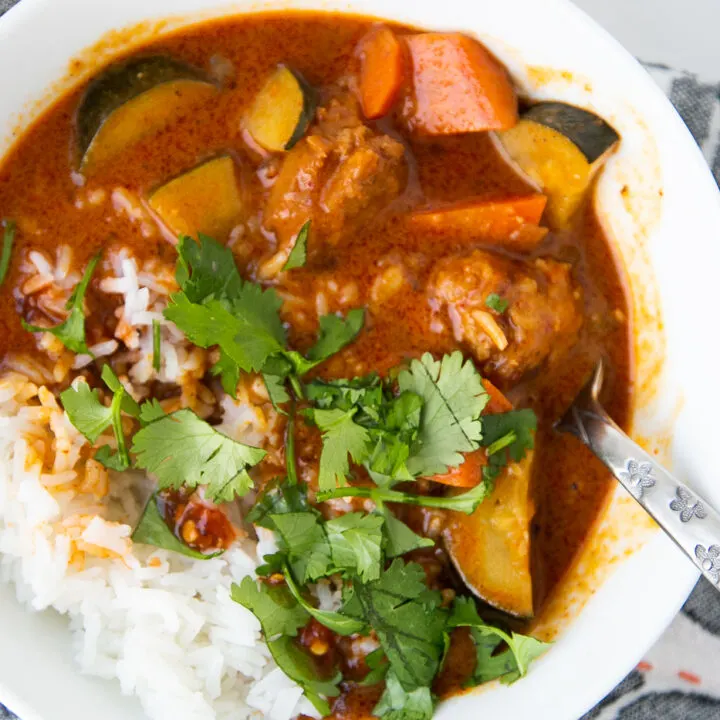 Thai Chicken Meatball Curry
This Thai-inspired curry has tender veggies and ginger chicken meatballs simmered in a rich coconut curry sauce!
Ingredients
For the meatballs:
1 pound ground chicken or turkey
2 thinly sliced green onions
2 Tablespoons minced fresh ginger (or 2 tsp ground ginger)
4 Tablespoons smooth peanut butter
1/2 teaspoon sea salt
For the curry:
3-4 Tablespoons coconut oil
1/2 medium onion, diced
3-4 Tablespoons Thai curry paste (any kind)
1 13 oz can full-fat coconut milk
1/3 cup smooth peanut butter
1/2 cup coconut sugar
1 1/2 Tablespoons fish sauce
1/4 cup freshly squeezed lime juice
1 teaspoon sea salt
3 cups chicken or vegetable broth
2 cups sliced zucchini (1/2-inch pieces)
2 cups sliced carrots (1/2-inch pieces)
Steamed rice and fresh chopped cilantro, for serving
Instructions
In a medium bowl, combine the meatball ingredients and mix well.
Heat the coconut oil in a large skillet over medium-high heat. When the oil is very hot (but not smoking), add scoops of the ground chicken mix using a cookie scoop or a large spoon. They should be roughly 1 1/2 inches across.
Leave the meatballs alone for a couple of minutes until you can see that the bottoms are turning golden brown. Use a firm spatula to flip them and brown the other sides. They don't need to be cooked all the way through.
Transfer the meatballs into a large bowl. While the oil is still hot, add the onion and cook for 2-3 minutes or until it softens.
Add the curry paste and cook for a minute while stirring it around. Add the coconut milk and peanut butter and whisk to remove any lumps.
Add the coconut sugar, fish sauce, lime juice, salt, broth, vegetables, and browned meatballs.
Bring the curry to a boil and let it cook at medium heat at a low boil for 15-20 minutes, uncovered, until it it isn't as soupy looking and the sauce has thickened.
Taste, and add more salt or lime juice if necessary.
Serve immediately over steamed rice with a sprinkle of fresh cilantro.
Recommended Products
As an Amazon Associate and member of other affiliate programs, I earn from qualifying purchases.
Nutrition Information
Yield

8
Serving Size

1
Amount Per Serving
Calories

619
Total Fat

40g
Saturated Fat

20g
Trans Fat

0g
Unsaturated Fat

16g
Cholesterol

124mg
Sodium

1134mg
Carbohydrates

32g
Fiber

3g
Sugar

16g
Protein

37g
The information shown is an estimate provided by an online nutrition calculator. It should not be considered a substitute for a professional nutritionist's advice.