Spicy, Citrusy Black Beans
I feel like I need a de-tox. Ah, Halloween . . . the kick-off for "candy season" as we call it here. It seems from Halloween to Easter there's a steady stream of candy and sweets that enter and v-e-r-y slowly exit our house. I guess only some things exit slowly. We usually have Halloween candy until after Valentine's Day, but anything baked gets scarfed within a day or two. There's no shelf life to baked goods — they'll go stale! (read: I have no self control.)
I think a batch of these beans could get me back on track, though. Beans, especially black ones, are very good for you. I've been leery of using dry beans for a long time because they ALWAYS take longer to cook than I anticipate, and they end up tasting very bland, but this recipe won me over. These beans have SO much flavor, you could eat them plain as a vegetarian chili. They're great as a side dish to any Mexican or Southwest-syle dinner, a flavorful addition to soups, nachos, or salads.
It filled my 4.5 qt pot to the rim and I froze them in 2-cup (a little more than a can) servings to pull out later.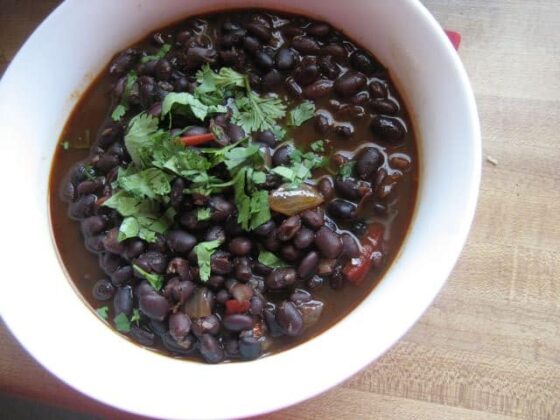 Spicy, Citrusy Black Beans

Ingredients:

4 cups dried black beans
2 ½ quarts (10 cups) water
2-3 fresh sprigs oregano, or 1 Tbsp dried
3 bay leaves
6 small or 3 large sage leaves
2 teaspoons salt
4 tablespoons olive oil
2 yellow onions
2 chopped peppers – bell pepper, Anaheim, or jalapeño (your choice, depending on taste for heat), seeds, stems and ribs discarded
6 cloves crushed garlic
2 tablespoons Ancho red chili sauce, or chili powder or Tabasco to taste
1-2 teaspoons of puréed chipotle in adobo, chipotle Tabasco, or chipotle powder (to taste)
1 tablespoon cumin, (crushed whole toasted cumin seed is best, if possible)
3 tablespoons frozen orange juice concentrate or 1/2 cup fresh orange juice
Juice of 1 lime
2 tablespoons rice wine vinegar
Chopped fresh cilantro for garnish

Directions:

Prepare the beans. Rinse and sort the beans, discarding any stones or shriveled beans. You can soak the beans overnight in cold water (cover with several inches of water) to speed up the cooking process. If you soak, discard the soaking liquid after soaking.


Add beans to a large pot with 2 1/2 quarts (10 cups) of water. Add oregano, bay leaves, and sage. Bring the beans to a boil and reduce heat to a simmer. Cook until the beans are soft, but not quite done. The time will vary depending on how large, dry, or old your beans are, and if you have pre-soaked them, from anywhere from 30 minutes to an hour and a half.


While the beans are cooking, sauté onions and peppers in olive oil until soft. Add chili puree and cumin, and garlic. Sauté until spices are fragrant.


Remove and discard the bay leaves, stems of oregano, and sage leaves from the pot of beans. Remove, but reserve, extra cooking liquid until there is about 1/2-inch of liquid above beans. Add the onion mixture and salt to the pot of beans. Cook another hour or so until thickened. Add reserved liquid if needed.

Add half of the orange juice, and simmer. Adjust chili heat at this point – you may or may not want to add more of your chili paste. Just before serving, add remaining orange juice, lime juice, and vinegar. Salt to taste. Garnish with chopped fresh cilantro. 
Serve with corn tortillas, and/or rice, sour cream, and salsa.


Serves 8.


Nat's Notes:
1. You could also divide the beans into 1 1/2 c portions (about the size of a can) and freeze in a resealable freezer bag to use later.