The work on our house is almost finished, but the morning sickies — who are they kidding? The ALL DAY sickies are still plaguing me, so I'm very grateful to have a few more guests with fantastic recipes to share with you. Today I've got Lisa Thiele here with a gorgeous, warming soup. Lisa is THE gluten-free entertainer and the author of the blog With Style and Grace* I'm so lucky that she agreed to post for me! Thank so much Lisa! – Natalie
Hello there lovelies, it's Lisa here from With Style and Grace. It's such a treat to be here, I just think the world of miss Natalie and so excited for the big adventures ahead of her. That is, once the packing and unpacking is done and the appetite has returned. I'm sure she's counting the days.
I thought I'd share one of my favorite, feel good recipes with you – Roasted Butternut Squash, Carrot and Ginger Soup. It's easy and can be made in big batches ahead a time and frozen until you're ready to serve.
We're big soup eaters over here, especially this time of year. It's perfect for those lazy nights when you just want to curl up on the couch, wrap yourself in that oversized blanket, and enjoy a big bowl of soup. Followed by a cup of hot chocolate, of course.
I also like to make extras and give as a get well or thank you gift. For packaging, simply fill up a mason jar and add a label on the lid or the jar that says what the soup is. It also makes for a great, "oh you just moved aaaaand you're expecting" gift. wink, wink.
*Lisa no longer blogs at With Style and Grace.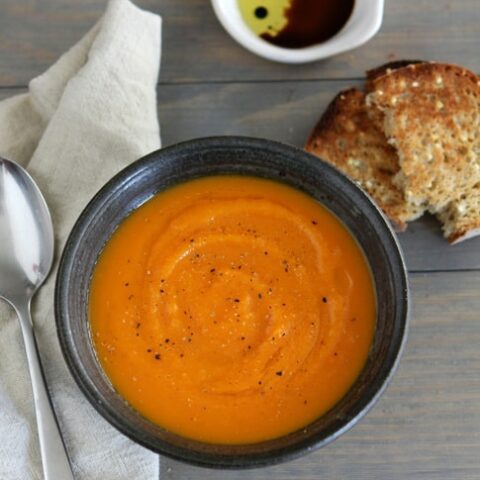 Roasted Butternut Squash, Carrot, and Ginger Soup
This Roasted Butternut Squash, Carrot, and Ginger Soup is perfect for a blustery fall or chilly winter meal. It's also paleo and Whole30 friendly, so eat up!
Ingredients
1 medium butternut squash
2 cups carrots, peeled & chopped
1 yellow onion, finely diced
2 tablespoons olive oil
1 tablespoon of fresh ginger, peeled and grated
2 cloves of garlic, crushed
4 cups low sodium chicken broth [use vegetable broth, if vegetarian]
1/4 teaspoon ground nutmeg
1/4 teaspoon sea salt
1/4 teaspoon ground pepper
Instructions
Preheat oven to 375 degrees.
To prepare baking sheet, cover with foil and drizzle 1 tablespoon of olive oil; set aside.
Cut your butternut squash in half; remove the seeds and place cut side down on prepared baking sheet. Bake until squash is tender and nicely browned, about 45 minutes.
Remove from the oven and until cool enough to handle, peel the skin of the butternut squash, cut in half lengthwise and then into cubes.
In a large pot, heat olive oil over medium heat. Add onions and cook for about 5 minutes until translucent. Add ginger and garlic and cook for one minute. Add squash, carrots, chicken broth, nutmeg, salt and pepper. Increase heat to medium-high, bringing to a boil.
Reduce to low and simmer, uncovered for about 30 minutes. Remove the pot from heat and let cool slightly before pureeing with an immersion blender or in batches with a blender.
Season with salt + pepper, to taste If desired, garnish each serving with creme fraiche. Serve immediate or store in refrigerator in an airtight container.
SaveSave
SaveSave
SaveSave