Smoked salmon is SUPER easy to make in your smoker! I love brushing mine with maple syrup during smoking to create that sweet-salty crust on top.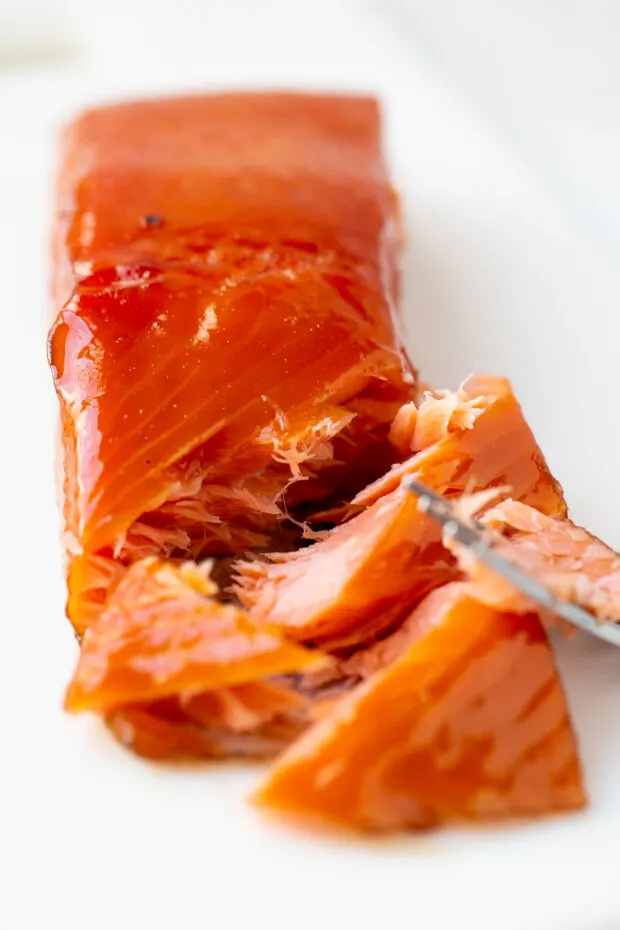 Smoked salmon is one of my most favorite things. We always buy some during the holidays, and I incorporate it into a big charcuterie board for Christmas Eve. (More on that later!)
If you've got a smoker or a pellet grill (like a CampChef or Traeger), smoked salmon (or hot smoked salmon) is really easy to make!
And much more economical than buying pre-made smoked salmon at the grocery store.
How to Make Smoked Salmon
Start off with a high-quality salmon fillet
I love these ones from Catch Sitka — a sustainable fishery in Alaska that ships wild-caught salmon and fish all over the country!
The beauty of this recipe is that you can make as much or as little smoked salmon as you like. I wrote the recipe for roughly 8 ounces of salmon. Feel free to scale up or down depending on how much you need.
Brine the salmon for several hours
You know I'm partial to dry-brining things, so I attempted that with this recipe, but I liked the result of a wet brine more.
What's in a brine? Just water, sugar, and salt.
The amount of sugar that gets absorbed into the fish isn't substantial, but if you're avoiding white sugar alltogether, you can use coconut sugar or another granulated sugar in this recipe.
For the salt, I use sea salt, but you can use Kosher salt if you like. If you use Kosher salt, increase the salt amount by 25%.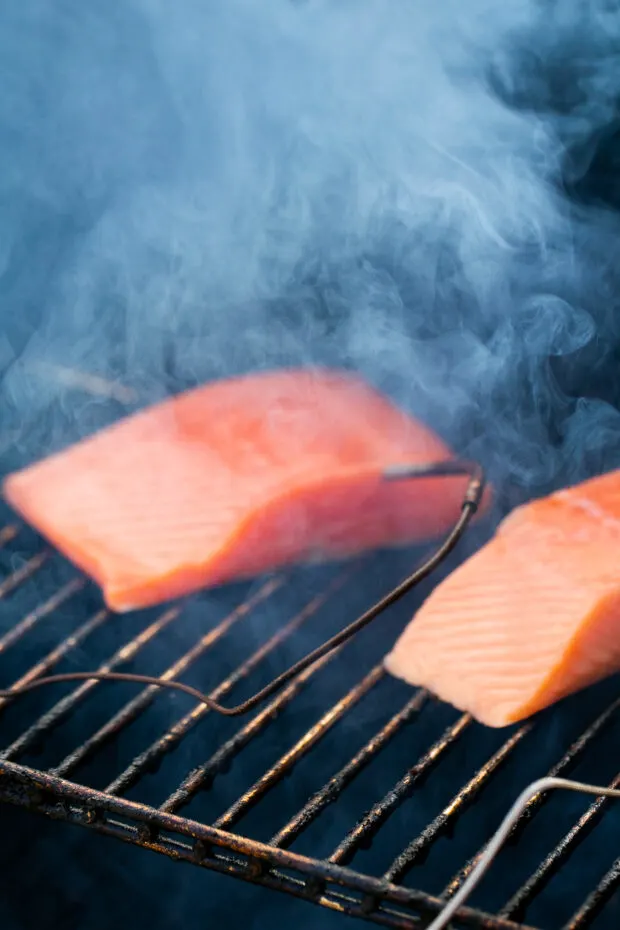 Let the salmon sit uncovered after brining
After brining the salmon for several hours, drain it and let it sit uncovered in the refrigerator for at least 4 hours, up to 24 hours.
This allows pellicle to form on the surface of the fish. Pellicle is a sticky layer that the smoke adheres to when the fish is smoking. Pellicle = more smoke flavor.
Smoke the salmon for 2-3 hours
Set your smoker or pellet grill to 160 degrees F and high smoke.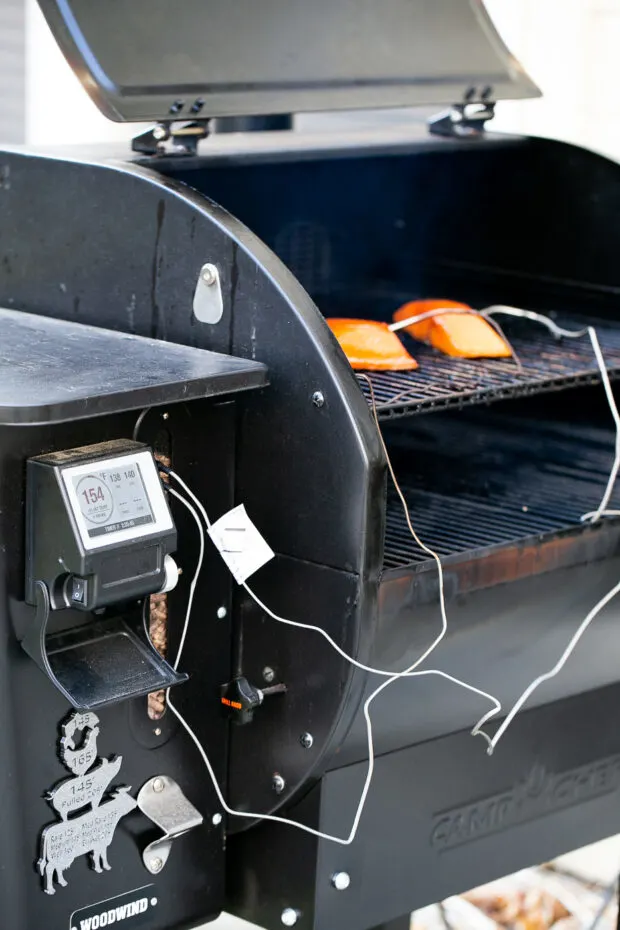 I joined the pellet grill ground and bought CampChef Woodwind Wifi over the summer. Man, I love this thing. Especially the pizza oven attachment.
We've smoked vegetables, burgers, ribs, chickens, a Thanksgiving turkey, and lots and lots of salmon.
If you're on the fence about investing in a pellet grill/smoker, CampChef is offering $100 off all Woodwind grills through Dec 2021!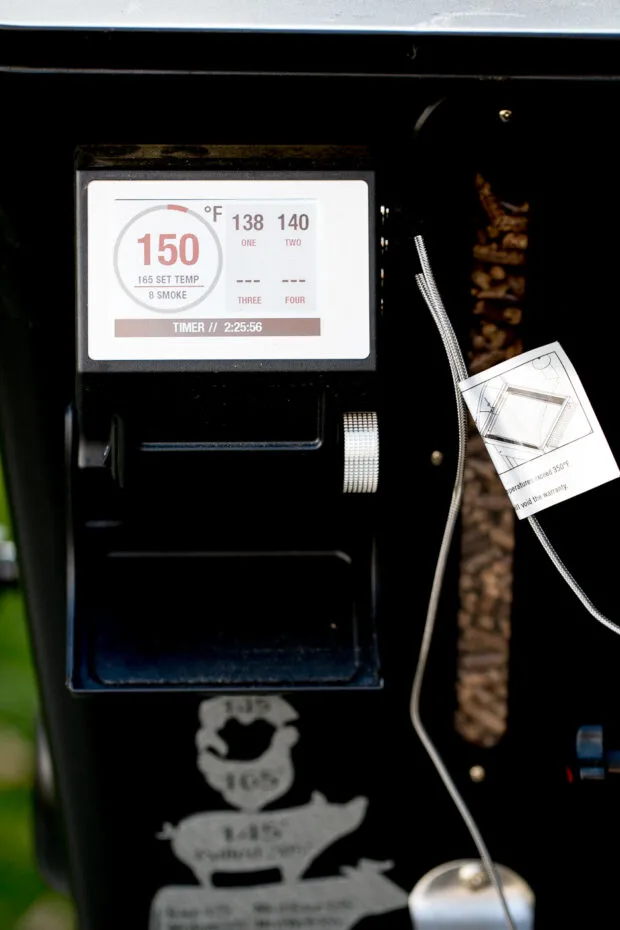 My favorite feature is the wifi/Bluetooth connection with the app on my phone and the ability to monitor up to 4 different temperature probes at once.
It makes it so easy to get perfect food most of the time!
(We won't talk about the chuck roast I botched. That's for another day. Heh.)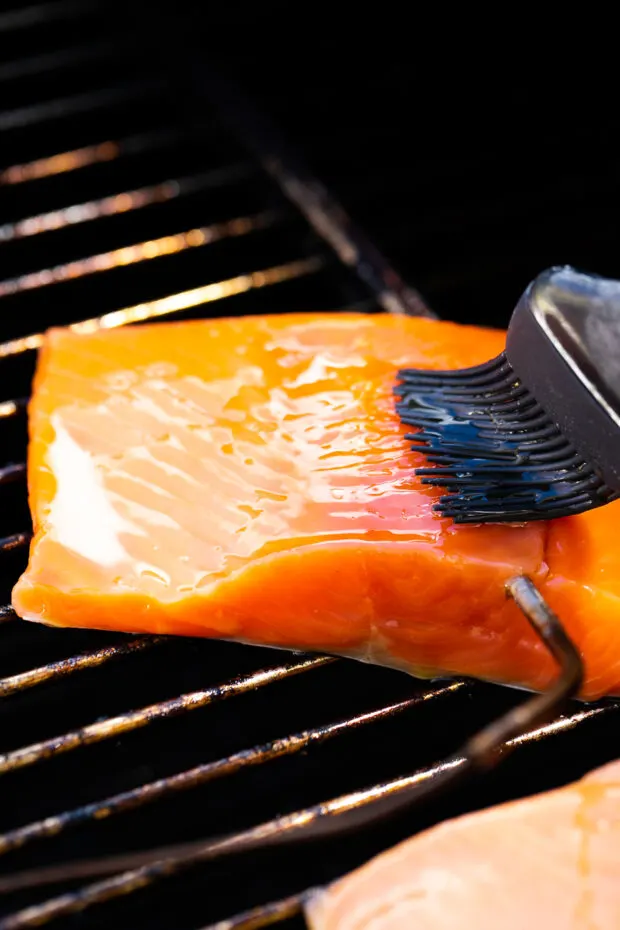 You'll want the salmon to reach 140 degrees before you pull if off. Make sure to put the probe in the thickest part of the fish.
Brush the salmon with maple syrup throughout smoking
Do this. Create that sweet crust on the salmon (it's the best part!). I love the way the sweet-smoky-salty flavors combine.
What kind of wood pellets are best for smoking salmon?
I used cherry wood pellets for mine and really like the result. Apple pellets didn't have as much smoke flavor, in my opinion.
Feel free to use what you like or pellets that are recommended for seafood.
I always use CampChef wood pellets because they're 100% hardwood without any fillers.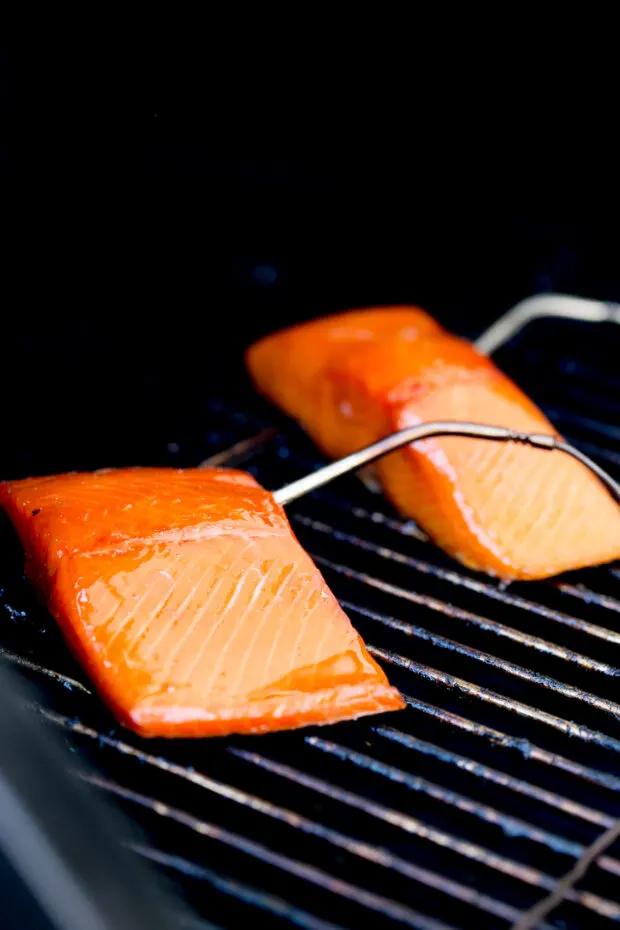 Look how pretty they've become! These are ready to pull off the grill!
Here's a short cut time line to sum it up for you:
Smoked Salmon Timeline
Day 1 afternoon: Brine for 4-6 hours
Overnight: Drain off the brine and let it sit, uncovered, in the fridge for 4-24 hours
Day 2: Smoke salmon for 2-3 hours
See? It's really not that hard. It does take some planning, but hardly any of that time is active prepping time.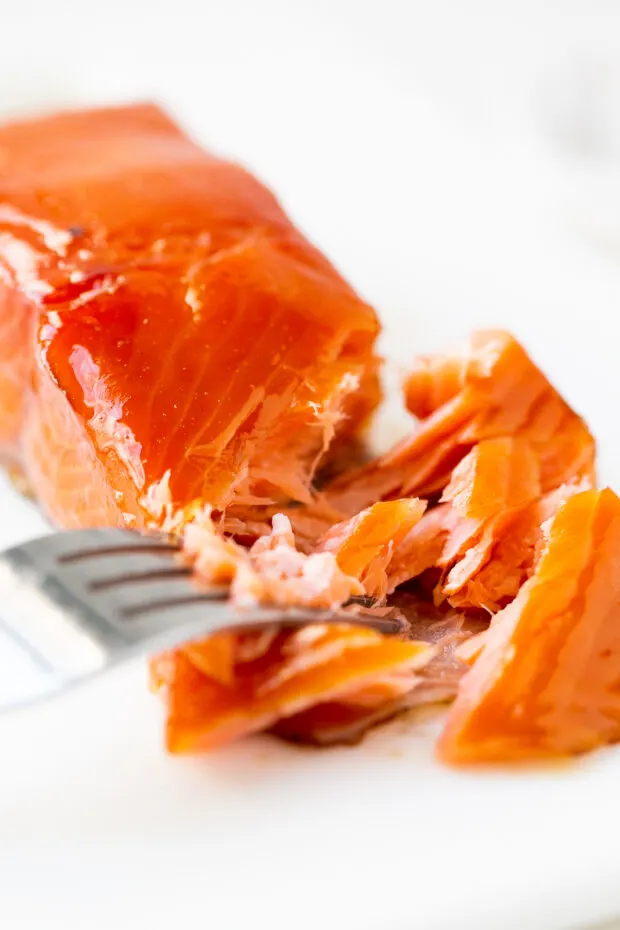 What to Serve with Smoked Salmon
I mean… you could just take a fork to it and go nuts here. No judging here. In fact, that's what happens most of the time when I smoke a salmon fillet.
If you want to eat this like a civilized person, here are a few ideas
Make a Smoked Salmon Board — lots of finger food here, so you can still dig into it with a fork, but not like a barbarian
Serve it during breakfast with eggs or on a Breakfast Salad
Use it in some California Roll Sushi Bowls or Poke bowls! Smoked salmon is one of my favorite maki roll fillings, too.
Make the best avocado toast of your life. Sourdough toast + avocado + Everything Bagel Seasoning + smoked salmon.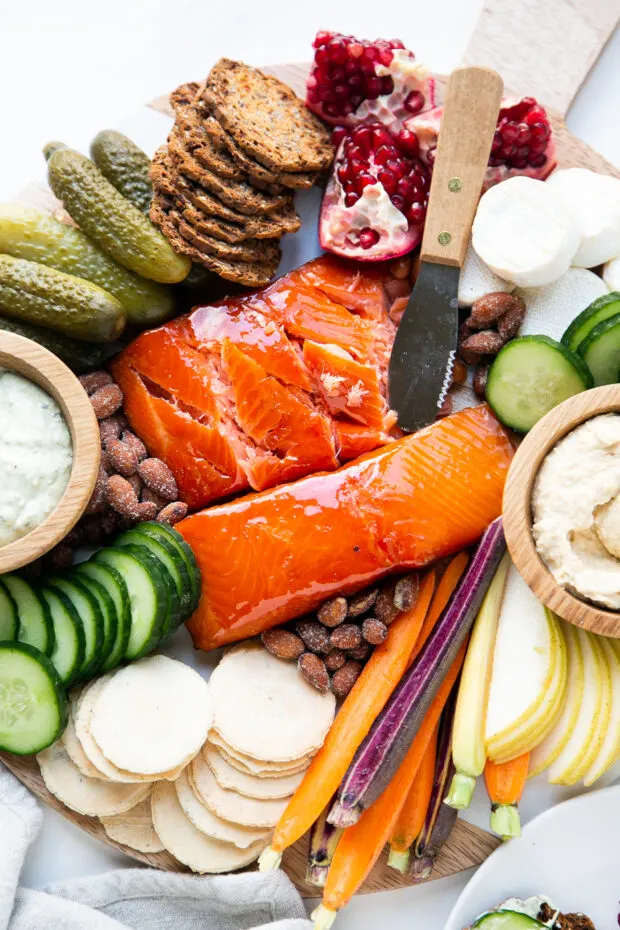 If you like this recipe, try curing your salmon and making some gravlax! You could even cure the salmon and then smoke it, too.
Salmon Gravlax Recipes on Perry's Plate
Everything Bagel Gravlax — also makes the best avocado toast ever.
Sriracha Lime Gravlax — the same salty-cured salmon you love with a little heat!
---
If you make one of my recipes, be sure to post it on social media and tag me at @perrysplate or #perrysplate so I can send you some love!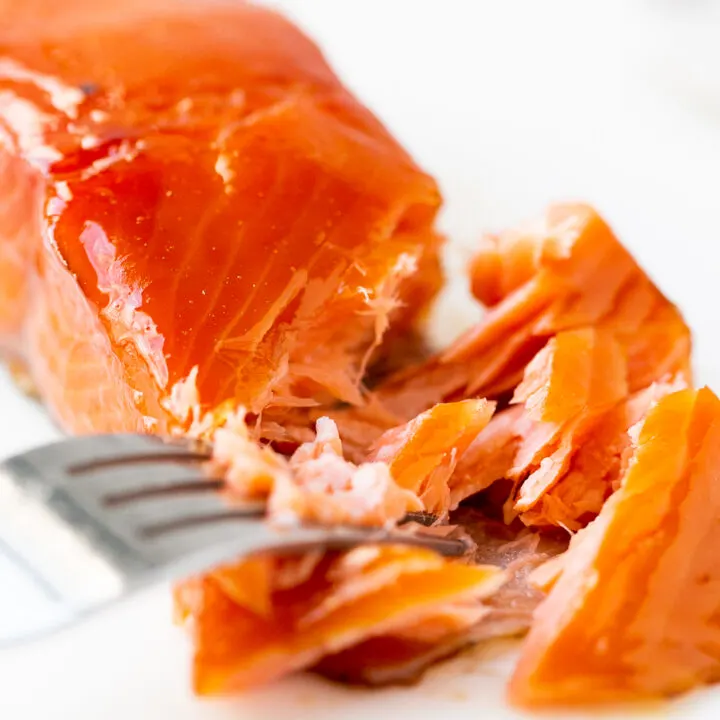 How to Smoke Salmon
Additional Time:
20 hours
Total Time:
22 hours
15 minutes
Smoked salmon is SUPER easy to make in your smoker! I love brushing mine with maple syrup during smoking to create that sweet-salty crust on top.
Ingredients
8 ounces salmon fillets
1/2 cup sugar
1/3 cup sea salt
1/3 cup pure maple syrup
Instructions
Put the salmon fillets in a lidded container large enough for it to lay flat.
Put 4 cups of cool water in a large measuring cup. Stir in the sugar and salt until it has dissoved. Pour over the salmon.
Store covered and chilled for at least 4 hours, up to 8 hours.
Drain and discard the brine and return the salmon to the fridge, UNCOVERED, for another 4-24 hours.
When it's time to smoke the salmon, preheat your pellet grill or smoker to 160 degrees F. If you have the option for smoke control, turn the smoke to high.
Lay the salmon directly on the grill grates and insert a temperature probe into the thickest part of the fish. Brush the fish with some maple syrup and close the lid.
Continue to smoke the salmon until the temperature probe reads 140 degrees. Brush the fish with maple syrup every 30 minutes or so.
Remove the fish from the grill and serve immediately.
You can also make this ahead of time. When the fish cools to room temperature, wrap it up and store it in the fridge until you're ready to eat. It's great to eat chilled, at room temp or heated up.
Notes
I used cherry wood pellets for this and really liked the results. Feel free to use any pellets you like or ones that are recommened for seafood.