Easy Homemade Sun-Dried Tomato Pesto
If you're wondering what that orange stuff is in the jar, it's the SDT-soaked olive oil that solidified after being in the fridge.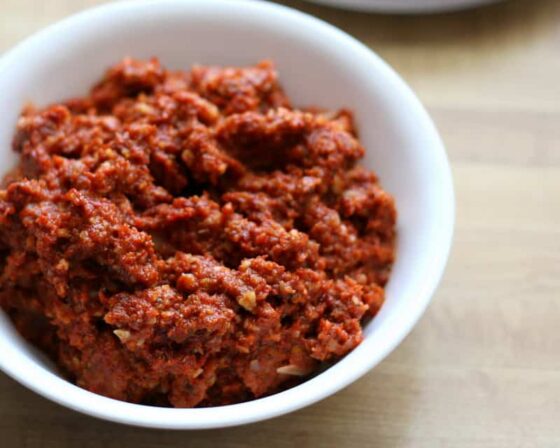 Easy Homemade Sun-Dried Tomato Pesto

Ingredients:

2 cups oil-packed sun-dried tomatoes, sliced thinly (I bought mine julienne)
1 cup shredded fresh Parmesan or Romano cheese
1/3 cup toasted pine nuts
Extra-virgin olive oil, as needed

Directions:

Combine tomatoes, cheese, and pine nuts in a food processor and pulse/blend until thoroughly combined. Drizzle a little oil in if it gets to thick to process.

Makes about 2 1/2 - 3 cups of pesto.

Nat's Notes:
1. I thought the tomatoes did a great job of providing flavor, but feel free to add garlic and fresh herbs as you see fit.
2. To toast pine nuts, place them in a dry skillet over medium heat and toast them for 4-5 minutes or until they become fragrant and turn golden brown.