Fried Eggs with Southwest Cabbage Slaw
Salad on eggs — does that sound strange to you? I never know what's strange anymore. As a family we've been implementing a lot of the principles in the wellness program my husband teaches. My favorite thing about the program is that they don't start off by taking things away from you, but suggest that good things be added instead. One of those things is "Fresh Fiber First" – eating some kind of raw fruit or vegetable before (or with) every meal. We've been doing it for so long that I've started craving (gasp!) vegetables.
A year ago I wouldn't have thought twice about simply eating a couple of eggs, and nothing else, for breakfast. One morning, recently, I made some eggs and really wanted something fresh to go with it. . . like a salad.
I WAS CRAVING SALAD FOR BREAKFAST.
(I'm not pregnant.)
Strange, I know. But that's what happens when you give your body more of what it needs. It's a beautiful thing.
Anyway, we had some cabbage slaw leftover from these tacos the night before, so I threw a little on top with some pico de gallo and a sprinkle of cheese.
Um . . . yeah. That's what I had every morning for the rest of the week.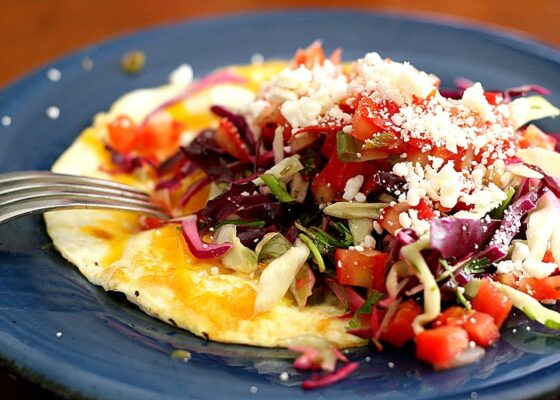 Fried Eggs with Southwest Cabbage Slaw

Ingredients:

2 eggs
a few pinches of shredded cheese (optional)
1/2 cup Southwest Cabbage Slaw (recipe below)
2 heaping spoonfuls of prepared pico de gallo
a sprinkle of Mexican cotija or feta cheese
salt and pepper to taste

For the cabbage slaw:
2 tsp. extra-virgin olive oil
1 T fresh lime juice
2 c coleslaw mix or thinly sliced cabbage
2 green onions, chopped
1/3 c chopped fresh cilantro

Directions:

To prepare the eggs:
Crack two eggs into a small skillet heated over medium heat (with a swipe of butter). Salt and pepper to taste, then fry them to your liking, flipping halfway through cooking. Sprinkle with shredded cheese (if using). Transfer to a small plate. Top with slaw, pico de gallo and a sprinkle of cotija cheese.

To prepare the slaw:
Combine all into a medium bowl and mix well. Keeps in the fridge, covered, for about a week. Great on eggs or as a taco filler.