This cucumber jicama slaw is a great alternative to cabbage or salad greens as a taco topping! Also great with grilled meats.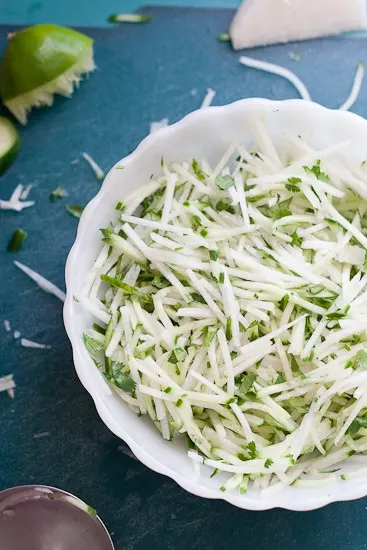 I'm kind of embarrassed to admit how many times I've made this slaw without sharing it with you. I don't even know when I started making it. Maybe early last summer?
I KNOW! All those naked tacos that could have had some Cucumber Jicama Slaw love.
See what happens when I take a break? The good news is that I have a backlog of things ready to share with you!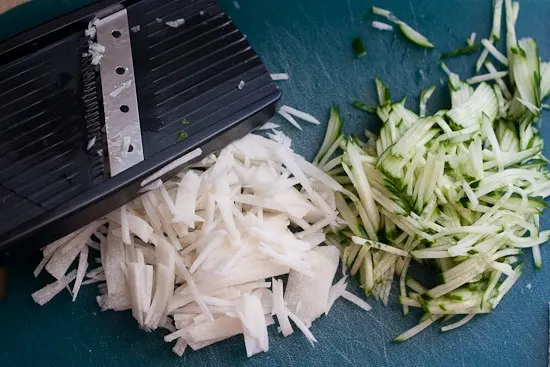 How do you like your tacos? We usually put this Southwest Cabbage Slaw on ours. Back when we ate tacos more regularly.
Back to slaw.
One night we had some impromptu tacos, and I didn't have any cabbage to make slaw, so I pulled out some jicama and cucumber and used the julienne blade on my mandoline slicer to slice them. The I just dressed them with lime juice and added cilantro. Because I always have those two things on hand. Honest. (I'm not sure if it's a conscious decision, but I tend to stock our fridge for tex-mex. All the time.)
By the way, do you have a mandoline slicer yet? If you don't, I still like you. But good grief. You'll love it! That link back there is the one I use all the time. I mostly use the julienne blade for slaws like this one (and a gorgeous Candy-Striped Beet and Carrot Slaw) and for making zucchini noodles (like the Pesto Zucchini Spaghetti version — it has bacon, so it's guaranteed to be good.) I also use it for slicing cucumbers super thin for Marinated Cucumber Salads. I'm not typically a gadget girl, but I do love things that have multiple uses and make it easier to prepare healthy food. A mandoline slicer is one of them.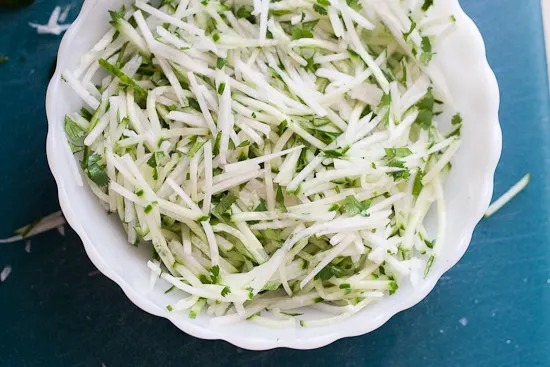 So, I LOVED the way this turned out. It was easy, only four ingredients, and was a cool, refreshing contrast to whatever happens to be in our tacos. Sometimes it's my favorite Chipotle Barbacoa Beef Tacos.
It's also totally delicious as a fish taco slaw or fish taco salad base! Have you tried my Chile-Lime Fish Taco Bowls?
Or if it happens to be Christmas, it goes on our traditional battered fish tacos. (Yes, we eat fish tacos on Christmas. And it's the only time of year I fry anything in more than 1/2 inch of oil.)
You could also eat this with anything you pull off the grill. Like Chipotle Caramelized Onion and Mushroom Burgers or any of my Best Grilled Chicken Recipes.
---
If you make one of my recipes, be sure to post it on social media and tag me at @perrysplate or #perrysplate so I can send you some love!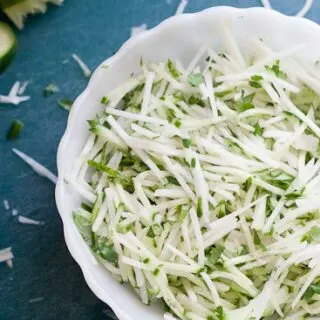 Cucumber Jicama Slaw
Yield:
Makes about 4 cups
If you're tired of cabbage-based slaws or toppings for your tacos, give this cucumber & jicama-based one a try. It's cool and crunchy, and we actually prefer it to shredded cabbage!
Ingredients
2 cups julienned jicama (roughly 1/4 of a large jicama)
2 cups julienned English cucumber (1/2 of the cucumber)
1/3 cup chopped fresh cilantro
Juice from 1/2 a lime
Generous pinch of salt
Instructions
1. Combine ingredients in a medium-sized bowl and toss to combine.
2. Store chilled for up to 3 days.
3. Serve on tacos (instead of cabbage slaw or lettuce) or alongside grilled meats or vegetables.
Notes
Nat's Notes:

1. Peeling a jicama is kind of a pain, but I've found it to be easier if you treat it like a pineapple. Cut the ends off, then run your (sharp!) knife down the sides to remove the peel. Jicama doesn't have a very long refrigerator life after it's been cut, so be sure to eat it within 4-5 days!
This post may contain affiliate links. Any purchases made by using these links won't cost you any extra and helps keep my content free. These links may be Amazon links as I am part of the Amazon Associate Program.