Hominy Minestrone, Two Ways (on accident)
Fact: Homemade salsa verde looks exactly like basil pesto while frozen in an unmarked zip-top bag.
Unfortunately I found this out while in the middle of making this soup, which called for basil pesto. But it turned out to be a wonderful mistake as I discovered that this soup could take on two different personalities with just a spoonful of either of the two runny green sauces. It's like making two different soups at the same time.
As a side note: if you have a gluten intolerance or allergy, this soup cleverly replaces traditional pasta with toothy bits of hominy. What's hominy? A type of big, fat corn that has a chewy texture. I'm pretty sure they're what Corn Nuts
were in a former life. One extra benefit of using hominy is that it won't get swollen and mushy after the soup sits in the fridge overnight, like pasta does.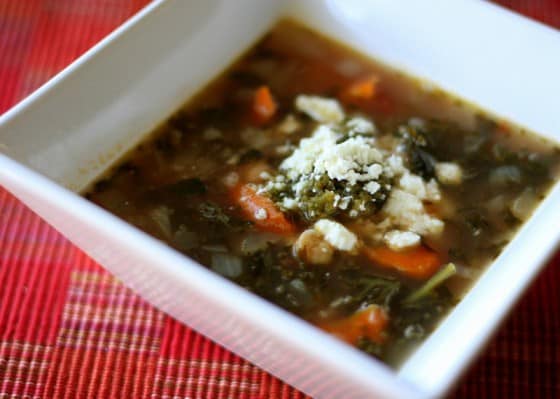 Hominy Minestrone, Two Ways

Ingredients:

1 T olive oil
1 1/2 cups diced onion (or leeks, trimmed and rinsed thoroughly)
2 tsp minced fresh garlic
2 tsp balsamic vinegar
4 cups low-sodium chicken or vegetable broth
1 tsp dried oregano
pinch of crushed red pepper flakes
1 medium carrot, halved lengthwise and cut into 1/4-inch slices
a couple big handfuls of fresh spinach, coarsely chopped
1 19-ounce can of hominy, drained
1 28-ounce can diced tomatoes with liquid
1 15-ounce can garbanzo beans (chickpeas), drained and rinsed
pinch of sugar
salt and freshly ground pepper

Variation 1:
1/4 cup Pecorino Romano or Parmesan cheese
1 cup prepared basil pesto

Variation 2:
1/4 cup feta or Mexican cotija cheese
1 cup prepared salsa verde

Directions:

Heat the oil in a large pot over medium heat. Add the onions (or leeks) and cook, stirring frequently, until softened, about 5 minutes. Add the garlic and vinegar, and cook for another minute.

Stir in 2 1/2 cups water and the broth. Add the next 7 ingredients and bring to a boil. Reduce heat to medium-low and simmer until the flavors have mingled and the spinach is wilted, about 25 minutes. Add a generous pinch of sugar, if needed, to balance the acidity of the tomatoes and season to taste with salt and pepper.

Ladle soup into bowls and top with a sprinkle of cheese and either a spoonful of pesto or salsa verde.

Serves 6-8.

adapted from Whole Grains Every Way, Every Day by Lorna Sass