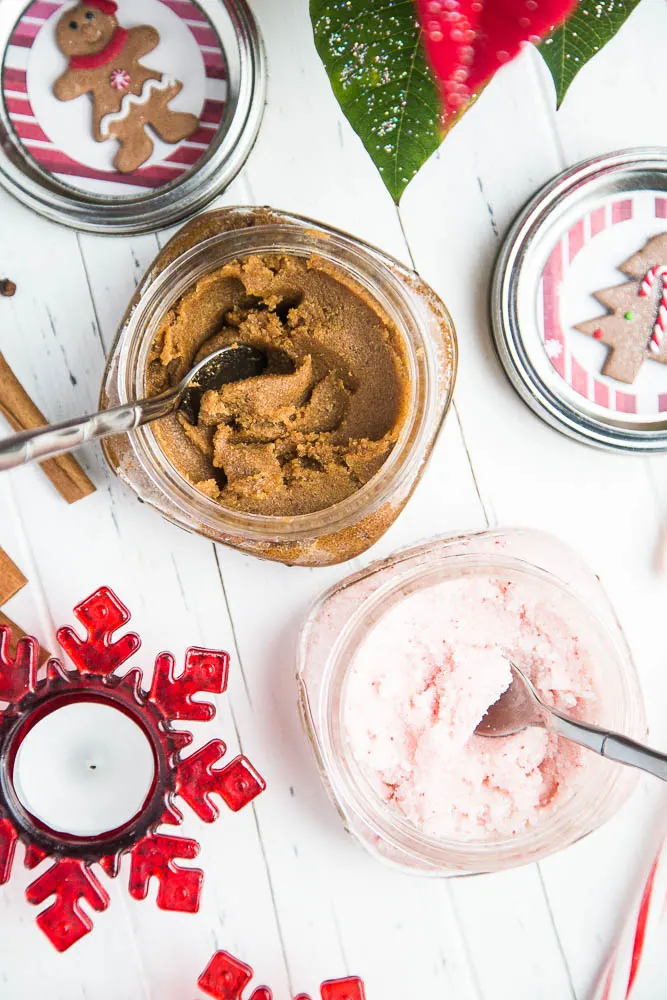 Making homemade sugar scrub was a revelation for me.
Did you ever use that St. Ives apricot sugar scrub in the 90s? I used it ALL the time in high school.
Have you ever made my Homemade Sugar Scrub with Brown Sugar and Coconut Oil? After I made that I never bought scrub ever again. It smells better, it moisturizes like a champ (hello, coconut oil), and… sometimes you can eat it.
Today I've got a couple of holiday variations (flavors? lol) of my sugar scrub — Candy Cane & Gingerbread! They only take about 10 minutes to make, and they're perfect for stocking stuffers or teacher gifts.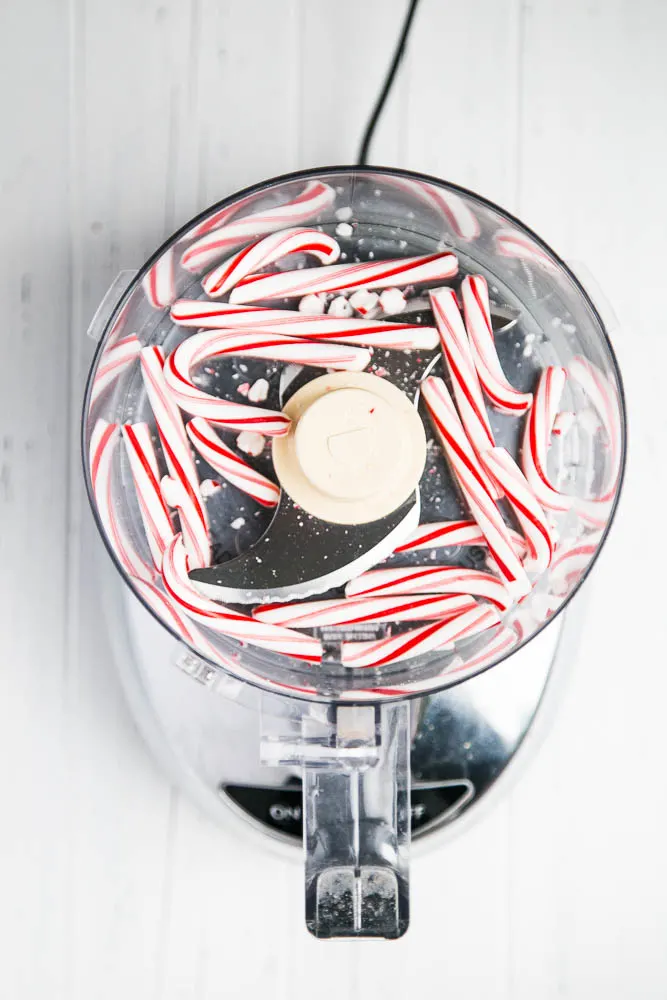 Let's start with the candy cane scrub. And I really mean candy cane. There are literal candy canes in there.
Here's a little video to show you how it's done!
For this recipe I used 6 large (regular sized) candy canes.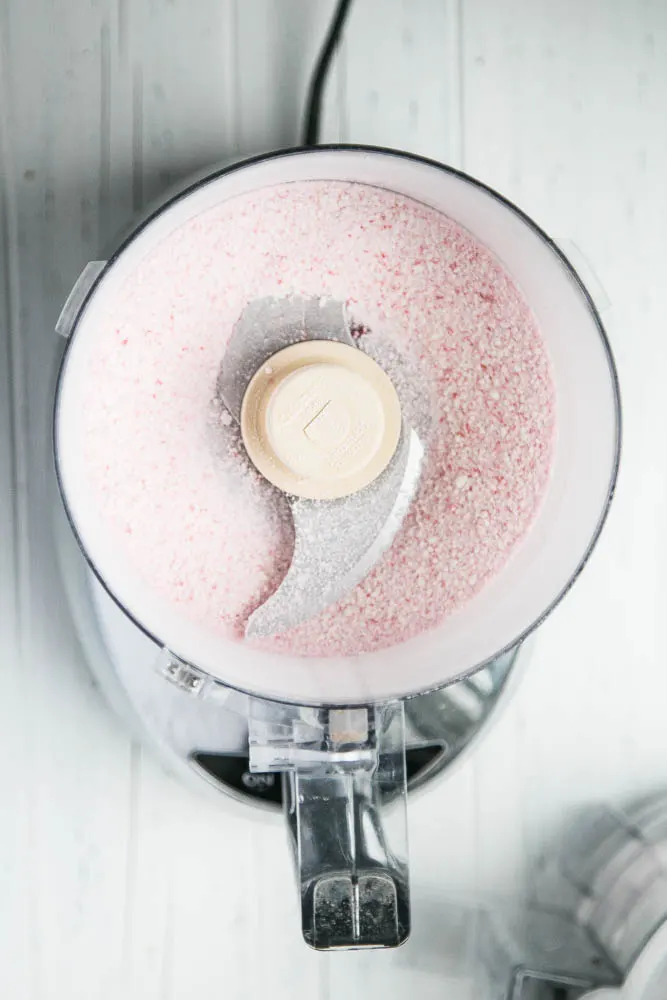 A food processor makes this first step easy.
You could also put the candy canes in a zip top bag and whack them with a rolling pin. I love using actual candy canes in this scrub because it turns the scrub a pretty shade of pink and adds little flecks of white and red.
I don't actually enjoy eating candy canes, so I find other ways to enjoy them.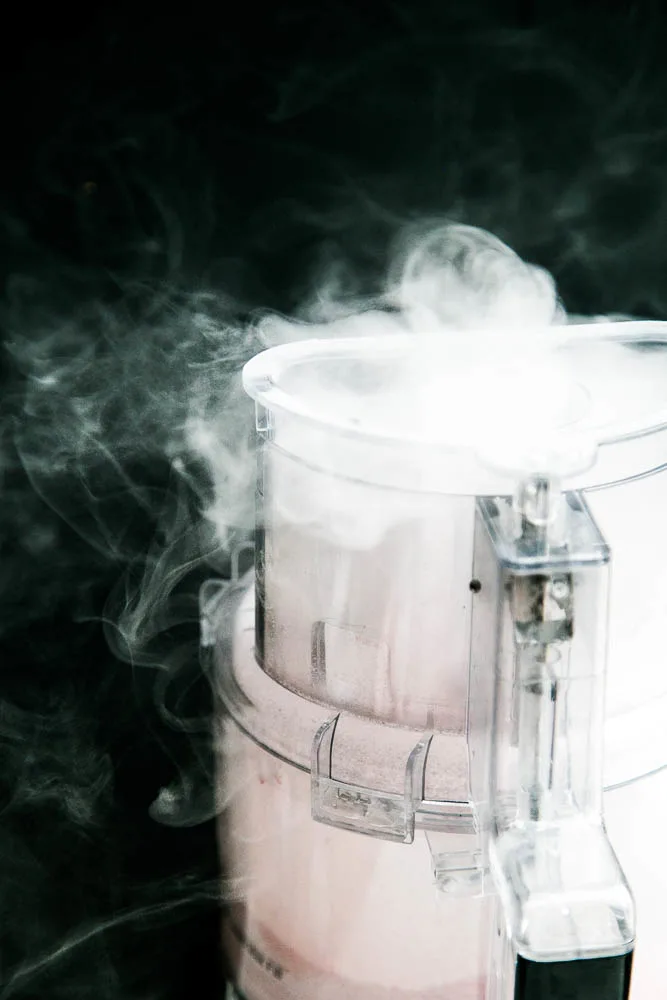 Also, when you're blending candy canes, don't forget to put the extra little plunger-thing into the lid so you don't end up with candy smoke all over your kitchen.
Breathing this stuff isn't super pleasant either.
But it was rather ethereal and fun to watch — like dry ice. My 4-year-old loved it.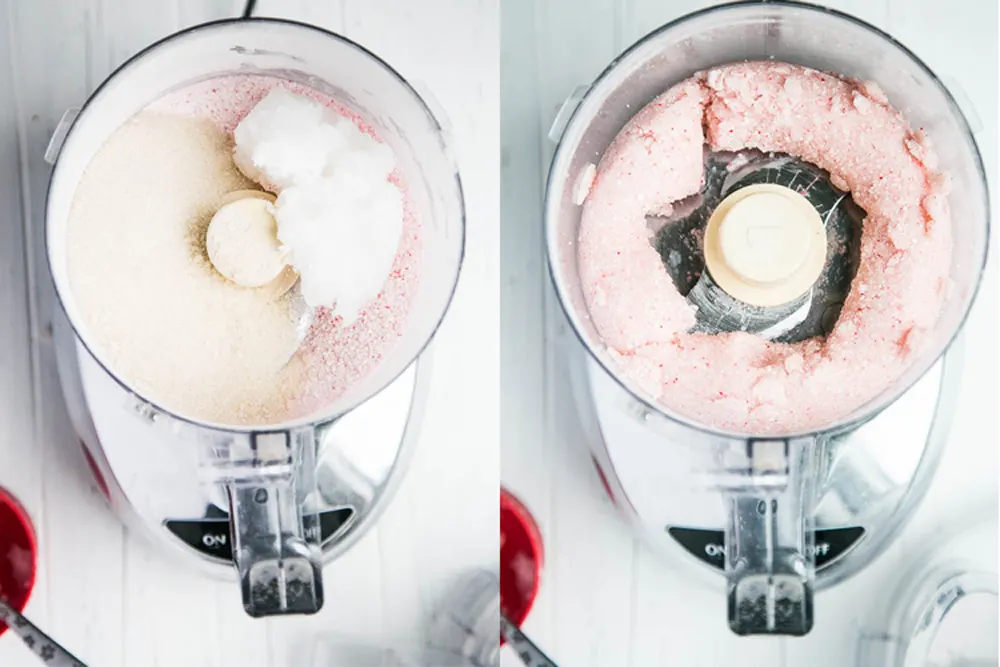 At this point, just add the sugar and coconut oil and blend it up again until it resembles wet sand.
You'll want your coconut oil solid, but not super hard. Shoot for the consistency of shortening to get the best texture.
You can use other types of sugar (or salt!) and oil in sugar scrub — I talk about it in more detail in my Homemade Brown Sugar Scrub post.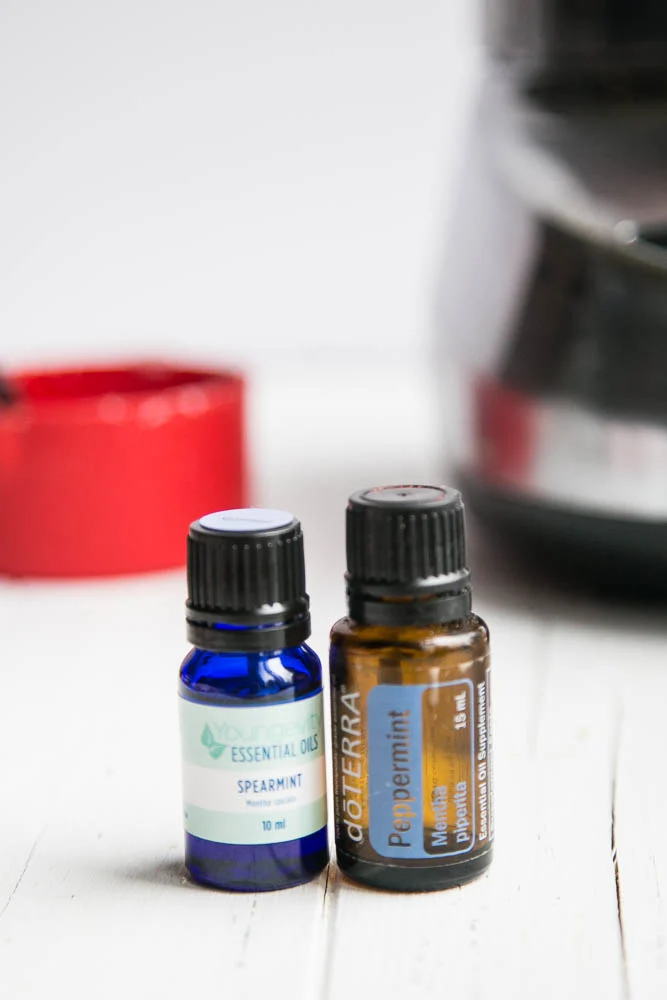 I didn't feel like the candy canes gave it enough peppermint scent (or flavor, if we're being honest. Sometimes I dip my finger in there and lick it.)
I added some peppermint oil. Spearmint oil is fun, too.
What kind of essential oil should I use in sugar scrub?
I'm not loyal to any particular oil company, FYI. I do have a lot of DoTERRA oils and one from a company called Youngevity.
I've recently started buying Revive essential oils and like them a lot. They're high quality and don't cost as much as the ones from the big MLMs.
If you use my Revive link, you can get a $10 gift card on your first purchase!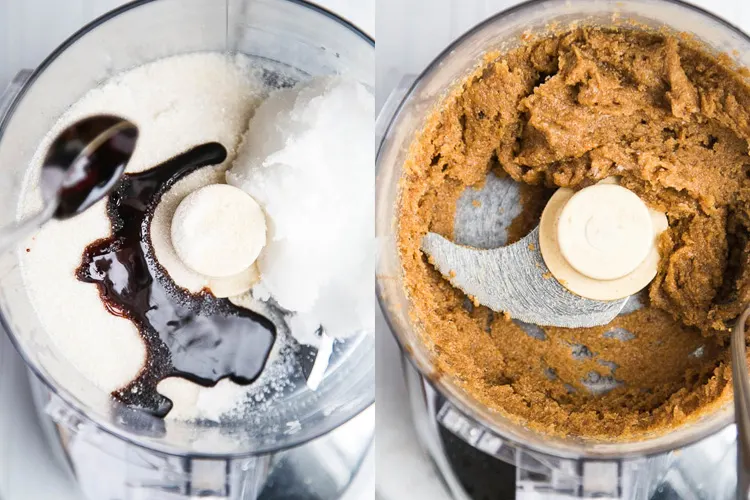 Just be aware of the potency of certain essential oils. In the gingerbread scrub I used ground baking spices instead of ginger, cinnamon, and clove oils because the cinnamon and clove oils are super potent and can irritate the skin.
I learned that once the hard way. Oops.
Much of what's in your pantry is fair game! I even used molasses in the gingerbread scrub. And then I realized that brown sugar is sugar + molasses and I could have just used that. I'd still add more molasses, though, to give it a more gingerbread-like scent.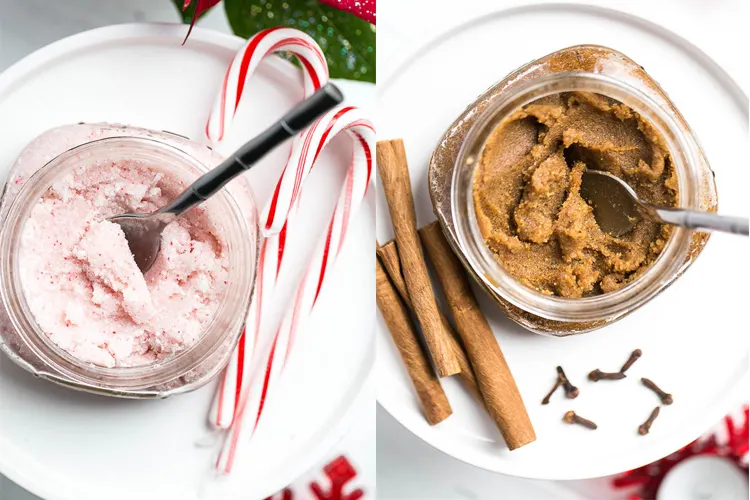 How do I store sugar scrub?
I like to store sugar scrub in mason jars because they're easy to clean and reuse. And I have a whole cupboard of them. I especially like the short squatty half-pint jars because it's easy to get all the scrub out when you're using it. Plus they're cute.
Also, if your scrub gets warm and separated, just use your finger and mix it back up. Easy peasy.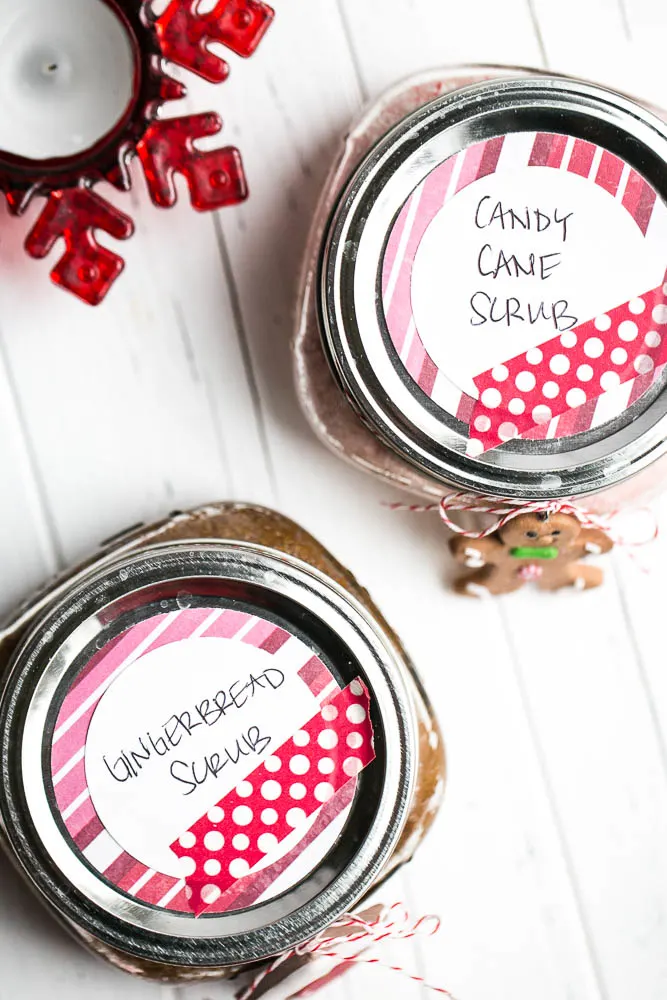 I'm not super creative when it comes to frou-frouing things. For these I just cut some rounds of paper with my hole punches. I got my punches at Michaels 100 years ago, but this 3-pack of punches on Amazon is similar.
Having a pad (or three) of scrapbook paper and some punches in my craft stash has been super helpful for things like this. I don't scrapbook if I can help it. (Yay for chat books!) But I do love fun paper.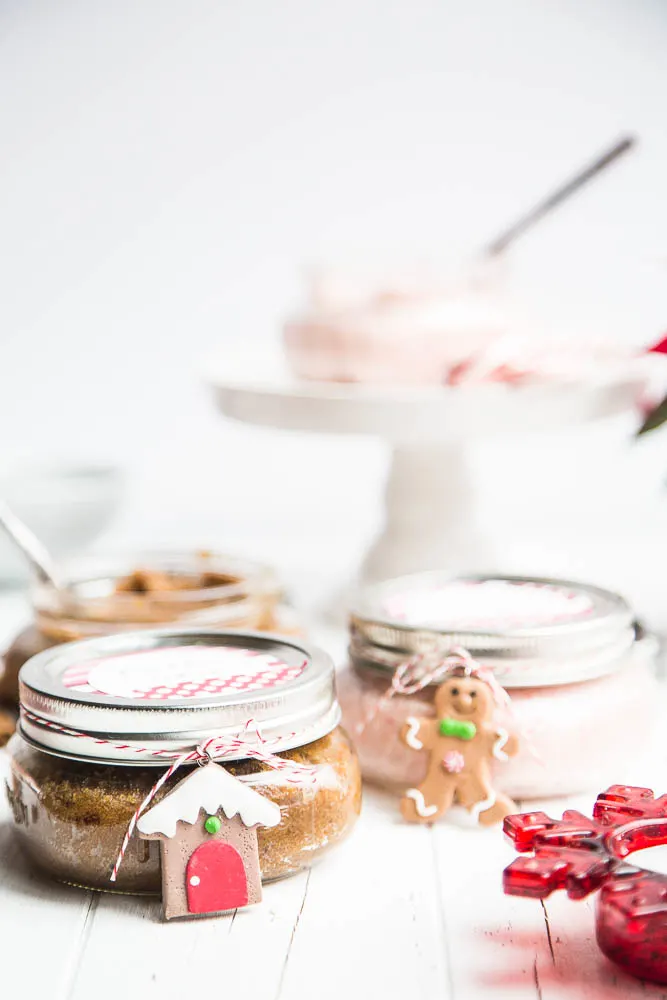 I also used washi tape, baker's twine, and some little gingerbread ornaments I found at Michaels.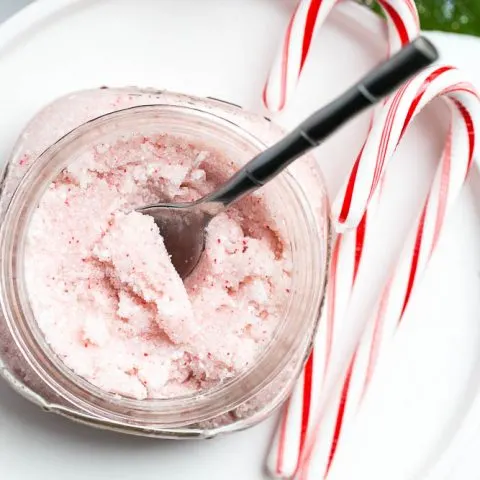 Candy Cane Sugar Scrub
Yield:
Makes about 2 cups
This sweet, pepperminty homemade sugar scrub is a cinch to make with candy canes sitting around your house and a couple other pantry ingredients.
Ingredients
6 large, regular-sized candy canes
1 cup white sugar (fine or coarse)
3/4 cup coconut oil (solid, but not super hard)
15-20 drops peppermint essential oil or 1/4 teaspoon peppermint extract
Instructions
Unwrap the candy canes, break them into large pieces, and put them in the work bowl of a food processor. Pulse and blend until they're ground up well. You don't want large shards of candy cane. (If you don't have a food processor, put them in a large zip top bag and smash them with a rolling pin. Or you could try using your blender.)
Add the sugar, oil, and peppermint oil/extract to the processor and pulse until the mixture sticks together and resembles wet sand. (Again, if you aren't using a processor, transfer the candy cane powder to a large mixing bowl with the rest of the ingredients and mix by hand. You may want your coconut oil a bit softer so you don't have hard clumps in your scrub.
Transfer the sugar scrub to lidded glass jars or another type of lidded container. Store away from heat (not in the shower) if you want to maintain the creamy texture.
Recommended Products
As an Amazon Associate and member of other affiliate programs, I earn from qualifying purchases.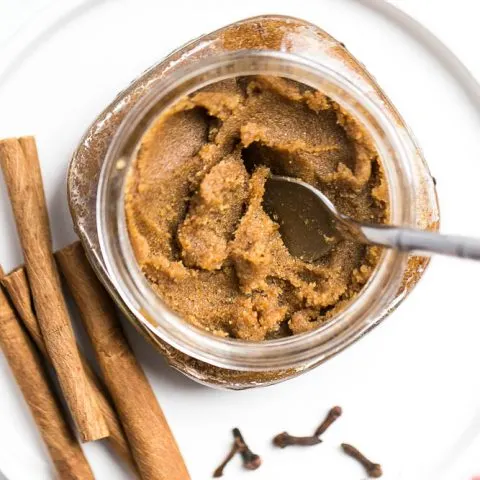 Gingerbread Sugar Scrub
Yield:
Makes about 2 cups
I don't blame you if you eat this scrub straight out of the jar. It tastes like gingerbread cookie dough. And it smells AMAZING used as a scrub!
Ingredients
1 cup sugar (fine or coarse)
3/4 cup coconut oil (solid, but not rock hard)
2 Tablespoons molasses
2 teaspoons ground ginger
1 teaspoon cinnamon
1/4 teaspoon ground cloves
Instructions
Put all of the ingredients into the workbowl of a food processor (or a mixing bowl, if you don't have a processor.)
Pulse until the mixture sticks together and resembles wet sand.
Transfer to a lidded container and store away from heat (if you want to keep the creamy texture).
Disclosure: This post may contain Amazon affiliate links. Purchases made by using these links don't cost you any extra and helps to keep my content free.