Meet Christina! + Multigrain Biscotti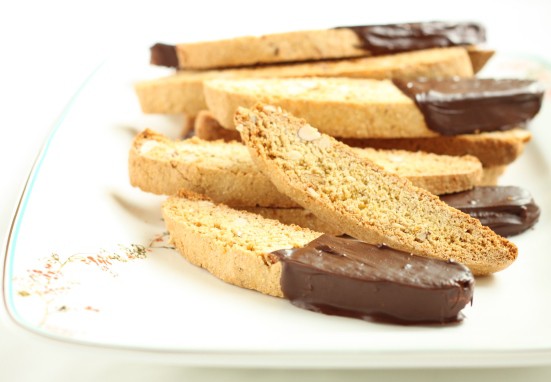 I don't even know where to start with Christina! She's adorable and such a genuinely good person. It's refreshing, actually. Christina and I were roomies during the FoodBuzz festival last fall (she'll talk about that as well) and I was so happy to have met her. (She wasn't even embarrassed to walk around with me as I filled my wine-tasting glass full of gourmet popcorn.) Christina's definitely the downsizing expert of the blogging world as she makes small-scale desserts on her blog Dessert For Two. I'm excited to have her here today making something that I've always wanted to try myself! 
*****
Howdy everyone! I'm Christina from the blog Dessert For Two, and I'm so excited to be guest posting for the very beautiful and sweet-as-sugar Natalie! I had the privilege of meeting Natalie last November at a food blogging conference. We hit it off so well that we skipped the fancy schmancy dinner at the end of the conference to go grocery shopping together. Talk about a woman after my own heart—we'll take a co-op with a well-stocked bulk bin section over a black tie dinner any day.
One of the reasons I was instantly hooked on Natalie's blog is because her kids actually eat vegetables. Since I've never seen a child willingly eat vegetables, I knew that her food must be delicious. She cranks out wonderful vegetable-centric dishes that have quickly become my go-to recipes. Now, I think that after all those vegetables, her sweet little girls deserve dessert. I wanted a healthy, whole grain dessert that Super Mom Natalie would be proud to serve. I created a biscotti recipe that does not contain butter or oil and is composed of lots of good-for-you grains and seeds. I hope y'all enjoy it!
Multigrain Biscotti

Ingredients:

1 cup whole wheat pastry flour
1/3 cup wheat germ
1/3 cup oat flour
1/3 cup quinoa flour
1/4 cup cornmeal
2 large eggs
2/3 cup sugar
1/2 teaspoon baking powder
1/2 teaspoon salt
1/2 teaspoon vanilla
Zest from 1 orange
1/3 cup chopped almonds (or sunflower seeds or pepitas)

Directions:

Preheat the oven to 350°. Line a baking sheet with parchment paper or a silicone mat.

In a medium bowl, whisk together the pastry flour, wheat germ, oat flour, quinoa flour and cornmeal. Set aside.
In a large bowl, beat together with a handheld mixer the eggs, sugar, baking powder, salt, vanilla and orange zest. Beat very well until the mixture turns pale yellow, increases in volume and falls back in ribbons from the beaters when you stop beating—about 2-3 minutes. Then, fold in the flour mixture with a spatula. Fold in the nuts last.

Dump the dough out onto the sheet pan and using damp hands, pat it into a 1" thick rectangle about 8 1/2" long and 4" wide. Bake for 25 minutes, then remove from oven and allow to cool for a full 15 minutes. Turn the oven down to 300°. Once 15 minutes has elapsed, slice the loaf into 3/4" slices, arranging them back on the baking sheet. Bake for another 30 minutes. Let cool completely before serving.

Yields 15 long, skinny cookies.

Christina's Notes:
1. I don't actually buy oat flour—I simply grind up old fashioned rolled oats in a coffee grinder to a powder and then measure out what I need. I do the same for quinoa, but I've found that just 1/4 cup of quinoa will give you 1/3 cup of quinoa flour.

from Christina at Dessert for Two