Thai Shrimp Curry with Summer Squash + Homemade Thai Curry Paste
I think we have a few breakthroughs with this one.
1. This was the first Thai dish I've made at home that really tastes authentic. And by authentic, I mean what you would get at a Thai restaurant in the US. (Like most ethnic food, it probably pales in comparison to eating it in its homeland.) I will stand by this until I take a trip to Thailand. Sometime in my 60s.
2. This recipe was adapted from a couple of recipes in Vegetable Harvest
by Patricia Wells. Her Thai curry paste is outstanding, and because I grind my own curry powder, I already had all of the spices in my pantry. I think Ms. Wells may be my new vegetable-centric cookbook writer crush.
3. After a few bites of this my oldest said, "Mommy, I want you to make this again!" I can count on one hand how many times she has said this with complete spontaneity. I wanted to hug her. And high-five my husband. And dance around the kitchen table.
4. This recipe has made me a convert to Tropical Traditions Coconut Cream Concentrate. (This isn't a sponsored post, I promise.) It's like…coconut milk concentrate. And it's really good. REALLY good.
This is such a versatile and easy recipe. Don't like squash? Swap it out for something else. Does shrimp make you cringe? Throw in some chicken instead. Yes, there is a fair amount of chopping, but it comes together really easily and would be a great low-stress meal to serve some guests.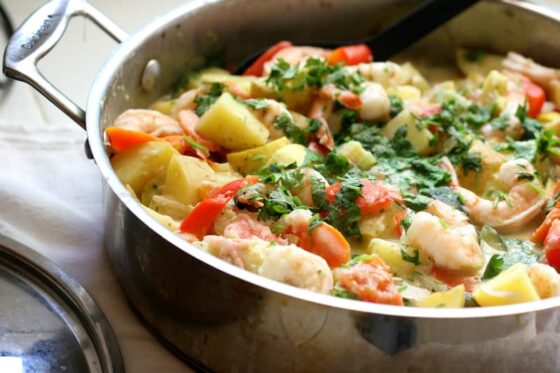 Thai Shrimp Curry with Summer Squash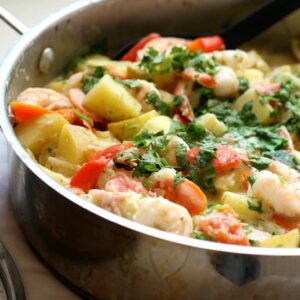 Ingredients:
For the dish:
2 T neutral-flavored oil, like grapeseed
1 T minced fresh ginger
1 large onion, peeled and chopped.
1/2 tsp salt
2 Yukon gold potatoes, scrubbed, and chopped into 1-inch pieces
2 medium zucchini, chopped
2 medium yellow squash, chopped
2 medium carrots, peeled and chopped
1 red bell pepper, chopped
2 medium tomatoes, seeded and chopped
2 cups seafood, vegetable, or chicken broth
1 cup coconut milk or 2/3 cup coconut cream concentrate(see note)
1 lb uncooked medium shrimp, peeled with tails on
1 lime, juiced
1/4 cup chopped fresh cilantro, plus more for garnish
2-3 T Thai curry paste (recipe below)
1 cup cashews (toasting optional)
For the homemade curry paste:
2 tsp whole coriander seeds
1 tsp whole cumin seeds
1 tsp whole fennel seeds
1 tsp whole black peppercorns
1/2 cup tightly packed cilantro leaves
Two 1/4-inch slices fresh ginger, peeled
1/4 tsp finely ground dried red chili peppers
1 large shallot, peeled and chopped
4 plump garlic cloves, peeled & halved
Grated zest from 2 limes
1 1/2 tsp fine sea salt
1 tsp freshly ground nutmeg
1/3 neutral-flavored oil, like grapeseed
Directions:
To prepare the dish:
In a large, heavy skillet or pot, heat the oil over medium heat. Add the ginger, onion and salt to the skillet and cook for about 5 minutes. Onions should be translucent and soft, but not brown. Add all of the vegetables and the chicken broth (the next 7 ingredients). Bring to a simmer, reduce heat to medium-low, and cover. Cook for 15 minutes, until potatoes and carrots are fork tender.
Meanwhile, pour the coconut milk into a small saucepan and simmer over medium heat until it is reduced by about half. (See note)
When the vegetables are done, add the reduced coconut milk, shrimp, lime juice, cilantro, and curry paste to the skillet. Stir to combine and cook another 5 minutes over medium heat until shrimp are pink and no longer translucent. Taste and adjust the seasonings (salt & curry paste) to suit your taste.
Serve with a sprinkle of chopped cilantro and a handful of cashews.
Serves 6-8.
Nat's Notes:
1. I recently started using Tropical Traditions Coconut Cream Concentrate, which is a condensed version of coconut milk and can be reduced and used as coconut milk in recipes.
2. This curry can be served over hot rice, but we liked it plain like a stew.
3. If you don't want to make the curry paste from scratch, just substitute store-bought curry paste. You can sometimes find this in the ethnic section of your grocery store.
To prepare the curry paste:
Combine the coriander, cumin, fennel, and peppercorns in a small dry skillet. Toast over medium heat for a couple of minutes, shaking the pan often, until fragrant. Remove from heat and let them cool for several minutes. Transfer to a spice grinder or coffee mill and grind to a fine powder.
In a blender or a food processor, combine the cilantro, ginger, peppers, shallots, garlic, lime zest, salt and nutmeg until very finely chopped. Add the toasted spices and while the machine is running, slowly drizzle in the oil. Cover and chill until ready to use. Paste will keep, covered and chilled, for up to one week.
Nat's Notes:
1. If you have access to lemongrass, you can substitute 1 stalk for one of the limes. Chop the bottom third and add it to the recipe where the lime zest is used in the recipe.
2. The original recipe called for 1 whole tablespoon of ground chili peppers. That's way too spicy for the little mouths I feed, so I played it safe with just over a pinch.
inspired by a recipe in Vegetable Harvest by Patricia Wells
SaveSave
SaveSave