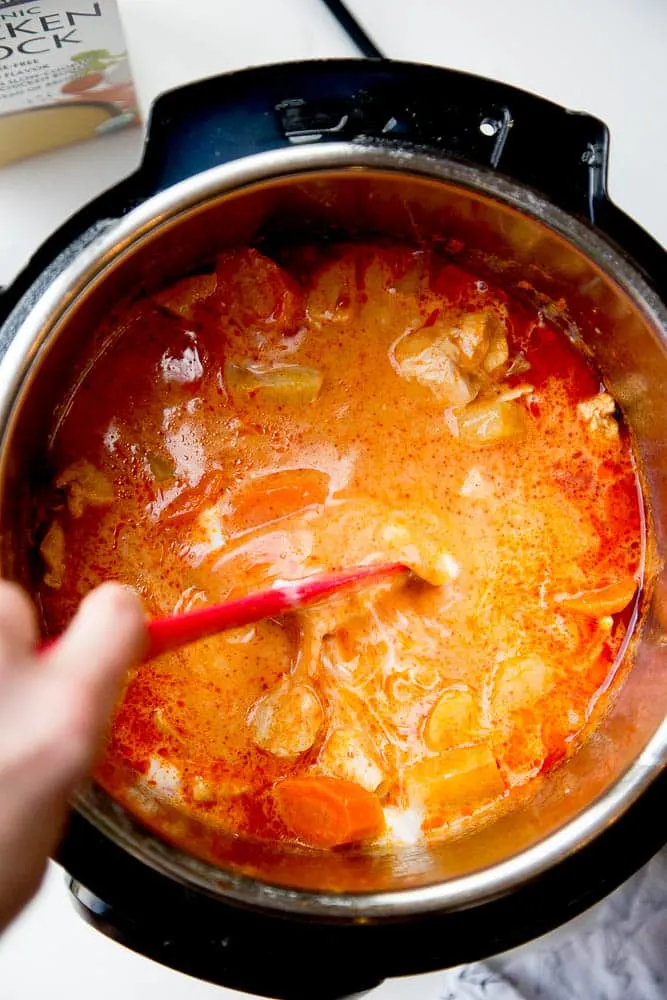 On a scale of chicken nuggets to sushi, how adventurous are your kids when it comes to ethnic food?
(Or you, for that matter? haha.)
Steve and I are pretty adventurous eaters and love to try all kinds of ethnic food. I like to try my hand at some of it at home, so our kids have been exposed to all kinds of things. Honestly, the ethnic stuff goes over better than some of the more traditional things I make.
And because I'm a food blogger my kids have been exposed to a lot of things. Unfortunately, it has caused them to be intolerant of eating the same thing more than twice in a month. (Except pizza. Duh.)
If you love ethnic food, but aren't sure how it will go over with your kids, curry recipes are great. This Thai Chicken Curry is a good one to start with. It's pretty benign — an orangy sauce with chicken, carrots, and potatoes. It's not spicy (unless you want it to be) and it's got a kid-friendly texture.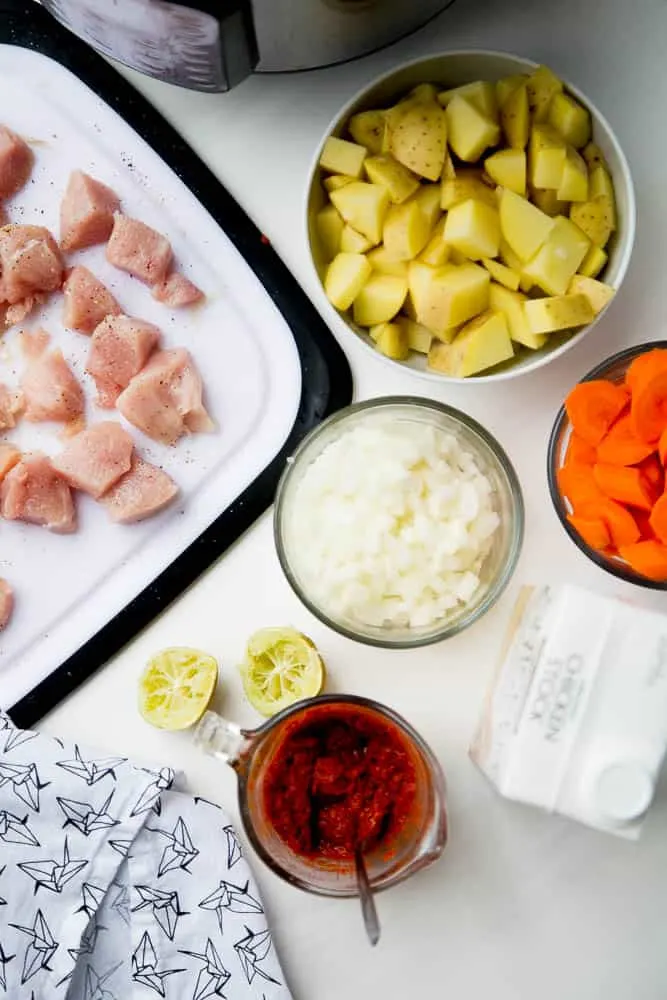 AND there's nothing green in here.
It's kind of a joke among the early readers of my site that most of my recipes called for "two handfuls of baby spinach". Back when I tried to get my babies and toddlers to NOT hate green things, I'd add a little chopped spinach in a lot of their food so they'd get used to eating green things. It actually worked well!
(One of my readers says my next cookbook should be called "Two Handfuls of Spinach". That's not a horrible idea.)
Speaking of vegetables, you could definitely substitute others in here. Just choose ones that won't turn to mush after 10 minutes in an Instant Pot. Cauliflower, cabbage, kale, winter squash, and root vegetables usually do well. You could also stir in some smaller green beans or snow peas at the end after everything else has cooked. Red bell peppers are a popular addition to chicken curry or coconut curry, but I think they'd disintegrate in here.
And if your kids don't mind green vegetables, you could always throw in a couple handfuls of spinach at the end.
Joking. Actually not joking.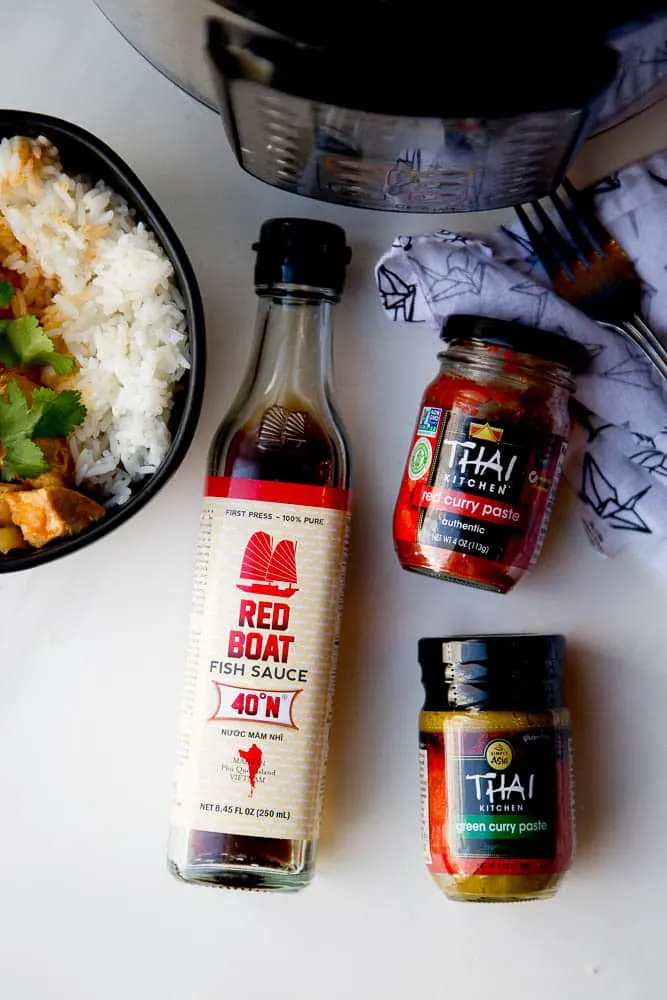 Approachable ethnic food should also have ingredients that are easy to find. I love this recipe because you don't have to hunt down anything in an Asian market.
(Although there is a time and place for that. And it's super fun sometimes, albeit smelly. Why do Asian markets have to have an overwhelming fishy smell? It's almost more than I can stand.)
Fish sauce and curry paste are pretty easy to find these days in the Asian section of most grocery stores. I like Red Boat fish sauce and Thai Kitchen curry pastes because they don't have any sketchy ingredients. (They're also Whole30 compliant! Most other fish sauces have added sugar.) You can use red or green curry paste.
I haven't used yellow curry powder in this recipe, but I suspect you wouldn't get the flavor depth that you would with a curry paste. If you try it, let me know how it goes.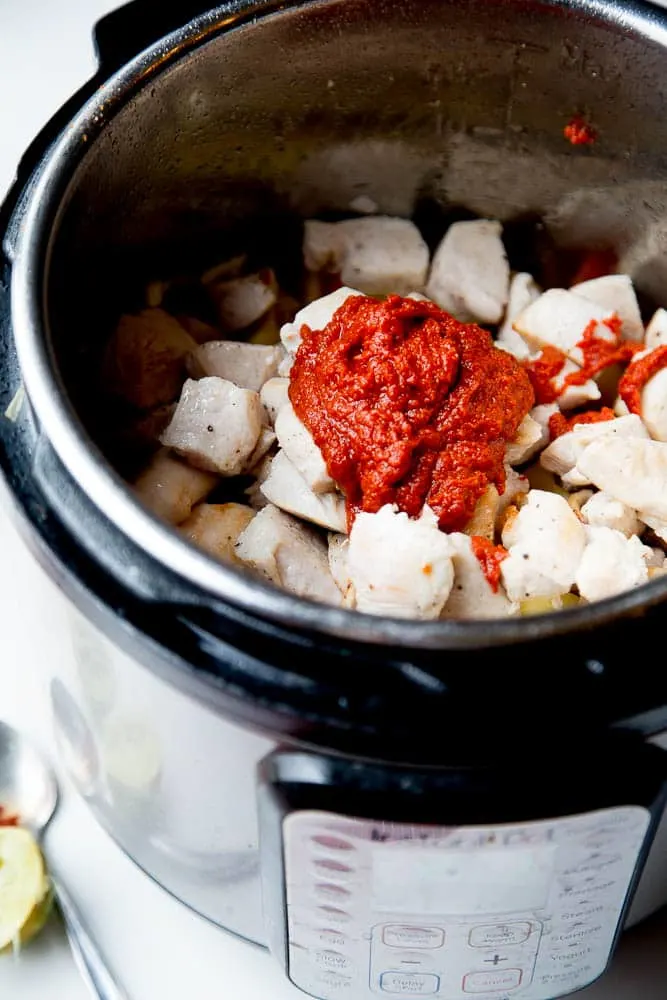 One note about this curry paste. This recipes calls for most of a jar — about 4-5 Tablespoons, which is normal when you're making a big pot of Thai curry.
Not all curry pastes have the same heat level. For some reason, Thai Kitchen pastes have a "spicy" indicator on them, but they're actually very mild. Stick your finger in there and taste it. You'll see what I mean.
Don't add this much unless you know for sure it won't make your head explode. (Or ruin your kids on Thai food for life.) Just shake some sriracha in your own bowl for heat if you're feeding this to kids who haven't been enrolled in spicy food training.
By the way, we're making progress in our spicy food training. A couple of kids are still at level Pepper Jack Cheese. A couple of them are eating Sriracha Popcorn now, and one of them even likes a bunch of Chalula on her taco salads. Granted, Chalula is probably the most mild of hot sauces. A year ago she wouldn't touch any of it, so I call that progress.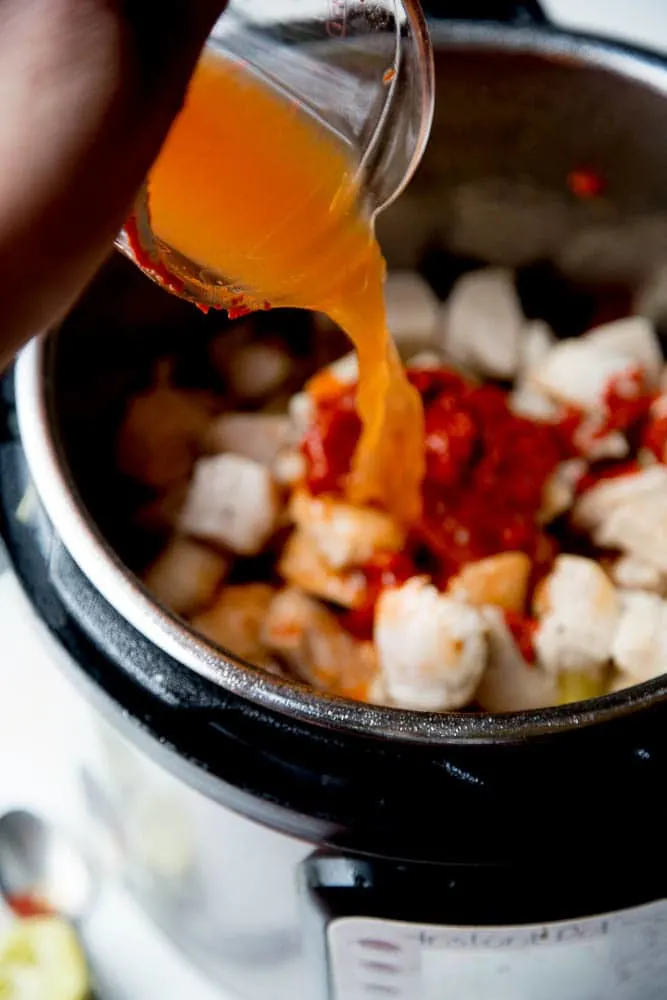 Oh, did I mention this is an Instant Pot recipe? You probably assumed as much already.
I totally love using my Instant Pot for ethnic recipes. Most of the time you can have dinner done in 30 minutes or even 20 minutes. Do you have my Instant Pot cookbook? (The Big Book of Paleo Pressure Cooking) There are quite a few ethnic-inspired recipes in there! Some of our favorites are Indian Butter Chicken, Thai Chicken Zoodle Soup, Coconut Lime Chicken Thighs, and Caribbean Pineapple Pulled Pork.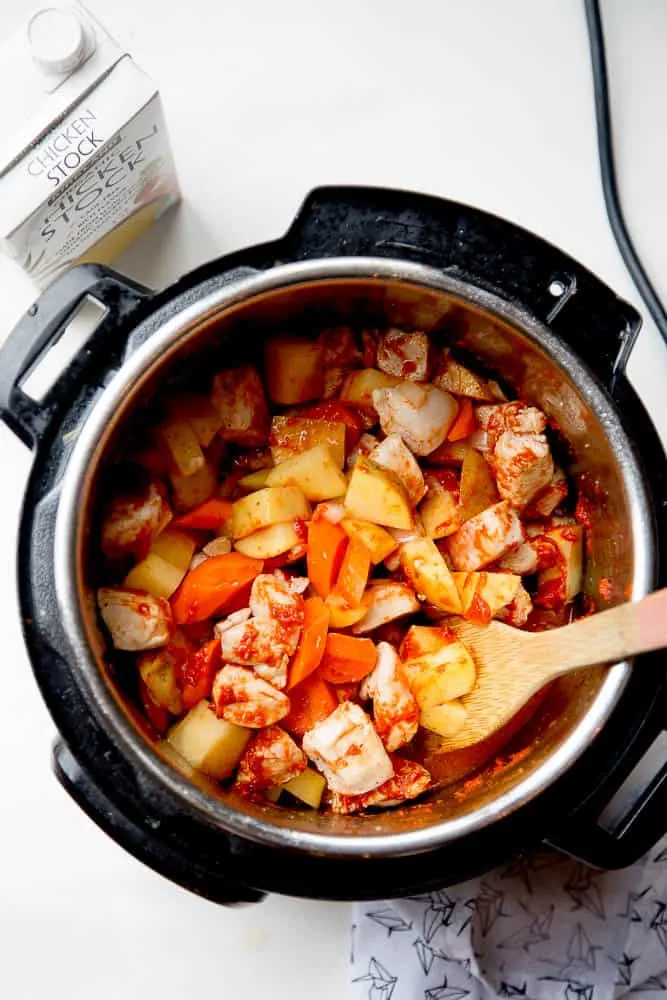 Most Thai curry recipes call for brown sugar or some kind of sweetener. I didn't add any (and I don't think it needed it, really), but feel free to add a little honey or something if you prefer a sweeter flavor.
This is one of those recipes where I tell you to brown the chicken first. Honestly, it's optional, but I think it just adds flavor and depth when I do it. So, I do it. Unless I REALLY don't feel like doing it. I usually add the chicken to the pot with hot coconut oil to sear while I'm chopping the rest of the vegetables. (Multitasking is good. Sometimes.)
It's your call. I'll support you either way. I know how those busy weeknights are, and sometimes the thought of browning chicken on a Wednesday night is more than we moms can handle. I don't want to send you over the edge.
I used chopped chicken breasts in here, but you can totally use chicken thighs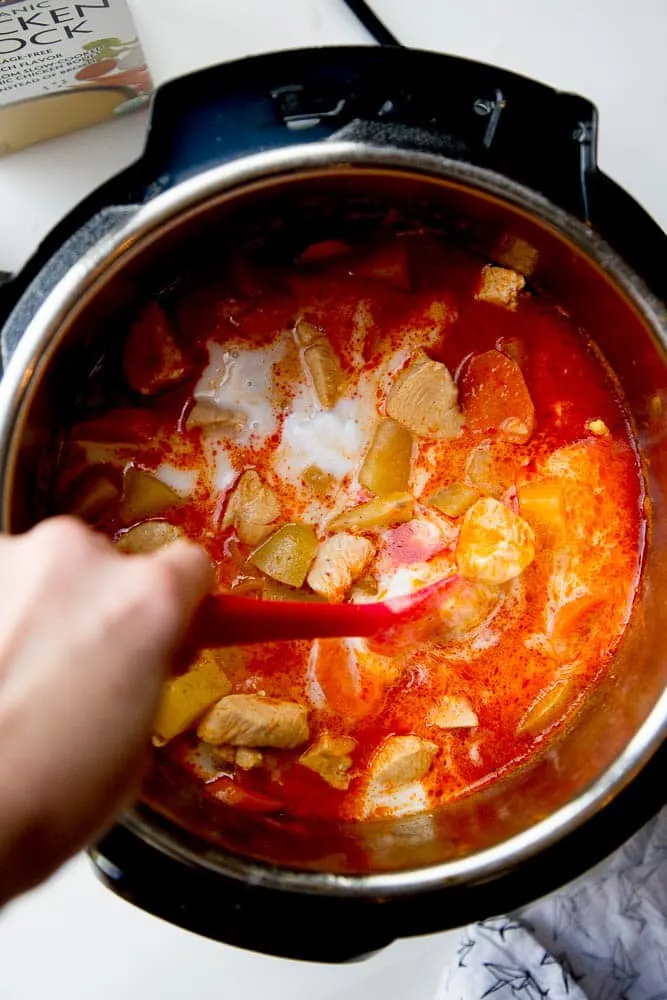 Look, it's turning into curry! My favorite part is stirring the coconut cream in at the end (or use heavy cream if you want!) It's so pretty swirled with that fiery red sauce (again, fiery as in color, not as in heat-level).
I didn't even realize my spatula matched the curry. I also believe that your food tastes better when your kitchen tools match it.
Just kidding. (Sorta.)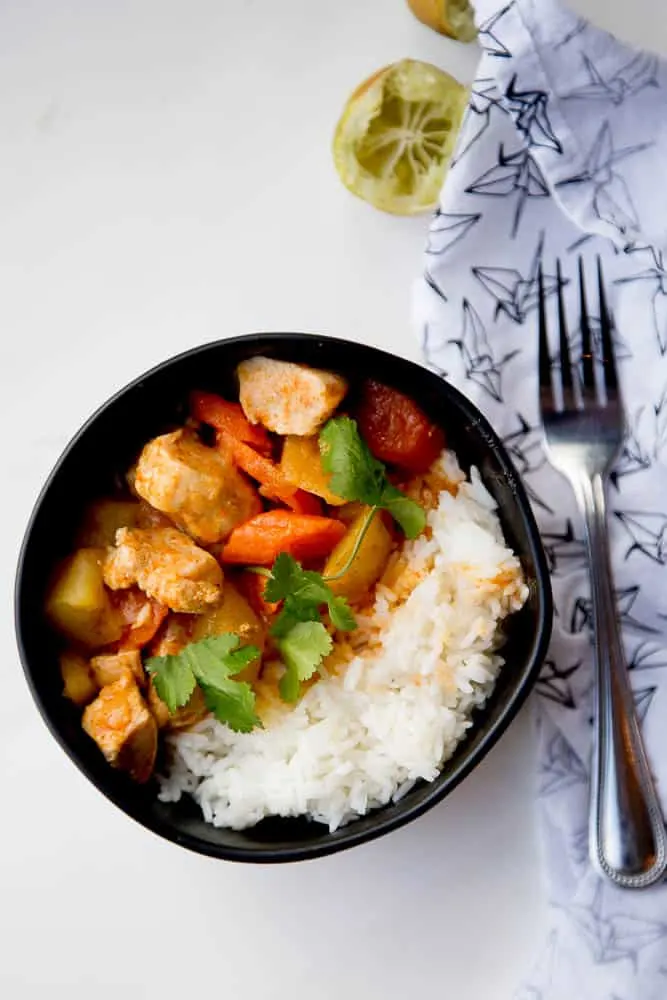 And, done! A squeeze of fresh lime juice on top makes this even more amazing. You could add a little chopped fresh cilantro or some Thai basil, if you can find it! (I know, more green. LOL. Maybe not?) Steve and I like to add some sambal oelek or sriracha on ours, too.
I'd love to know if you make this for kids and whether or not they liked it. If you're wanting more kid-friendly recipes to ease them into ethnic flavors, here are a few of our kids' favorites:
Kid-Friendly Ethnic Recipes
Paleo Pad Thai – They literally jump up and down when I make this. Unless I use zoodles, in which case they writhe on the floor in agony. Sigh. Kids, man.
Paleo Hungarian Goulash – This is also an Instant Pot recipe! It looks like beef stew, but it has a fiery red-orange sauce (not spicy, just red bell pepper based). We love it over mashed potatoes or rice or gluten-free noodles. (Again, zoodles don't go over well with them. Sometimes Roasted Cauliflower Rice does, though!)
Mulligatawny Soup — Have you had this? It's an Indian-inspired blended soup with cooked rice and chicken added at the end. (Rice is optional.) It's such a fun introduction to Indian flavors, too.
Grilled Moroccan Chicken — Tuck this away for grilling season! It has a SUPER easy marinade (like 4 ingredients?) and the garlic sauce that goes with it TOTALLY rocks. Especially if you serve it with Simple Marinated Cucumbers. Mmm….
California Roll Sushi Bowls — More jumping for joy for this one. I buy the pre-cooked, wild-caught mini shrimp at Costco and heat it up with some lime juice and coconut aminos. Or I use leftover salmon. Or white fish. It's super easy to put together.
Instant Pot Indian Butter Chicken — I know I mentioned this one already, but my kids LOVE LOVE this one. It's from my book, The Big Book of Pressure Cooking and is in my 6-month rotation. Like I said, my kids don't like eating the same stuff more than twice a month. Ha. I could eat that curry every week. It's so, so good.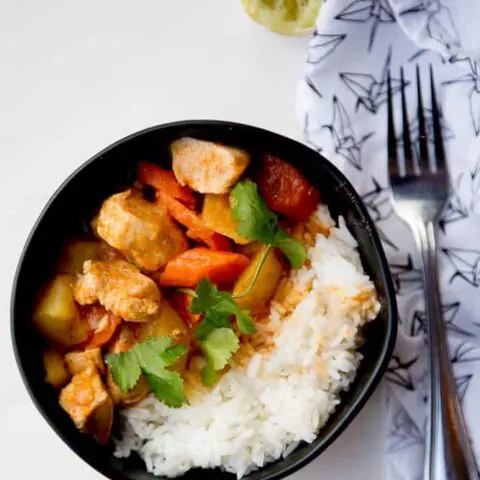 Easy Thai Chicken Curry (Instant Pot)
Make this flavorful, kid-friendly Thai Chicken Curry in your Instant Pot! (Also includes stovetop and slow cooker instructions!) Swap out the vegetables, protein, or even make it vegetarian. Super easy and can be made low-carb/keto or Whole30 friendly.
Ingredients
1 1/2 - 2 pounds boneless, skinless chicken breasts or thighs, cut into 1-inch cubes
Sea salt & black pepper
2 Tablespoons coconut or avocado oil
1 small onion, diced
3 large carrots, peeled and cut into 1/2-inch pieces
3 medium Yukon gold potatoes, cut into 1-inch pieces
One 4-ounce jar of Thai Curry Paste (about 7 Tablespoons)
1 Tablespoon tomato paste
1 Tablespoon fish sauce
Juice of 1 lime (about 1 Tablespoon)
1 cup chicken broth
1 13.5 ounce can of coconut cream or coconut milk
Steamed jasmine rice or Roasted Cauliflower Rice, for serving
Instructions
Sprinkle the chicken with a few generous pinches of sea salt and a few pinches of black pepper.
Turn your instant pot or electric pressure cooker to the Saute setting, and add the coconut oil to the pot. When the cooker has preheated, brown the chicken in two batches, flipping once or twice during cooking. The chicken does not need to be cooked all the way through. When you're finished, press "cancel" on the cooker.
Return all of the chicken to the pot along with the prepped onion, carrots, and potatoes.
In a small glass measuring cup, whisk together the curry paste, tomato paste, fish sauce, lime juice, and 1/2 teaspoon of salt. Pour the mixture over the chicken and vegetables. Add the chicken broth to the pot as well, and give everything a good stir.
Place the lid on the cooker, sealing it closed and ensuring the steam valve is set to "sealing". Set it to high pressure for 10 minutes. I always use the "manual" or "pressure cook" button.
When the pressure cooking cycle has finished, switch the steam valve is set to "venting" to release the steam from the pot.
Remove the lid and stir in the coconut cream. Taste, and add a little more salt if you feel it needs it.
Serve with side dish of your choice.
Notes
Nat's Notes:
Thai curry paste varies wildly in heat levels. I always buy Thai Kitchen curry paste, and it is very mild. Make sure you are familiar with the heat level of your curry paste before adding the suggested amount.
Feel free to swap out the vegetables for ones you prefer. I'd avoid quick cooking vegetables like broccoli and asparagus or else they'll turn to mush. You can also swap out the chicken for beef (add 5 minutes to cooking time) or make it vegetarian by using a can or two of chickpeas.
This recipe is Whole30 compliant as written (just serve with cauliflower rice). Be sure to check the labels on your curry paste and fish sauce for non-compliant ingredients.
To make this low-carb or keto friendly, replace the potatoes (and maybe the carrots?) with lower carb options like summer squash or cauliflower.
Recommended Products
As an Amazon Associate and member of other affiliate programs, I earn from qualifying purchases.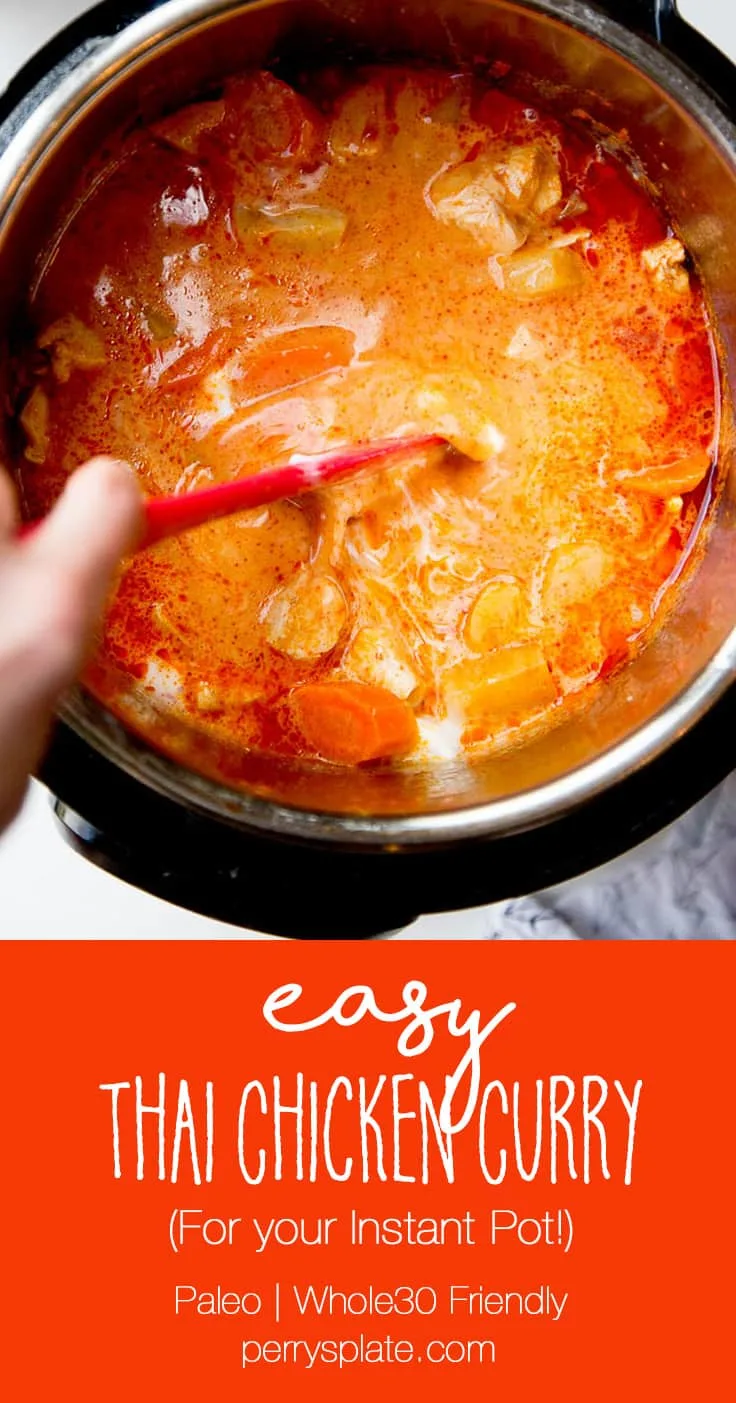 Disclosure: This post contains Amazon affiliate links. Purchases made by using these links don't cost you any extra and helps to keep my content free.