Perry's Plate is a ZipList Partner!
Guys! Perry's Plate is a ZipList partner!
Do any of you use ZipList? Do any of you know what ZipList is?
If the answer to both of those is "no," don't worry. Up until a few weeks ago I wasn't entirely sure what it was, either.
If you use food blogs and other recipe sites for meal planning, you'll love this.
if you don't use blogs for meal planning, you're missing out.
If you don't plan your meals… no wonder dinner time is so stressful!
Let's take a look at how it works, shall we?
First you'll need a Ziplist account. Just go to the Ziplist website and register. It's free. And quite painless.
Say you're wandering around my blog, see a recipe, and think, "I have to make that in the next week or else I will die."
It happens, right? Right?
Or you're collecting recipes to create a menu plan and don't want to print them all out.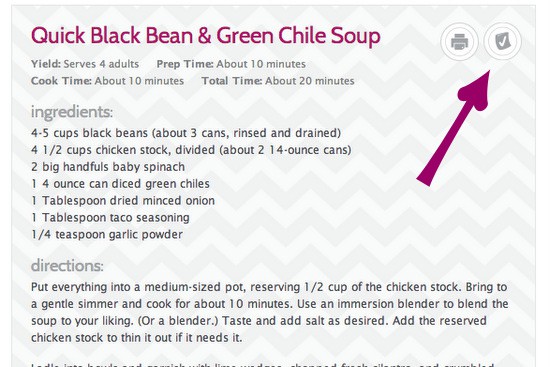 Just click on this little icon right there.
Ziplist stores recipes you save in a central location. Click "Add to Recipe Box" to include this recipe in your stash.
When you open up your recipe box, you can see all of the Perry's Plate recipes you saved. It gets better, though. If you click on this little "x" to clear the filter…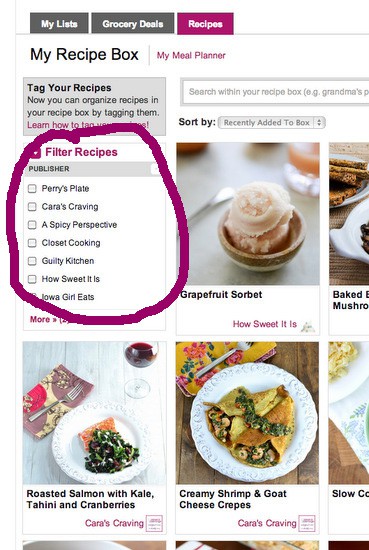 You can see recipes you've saved from all of the blogs and websites that support Ziplist! There are a lot of them, too. (Check out the Ziplist Partners page and see.) If one of your favorite blogs doesn't have Ziplist, request it!
Do you like my Kindergarten-style paint brush job? Say yes.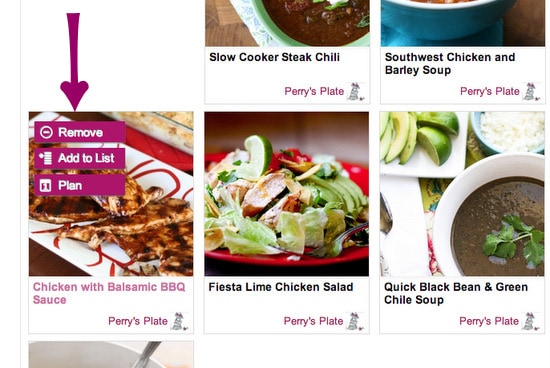 If you hover over a recipe, three options pop up. "Remove" obviously removes this from your box. "Add to List" adds the ingredients to your shopping list. Let's see that one first…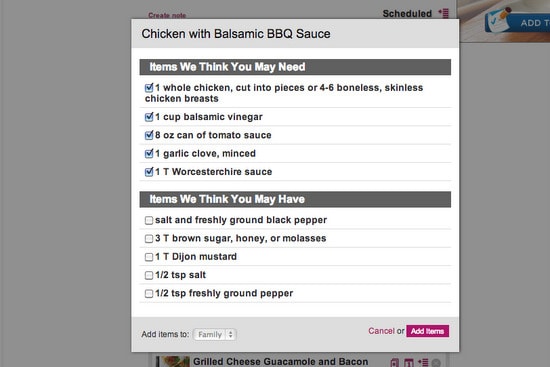 Simply uncheck the ones you don't want added to your list. Easy!
Let's to back to this screen again…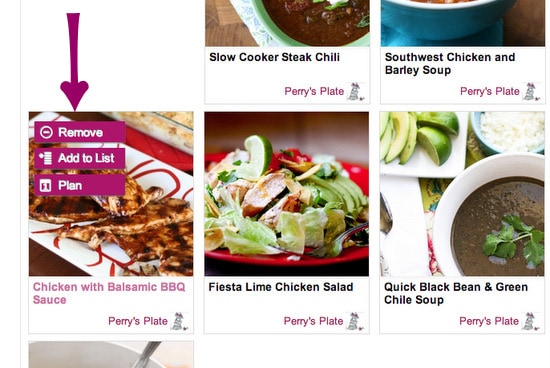 If you click on "Plan" it takes you to a screen to assign each recipe to a specific day.
Here's the meal planning page. Those three little icons allow you to add a recipe to your meal queue, assign it to a day, and add the ingredients to your shopping list (if you haven't already). Handy dandy, it is.
Would you judge me if I added Caramelized Onion Dip for Friday's dinner? I'm anticipating that it will be one of those days.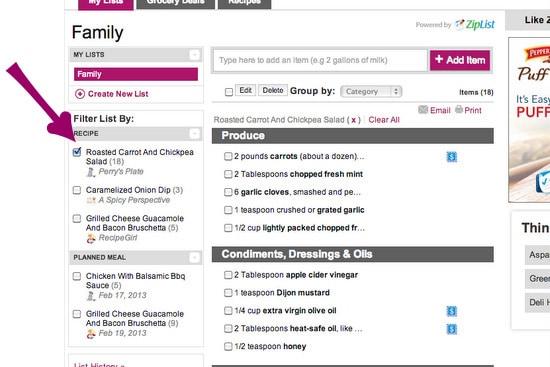 Lastly, here's the shopping list page. You can view all of the ingredients for all of the recipes or only the ones you select, making it easy to delete shopping list items if you decide not to make one of the recipes.
There's also a "Recipe Clipper Button" you can drag to your browser's menu bar, similar to the Pinterest button, to easily snag recipes from websites. One of my favorite things about Ziplist is that they have an app for your phone! Anything you save online you can access on your phone. It's fantastic! There are several more features listed on Ziplist's How It Works page. Check it out!
Now get clicking around and save some recipes! Let me know what you think. :) I'd be happy to answer any questions you might have!