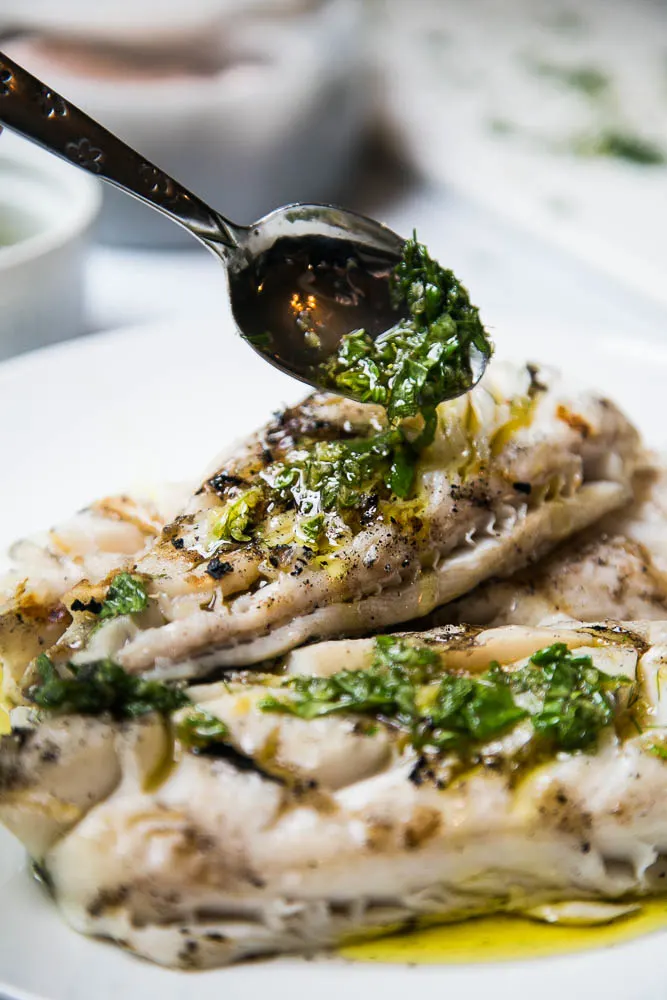 Sablefish! This is the first sablefish recipe I've posted! And ohhhh, it's a good one.
I'm a huge fan of fish — mostly salmon and sturdy white fish that I can marinated and grill and turn into Fish Taco Bowls, Fish Nuggets, or Cajun Foil-Packet Salmon.
What is sablefish?
I've recently been trying out some of Sitka Salmon's wild-caught fish from their CSF — Community Supported Fishery from fisheries in Alaska.
I got a box of sablefish (also called Alaskan black cod) thinking, "Nice! More cod!"
But when I read a little about sablefish and tried some out, I realized this wasn't like Pacific cod.
Sablefish has the highest omega-3 content out of all fish (even more than salmon!) and has a rich, buttery texture and taste.
I was seriously blown away. It's my new favorite fish.
If you're looking for wild-caught, sustainable, high-quality fish that supports small businesses AND gets delivered to your house — you should give Sitka Salmon Shares a try.
(PS. This isn't a sponsored post, but I do have a coupon code for you to receive $25 off your first box! Use PERRYSPLATE when you check out.)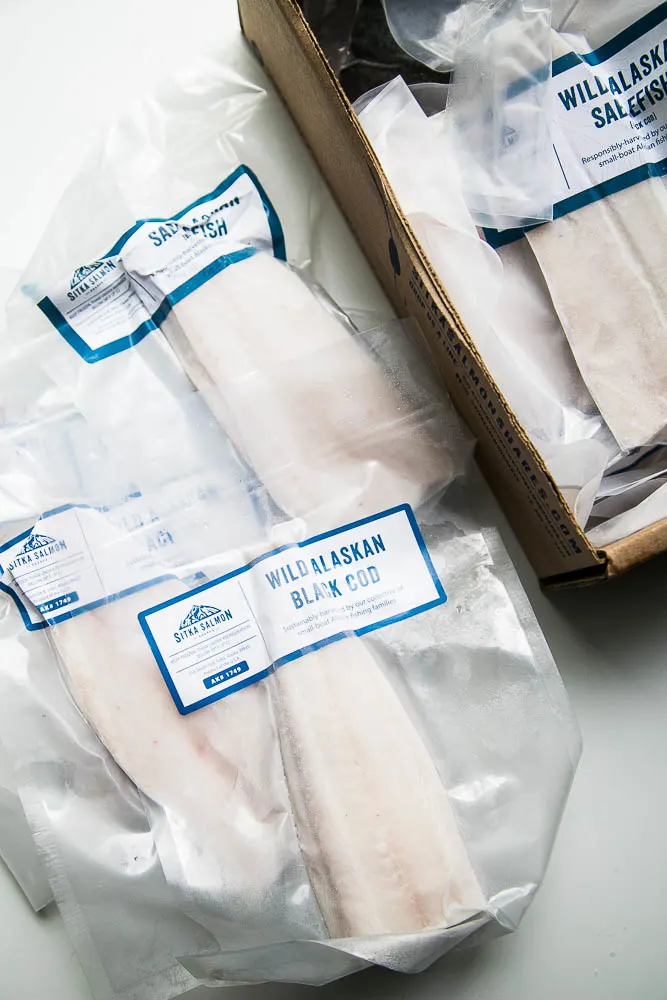 When you get your share boxes in the mail, the fish is packed with dry ice and blast-frozen just hours after its caught. It's about the freshest fish you can get without eating it boat-side.
How can you tell if fish is fresh?
When you're at the store, smell the package of fish, if you can. If there's a fishy smell, PUT IT BACK.
I usually buy my wild-caught fish at Costco, which is pretty good most of the time. Our Costco stores out west have a lot of Alaskan salmon and other types of fish.
The fish I got from Sitka had ZERO fishy smell at all. Even after I thawed it out.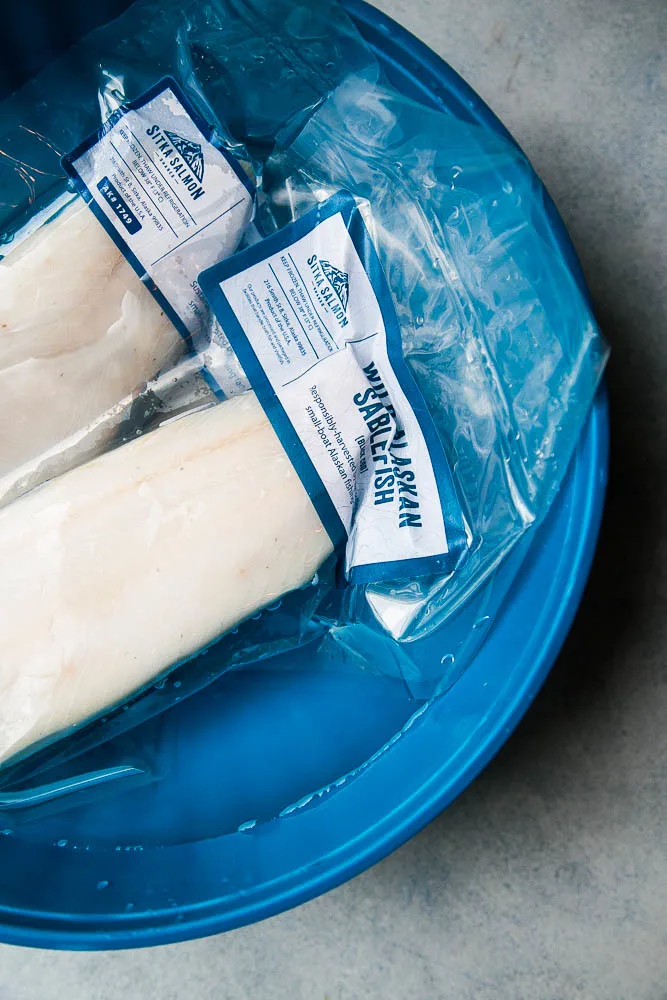 How do you thaw frozen fish?
The safest way is to let it hang out in the refrigerator for a couple of days. Fish thaws out much faster this way than ground beef or chicken.
If I'm in a rush or I forgot to take it out of the freezer, I put the frozen fish in a bowl of tepid water. Usually within a couple of hours (depending on the thickness of the fish) it'll be thawed out.
(This is probably breaking all kinds of food prep violations, but I do it anyway. #rebel)
Don't use your microwave's thawing program. In fact, don't ever put fish in the microwave. Ever.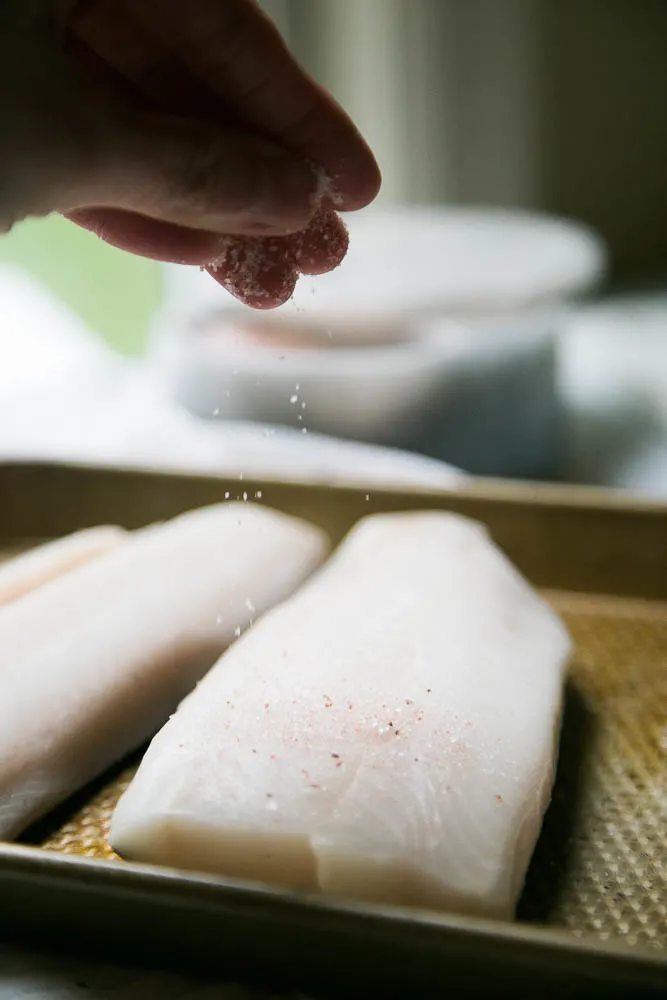 What's the best way to season fish?
In my opinion, the best way to get fish (and shrimp) well-seasoned is to sprinkle a little sea salt on it and let it sit for 10-15 minutes before you cook it.
If I'm using a marinade, I still sprinkle salt on it before I add the marinade so the marinade doesn't wash all the salt off.
When I made this sablefish recipe, I literally just sprinkled it with salt, let it sit for a while, and the put it on the grill.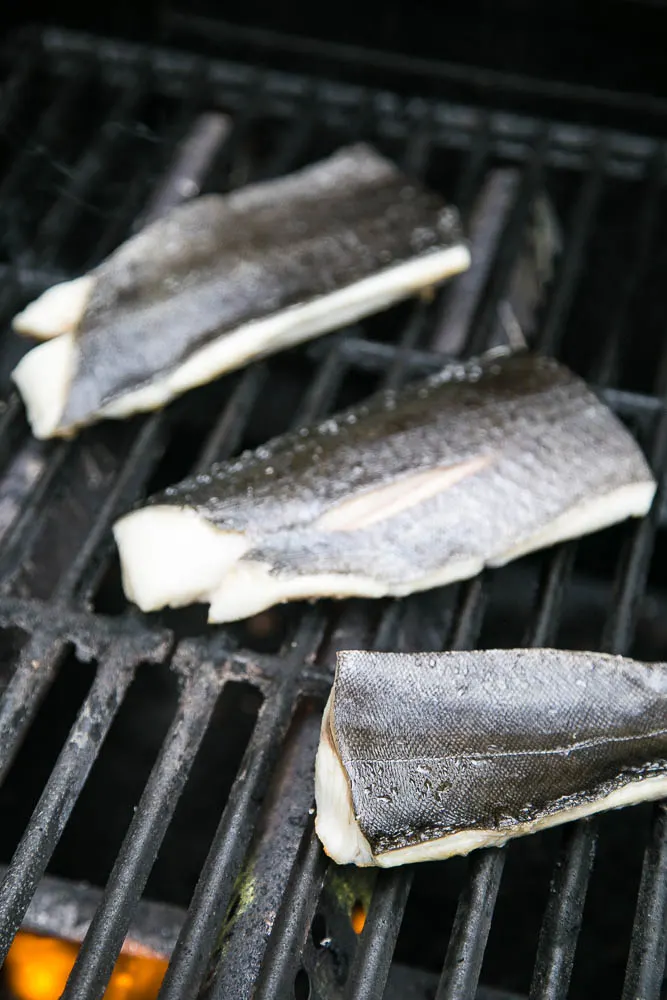 Tips for grilling fish
Only grill thick fish fillets like sablefish, salmon, cod, halibut, snapper, and rockfish — especially if you're a beginner. Thinner fillets like Dover sole fall apart much more quickly and you may end up with half of your fillet slipping between the grates. For fish like that and smaller things like shrimp, I highly recommend using a grill basket.
Make sure your grill grates are greased. You could also drizzle some heat-safe oil on the fish itself to keep it from sticking.
If your fish has skin, put it on the grill skin-side up first. (This also applies when cooking fish in a skillet.)
Only flip it once. Or you'll be sad.
Don't overcook it. The fish should start to separate on its own and pull apart easily with a fork. It'll continue to cook a little with its residual heat.
When I took my sablefish off the grill and tasted it — WHOA. I have never had such great tasting fish before using such little seasoning.
Just salt. That was it.
But, of course, I wanted to take it a step further.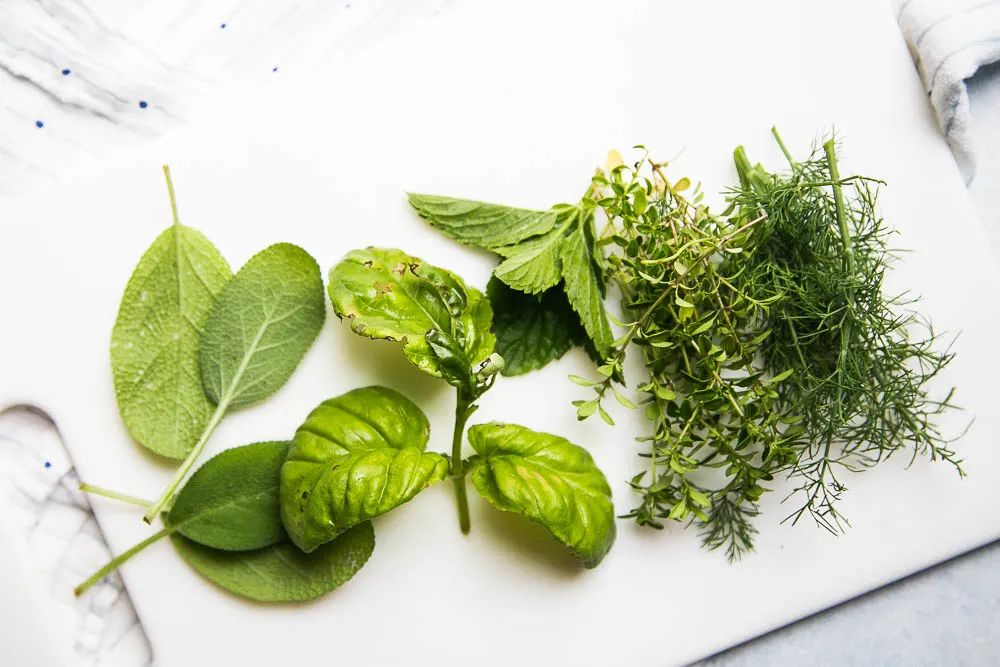 I went out to my herb garden (the only thing I can grow sometimes) and picked a few herbs — dill, thyme, mint, basil, and sage.
I was bummed that my basil wasn't pretty, but you know what? That how basil looks sometimes.
I'm sure whatever was eating it enjoyed it, too, and I'm glad it left some for me to use.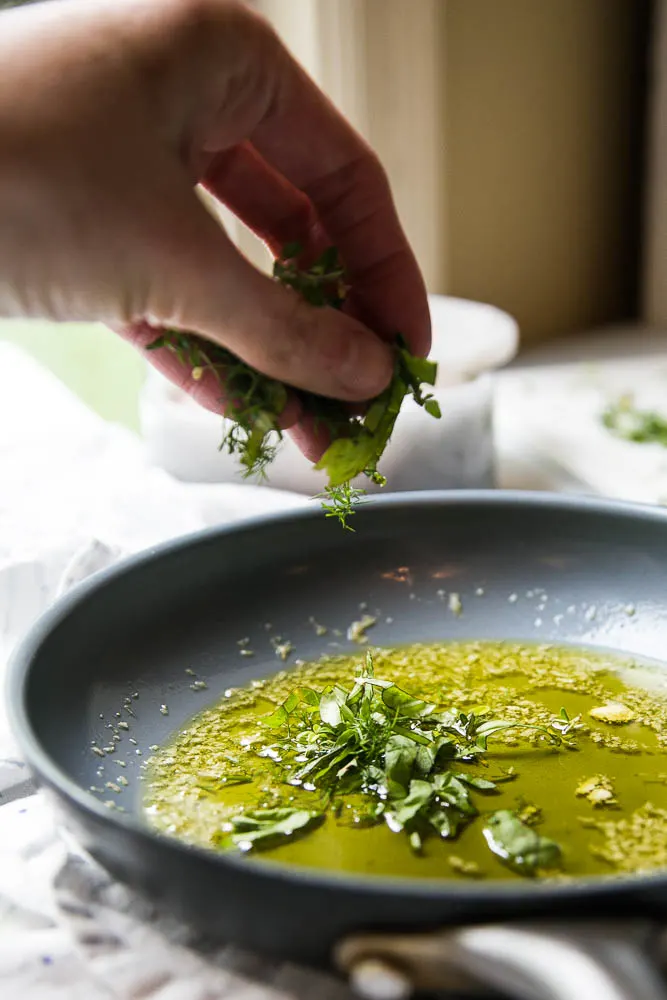 I wanted this to taste like those dipping oils you use with crusty bread at Italian restaurants.
I gently heated some extra-virgin olive oil. Like… super gently. EVOO shouldn't ever be heated to high temps because it oxidizes super quickly.
I added some microplaned garlic and chopped herbs, took it off the heat, and just let it hang out while the fish was cooking.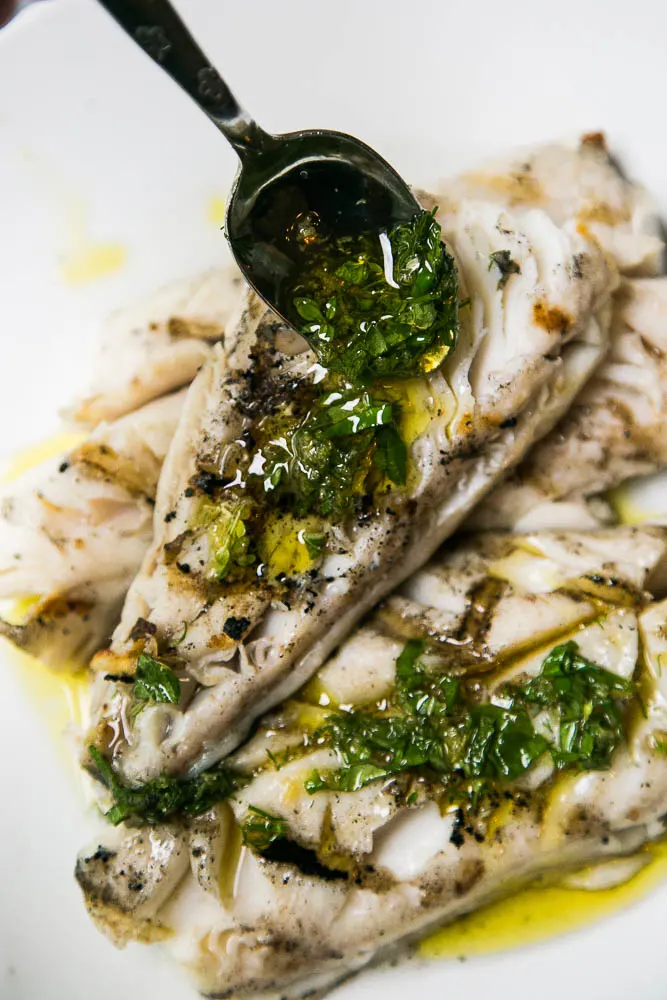 I'm glad I followed my gut with this one because THIS. SABLEFISH. WAS. AMAZEBALLS.
This infused oil drizzle would be great with any type of fish, but starting out with a super high quality fillet like sablefish made it even better.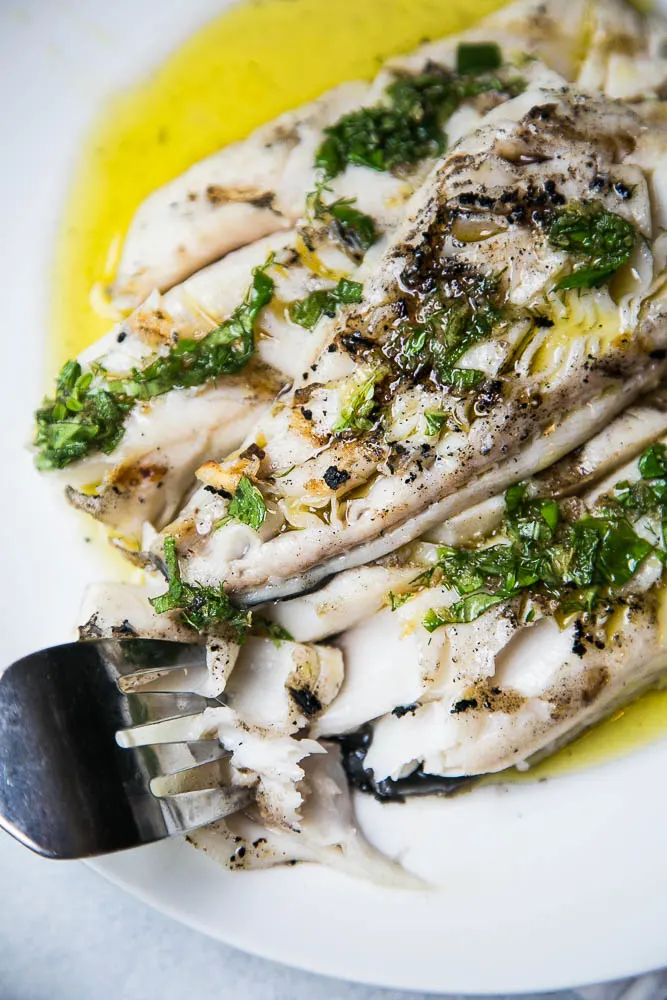 When I was testing out this recipe, I had planned to make Sushi Bowls for dinner, and because the gut protocol I'm currently on prohibits me from eating shrimp at the moment, I decided to test out this idea I had.
Little did I know my kids would love it just as much as I did and soon I was sharing my special "restaurant fish" with a bunch of kids.
They call it "butter fish". :)
What to serve with grilled fish
Grilled fish makes such an easy dinner! Here are a few ideas for sides you could whip up super fast…
Grilled Vegetables — toss the asparagus (or another quick-cooking vegetable) with oil and put it on the grill alongside the fish. They'll be done at the same time.
Seasoned Rice — Honestly, I'd go for grilled vegetables AND rice. My Instant Pot Lemon Herb rice would be FANTASTIC with this fish.
A Great Salad — I've been known to hack salad kits, but when life is nuts and you just want to eat a great salad, buy a salad kit. If you have an extra few minutes, my Copycat Costco Kale Salad would go well with this fish. Speaking of asparagus, this Grilled Asparagus and Melon salad would be a fancier, fun side, too.
I'd love to know what you think of this. And how it works with other types of firm fish, too.
Don't forget that you can use my code: PERRYSPLATE to get $25 off your first box of Sitka Salmon Shares.
Grilled Sablefish with Garlic-Herb Oil
This is an EASY way to make delicious sablefish (black cod), but you can use this method with any firm white fish like salmon, Pacific cod, halibut, or rockfish.
Ingredients
4-6 Sablefish fillets (about 4-6 ounces each)
Sea salt
1/4 cup extra-virgin olive oil
1 large garlic clove, crushed or grated with a Microplane grater
1-2 Tablespoons minced fresh herbs (dill, thyme, basil, mint)
Instructions
Lay the fillets on a large plate, skin-side down, and sprinkle each fillet with a generous pinch of sea salt. Let the fish rest at room temperature for 10-15 minutes.
Meanwhile, put the oil & garlic into a small skillet and GENTLY heat over medium-low heat. When the garlic starts to sizzle a little, remove the pan from the heat and stir in the herbs and a pinch or two of sea salt. Let it sit for 10-15 minutes so the flavors can combine well.
Preheat the grill to high heat. Grease the grill grates, if needed.
Place the fillets on the grill skin-side UP. Cook, covered, for 3-4 minutes and then flip them over. You'll want to use a large spatula for this and use swift movements.
Continue to cook until the fish seems to be separating and it pulls apart easily with a fork. Don't over cook it.
Transfer the fish to a large platter and drizzle the herb oil over the top. Serve.
Notes
Nat's Note: You can use any firm white fish or salmon, too.