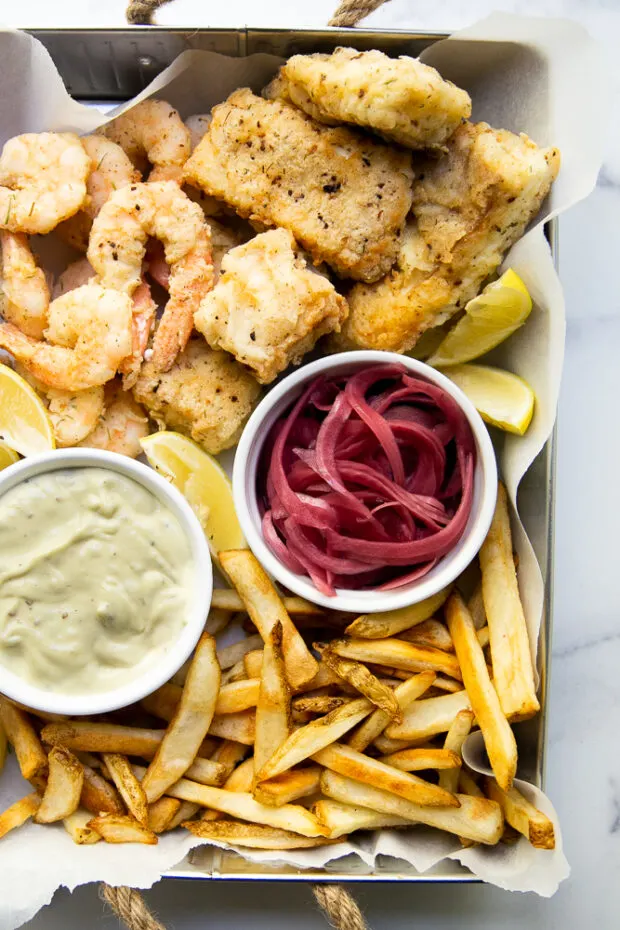 Do you like a good fish fry? And by fish fry, I mean shrimp, too. And some fries and some kind of dipping sauce. And those pickled red onions. All of it.
This particular meal was inspired by our trip to Aruba last June. I was hoping to find something uniquely "Aruban", but honestly, it's hard to tell what's Aruban and what's the result of centuries of European colonization and migration from South America and other Caribbean islands. It's a very multicultural country!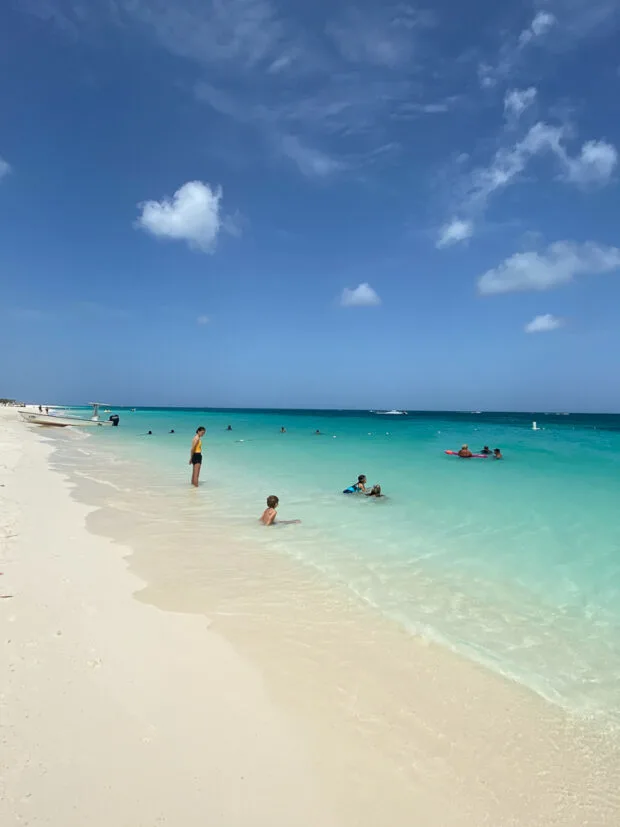 I can't even with the beaches in Aruba. Probably the most gorgeous place I've ever seen.
No color tweaking in that photo either.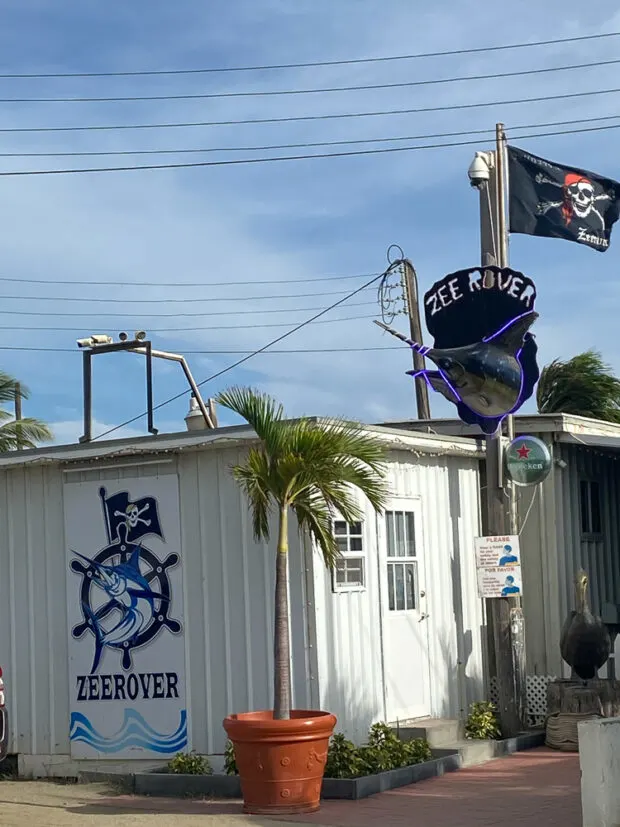 We ate at a place called Zeerover (Dutch for "pirate" — Aruba is part of the Netherlands.)
We stood in line FOREVER outside to get in, but it was well worth the wait.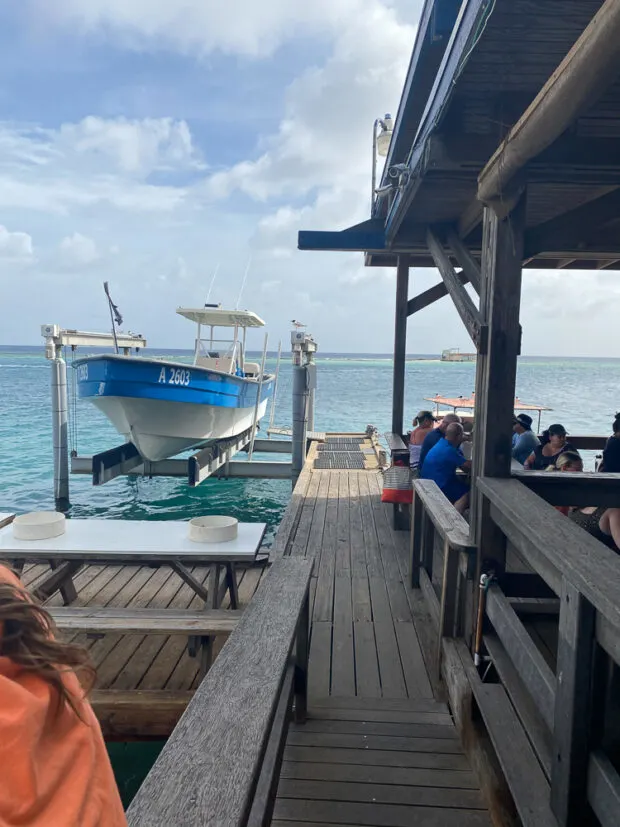 You sit right on the water, too!
Ordering at Zeerover is pretty easy because they only sell a handful of things. You tell them how many pounds of shrimp and the fresh caught fish of the day (it was snapper for us) and what sides.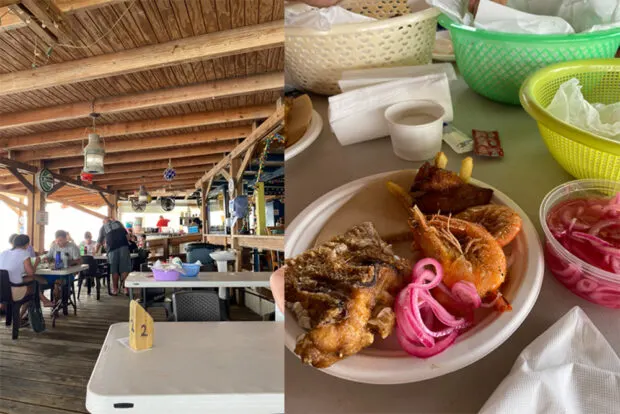 Then they bring out all these baskets of freshly fried goodies. We got shrimp, snapper, fries, red onions, garlic aioli, fried plantains, and "cornbread" which was more of a cornmeal-based pancake.
The snapper was still on the bone and the shrimp still had heads and feet — a good experience for the kids. Heh.
This fish fry was by far my most favorite meal we ate in Aruba. And I was determined to recreate it when I came home!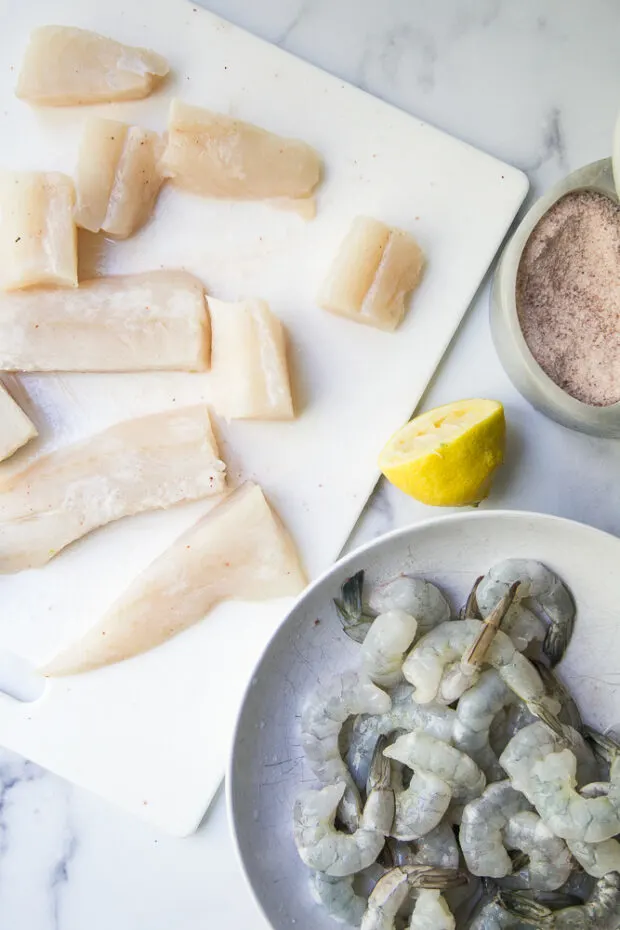 Because I value peaceful mealtimes, I chose peeled shrimp (without heads and feet) and cod fillets for our fish fry.
This meal is super adaptable, too. If you don't want to bread and fry your fish and seafood, just grill them or saute them on the stove. Easy.
I used my Paleo Fish Nugget recipe which all my kids like.
I always let the fish/shrimp sit out on the counter for a few minutes sprinkled with salt and lemon juice. I'm convinced this makes it more flavorful, but I haven't done any randomized double-blind trials.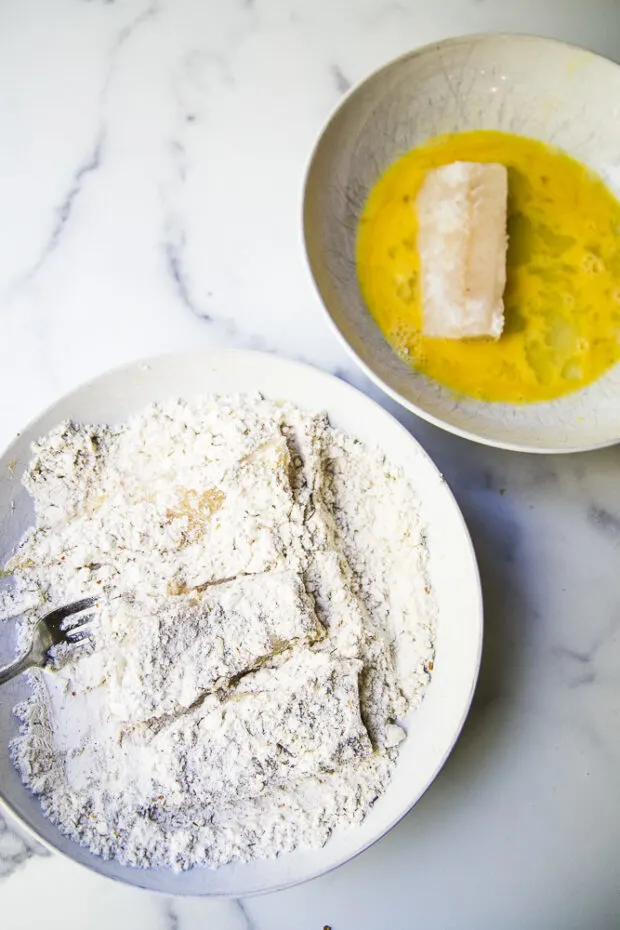 Breading and frying fish (or anything) can be a big, giant mess. Here are a few tips to make it easier and ensure that the breading actually stays on!
Tips for Breading & Pan-Frying Fish
Keep a dry hand and a wet hand. Use one hand for dipping the fish in egg and one hand for covering it in breading. Otherwise you're going to end up with giant breaded mitts for hands.
Shake off the excess. Shake off excess egg before dipping the fish into the breading. And shake off excess breading before adding the fish to the hot oil. This will keep your breading cleaner and there will be less flour floating around in your oil burning.
MAKE SURE YOUR OIL IS HOT. This is by far the most important step to ensure this all goes smoothly. If your oil is hot enough it means the chances of the fish sticking to the pan is slim. I use a stainless pan when I do this, too. The oil should "shimmer" which means you'll be able to see little waves moving around. And if you flick a few drops of water into the oil it should pop and sizzle quite a bit.
Don't move your fish for at least 2-3 minutes after putting it in the oil. Resist the urge to play with it. Trust me. During those first few minutes, the crust is forming which will make it easier to flip.
Try to only flip it once or twice. The more you flip and move it around, the more breading might come off.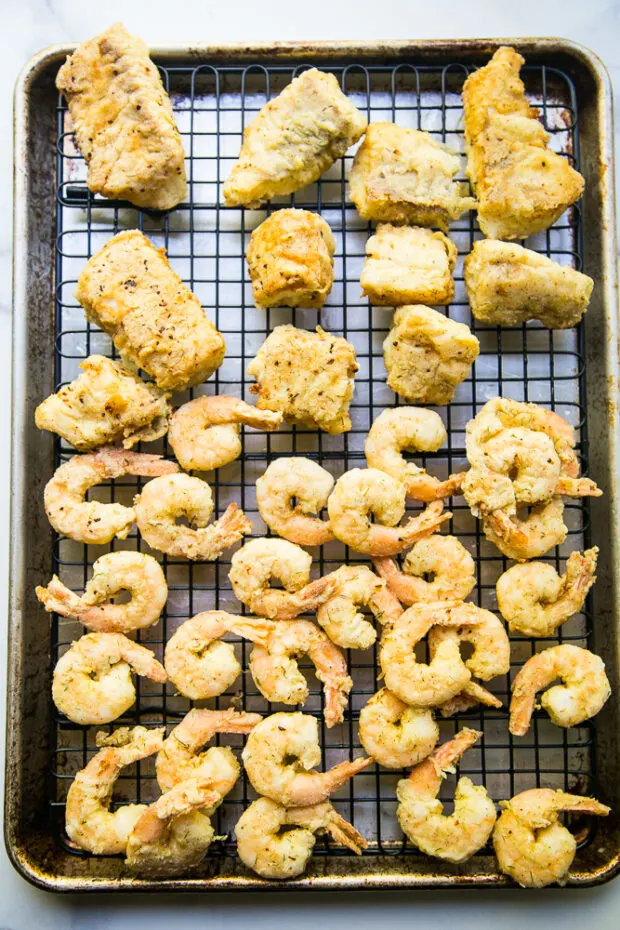 Another great tips is to use a cooling rack over a sheet pan for draining/cooling. A stack of paper towels is a popular method, but the food is sitting on the soggy paper towels, so guess what happens in a few minutes?
Yep. Soggytown.
If I need to keep things warm, I just put this sheet pan in the oven on a warming setting while I prep the rest of the meal.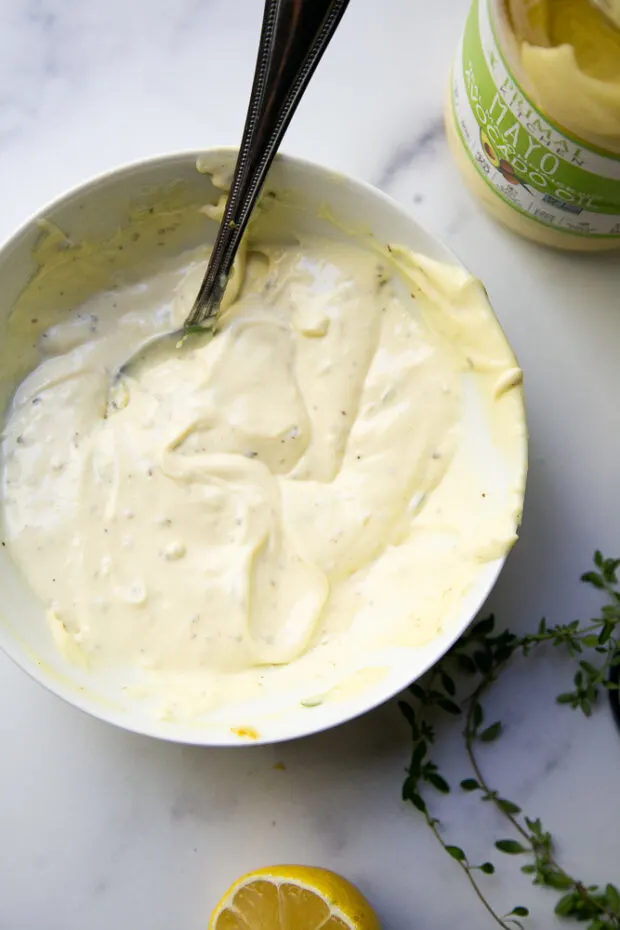 The garlic sauce in Aruba was like a herby-garlic aioli. An interesting choice since tartar sauce is usually the dipper of choice for fish and seafood.
I really loved this! You can dip fries in it, too. Or put it on anything you'd put mayonnaise on.
I included this in the recipe below.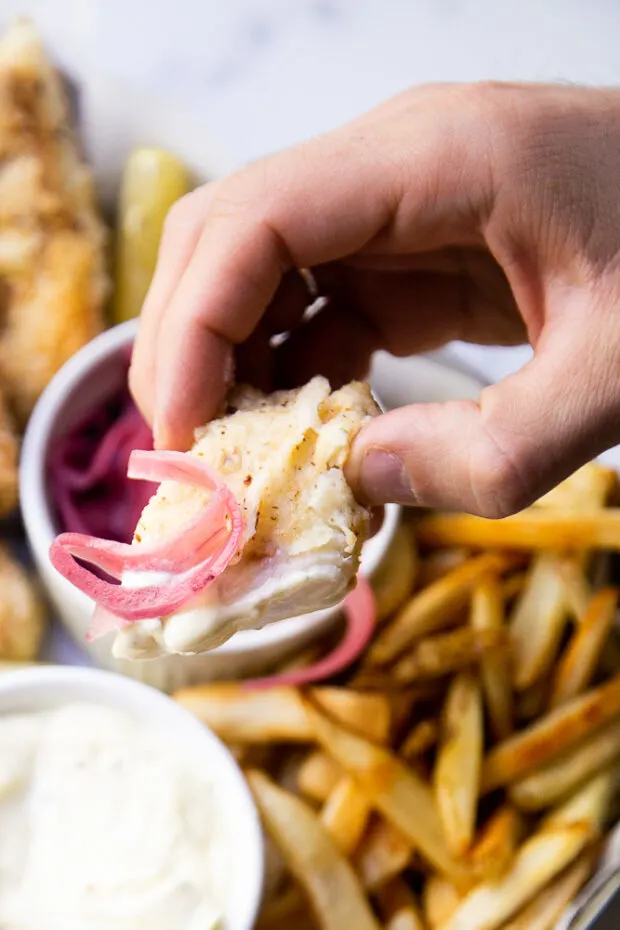 The last component to create this bite of perfection? Pickled red onions.
Seriously make them. I just posted a recipe for them, too — Pickled Red Onoins.
They only take about 15 minutes of prep and you can make them days ahead!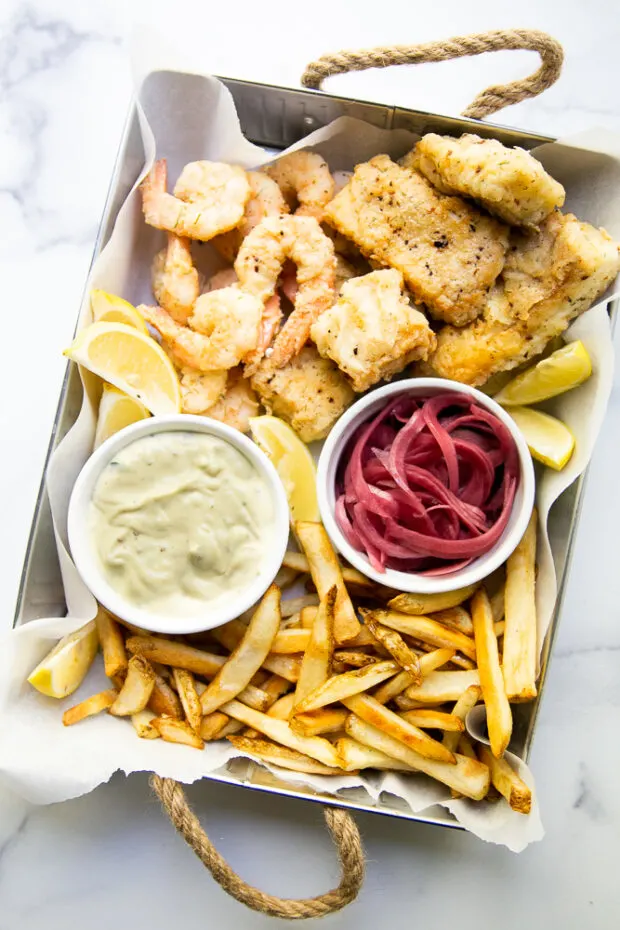 This meal can either take forever or can be relatively quick — like under an hour. Here are a few ways to adapt it to save you time!
Fish Fry Adaptations
Get pre-breaded shrimp & cod fillets and pop them in the oven. I've seen more gluten-free versions pop up — Trader Joe's has some, I believe.
Don't fry anything! Just saute the shrimp & fish in a pan with butter/oil and a little garlic.
Try different kinds of fish — halibut, rockfish, Dover sole, & snapper are great alternatives to cod.
Serve them with roasted vegetables instead of fries or add a salad kit for some greens.
More White Fish Recipes on Perry's Plate
I love fish. A lot. Here are a few of my favorite ways to cook white fish!
This Grilled Sablefish with Garlic-Herb Oil can be made with any white fish or even salmon! Sablefish (aka Black Cod) is SUPER good, so I highly recommend using it if you can find it. My kids call it "butter fish".
I love this Quick Thai Fish Curry & Coconut Rice on a busy weeknight.
I make Chile-Lime Fish Taco Bowls SO often. And it's fairly adaptable, so you can use what you have on hand to make it quicker and easier!
This one is an oldie, but still a fan favorite — Baked Fish with Lemon-Basil Pesto.
Have you ever tried fish "en papillote"? Baking fish in a parchment packet makes it extra moist and delicious! Here's my version: Easy Fish en Papillote.
---
If you make one of my recipes, be sure to post it on social media and tag me at @perrysplate or #perrysplate so I can send you some love!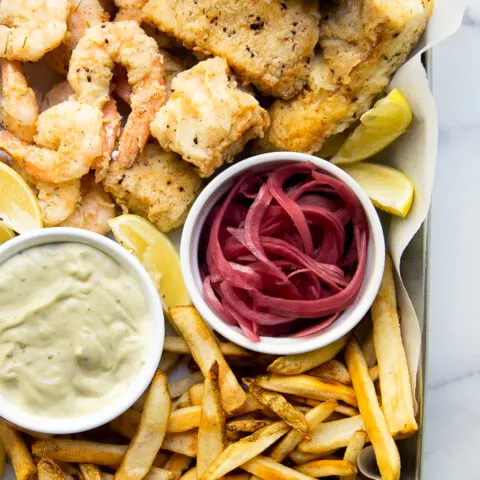 Fish Fry (Aruba-inspired)
This fish fry platter was inspired by our favorite meal from Aruba! Lightly battered white fish and shrimp are totally delicious dipped in the garlic aioli & topped with some pickled red onions.
Ingredients
For the garlic aioli:
1 cup avocado oil mayonnaise
Juice from 1/2 lemon (about 1 1/2 Tablespoons)
1 clove garlic, finely minced or microplaned
1/2 teaspoon dried oregano
1/2 teaspoon dried thyme
1/8 teaspoon sea salt
1/2 teaspoon Dijon mustard
For the fish fry:
1 1/2 pounds firm white fish fillets (cod, halibut, rockfish, snapper), thawed
1 pound large or medium shrimp (peeled, tails-on), thawed
1 1/2 teaspoons sea salt, divided
Juice from 1/2 lemon
1 cup gluten-free flour blend
1 Tablespoon salt-free all-purpose seasoning
1/2 teaspoon dried dill (optional)
2 eggs
Coconut or avocado oil, for pan-frying
Sides:
1-2 pounds frozen french fries (or make your own!)
1-2 lemons, sliced into wedges, for serving
Instructions
Preheat the oven to 425 degrees or whatever temperature is recommended to bake your fries.
Whisk together all of the ingredients for the aioli. Taste, and add more lemon juice or salt to suite your taste. Refrigerate until ready to use. You can make this 2-3 days in advance.
Cut the fish fillets into 2-3 inch pieces and put them, along with the shrimp, on a couple of large plates. Sprinkle a few generous pinches of salt over everything (about 1/2-1 teaspoon total). Squirt the juice from the 1/2 lemon on the fish & shrimp, too and let it sit for 5-10 minutes while you prepare the breading and the oil.
Whisk the eggs into one shallow bowl. Add the gluten-free flour, all-purpose seasoning, dill, and 1/2 teaspoon sea salt in another shallow bowl. Mix together thoroughly.
Prepare a draining station by putting a cooling rack over a baking sheet. Put your fries in the oven.
Add enough oil to a large skillet to cover the bottom completely -- about 1/8-1/4 in deep. Heat the oil over medium-high heat. The oil should "shimmer" and appear to have waves running through it. If it's smoking, then it's too hot. A few drops of water flicked into the oil should make a loud popping/sizzling noise.
While the oil is heating, begin breading the fish and shrimp. Dip each piece into the egg mixture, shaking any excess off. Then, dip it into the flour mixture, coating evenly. Shake any excess flour off, too, then add the breaded fish & shrimp to the hot oil.
Fry them on each side. Cooking time will depend on thickness of fish -- about 1-2 minutes per side. Shrimp only need about 30-45 seconds per side. They should be golden brown on both sides. The fish should be completely pink and the fish should flake easily.
Continue working in batches breading and cooking the fish and shrimp and transferring them to the cooling rack to drain.
Don't forget about your fries!
Serve everything immediately with the garlic aioli, pickled red onions, and lemon wedges.
Notes
Nat's Notes:
See post for helpful tips on breading & frying fish!
You can adapt this recipe quite a bit by baking pre-breaded fish fillets & shrimp. There are a lot of gluten-free options out there now. Or skip the breading and frying and saute the fish & shrimp in some oil/butter & garlic!
The garlic aioli can be made 2-3 days in advance and the Pickled Red Onions can be made weeks in advance. Those last a really long time in the fridge!