Pumpkin Cheesecake Swirl Brownies (with Keto option)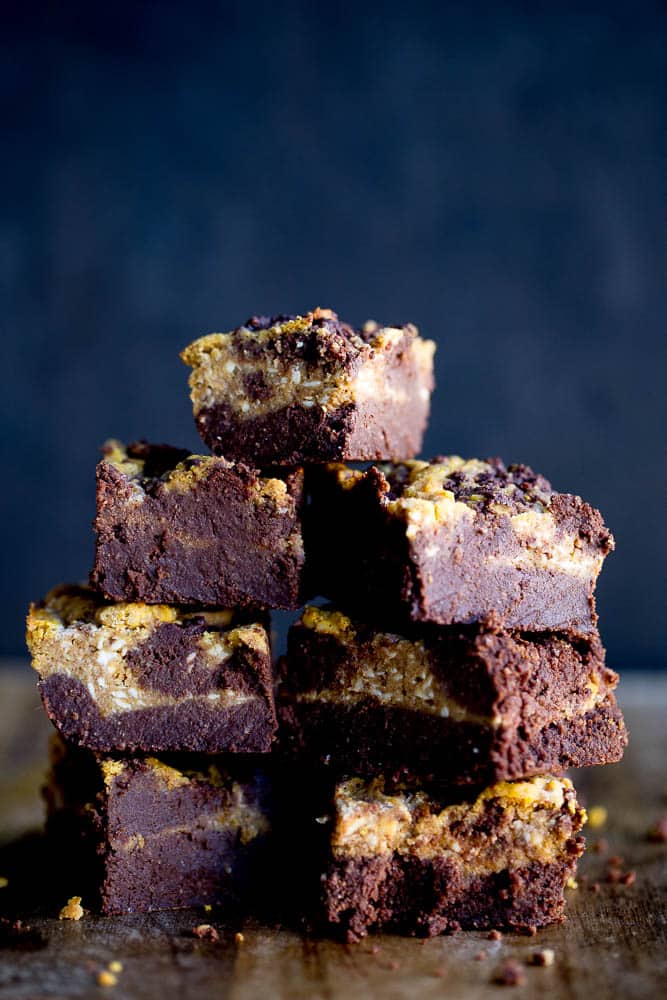 This recipe has been updated to be keto-friendly and was shared recently in my newsletter! If you missed it, here's a handy printable link:
If you haven't subscribed to my newsletter yet, please do! You don't want to miss any subscriber-only meal plans and recipes as well as website updates! Subscribe here.
---
I finally tried out these brownies. I couldn't wait any longer because I really wanted one. BAD. And I knew they'd probably be blog-worthy, and I haven't posted a recipe in a while.
The brownie part of these was especially good. Even the batter. I had to make a valiant effort to pry the spatula out of my little girl's hands before she made a complete mess of herself. It was the first time she'd ever had a spatula to lick all by herself, and you'd think I'd put her in a room with 100 kittens. She was so happy until Mom ruined everything.
I loved the pumpkin-chocolate combination, and I thought the touch of cinnamon in the brownie batter married the two flavors beautifully. I think I might add a little more next time. (The original recipe had 2 tsp, and I was a little chicken to use that much.) I love fall baking. And now I have an opened can of pumpkin I need to use.
Pumpkin Cheesecake Swirl Brownies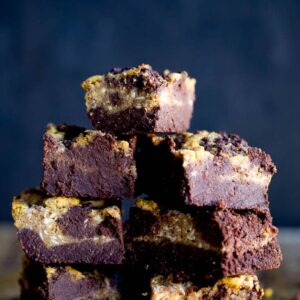 Ingredients:
Brownie Batter:
3/4 cup butter, melted
1 cup sugar
1 Tablespoon vanilla
2 eggs
1/2 cup all purpose flour
1/2 cup unsweetened cocoa powder
1/4 teaspoon salt
1/2 teaspoon cinnamon
Cheesecake Batter:
6 oz cream cheese, softened
1 egg
1/3 cup sugar
2 T flour
1/2 cup pumpkin puree
1/4 tsp vanilla
1/2 tsp cinnamon
1/4 tsp each ground ginger and ground cloves
Directions:
Preheat oven to 350F. Grease an 8×8″ or an 11×7″ baking pan.
For the Brownies:
Beat together melted butter, sugar, and vanilla, then beat in eggs one at a time. Combine dry ingredients in small bowl, and then gradually stir into butter mixture by hand.
For the Cheesecake:
In another bowl, beat cream cheese and sugar until smooth. Beat in remainder of ingredients until smooth.
Spread about 2/3 of chocolate batter into prepared pan. Spread the pumpkin batter over top, distributing evenly. Drop the remaining brownie batter over cheesecake batter. To make the swirls, run a butter knife back and forth through the pan.
Bake for 35-40 minutes, or until a toothpick inserted in the center comes out clean and the center doesn't jiggle when you nudge the pan. Cool completely and chill before cutting and serving. (Are you kidding me? I couldn't wait that long. Just don't eat them all while they're warm because they taste even better chilled.)
adapted from www.carascravings.com
SaveSave
SaveSave