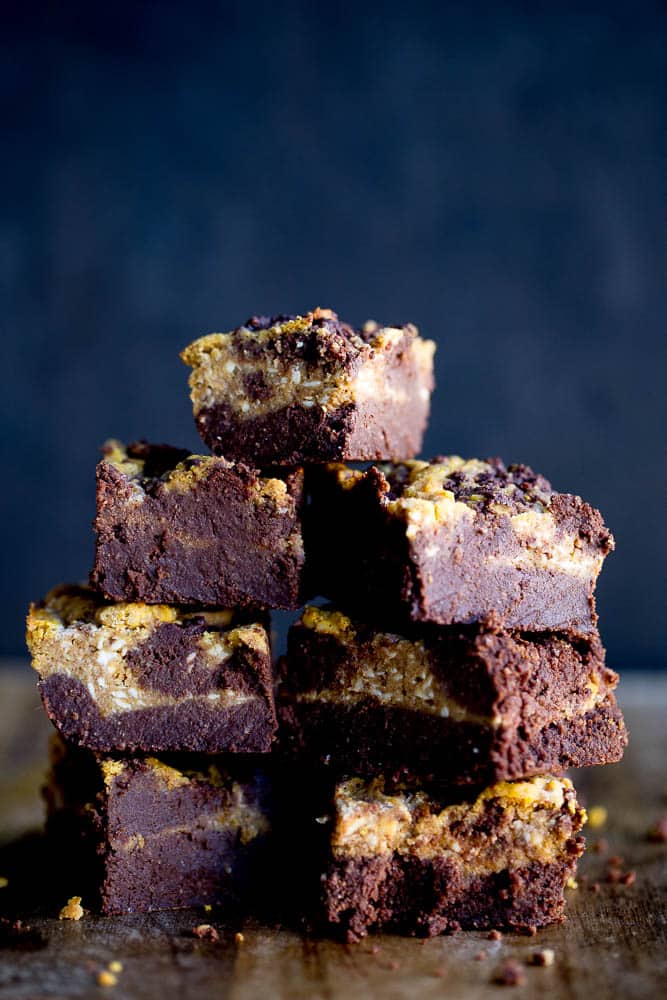 I finally tried out these brownies. I couldn't wait any longer because I really wanted one. BAD. And I knew they'd probably be blog-worthy, and I haven't posted a recipe in a while.
The brownie part of these was especially good. Even the batter. I had to make a valiant effort to pry the spatula out of my little girl's hands before she made a complete mess of herself.
It was the first time she'd ever had a spatula to lick all by herself, and you'd think I'd put her in a room with 100 kittens. She was so happy until Mom ruined everything.
I loved the pumpkin-chocolate combination, and I thought the touch of cinnamon in the brownie batter married the two flavors beautifully.
I think I might add a little more next time. (The original recipe had 2 tsp, and I was a little chicken to use that much.) I love fall baking.
And now I have an opened can of pumpkin I need to use.
(By the way, if you're interested in making homemade pumpkin puree, check out this post: How to Cook Pumpkin in an Instant Pot.)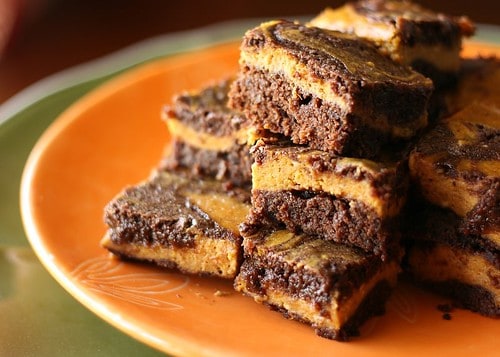 SaveSave
SaveSave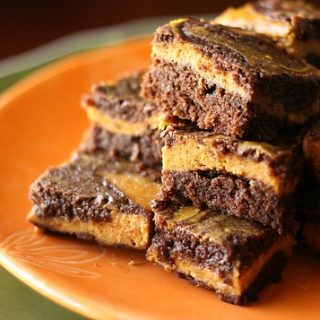 Pumpkin Cheesecake Swirl Brownies
This is one of the oldest and most beloved recipes on my site! This is the original version in all of it's flour and sugar glory.
Ingredients
Brownie Batter
3/4 cup butter, melted
1 cup sugar
1 Tablespoon vanilla
2 eggs
1/2 cup all purpose flour
1/2 cup unsweetened cocoa powder
1/4 teaspoon salt
1/2 teaspoon cinnamon
Cheesecake Batter
6 oz cream cheese, softened
1 egg
1/3 cup sugar
2 T flour
1/2 cup pumpkin puree
1/4 tsp vanilla
1/2 tsp cinnamon
1/4 tsp each ground ginger and ground cloves
Instructions
Preheat oven to 350F. Grease an 8x8" or an 11x7" baking pan.
For the Brownies: Beat together melted butter, sugar, and vanilla, then beat in eggs one at a time.
Combine dry ingredients in small bowl, and then gradually stir into butter mixture by hand.
For the Cheesecake: In another bowl, beat cream cheese and sugar until smooth. Beat in remainder of ingredients until smooth.
Spread about 2/3 of chocolate batter into prepared pan. Spread the pumpkin batter over top, distributing evenly.
Drop the remaining brownie batter over cheesecake batter. To make the swirls, run a butter knife back and forth through the pan.
Bake for 35-40 minutes, or until a toothpick inserted in the center comes out clean and the center doesn't jiggle when you nudge the pan.
Cool completely and chill before cutting and serving. (Are you kidding me? I couldn't wait that long. Just don't eat them all while they're warm because they taste even better chilled.)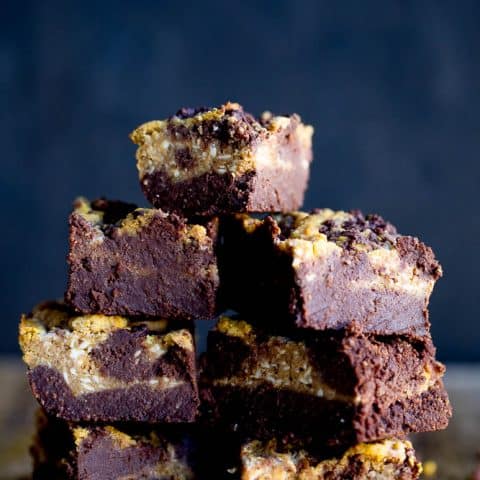 Pumpkin Cheesecake Swirl Brownies (Keto Version)
Yield:
16 2-inch brownies
Total Time:
1 hour
20 minutes
Here's the low-carb version of our favorite pumpkin brownies!
Ingredients
FOR THE BROWNIES:
3/4 cup butter
4 ounces 100% cacao baking chocolate
3/4 cup erythritol sweetener (or preferred low carb granulated sweetener) 1 Tablespoon vanilla extract
2 eggs
1/4 cup blanched almond flour
1/4 cup coconut flour
1/4 cup unsweetened cocoa powder
1/4 teaspoon sea salt
1/2 teaspoon cinnamon
FOR THE CHEESECAKE LAYER:
4 ounces softened full-fat cream cheese (organic, if possible) 1 egg
1/3 cup erythritol sweetener
1 Tablespoon coconut flour
1/2 cup unsweetened pumpkin puree 1/4 teaspoon vanilla extract
1 teaspoon pumpkin pie spice
Instructions
1. Preheat oven to 350 degrees F. Spray an 8x8 or 9x9 inch baking pan with non-stick spray.
2. To make the brownies, melt the butter and baking chocolate in a medium saucepan over low heat. Don't let it boil. Remove from heat.
3. Whisk in the sugar, vanilla, and eggs. Whisk for about 30 seconds until the mixture is smooth. Stir in the rest of the brownie ingredients until combined. Pour 2/3 of the brownie mixture into the prepared pan. Set aside the rest.
4. To make the cheesecake layer, beat the cream cheese and egg together very well. Add the remaining ingredients and continue beating until smooth. Spread it on top of the brownie layer in the baking pan.
5. Take the reserved brownie mixture and add it to the top of the cheesecake layer in spoonfuls. Use a knife to swirl the top a bit.
6. Bake for 1 hour until a toothpick inserted into the center comes out clean.