Recently I had some chuck roasts in the freezer.
I wanted the meat to be flavored like the steaks my mom and dad make all the time, but I didn't want to cut them and grill them like steaks because chuck roast is a pretty tough cut of meat.
Only a slow cooker could make something edible out of it. I LOVE slow cooker beef.
So . . . I tweaked their marinade recipe to accommodate my slow cooker, threw in the meat and hid under the kitchen table in suspense.
As much as I would like to hide for 8 hours under my table (with a pillow and the latest issue of Bon Appetit), I didn't really do that. Sophie would have found me for sure. She has a sixth sense about when mom's craving some alone time.
The result? Amazing, flavorful, moist, slow-cooked-pot-roast-shredded-beef stuff. I don't think you can have too many recipes for slow cooker beef. This one was great served in juicy, drippy chunks, but you can also shred it up and serve it that way, too.
I included this recipe in my book, The Big Book of Paleo Slow Cooking, too. It's one of our favorites!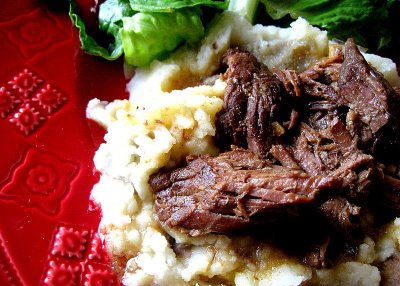 SaveSave
---
If you make this recipe, be sure to post it to social media and tag me at @perrysplate or #perrysplate so I can send you some love!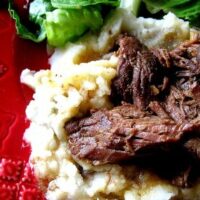 Steak-Inspired Slow-Cooked Beef
Total Time:
8 hours
10 minutes
This slow cooker beef roast is inspired by my favorite steak marinade! It comes together quickly and then you can forget about it while it cooks.
Ingredients
1.5 - 2 pound roast, whole or cut into 2-3 large chunks
Generous sprinkle of salt and pepper
1/2 cup beef broth
1/4 cup coconut aminos or tamari sauce
4 cloves of garlic, chopped
1/2 - 1 teaspoon crushed red pepper flakes (depending on how spicy you like it)
Juice from half a lemon
Instructions
Place roast (thawed or frozen) in a 2.5 - 4 qt. slow cooker, and season with salt and pepper.
Add remaining ingredients over beef. Cover and cook on low for 8-10 hours.
Sprinkle with lemon juice and serve beef and juices over mashed potatoes, rice, or noodles.
If you wanted to make shredded beef sandwiches, just take the beef out a little early, shred it, return it to the slow cooker and cook for another 20-30 minutes.