This delicious cauliflower puree is full of flavor and easily made in your Instant Pot! Serve it as a low carb alternative to regular mashed potatoes or a nutritious side dish alongside a roast or pork chops.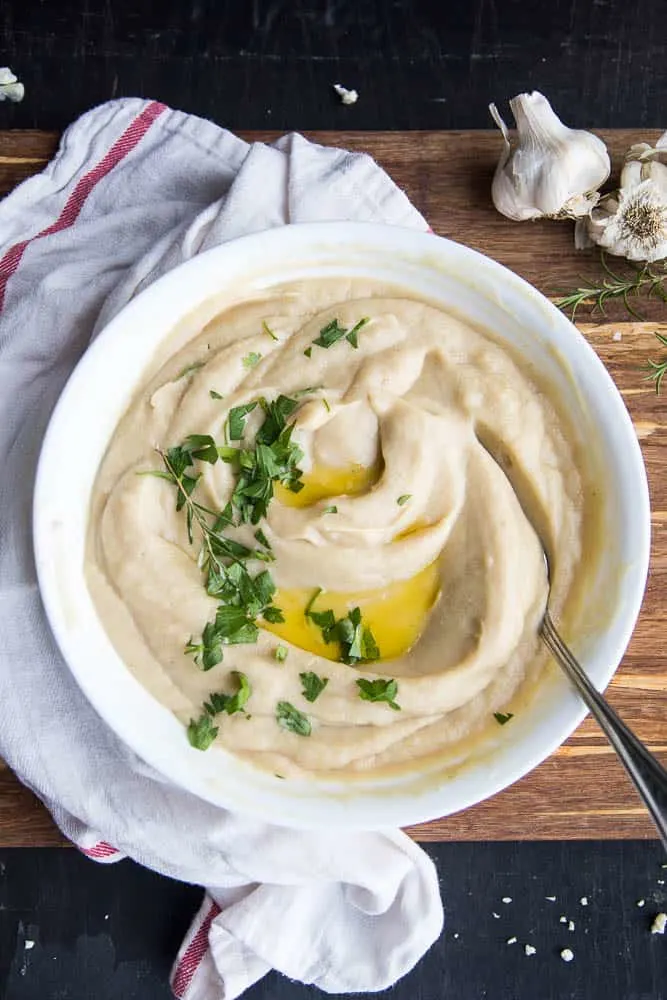 I can't even believe I — a born and raised Idaho girl — can admit this, but….
I would happily eat this Instant Pot cauliflower puree over regular mashed potatoes during Thanksgiving.
There. I said it.
Don't get me wrong — I love mashed potatoes. A lot.
Correctly made mashed potatoes are sort of a religion on our Idaho-based family. No instant, dehydrated boxed potatoes for us.
But sometimes if you need something lighter or you're looking for a low carb side dish — this hits the spot.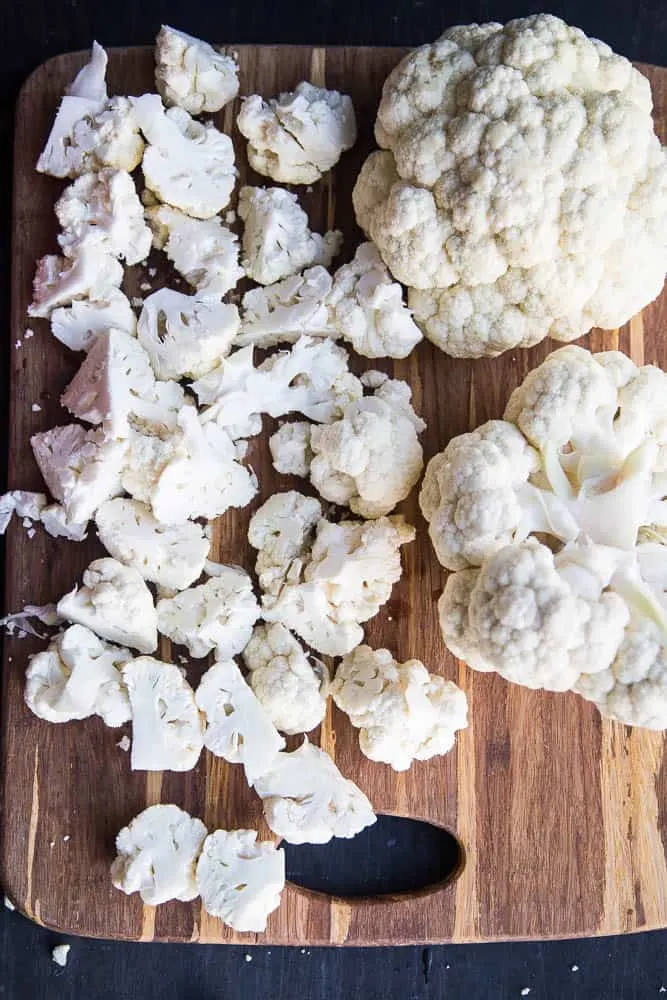 How much puree does this recipe make?
This is a big batch, friends. Like, one you'd take to a Thanksgiving dinner with 10 other people.
You can scale it down if you like, using one or two heads of cauliflower. Just adjust the other ingredients accordingly.
How to make Cauliflower Puree in an Instant Pot
All you need to make a good cauliflower mash is a few big heads of cauliflower, butter, chicken broth, and some seasoning to make it pop! I used fresh garlic and rosemary in this version *chef's kiss*.
First, trim and break down those heads into florets. (Or buy a big bag of florets — enough to fill your pressure cooker insert pot.)
Add your flavorings (i.e. the garlic & rosemary) along with some chicken broth. Then cook it on high pressure for a few minutes. That's it!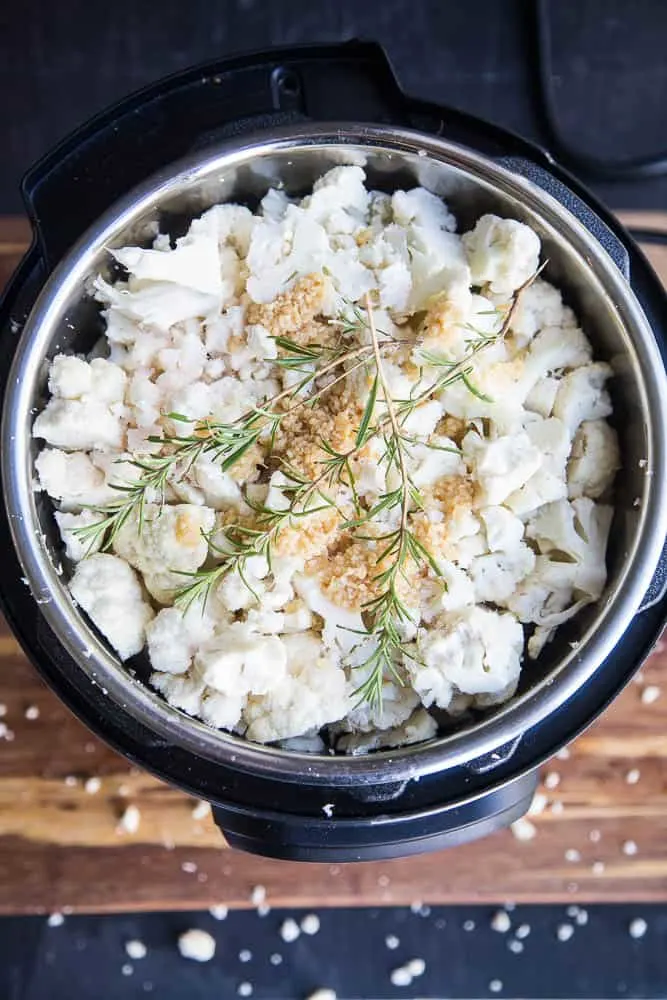 Why chicken broth and not water?
Because this is a NO DRAIN recipe, friends. Mash up that cooked cauliflower right in the pot with the juices and broth adds more flavor to the puree.
Is Cauliflower Puree healthy?
Depending on what you add to this, yes. If you're leaning toward a more low carb or keto diet, this is a great alternative for regular mashed potatoes.
You could go nuts and add sour cream and cheese and all kinds of things to make it creamier and more like mashed potatoes.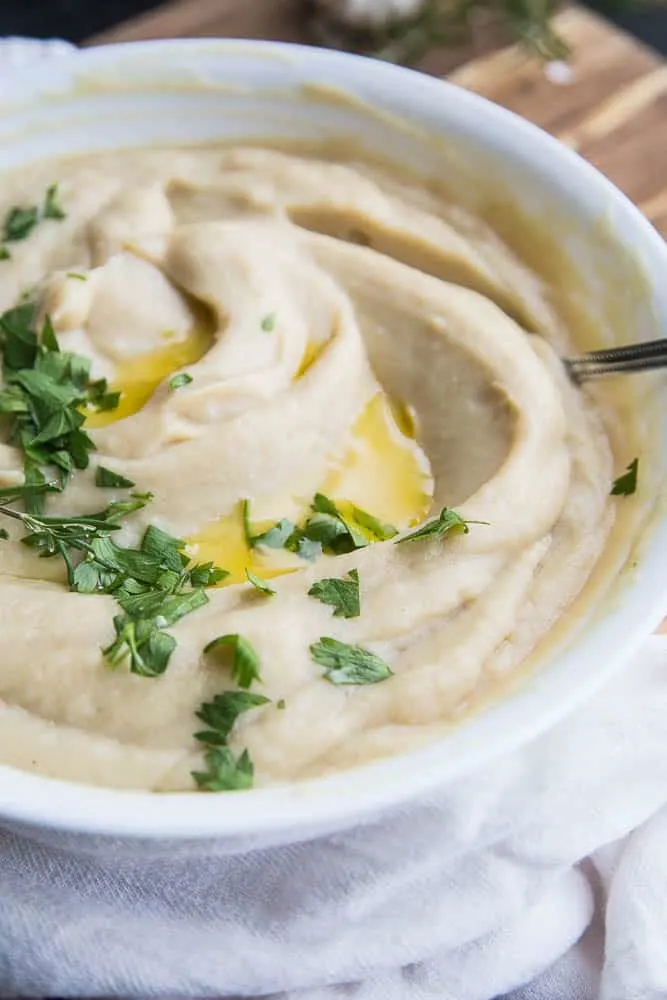 Does it taste like mashed potatoes?
The key in making this Instant Pot cauliflower puree taste more like regular potatoes is the ghee (or butter). Don't skimp on that stuff!
Ghee is kind of pricey if you buy it at the store, so make a batch using my Homemade Ghee recipe.
I always use Kerrygold butter when I make ghee because it's made out of milk from grass-fed cows, and it tastes like unicorns and rainbows. It's my favorite. (And Costco sells it! They're my favorite, too.)
Using chicken stock, fresh rosemary, and fresh garlic in the pot with the cauliflower florets adds more flavor, too!
How to blend the puree
I always season with salt and pepper, too, and then give them a big ol' buzz with my immersion blender. If you can't get them super smooth that way, you can try using a food processor or a blender.
And, if you're feeling super decadent (and are OK with some dairy), a splash of heavy cream. And maybe more ghee or butter. If you're doing keto or trying to boost your fats, butter is your friend.
Pull out your Instant Pot and make a batch of this for Thanksgiving! It won't take up any space in your oven/stove area which is helpful.
It's nice to have helpful things on Thanksgiving. Particularly people who will do the dishes while you sit on the couch and eat pie.
What to serve with cauliflower puree
Here are a few main dishes that would pair beautifully with this cauliflower side dish!
Instant Pot Pot Roast with Rosemary Gravy Note: This might be an excellent reason to invest in a second Instant Pot — I love having multiple! If you take out the pot roast and keep it warm in the oven, the puree will be done shortly after while the roast rests.)
Lamb Loin Chops or Pork Chops
Mini Skillet Meatloaves (I'd also recommend making some Magical Sautéed Green Beans to round this out. It's like a deconstructed shepherd's pie and one of my husband's favorite meals!)
---
If you make one of my recipes, be sure to post it on social media and tag me at @perrysplate or #perrysplate so I can send you some love!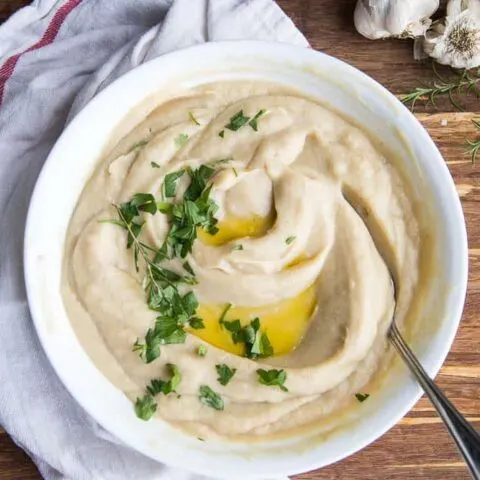 Cauliflower Puree with Rosemary and Garlic (Instant Pot)
Yield:
Serves 8-10 as a side
This delicious cauliflower puree is full of flavor and easily made in your Instant Pot! Serve it as a low carb alternative to regular mashed potatoes or a nutritious side dish alongside a roast or pork chops.
Ingredients
3 medium heads of cauliflower
1/2 cup chicken broth
1 teaspoon sea salt
1 Tablespoon fresh minced garlic
3 large sprigs of fresh rosemary (or 1 teaspoon crushed dried rosemary)
4 Tablespoons of ghee or grass-fed butter
Chopped fresh Italian flat-leaf parsley, for garnish (optional)
Instructions
Trim the leaves and stems from the cauliflower and cut it into 1 to 2-inch pieces. Place them into the Instant Pot insert. (No need to use the rack.) It should be filled to the "Max" line, but no higher.
Add the chicken broth, sea salt, garlic, and rosemary to the pot.
Place the lid on the Instant Pot, move the steam vent to "sealing" and set it for Manual for 10 minutes.
When it is finished cooking, switch the steam vent to "venting" and let the steam release.
Remove the lid. Remove the rosemary stems, leaving a few leaves behind. Discard stems. Add the ghee and stir it around until it melts.
Blend the cauliflower in batches (with the liquid) in a blender and transfer to a large serving dish. Taste, and add a little extra salt if needed. Garnish with parsley.
Serve.
Notes
This is a large batch of puree -- like the size you'd take to a Thanksgiving dinner potluck. You can definitely half the recipe if you feel like it's too much.
You can also buy a big bag of pre-cut cauliflowerets (like at Costco) and fill the pot that way, too.
I highly recommend using a blender for this or at least an immersion blender -- simply mashing it with a potato masher won't give you that smooth, silky texture.
Recommended Products
As an Amazon Associate and member of other affiliate programs, I earn from qualifying purchases.
Nutrition Information
Yield

10
Serving Size

1 cup
Amount Per Serving
Calories

97
Total Fat

7g
Saturated Fat

4g
Trans Fat

0g
Unsaturated Fat

2g
Cholesterol

16mg
Sodium

293mg
Carbohydrates

7g
Fiber

4g
Sugar

4g
Protein

3g
The information shown is an estimate provided by an online nutrition calculator. It should not be considered a substitute for a professional nutritionist's advice.
Disclosure: This post may contain Amazon affiliate links. Purchases made by using these links don't cost you any extra and helps to keep my content free.
SaveSave
SaveSave